Quite like life vests, boots, and other essentials required for fishing, bowfishing lights play a pivotal role in enhancing the fishing experience. Having beaming lights reduces the challenges when targeting fish in pitch-dark water. Bowfishing is incomplete without lights that provide ample illumination while hunting for fish at night in murky waters.
While fishing in the dark becomes a tricky situation already, the right quantity and quality of lights are the best to keep you all guarded. With numerous things to consider, the following is a detailed post that can help you find the best one for your boat.
---
Things to consider before buying bowfishing lights
Bowfishing Lights are a highly reliable lighting system that determines the success or failure of your bowfishing activity. These lights come in handy while out fishing at night and in shallow water. So without further ado, below are some of the most important considerations before buying one.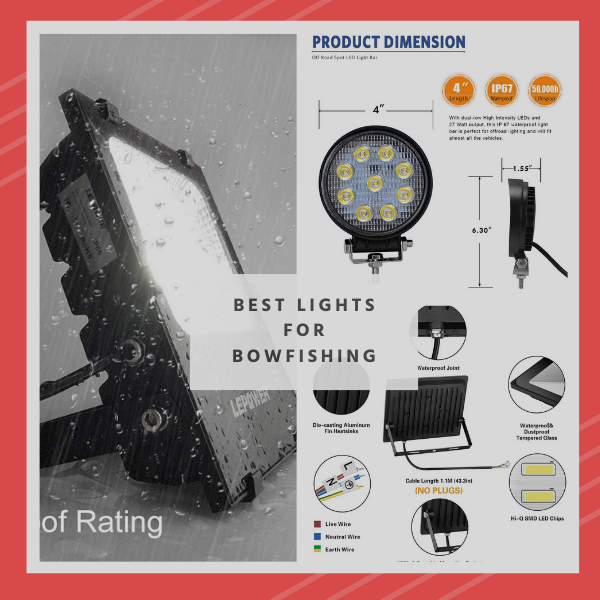 Type of Bulb
There are varieties of bowfishing bulbs. Each bulb has its share of pros and cons, so the following descriptions of each will clear your doubts.
LEDs: Highly preferred bowfishing lights, LEDs strike out a brighter beam that lights the darkest of nights. Personally, LEDs are the best buy contemplating the murky waters and longer hours of fishing. These lights operate on batteries and beam out light in a multitude of options.
Halogen: Easily available lights that work effortlessly in all conditions, Halogen is another type that needs consideration. As these bulbs seep out super-bright light, they gobble too much power. But if considering weights, these bulbs are a faithful companion while bowfishing.
High-Pressure Sodium: Also known as HPS, this type of bulb is operated using flashlights and large generators. HPS is best suitable for lighting up murky waters. These are lightweight and can be carried along conveniently. However, a major letdown is that it consumes enormous energy.
Also Read: 6 Best Beginner Kayaks for Fishing: Reviews & Buying Guide
Power Source
It is wise to learn about how your bowfishing lights will be receiving power from. The primary areas for concern are – the size of the boat and the duration of bowfishing. Each type of bowfishing light runs on different power sources. Following, we discuss the power sources required for each of the aforementioned lights.
LEDs: Better known as DC or direct current, LEDs are generated via current flowing in a single direction. LEDs need batteries to operate, thus setting them is a lot easier than other types. These lights are accessible in a wide variety of colors and wattage. For instance, if you own a small-sized boat, LEDs are a perfect fit.
Halogen: These lights consume massive energy, persuading you to carry generators along. These are super-bright; hence, they require more energy. Also, a friendly reminder – avoid utilizing these lights for more extended expeditions.
High-Pressure Sodium: These are best for long expeditions and boats. Generally, these lights eat an abundance of power, which asks for massive generators and flashlights. Since they require bulky generators, setting them is not an easy chore.
---
Best Lights for Bowfishing
Lights are the unavoidable items required onboard when fishing in the darkest waterways. Here are some of our picks for the best lights for bowfishing — pick one and venture out to catch the aquatic animal in the night.
1. Ustellar 80W LED Flood Light
Infused with a power of 80W, the Ustellar arrives in a pack of two, allowing you to reap the benefits of bowfishing to the fullest. Considered a better alternative to the 300W halogen bulbs, the Ustellar is a massive money-saving floodlight.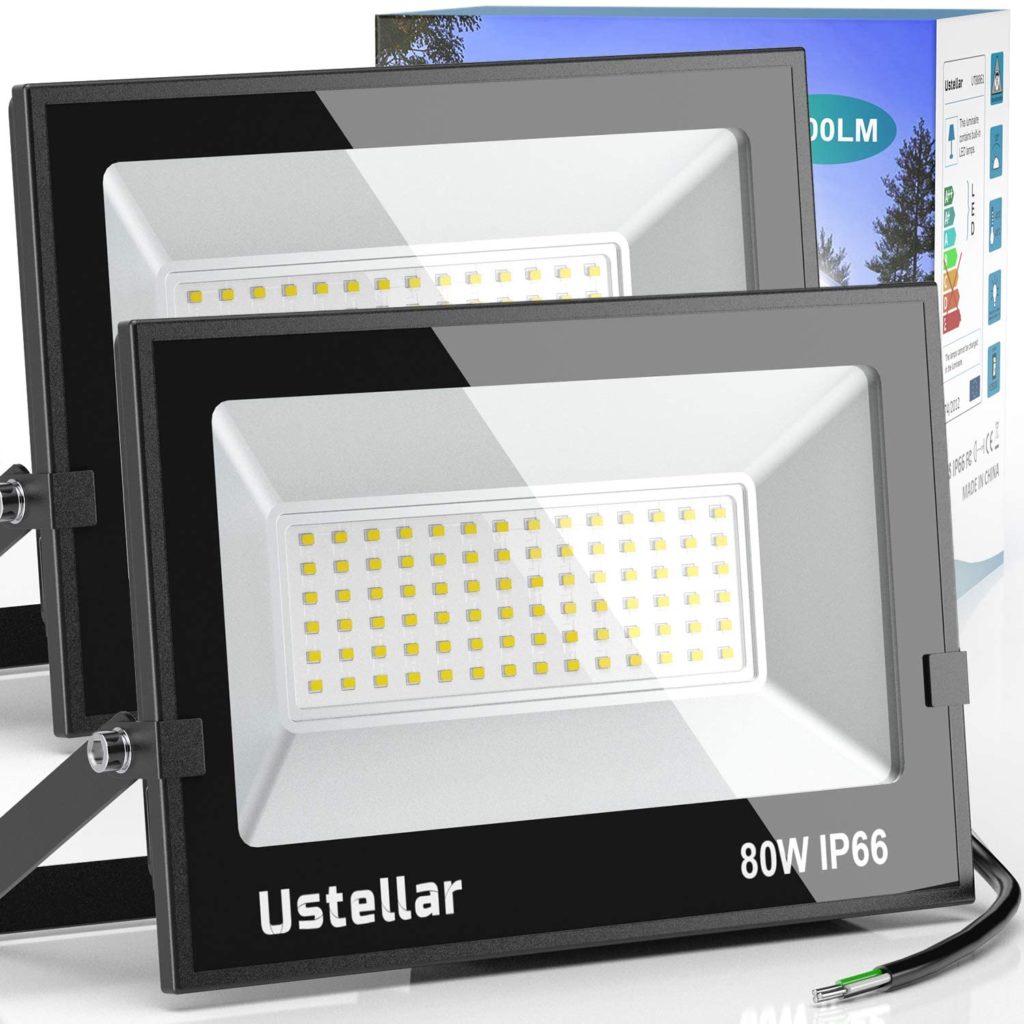 The Ustellar 80W is IP66 rated, which makes it a product that withstands water and dust. Designed with a fin-type heat sink, the fixture acts as a radiator that squanders heat.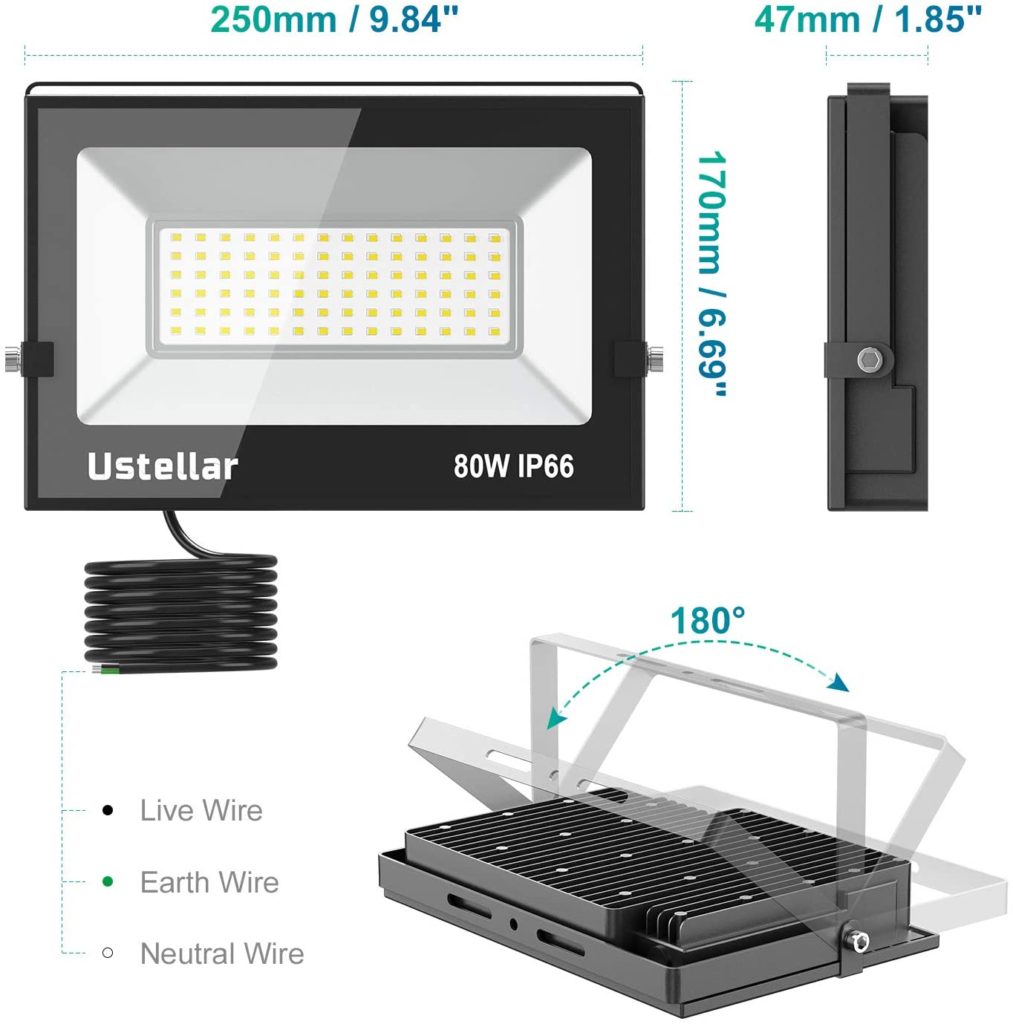 These bowfishing lights have an astounding lifespan that reduces re-lamp frequency. Besides, the manufacturer offers a 3-year warranty that certainly adds a considerable boost.
Carved out of die-cast aluminum, the Ustellar is both scratch and fade-resistant. Also, these lights are available in multi-color and 4-mode, which cost about an extra 20 bucks.
Build quality is strong and durable
IP66-rating; which protects from water and dust
Saves massive on electricity bill
Installation process not easy
Lights deteriorate with time
2. Nilight LED Light Bar
Nilight LED Light Bar is a terrific bowfishing light. Featuring the lights being available in different lengths, it caters to all needs of rigs and boats. It is specifically designed for use on varied sorts of vehicles and promises a broad view with a bright ray of visibility featuring 120 watts of power. Especially by mounting at the bow or side of the craft, you get a remarkable view with these lights.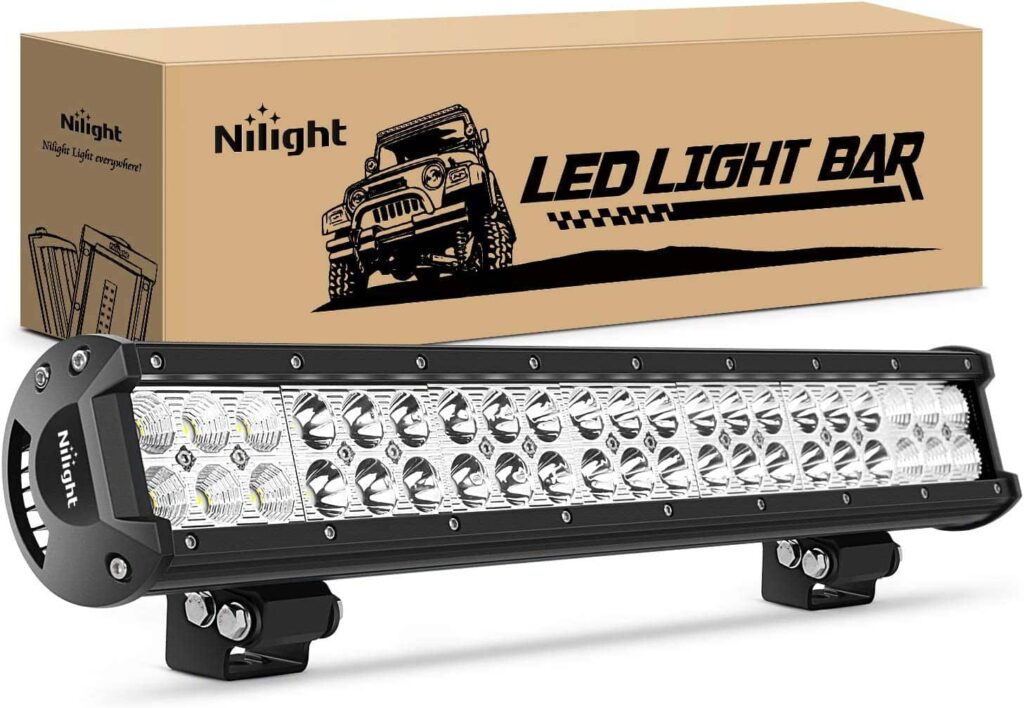 It runs for a long span with a premium cooling effect for better heat dissipation. It comes with an adjustable mounting bracket that permits you to rotate it through 45 degrees.
Easily adjustable
Mounting hardware
Easy to install
Good rating & reviews
Universal fit
The mounting kit doesn't give the best results
3. LEPOWER 100W
Bright and affordable, the LEPPOWER 100W has a staggering ability to emit up to 10000 lumens of pure super bright light.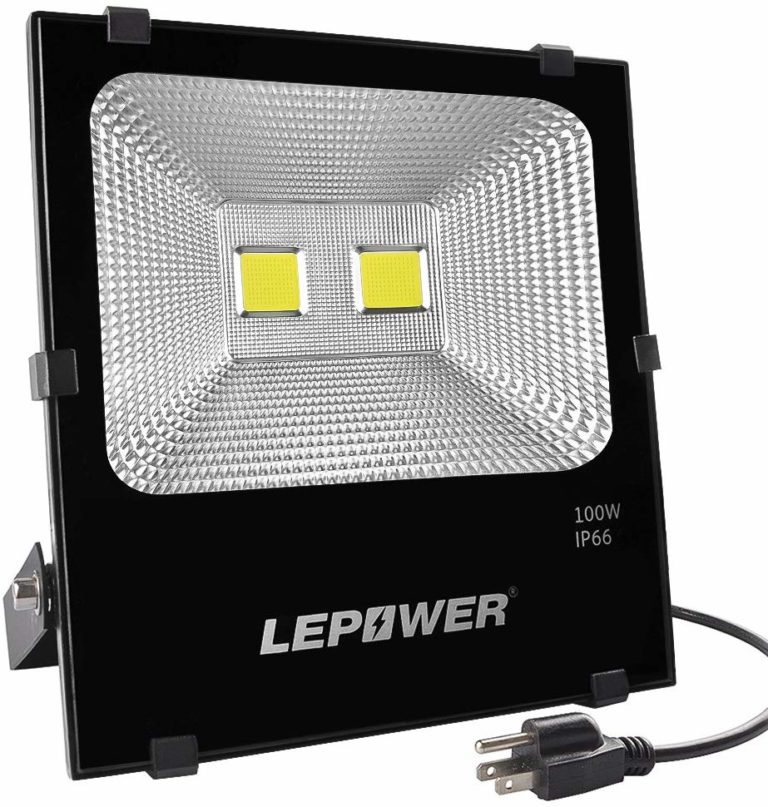 The LEPOWER sports an uneven radial pattern surface, which aids in reducing the electricity charges by up to 80%. This bowfishing light holds an IP66 waterproof rating, allowing seamless usage both indoors and outdoors.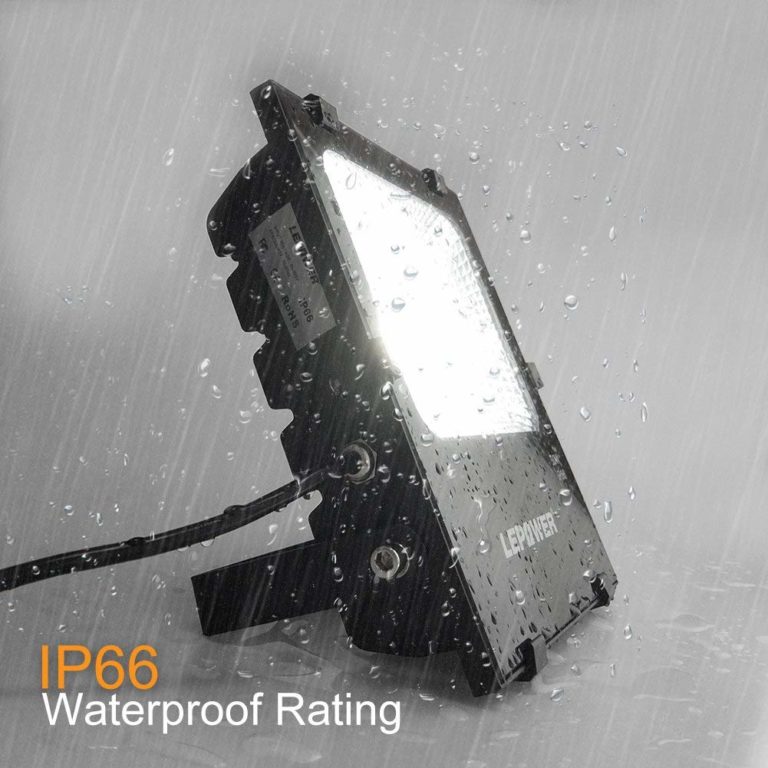 Equipped with the latest features, this floodlight utilizes a UL plug with wires to kick start. Furthermore, the LEPOWER 100W is encrusted with tempered glass on the lights, together with quality aluminum for more enduring light.
120 degrees of beam angle
Superior lighting for a vast area
Energy efficient
Several users complain about the light not lasting long
Average design
4. Glotech LED Light Bar
The light bars from Glotech are nothing short of impressive. These lights come with an IP67 rating, meaning the light can function at the fullest under rain and harsh conditions. The die-cast aluminum housing ensures a service life of up to 30,000 hours. The 5280 lumens power is powerful enough for bowfishing.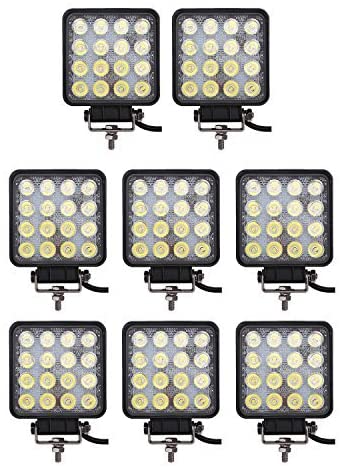 The compact-sized light bars arrive with mounting brackets, thus making the installation process and operation way easier. The lights can be easily tucked into your SUVs, trucks, ships, and many such vehicles. Besides the waterproof abilities, the light bars are shake-proof and anti-corrosive.
The 60-degree flood beam supports a better and much broader view of the area. Glotech's light bars have also been effective for indoor/ outdoor purposes like backyard lighting, off-road lighting, and constructing lighting.
IP67-waterproof rated
Multi-purpose; effective for both indoor/outdoor uses
Offers a much better wide viewing coverage.
Durability is a concern
Doesn't include wire relays.
5. SOLLA 200W Flood Lights
Sporting a premium build quality and a sleek design, Solla 200W has all the power to accompany you during your fishing voyage. The floodlight oozes out 6000K of daylight white beam at 16000 lumens. This bowfishing light has an IP66 rating and is versatile enough to offer light in various locations — be it a garden, yard, rooftop, street light, etc.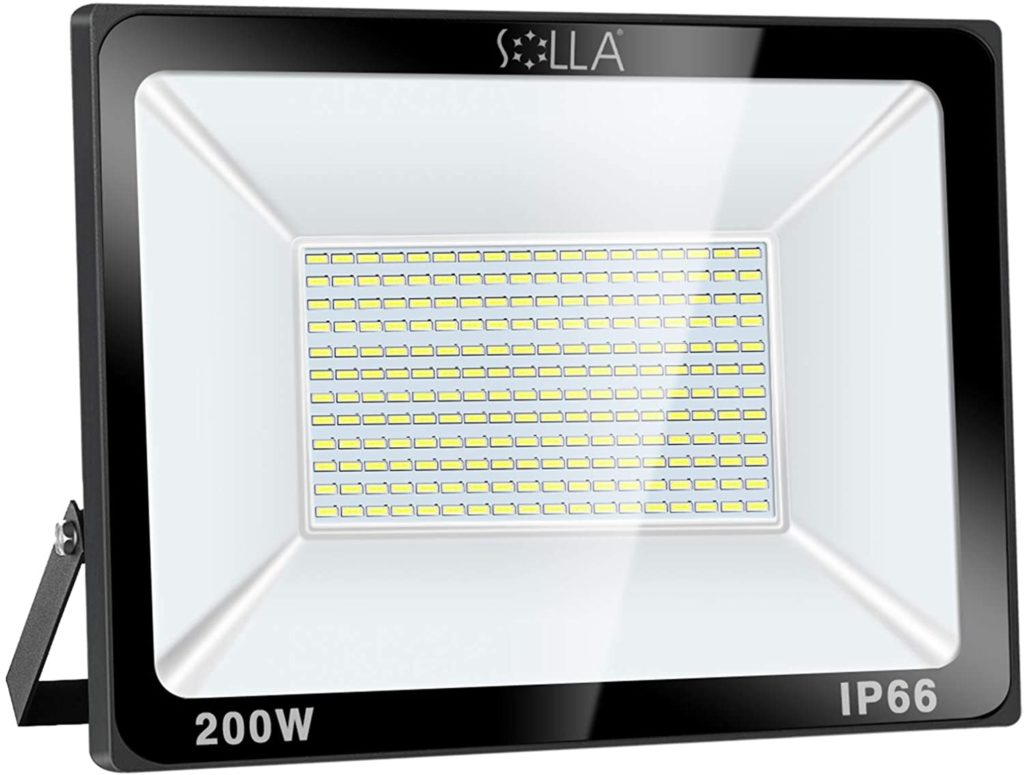 The supplied die-casting aluminum housing enhances heat conduction. The long lifespan of over 50,000 hours is another one of Solla's traits. The supplied metal bracket is adjustable to fit at all places including ceiling, wall, and ground.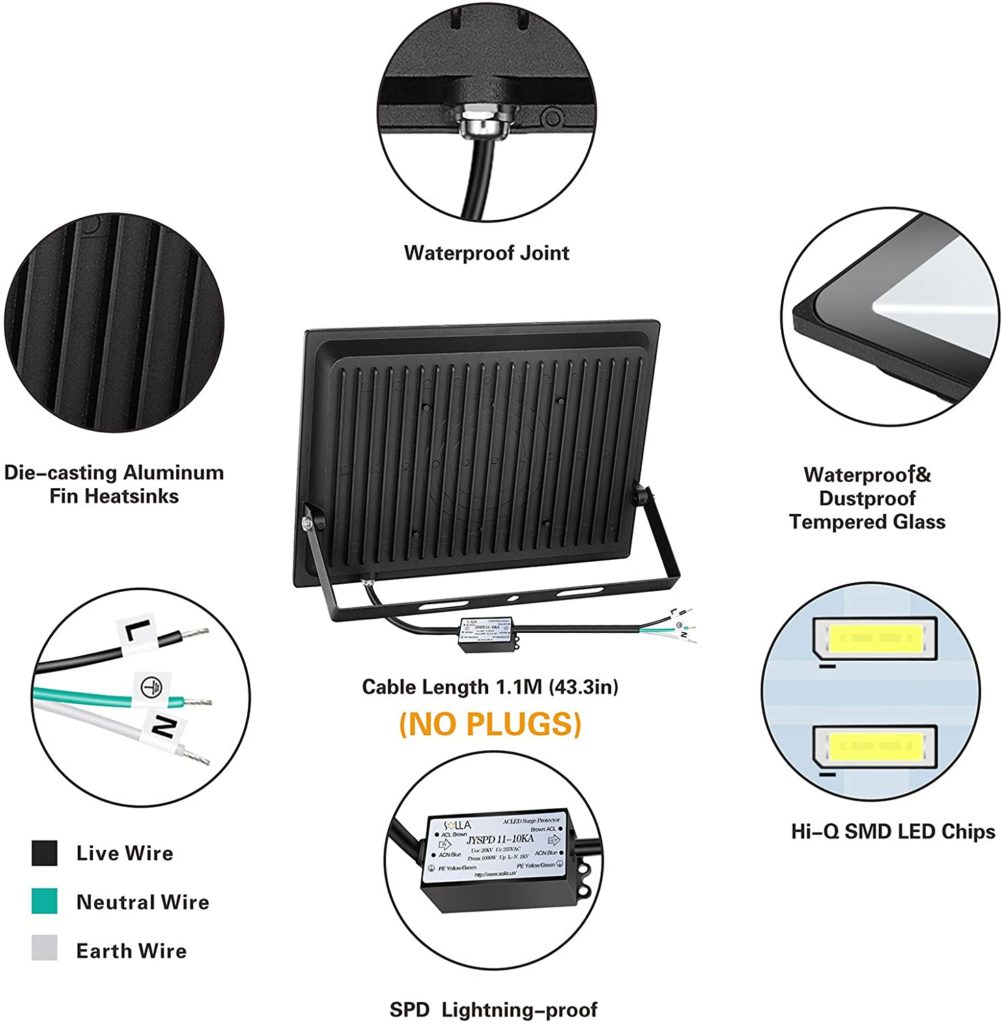 Overall, the Solla Flood Light has a wider coverage area, thanks to the sharp and vivid lights. Moreover, the 1060W halogen bulb significantly reduces the electricity bill by up to 82 percent.
The installation process is an easy task
140° beam angle for a wider coverage
Has a long lifespan of up to 50,000 hours
Doesn't come with a light sensor
Screws, nuts, and washers aren't part of the purchase.
6. Sansi 70W
Emitting super bright light of 7000 lumens output, the Sansi 70W with a 120-degree angle extends the light to a broader area for effortless bowfishing in the dark.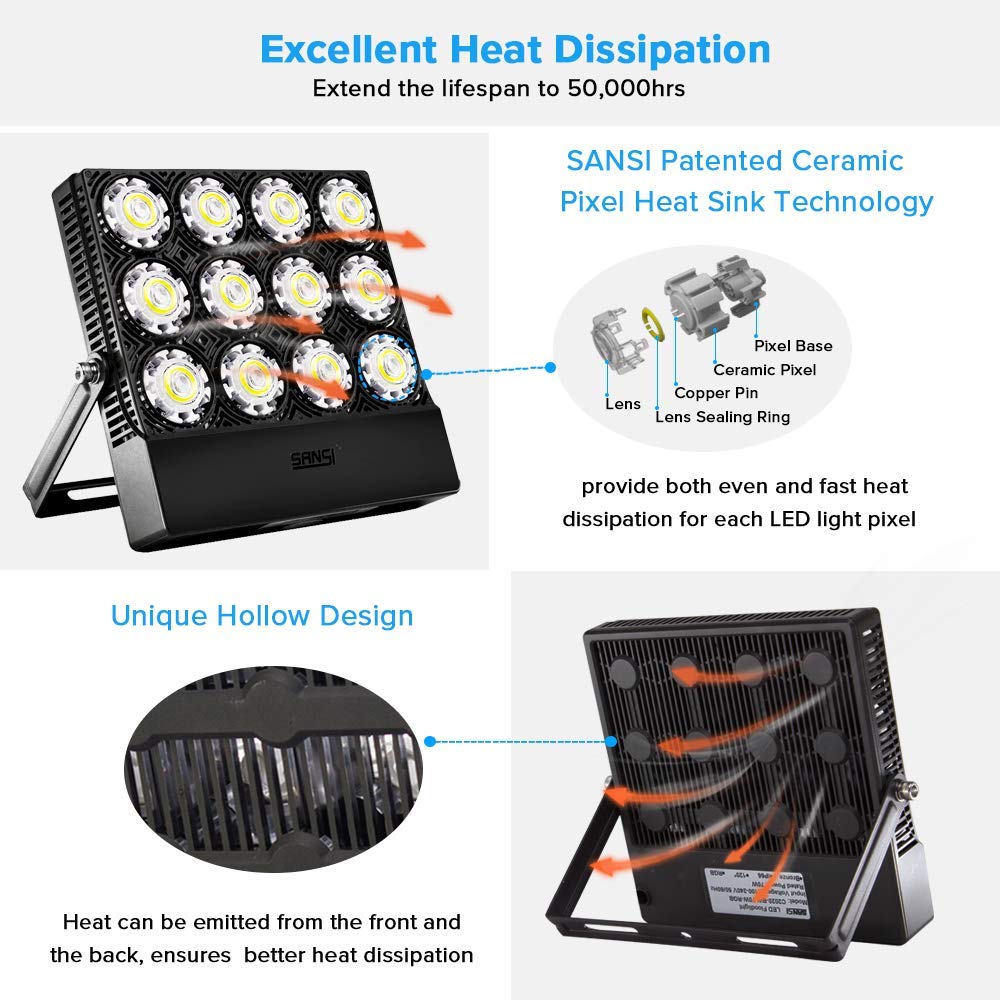 With a waterproof rating of IP66, the Sansi LED is water and corrosion-resistant for seamless bowfishing in rough seas. Additionally, the fishing light is built to last for 50,000 hours.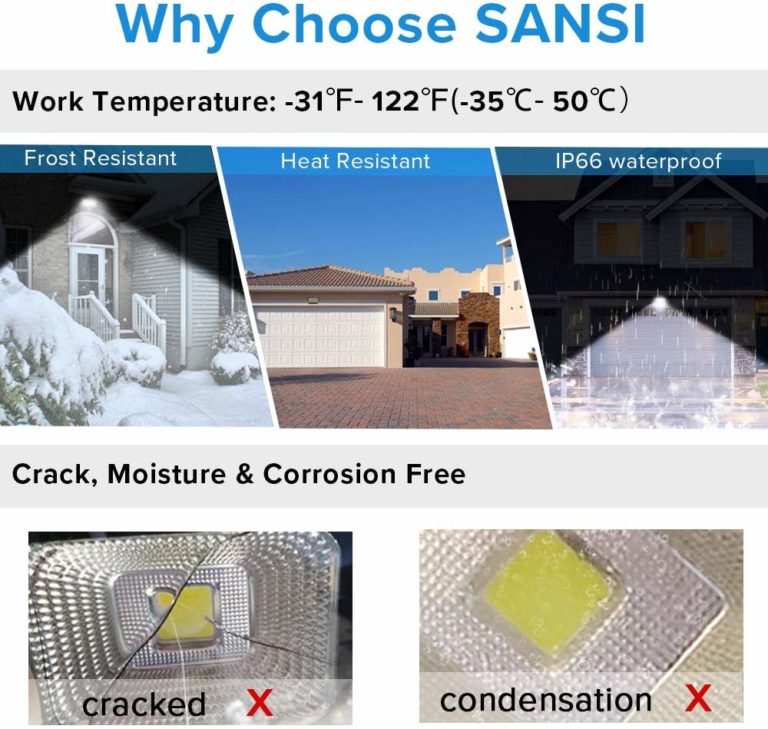 Available in two variants – 70W and 100W, the Sansi spotlight serves its efficacy in distinct areas like playgrounds, studios, garages, etc. Furthermore, the ceramic heat sink technology enhances the heat dissipation efficiency.
5-year warranty
Lightweight and smaller size
The ceramic heat dissipation technology is impressive
Needs a bit of tweaking with the design
7. YITAMOTOR 27W Round LED Light Pods
Comprising of nine high-powered LEDs, this Yitamotor floodlight seeps out super bright light at 27W and 6,000k color temperature.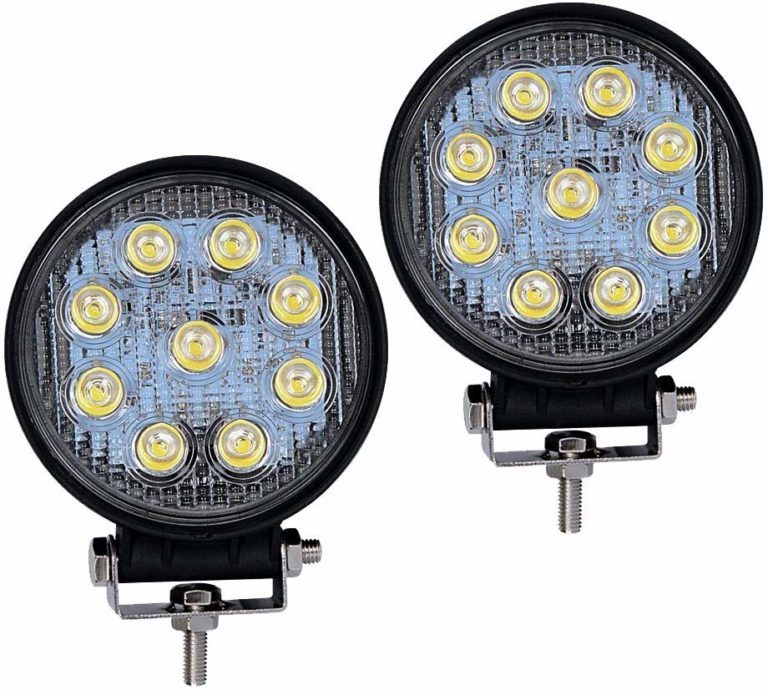 This bowfishing floodlight has its casing built with die-cast aluminum housing, allowing a longer lifespan of over 50,000 hours. Utilizing the 1070 aluminum alloy, this spotlight's in-built heat sink has better heat dissipation.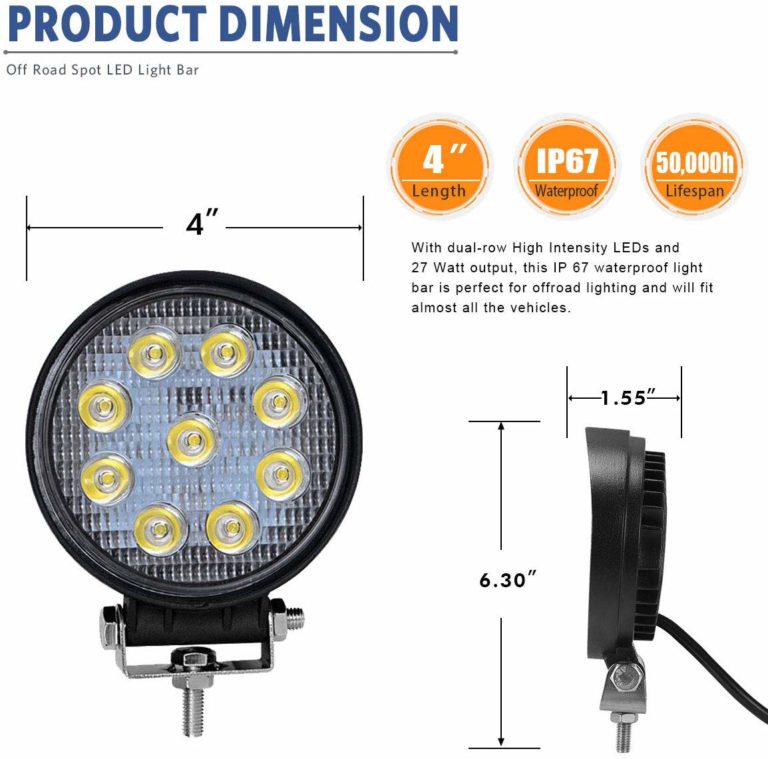 With an IP67 waterproof rating, this floodlight can withstand dust, corrosion, and quakes. The Yitamotor light effortlessly performs well with SUVs, Jeeps, trucks, and tractors.
Built with a strong layer
PC lens surface better light transmission
---
How to: Setting Up Your Bowfishing Light
As you've confirmed your purchase, it is time to go ahead with the installation purchase. Since this is a considerable investment, you need to ensure that you don't hurt yourself or damage this "precious."
Power consumption is paramount and can be figured out using Ohm's law. The law helps in calculating the amount of energy required to run your chosen lights.
As per Ohm's Law: Power(P)= Amps(I) * Volts(V).
While calculating the current required to operate your lights, you are obliged to divide Power by Volts. Once you've calculated the power source, proceed with the wiring process on your bowfishing boat to set up the lights. Also, consider seeking suggestions from an electrician to ensure wires are placed safely.
---
Bottom Line
As there are a plethora of options available, with our extensive research and analysis we've collated only the best in the market. The tried and tested experience brought us two impeccable bright devices —Ustellar 80W LED Flood Light & Nilight LED Light Bar —both impressive in glowing wider areas at convenient price tags.
Hope that this detailed guidepost on the best lights for bowfishing did contain the information you were looking for. In case we've missed a product that deserves a spot here, write to us in the comments section below.
---
FAQs
Are light bars compatible with bowfishing?
Lightbars are highly recommended for bowfishing, and some of the best available are mentioned in the article. As a matter of fact, LED light bars are the go-to options considered by anglers for their process of installation and handy design. You simply need to mount two or three bars to the boat and you are ready to illuminate your fishing vicinity.
How many lumens of lighting are required for bowfishing?
There hasn't been any widely-followed principle as to how much the lumens level should be. Bowfishing lights are generally 100 lumens per watt. Therefore, these lights need to come with at least 10,000 lumens each to brighten up your path. If the brand has a rating in watts, convert it to learn the lumens level.
What is the ideal number of bowfishing lights to go with my boat?
Boats that are to be used in the gloomiest of places require at least six bowfishing lights. However, this is entirely based on the length and width of your boat. Ideally, an 18 to 20-foot boat with up to 8 feet of deck can have at least four bowfishing lights ( 2 in the front, and 2 on the sides). Whereas a 12 to 16-foot boat with a 5-foot deck can have one in the front and one on both sides.
What color light should I choose for bowfishing?
When you are fishing in muddier or stained water then it's good to go with warm whites, greens, or yellow light. In case you are fishing in clear water then cool white lights are the best option to pick. LED bulbs/lights are best to go for bowfishing and you can choose the color accordingly.
Do solar lights serve the best purpose for bowfishing?
A number of factors depend on its answer! If you are contemplating the option of solar lights then various points you must consider, such as:

 The amount of sunlight it gets during the day
 The amount of light you will get
 How long you will get the light
 Will it have an uninterrupted charge
Using solar lights might prove as a good option if you take everything into consideration. On a bright sunlight day, you will get the best output, however, on a cloudy day, you may face a drop in brightness significantly. All in all, there are many limitations to going for this.
Do generators are necessary for bowfishing lights?
Not necessary but can prove great for powering bowfishing lights. It's a better option than batteries. For brighter and longer runs of lights, the generator is a better choice. However, it's the downside is it is trickier to install, quite expensive, and louder. Also, its design is specifically for extremely powerful lights.