Fishing for the first time but can't get hold of a trout? Fret not, in this article; we dwell on some of the best fishing lures for trout. As this species look to avoid predators, the only way anglers can outsmart them — is with the right kind of lure in the tackle box.
With a plethora of options in hand, it is almost a tedious task to pick the best fishing lure. To save you from strolling down the market, we have this detailed guidepost with the best ranked accordingly.
Also Read: Best Fly Rods for the Money: Complete Reviews and Buying Guide
---
Guide to Choosing the Best Fishing Lure for Trout
Nit-picking out of the thousands available on the market can be a daunting task, especially when there is no idea what to consider before buying. The following are some of the crucial aspects to keep in mind when buying the best lure for trout.
Material
Built specifically to fall prey to big and small trout, the materials used in the making naturally trigger trout. Trout lures are made of high-grade ABS plastic, steel, and brass that ensure the durability of a bait.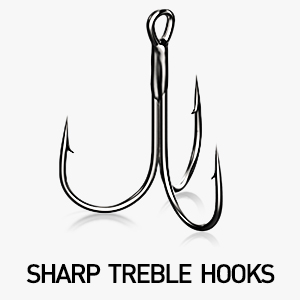 With colors playing a pivotal role, trout lures with super bright colors entice trout, forcing them to attack your hooks. Furthermore, flashes and movements of lures are necessary for murky waters.
Types
With different types of trout, you should select baits and lures that work on providing the best results. Small trout feed on smaller-sized insects, while the larger ones tend to gobble fish, frogs, etc.
Perhaps the lures are which sport a spitting image of their favorite snack. Currently, there are all sorts of lures that easily bear a resemblance to their food. A few of the lures that trigger trout are spinners, spoons, swimbaits, insect imitators, and worms.
Size
Size is an essential aspect when in search of a perfect trout lure. Trout have a tiny mouth, which makes it predominant to use a small trout lure. If you intend to cast for large-sized trout, a sizeable trout can be useful.
The depth determines the size of the lure. We recommend you use a larger trout if your fish is somewhere in deep water.
3D Eyes
To have a realistic appearance, it is critical to have a lure that shares similarities with a real one. These 3D eyes grasp the attention of trout and excite them towards the hook. Usually, these 3D eyes contain a tricolor-like design and oval-shaped pupil.
Hooks
Due to their eyesight, trout identify an object and question its authenticity. This forces anglers to use hooks that are not visible and can be hidden behind the fur. Small treble hooks are highly safe in terms of avoiding the eyesight of fish. Albeit, the small-sized hooks might kill a trout as they could end up swallowing the hook.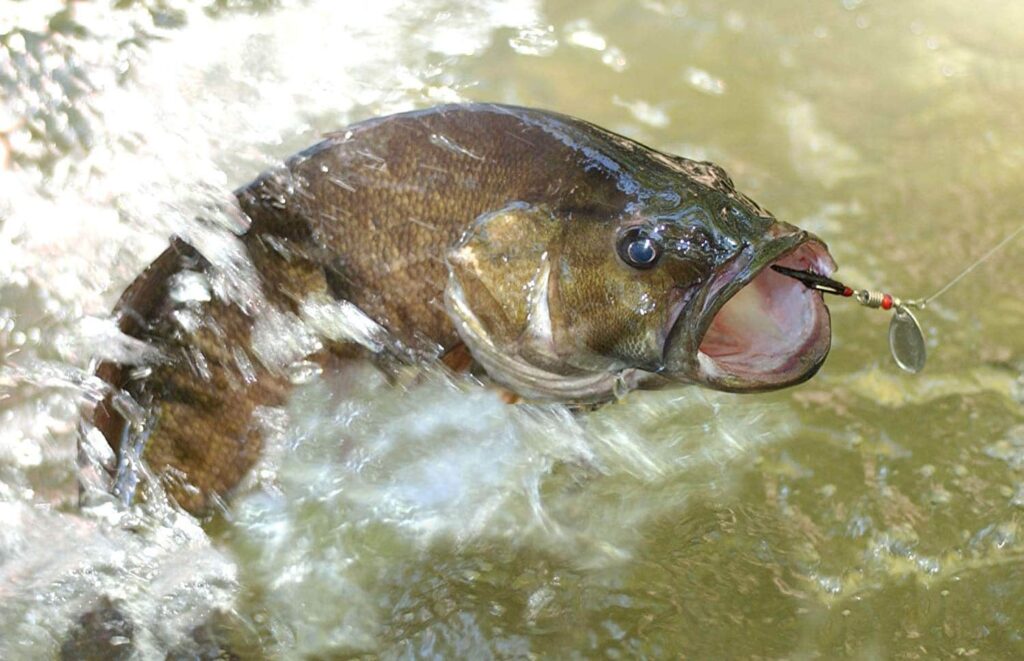 Weight
It is critical to consider the kind of fishing rod setup you are about to utilize and the water conditions. Generally, heavier lures are required when fishing in deeper waters or rivers and lakes, while lightweight lures are used in calm waters.
Also Read: Best Beginner Kayaks for Fishing: Reviews & Buying Guide
---
Best Fishing Lures for Trout
Trout fishing is growing in popularity, and with that, you need to have the basics covered. So, here are some of the best fishing lures for this species that can help you catch hold of them.
1. Plusinno Fishing Lures
First on the list is the 16pcs fishing lure kit from Plusinno. These spinners attack trout by bringing them closer with their bright and vivid colors. Plussino's steel-plated blades generate strong vibrations and flash that trout love.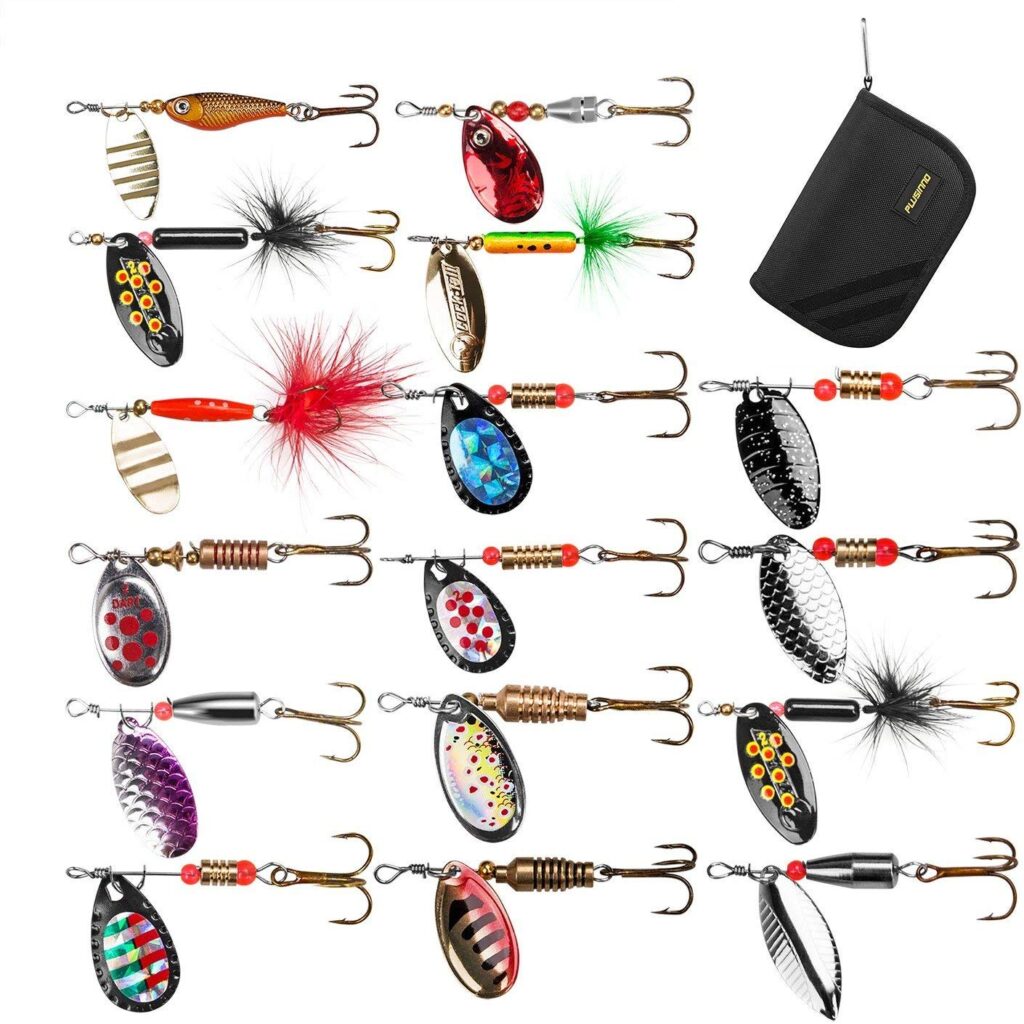 Built using machined brass, there are 16 different pieces of spinners, with different sizes and weights. All of the 16 trout lures are infused with treble hooks with bright-colored sleeves. These fishing lures are convenient for freshwater and saltwater, which also has a carry bag included for fishing in varied conditions and locations.
Carry bag included.
Comes in size and weight that are best for fishing.
Can be used in freshwater and saltwater.
Spinners stop working.
The hooks are shabby.
2. Acme Kastmaster
Widely known for creating the best trout lines, Kastmaster from Acme is second on our list of best fishing lures for trout.

Sporting a plain design, the Kastmaster is made using brass and averts bending, breaking, or destroying. Designed to be utilized on all kinds of fish, this lure effortlessly works in open water or deep streams.
Available in a variety of colors and styles, the Kastmaster is ideal for trout, pickerel, panfish, smallmouth bass, and snapper blues. From our experience, this lure performs astonishingly well when casting long-distance and trolling in deep water.
Long-distance casting.
The aerodynamic design.
Available in a range of styles and colors.
Several users complained of not receiving rings.
3. Berkley PowerBait Freshwater Bait
Worms are possibly the best diet for trout, and when other catching utilities disappoint, luring with worms shows positive results. Berkley's PowerBait is equipped with super-bright colors and fragrance, which persuades trout to have a bite of the worm on the hook.

The PowerBait has worms crafted from quality materials, which might not be as sturdy as metals. Each of PowerBait's worms is three inches long that comes in a range of colors, including bubblegum, chartreuse, blue fleck, and many more.
With a proven formula of encouraging all kinds of trout, this lure is a must-have bait and is worth every dollar spent.
Scent and flavor effectively lure fish.
Available in a multitude of colors and styles.
Shares a similar resemblance with an actual worm.
Worms are not buoyant.
Fragile build.
Slightly overpriced.
4. Panther Martin Regulars Trout
Amongst the leading fishing accessory brands — Panther Martin stands out with the range of color and size variants to offer. Each of the spinners supplied comes in handy in luring trout, rainbow trout, and more such freshwater fish species. The spinning action is smooth and one-of-a-kind, all thanks to the unique shaft through blade design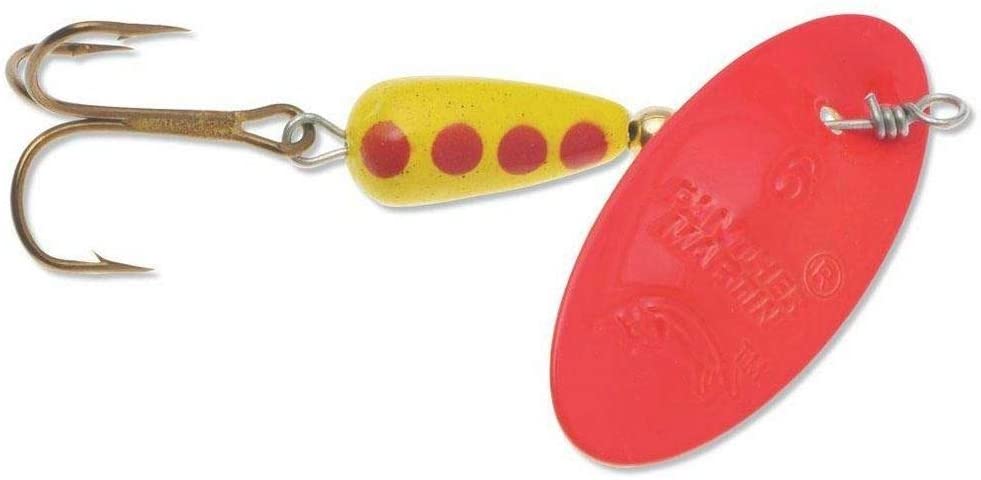 Experienced anglers have resorted to the lure's near-perfect realistic look and carry it along when fishing in saltwater and freshwater. With different sizes of blades available, adjusting the blade as per your likings becomes easier.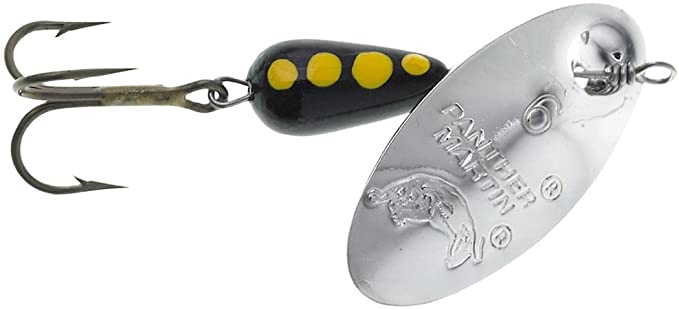 Pantin Martin's spinners have been lauded as everyday angler's best equipment to have inside the tackle box. These come well within the budget, and their versatility is unparalleled with all-water support and resilience.
Unparalleled compatibility in both salt and freshwater.
Well constructed and of good quality.
Concave blades generate strong sonic vibrations.
Feeble against big game fish.
5. Blue Fox Classic Vibrax
Constructed by a highly-renowned fishing lure manufacturer Rapala, the Blue Fox Vibrax is a blend of enticing colors together with a vibrating blade.
Built of machined brass plated, this fishing bait creates a vibrating clamor to lure fish to the hook. The Blue Fox Vibrax is with a stainless steel shaft and a hook that casts fish even in the rough water.
With the lure featuring in colors like double silver and double gold, anglers claim these colors to be the most successful in casting trout effortlessly. Vibrax's body and blade appear in four different color combos – Gold/Gold, Silver/Purple, Silver/Chrome Purple, and Silver/Silver.
Colors with a shimmering shine to lure trout.
Suitable in both freshwater and saltwater.
Great buy for the money.
Paint starts peeling off after rigorous use.
6. Rebel Lures Crickhopper
With a design that is a combination of grasshopper and cricket, the Rebel fishing lure is built similarly to a trout's prey.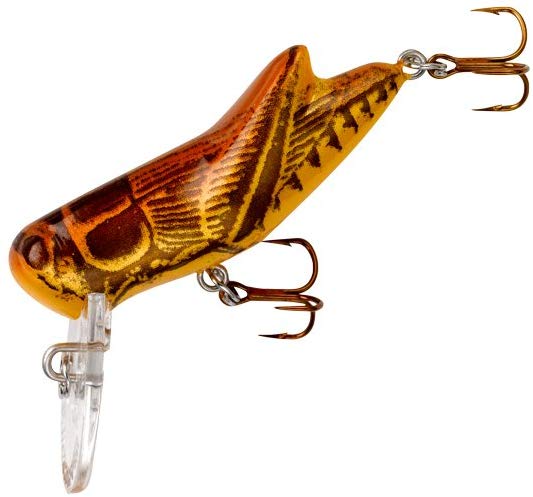 The Rebel Lures are incredibly versatile and prove their efficacy at casting fish throughout the year across different water. Available in various colors such as brown tiger, green grasshopper, fire tiger, etc.
This lure includes two superior treble hooks and a diving lip with a crankbait depth of zero to three feet. Besides luring trout, the Rebel lure can hook bass, panfish, walleyes, and more.
Spitting image of a live grasshopper.
Works well on a multitude of species.
Quite fragile than other fishing lures.
7. Dynamic Lures Fishing Trout
Sporting a realistic design of fish, the Dynamic Lures trout is a tiny crankbait built for topwater and slow sinking action.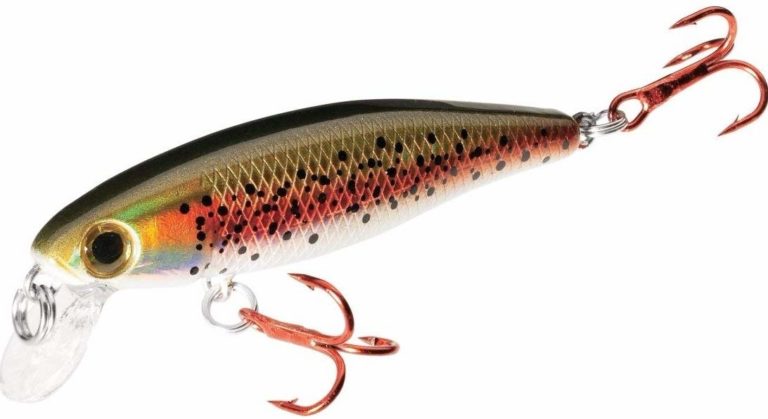 The Dynamic Lure is equipped with multiple BB inner chambers that resonate with a low-frequency rattle. This fishing trout carries two sharp treble hooks that have impeccable action when luring.
Suitable for both rivers and lakes, this fishing lure works seamlessly with a variety of species like panfish, perch, crappie, steelhead, to name a few. It is designed in a way that can be used without a snap swivel.
Convenient in long-distance casting
Versatile action.
Highly productive for rainbows and browns.
Built quality is a bit dodgy.
---
Bottom Line
A relevant lure determines your fishing day. Apart from the reels, and boots, fish lures for trout are the next most essential accessories to have in your tackle box. All said and done, we pick our favorite contenders — Plusinno Fishing Lures and Acme Kastmaster for their range of options in styles and colors.
We hope that this guide satiates a trout's hunger and your search for finding the best fishing lures available in the market. In case we've missed out on a product, write to us in the comments section below.
---
FAQs
Where do I fish for trout?
Trouts are mostly found in rivers, lakes, streams, and other such places. The species are more comfortable in the cold waters, so searching for them in warm and humid weather isn't a great idea. The cooler temperatures invite trout in large numbers, making it easy for the anglers to catch. Furthermore, besides the cold waters, they can have their presence in steady flowing waters.
Do colored lures make a difference in catching trout?
The colored lures make a significant difference to your trout-catching experience. There are plenty of variations and patterns to keep you going. Some of the most recognizable forms of lures are:
Natural colors: These are the go-to options for arresting the species. Colors like black, brown, green captivate the attention of native trout in wild streams. Blend in the colors with few other characteristics like fur, and so on.
Flash: These are the trout favorites. An instant flash grabs the eyeballs of trouts — jazz up your lures with some gold and silver parts.