Anglers understand the benefits of sunglasses. Polarized sunglasses are the safest gear that comes in handy while fishing all day long under exposure to the sun and other harsh elements.
Having a pair of polarized sunglasses is as important as a fishing reel or vests. Without any of the items mentioned above, an activity like fishing is a dud. Exposure to excessively bright light could lead to permanent damage to your eyes, which deteriorates your vision.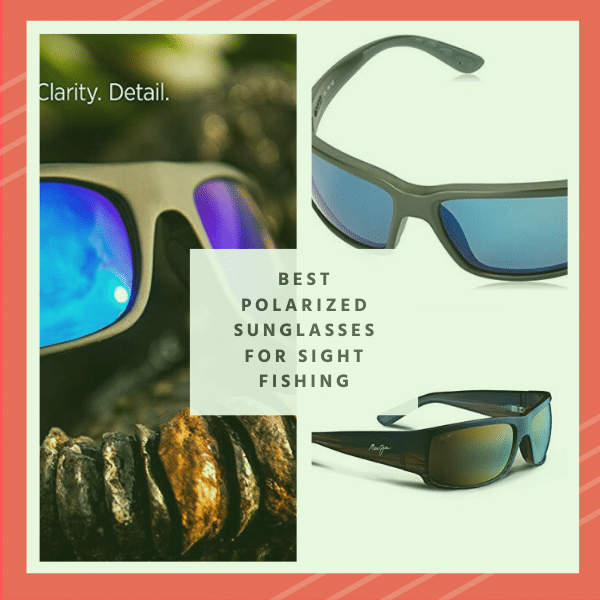 In this post, we share some of the prominent and affordable products that are optimized primarily for smooth fishing under bright light skies.
If you love to go on a spot fishing adventure, really and truly what you need is a pair that's really good for fishing and then a lens that's really good for sight fishing. In this article, I am going to talk specifically about polarized sunglasses. In addition to being polarized all of these frames have a good base wrap which is going to give you optimal coverage and then of course protection.
A secure fit is very important if you want to make sure that when you put them on you don't have to fuss with them. If you have to push them up your nose over and over or you have to adjust them, that doesn't make for a good experience. You shouldn't have to focus on anything except for your next catch so a nice rubber grip is going to help them stay in place.
If being able to spot fish is important to you, stick around. I have some polarized sunglasses recommendations or more importantly lens recommendations for you that can make your sight fishing adventure more pleasant. Here are some of the best-polarized sunglasses for sight fishing.
Also Read: Best Lights for Bowfishing: Complete Reviews & Buying Guide
---
Best Polarized Sunglasses for Sight Fishing
The careful research and scrutinizing the best available in the market — we now bring the most reliable pairs of sunglasses for sight fishing.
1. Maui Jim Peahi
Considered as the best-polarized sunglasses for sight fishing, Maui Jim is infused with their own patented technology called PolarizedPlus2 for effortless fishing in murky waters.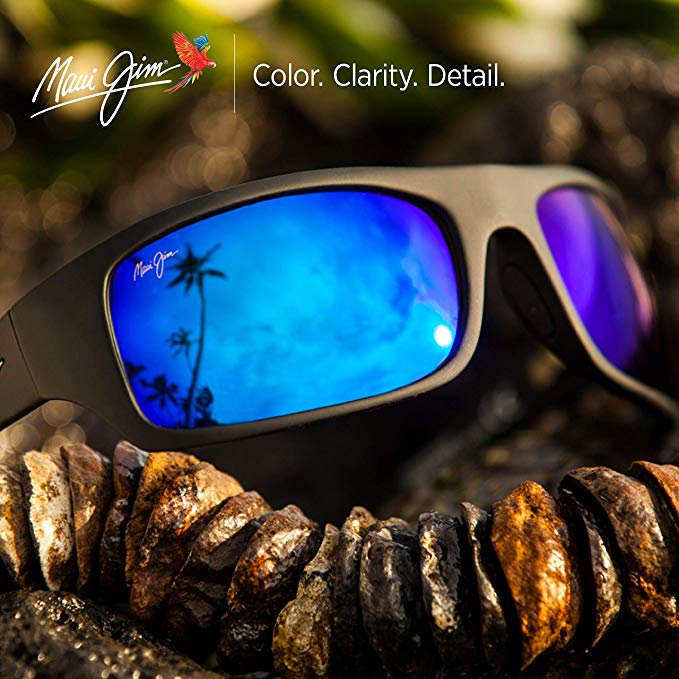 With the PolarizedPlus2 technology, this sunglass safeguards your eyes from detrimental UV rays, which the sun emits. Recognized by the Skin Cancer Foundation Seal of Recommendation, Maui Jim Peahi is a snug fit for your eyes and skin. Available in four different lens colors, Maui Jim Peahi's lens offers additional contrast and color that are impressive in the gloomiest of conditions.
Hypoallergenic and lightweight frames
Frames are saltwater-friendly
Scratch and solvent resistance
Fragile; can be easily broken
A bit too expensive
2. Costa Del Mar Fantail
Regarded as the best-polarized sunglasses by fishers worldwide, Costa Del Mar Fantail is known for its build quality and durability. These sunglasses arrive with 580 Polycarbonate, which offers superior clarity and scratch resistance.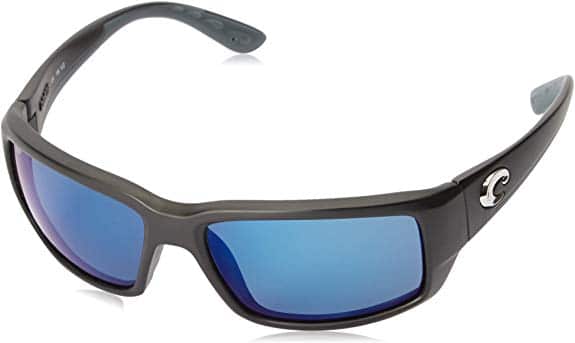 With a hundred percent polarization, Fantial annihilates reflected glare and reduces eye strain. The frame's durability and sturdiness are credited to Costa's co-injected bio-based nylon material, ensuring the utmost comfort to the wearer.
Ideal for light and full-sun situations, these sunglasses work fine while fishing on open waters and offshore. Available in a range of colors, these sunglasses are hand-built and come with a lifetime warranty.
Value for money sunglasses
Durable and excellent coverage
100% polarization eliminates glare and eye strain
Average build quality
Not suitable for big heads
3. Smith Guides Choice
Smith Guide is one of the few sunglasses that has garnered an immense reputation among the fishers. These sunglasses appear in a medium-large fit with a narrow coverage ratio.

Equipped with lenses crafted from TechLite Polarized glass TLT lenses that are anti-reflective. Furthermore, the hydrophobic coated lens ensures that you receive crystal clear clarity under dim lights.
Smith Guides Choice has overwhelming support from fishers owing to its design and the range of color options it is available in. Also, these sunglasses have Italian spring hinges with megol nose and temple pads that enhance the frame quality.
Sturdy hinges
Great job in low light conditions
Availability in a plethora of colors
Discomfort while wearing them all day long
4.Oakley Holbrook Polarized
Designed in a classic wayfarer, the Oakley Holbrook packs a simple yet elegant design. These sunglasses have grilamid-built rectangular frames with Plutonite lenses that protect from harmful UV rays.
Built with O Matter material, Holbrook's frames are lightweight and durable. The frame returns to its standard shape if sunglasses are bent or curved. The "Three-Point Fit" feature adds extra comfort with alignment meeting right at the bridge of the nose and rear of the temples.
Available in multiple colors, the Oakley Holbrook is fused with Patented High Definition (HDO), which improves clarity and delivers razor-sharp vision.
Extreme lightweight and durable
Comfortable for the large heads
Plutonite lenses filter blue light
5. Costa Del Mar Blackfin Round Sunglasses
Amongst the highest-selling Costa products, Costa Del Mar Blackfin is the most popular frame with over 14 color variants available in the market. These are mostly donned by veterans for the quality and comfort these tend to offer. These are reliable, and durable with a great level of protection against harmful elements like UV rays.

These polarized sunglasses are made using premium materials like the 580 polycarbonate lenses and bio-based nylon frames, meaning there's longevity with less weight to it. With the green mirror lens, these sunglasses become a perfect choice for fishing inshore and on flats.

Costa Del Mar's Blackfin is made for those fishing fiends that are enthralled by the comfort even after a long day of use. The clarity is one-of-a-kind and the colors it comes in — the best at this cost.
Availability in a variety of colors
Fits well on most faces
Colors are vivid and better than most models.
The rubber nose tip does come off after some use.
---
The Bottom Line
With a variety of sight fishing sunglasses out there available in the market, we have jotted down some of the best sunglasses here in this detailed guidepost. As a fisher, you must wear something that saves your eyes from the harmful rays and appears stylish at the same time.
To pick favorites from the above-listed items is a bit tricky. However, two of the most fascinating models we tested were the Maui Jim Peahi and Costa Del Mar's Fantail.
The sunglasses mentioned here in this list accompany a fisher while in the darkest of places and shield eyes against the harmful ultraviolet radiation. If there's a product we've missed out on or a vital consideration, write to us in the comments section below.
---
Guide to Buying Polarized Sunglasses for Sight Fishing
Owning a pair of the best-polarized sunglasses could save you from dreadful situations. However, while on the quest to find the best, there are a few things to consider. Following are things to consider when buying sight fishing sunglasses:
The Frame
Frames have to be essential things to consider when purchasing polarized sunglasses. The shape and design of the frame determine the longevity of the sunglasses. These fishing sunglasses sport nose pads and rubberized temples for a snug fit.
Besides the style, the materials used in the making are required to be more flexible, ensuring that they last longer and let you bend them based on your comfort.
UV Protection
The reason to select polarized sunglasses is their capabilities of safeguarding your eyes from harmful rays. As a fisher toiling hard in quest for fish, you need to pick sunglasses that offer 100% UV rays protection. The modern polarized sunglasses are equipped with 100% UV 400 coating.
The higher the coating rate, the better the sunglasses perform under the bright lights. The polarized lenses that with a marking "UV 400", help in blocking in rays with wavelengths over 400 nanometers.
The traditional lenses comparatively fall short in terms of providing a clear vision. So when buying, always prefer polarized lenses over traditional ones, to have a better view of a fish.
Lens Colors
There are a variety of lens colors that prove their efficacy in blocking harmful rays and blue light. For optimum vision, these sunglasses might be colored a bit to reduce brightness levels slightly. Following are some of the different color lenses: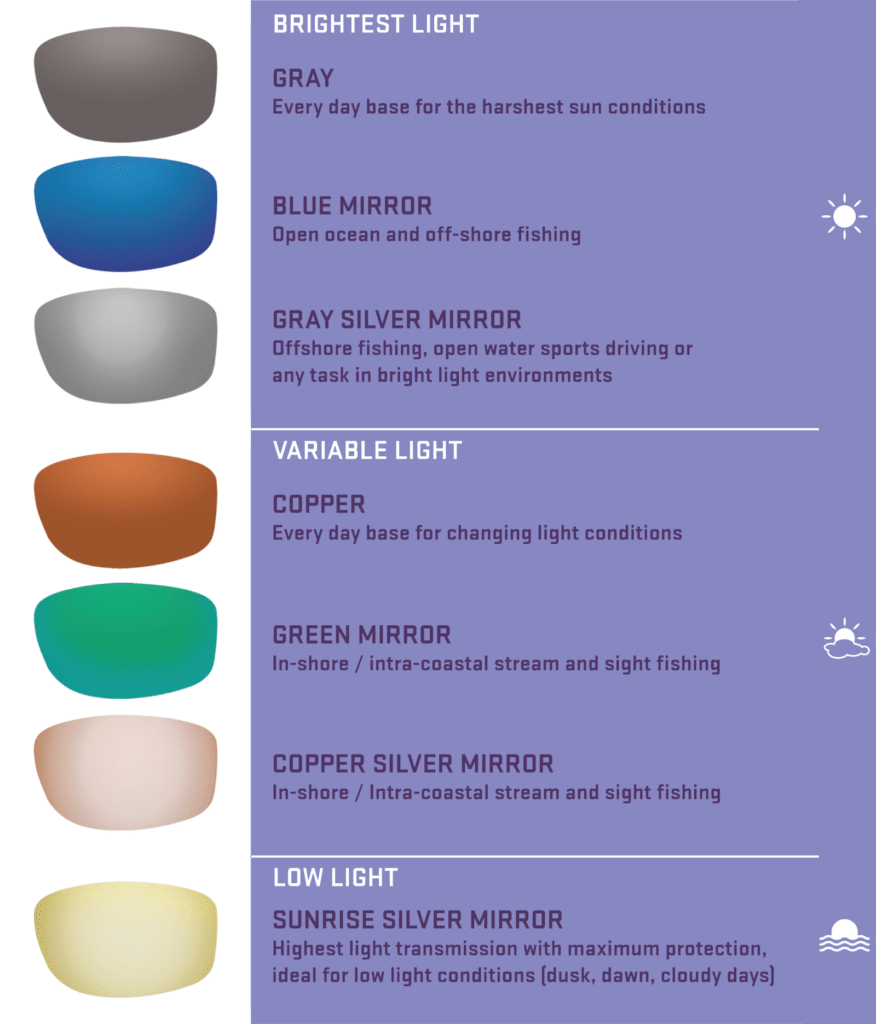 Dark Lens (Black/Grey): Colors such as black/grey are highly efficient in reducing brightness and improve depth perception. These colored lenses are ideal for fishing on sunny days and offshore fishing.
Blue Lens: These colored lenses are infused with a gray base that prevents the penetration of direct sunlight. These lenses are best suitable for saltwater fishing.
Yellow Lens: Go-to lens colors while fishing in murky waters and conditions like fog. Yellow lens filtrate blue light for better depth perception and vision in low light conditions. These colored lenses come in handy during fly fishing.
Amber Lens: These sunglasses are reliable when fishing on a cloudy or overcast day. Although these lenses offer bitsy defense from harmful rays, they work fine in ensuring the vicinity looks vivid and beaming.
Lens Material
Yet another essential thing to consider when buying polarized sunglasses is the material of the lens. Typically, glasses are made out of the following two materials:
Polycarbonate: Widely used lenses that create a brighter image than other materials. Lenses of this kind are way lighter than glass and appear with scratch-resistant coatings.
NXT Polyurethane: Lightest among all the other materials, Polyurethane is durable and unbreakable. Known for superior performance under bright lights, this material is expensive but not readily available.
Durability
Buying a pair of sunglasses is an investment that you wish to not go wrong with. It is worth knowing that fishing sunglasses aren't affordable. Hence, you need to pay attention to every detail before placing that order.
Before buying durable sunglasses, ensure that those feature scratch-proof lenses. Furthermore, abstain from purchasing sunglasses if you find the quality to be substandard. We suggest you stick with sunglasses that come with a thick coating for long-lasting durability.
Your polarized sunglasses should be durable, and lightweight with a little bit of flexibility especially in the tempo because it uses a blend of a little slight curve in there but also holding onto the head. There should be a good balance of pressure to hold on to your head, not too much to give you a headache but enough to keep it on your head.
Contrast enhancing lenses are really the biggest piece of the pie here because that's going to make it easier to spot the fish which is the hardest part of sight fishing. The heightened differences between colors make it easier to spot and track that fish.
Also Read: Best Life Vest for Fishing: Complete Reviews & Buying Guide
---
FAQs
How do I clean the lenses?
It is a straightforward process. Ensure that your hands are clean and have no presence of dirt or anything that could hamper the quality of the lenses.
Take into use warm water or lens cleaner to rinse the dirt off from the frame. Next, pick a dish cleaner and apply it to both lenses. Rub each lens and nook and corner of the frame with soft microfiber. Lastly, rinse the soap and let the glasses dry for some time before you wear them.
Is it necessary to get a prescription for sight fishing sunglasses?
There is no primary requirement of prescription when buying polarized lenses. Albeit, these prescribed glasses are available for purchase. Sunglasses with prescriptions augment objects that appear to be closer. These glasses are not polarized, therefore do not help you locate fish underwater.
Will not wearing sunglasses for fishing cause damage to the eyes?
Fishing requires the highest level of protection — be it your eyes or any other part of your body. Since eyes are the most sensitive organs, anglers must resort to precautions in protecting them from harmful elements like sun rays, wind, sand, and so on. As you sit under the scorching heat, having a pair of sunglasses becomes crucial. Fishing hooks can also cause trouble to your eyes and not just the rays.
What are the important features of a good lens that you should look for in Polarized Sunglasses?
The lens material should be impact resistant and lightweight. The lens should be capable of a nice contrast enhancement to handle light in the right way. Also, these should be scratch resistant and resilient against harsher weather conditions like you get from sea-salty air.
What should you look for in a frame?
The nose pads should be vented and slotted so they're great at grip. The adjustability of the nose pads gives you a more custom fit on the nose. A good grip also helps to minimize the fog as you can push the frame a little bit further away from your face to minimize fogging. It should be anti-corrosive and flexible.
How can a contrast-enhancing lens help you catch more fish?
A contrast-enhancing lens helps to boost color perception and make colors more vivid. Also helps to give you a slightly wider range of light conditions that the lens will cater to because of even brighter conditions. You're going to be blocked from all that bright crazy light but in lower light conditions because the colors are boosted it gives you a little more of a feeling like more lights making it to your eyes.