Icy terrains aren't the ideal conditions to take a casual stroll. Activities such as this require suitable pieces to make a move, considering these are fragile thin ice-packed surfaces. Ice cleats are made specifically to reduce the chances of constant falls and tumbles you are more likely to witness while walking in such conditions.
Cleats are a must-have when walking on ice-laden surfaces. These come in plenty of sizes and designs, so choosing may not be an easy-peasy job. In the following sections, we discuss certain factors that might help in landing the best pair of cleats available on the market.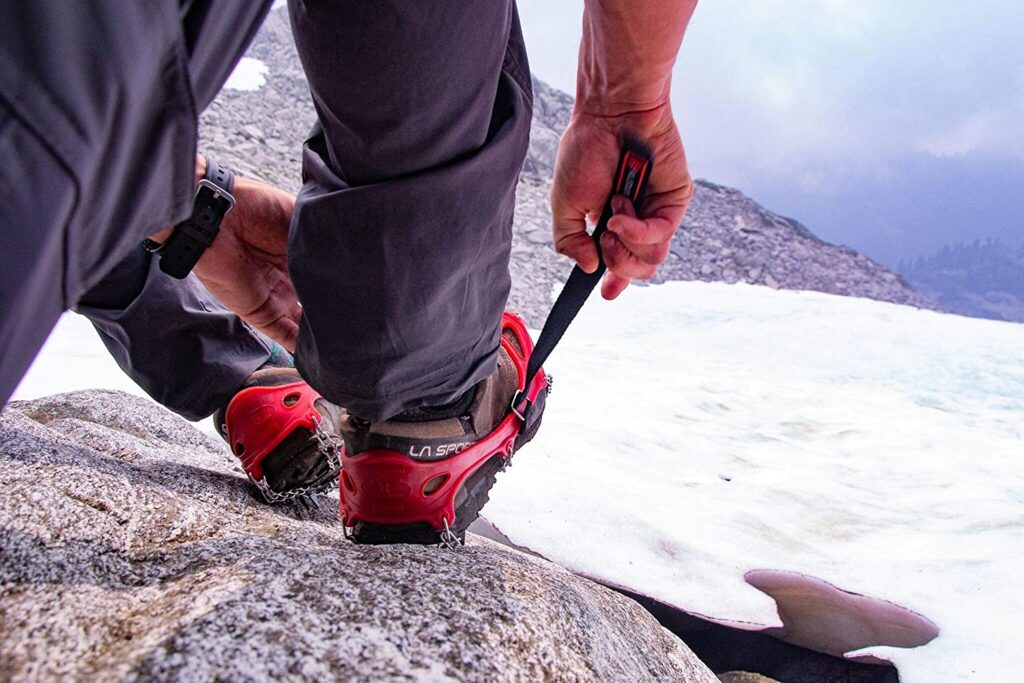 Slipping and falling are less funny when they happen to you. The risk goes up in the winter season. After testing the Number of different t traction devices on water-slicked ice, hard-packed snow, and slippery hills on wintry city sidewalks and forested trails, we've found some best cleats for walking on several surfaces.
Material
Cleats come stacked with different kinds of metal. The most widely used one is — steel. It has all qualities required to comfortably drag your feet on wet and icy surfaces. Moreover, the material is resistant to corrosion and is available at an inexpensive price tag. The other material — aluminum — is delicate and quite handy on snow and ice as well. But the aluminum is prone to damage and rust.
Grip
The main reason for buying cleats is that they provide traction when walking on ice. The cleats that come with an omnidirectional grip offer great traction while strutting on a variety of surfaces. The market now has plenty of cleats coming in steel spikes or studs that prevent you from slipping. The stainless steel gripping is probably the best in offering traction.
Size
Size is another integral part of cleats. While many come with adjustment options, there are those that are already in pre-made sizes. Look for those that you may not have to expand while wearing. Ultimately what matters is how comfortable you are after wearing the cleats.
---
Best Ice Cleats For Traction on Ice and Snow
Walking on ice without much protection might not be a great idea. Here is a list of the best cleats that prevent you from crash-landing.
1. ICETrekkers Diamond Grip Traction Cleats
ICETrekkers' Diamond Grip Traction Cleats have been the pick of many ice-walkers. This pair is made using sturdy solid steel that is comfortable while walking on fragile thin ice-packed surfaces. The patented diamond bead design clubbed with sharp edges glides easily over different surfaces and not just on ice.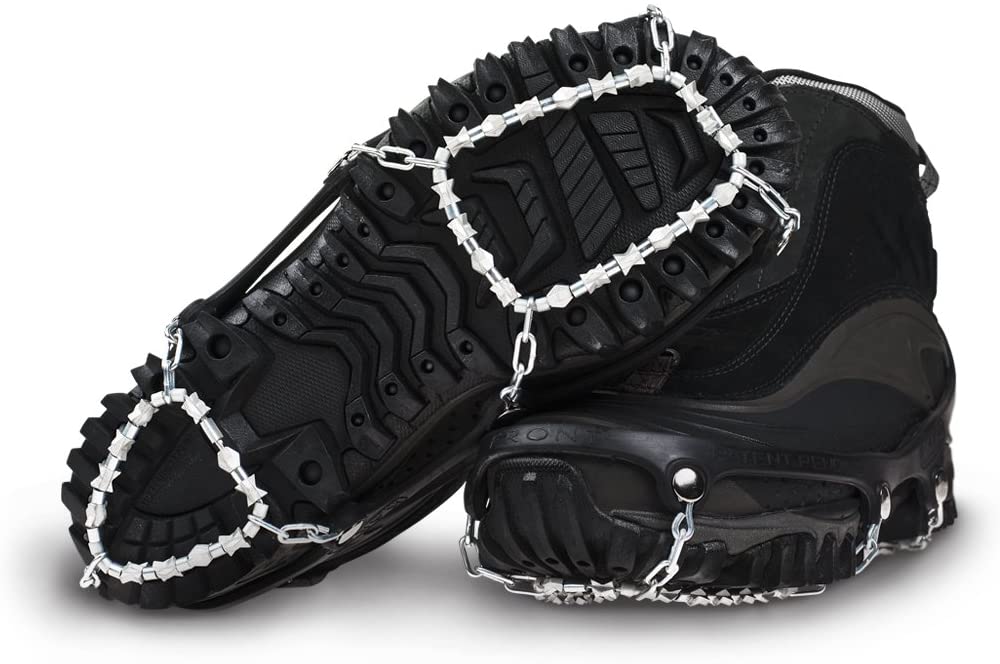 The cleats feature a rubber-like sling that fits easily on boots, dress shoes, and tennis shoes. The pair has a self-clearing design, ensuring snow or ice doesn't build up on the boots as you walk. These ice cleats are designed to last long and provide aggressive traction in frosty conditions.
ICETrekkers' cleats have a safe-to-wear design that is built to last longer than expected if taken properly care of. Also, the rugged design makes this an ideal fit for heavy industrial uses.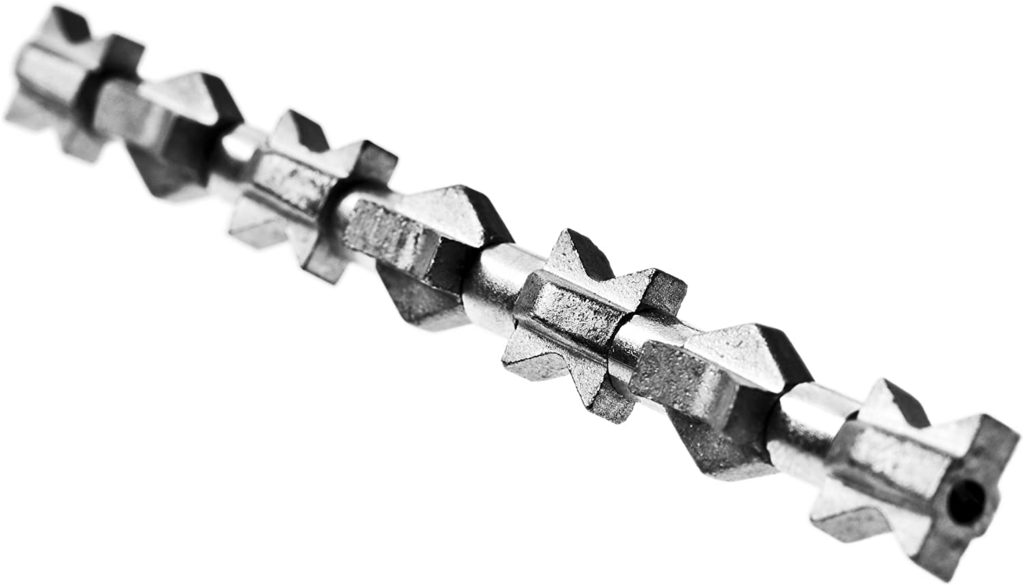 Spiked, rotating beads underfoot are what make these cleats the most versatile traction option we found. They meld to ice patches & bite into hard snow. Because of rotating beads, it shed even the softer snow before it can build up underfoot. These cleats are easy to use on the pavement which is important because, if you live somewhere wintry, taking out the trash on an icy night should not be a harrowing experience.
Effortless to walk with on thin ice surfaces
Can be worn/removed easily
Self-clearing; doesn't stock up snow and ice buildup
Steel construction; prone to rusting
Durability is a concern
2. Kahtoola MICROspikes Footwear Traction
A household name in the ice-fishing category — Kahtoola's MICROspikes is an excellent contender to help you in your hiking and climbing expeditions. The spikes are made of heat-treated stainless steel that makes it sturdy, and with the inclusion of an elastomer harness — you get unparalleled fitting and comfort while walking on thin icy floors.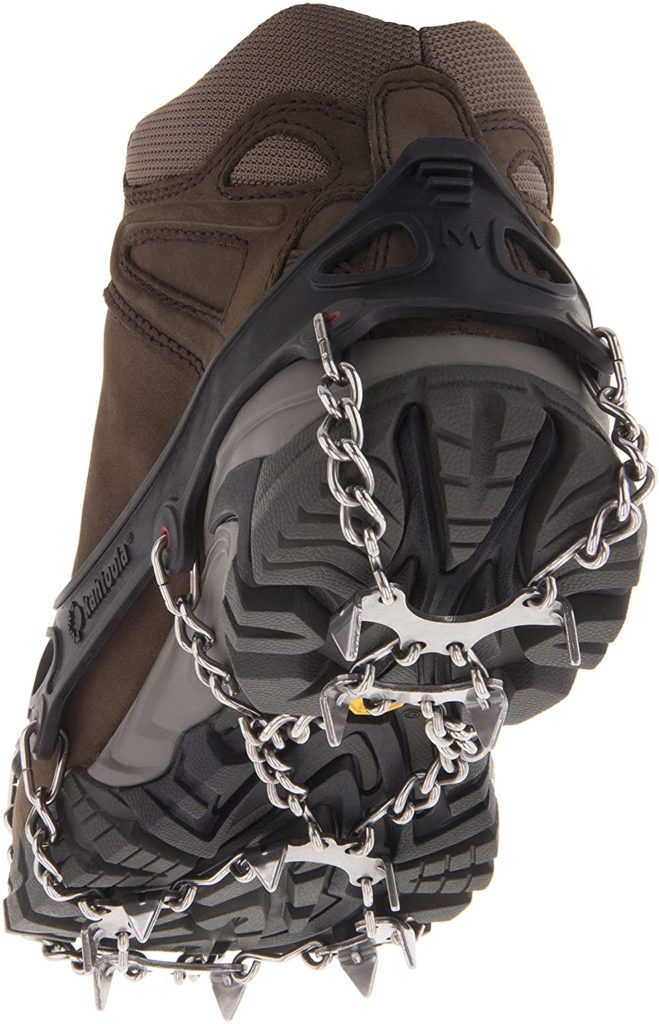 The package includes 12 stainless steel spikes on each foot for superior traction during ice fishing and other similar slippery surfaces. The spikes are corrosion-resistant, which will probably prevent the cleats from falling prey to rust and other such elements.
Kathoola doesn't let down in numerous departments, and with a two-year warranty — we find this reliable gear to bank on. The lightweight design tugs in and out easily on all kinds of boots and shoes.
Supplied with a two-year warranty
Lightweight; doesn't take a toll on walking/climbing
Comfort fitting; can be worn for long periods
The chains are a bit fragile
3. Yaktrax Pro Traction Cleats
The Yaktrax Pro Traction Cleats are laden with some premium elements that easily help you glide over the icy surfaces. These cleats are equipped with 1.4mm steel coils, which come nifty on multiple occasions — walking on ice, or dry surfaces like pavements, and so on. The traction on this is matchless, providing a full 360 degrees on cold surfaces for all-direction stability.
The model boasts a harness system that is made using heavy-duty rubber and is clubbed with a few extra straps. The harness is so elastic that it easily fits in all kinds of shoes and boots. The fitting is something worth appreciating, courtesy of the removable over-foot strap coupled with the foot frame.
What's more, to assure winter walkers that the Yaktrax Pro is safe from the wreckage — it has been tested in conditions with temperatures lower than -41 degrees. All in all, these cleats are secure and prevent you from the frequent slips that are common on slippery floors.
The traction is the best on-ice/snow-packed areas
Safe and snug fit
Removable straps for easy take in and off
Rubbers easily snap off
Not ideal for long-distance walking or running
Also Read: Best Ice Fishing Buckets For Your Baits
4. Hillsound Trail Crampon
Trail Crampon from Hillsound has a secure design and comes without bells and whistles. The addition of an ergonomic plate system does improve stability in slippery conditions. There are eleven spikes on the cleats that vouch for maximum support and come with a two-year warranty.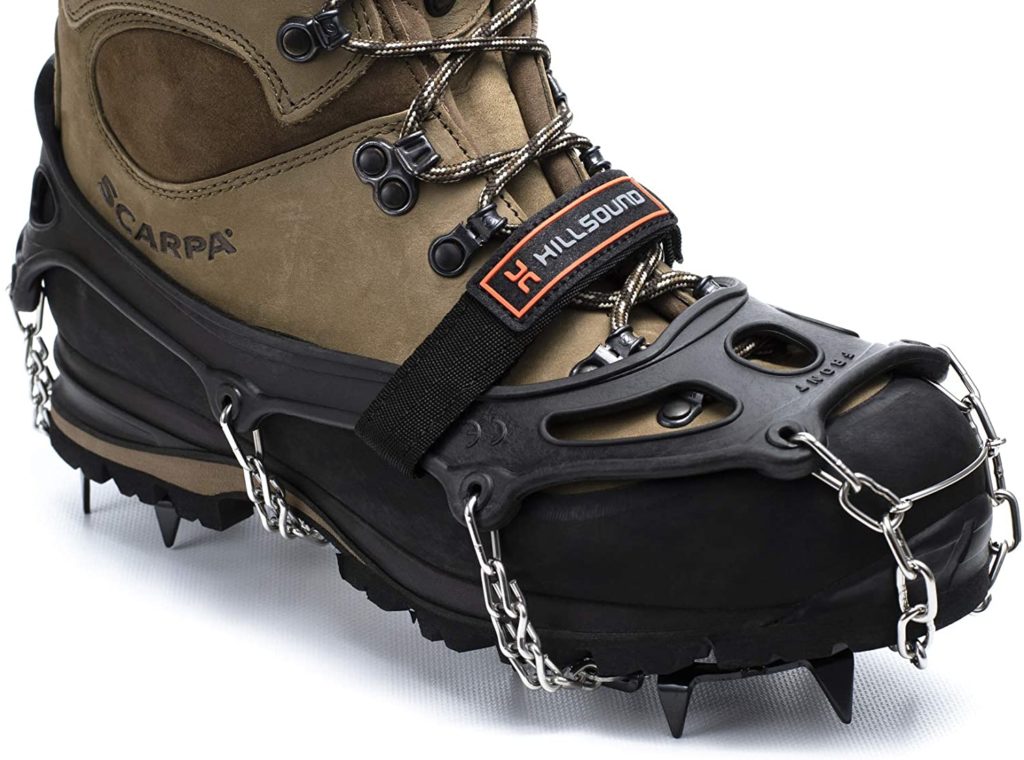 The elastomer harness adjusts to a variety of footwear, while the strap provides a secure and snug fit. The front of the cleats houses a hinged plate which ensures utmost flexibility. Since it is extremely delicate and light, traveling with this in your backpack will not be a too demanding task.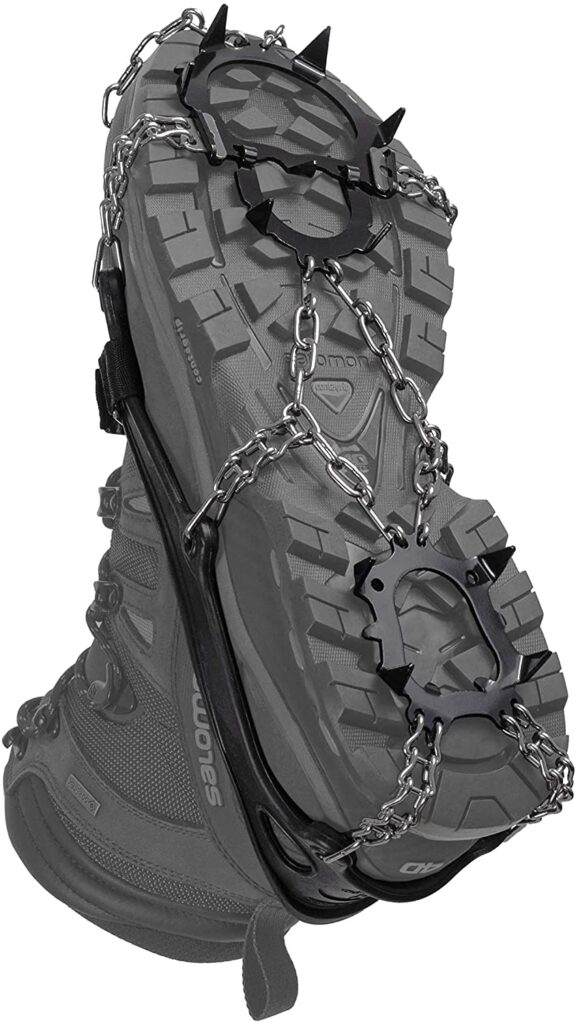 Hillsound's Trail Crampon is built to walk on all terrains. These cleats have certainly been the choice of many for the material and comfortability. The only bummer being — the price that will leave you a bit puzzled.
The spikes are adjustable
An ergonomic plate system; does help in traction and reducing fatigue
Backed by a two-year manufacturer's warranty
Slightly overpriced for a simple design
Snow build-up; prevents walking smoothly
5. STABILicers Walk Traction Cleat
STABLicers' Walk Traction Cleat is a quality pair that impresses with its stability when walking on snow and ice-laden areas. These cleats are made for all types of footwear — be it shoes or boots. The pair further eliminates the risk of falling and improves safety for countless effortless walks on muddy and wet surfaces.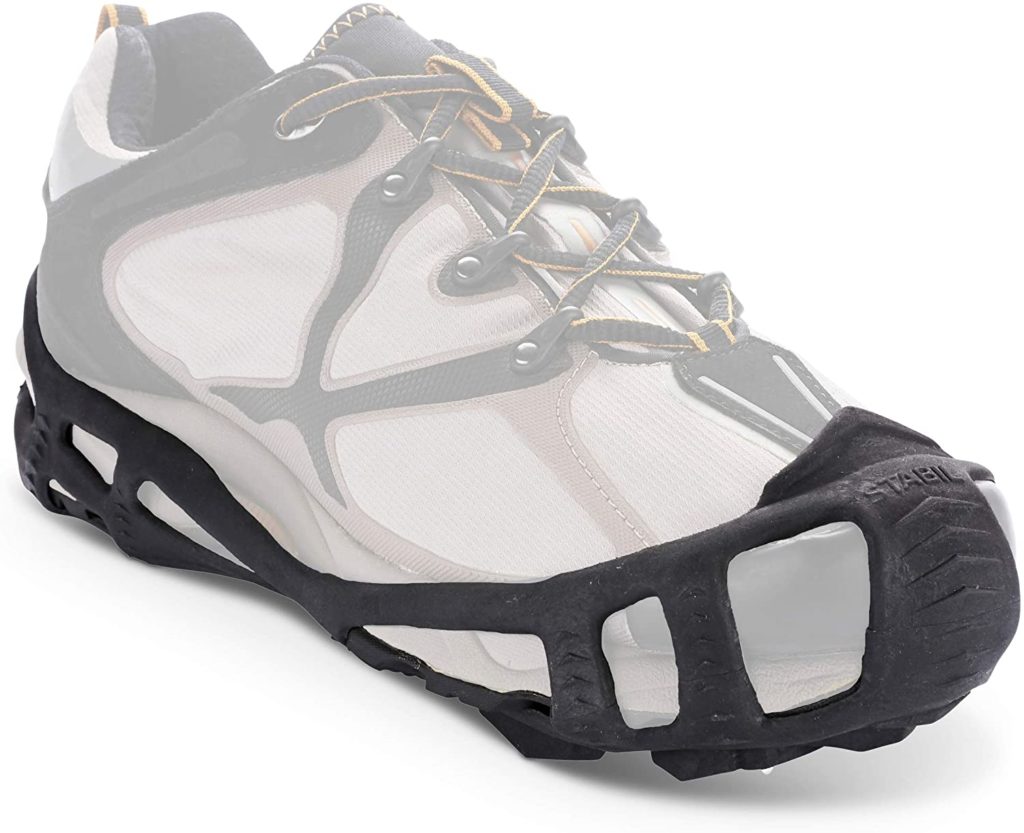 The heat-treated steel traction plates stacked into the heel and forefoot offer incredible comfort and secure grip, preventing you from tumbling down on icy or dripping wet surfaces. Furthermore, it provides 360-degree traction that helps in most day-to-day activities.
STABILicers' Walk Traction is a tried and tested product in some extreme conditions. These cleats have proven to be effective in temperatures as low as -45 degrees Fahrenheit. The downside of buying these — the warranty is only 90 days.
Comes in three different colors
Can be easily stored in a purse or even a small carry bag
Provides a full foot protection
Not recommended to use in deep snow
Slight uncomfortable; these keep falling off
6. Unigear Traction Cleats
Unigear is a brand of high-repute widely acknowledged for its lineup of winter accessories. These traction cleats are sturdy and comfortable in the frigid temperatures. The cleats make hiking outdoors a less-demanding task with the addition of 18 stainless steel spikes — with 12 spikes at the front and 6 at the heel.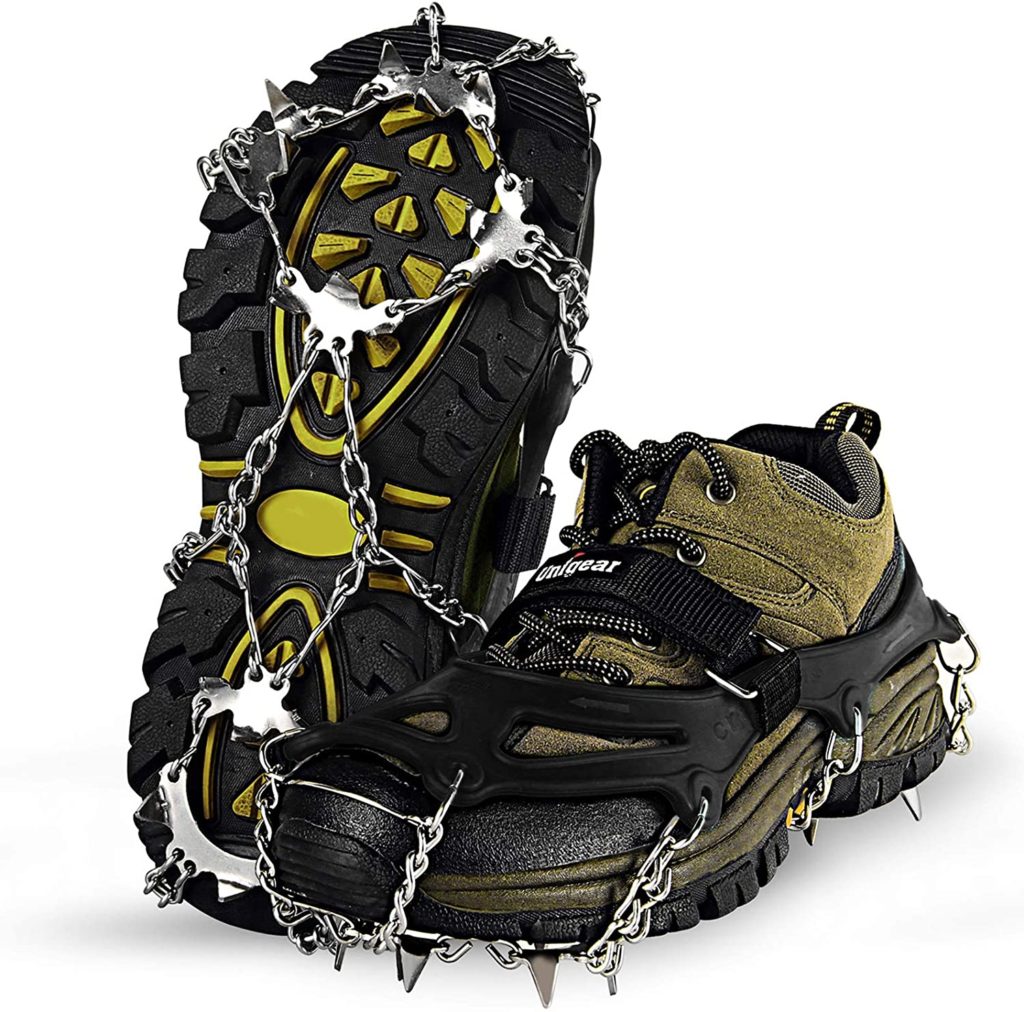 The ergonomic plate system on the cleats offers superior traction on the ice. There is also the TPE band, which thrives in icy-cold conditions. Since it boasts secure and adjustable straps, the cleats tug in and out easily.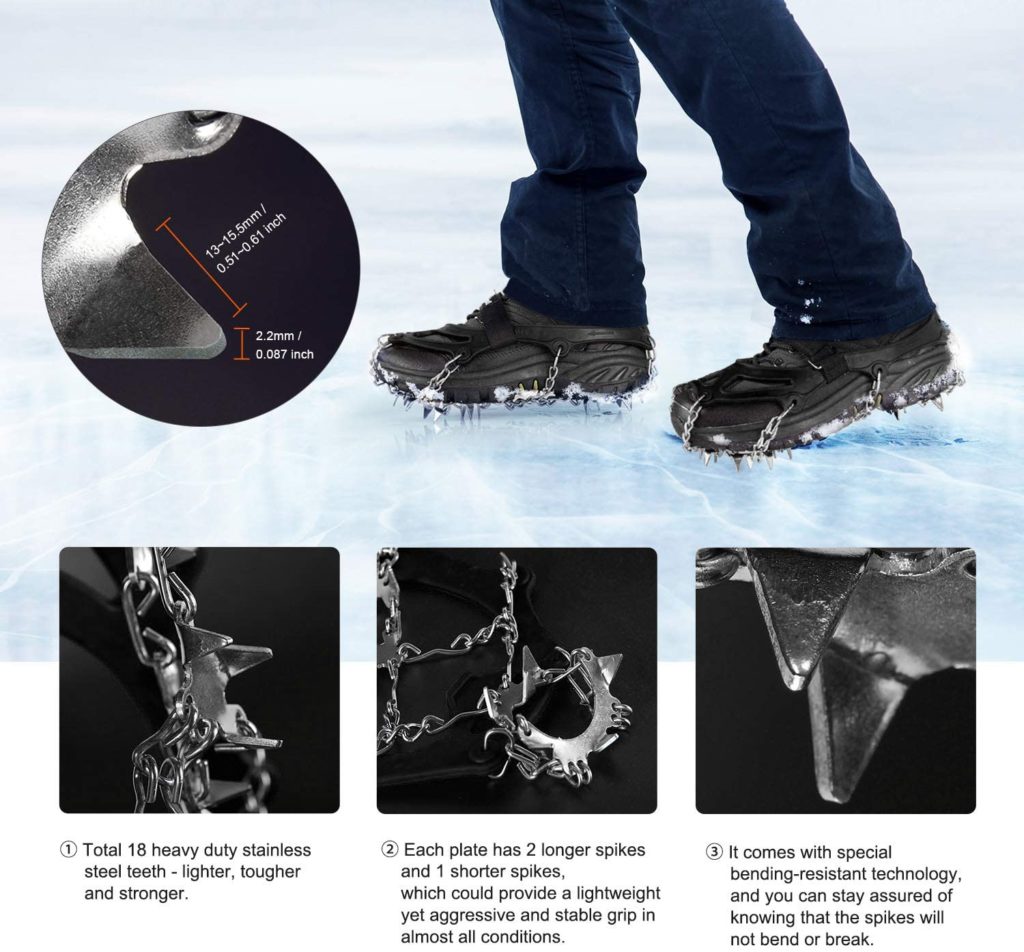 The Unigear cleats are reliable under the most extreme conditions, and with anti-tearing and anti-abrasion qualities — these are the go-to pair of cleats we'd recommend the regular walker on the ice and snow-packed terrains.
Adjustable straps for a snug fit
Full-sole coverage; from forefoot to the heel
The traction is top-notch
Doesn't work on hard surfaces like concrete or tile
Not the most durable
Also Read: Best Ice Fish Finders On The Market
---
Conclusion
We jotted down some of the best, some of the most reliable options in this list of best cleats. If you are still in the dilemma of which one to go for — the ICETrekkers Diamond Grip Traction Cleats or the Yaktrax Pro Traction Cleats have been tested and tried in the most icy-cold regions.
Have we failed to drop your favorites? Write to us in the comment section, and we'll share our two cents about the product in the next update.
---
FAQs
Are ice cleats easy to wear and take off?
Ice cleats are simple in putting on and taking off; however, the type of cleat you wear also matters. These are generally available in three types — step-in, strap-on, and hybrid. Cleats with strap-on systems are more suitable for hikes and generating traction during non-technical terrains. While the step-in and hybrid are compatible for technical terrains.
Which are more suitable on ice surfaces — long or short spikes?
Cleats with long spikes are considered mainly for hiking and ice surfaces. On the other hand, short spikes are more suitable for less intensive tasks like casually walking around.
How long should ice cleats last?
This is the most common and fair question to ask about ice cleats. There are two types of ice cleats, one is built for recreational purposes [walking the dog and shoveling the driveway] and the other for utility workers.
If you are a worker and chose ice cleats from a retail store designed for recreational purposes, you might burn through about ten ice cleats for shoes in one season. If you use the wrong ice cleat for the wrong job task, you will experience differences in how long they will last.
How to take care of ice cleats?
Ice cleats don't need much care. You just need to do is, Let them dry after use. You can also rinse them if road salt or other chemicals were used where you walked.
Yes, these bulky-looking ice cleats can save your butt. You have to use them while going outside when there is a snowy or wintry season. Ice cleats are made after taking several tests for effectiveness.