Warm and snug fit — two things anglers are highly on the lookout for while fishing in the freeziest of conditions. Unlike most conditions that favor anglers, cold and strong winds are not the most ideal of situations to continue fishing.
The product in focus here is — ice fishing bibs, which are handy on more than one occasion. Here in this article, we share some of the best ice fishing bibs; go ahead and pick one that fits you the best.
---
What to consider when buying an ice fishing bib?
Bibs do a world of good in covering anglers from the gusty winds and freezing weather. Their indispensable role while fishing in the most extreme weather conditions makes the activity a lot easier and bearable. Ice fishing bibs need a bit of quality check before you consider them for buying. Following are some factors you need to pay heed to before shelling your money:
Padding
The amount of padding a bib comes with — does make a massive difference. Experienced anglers have a strenuous and laborious duty of protecting themselves in this tumultuous fishing adventure. Bibs must and should have thick padding, ensuring that you are secure from any injury. Consider bibs that balance padding in both knees and seat, so you have effortless maneuverability.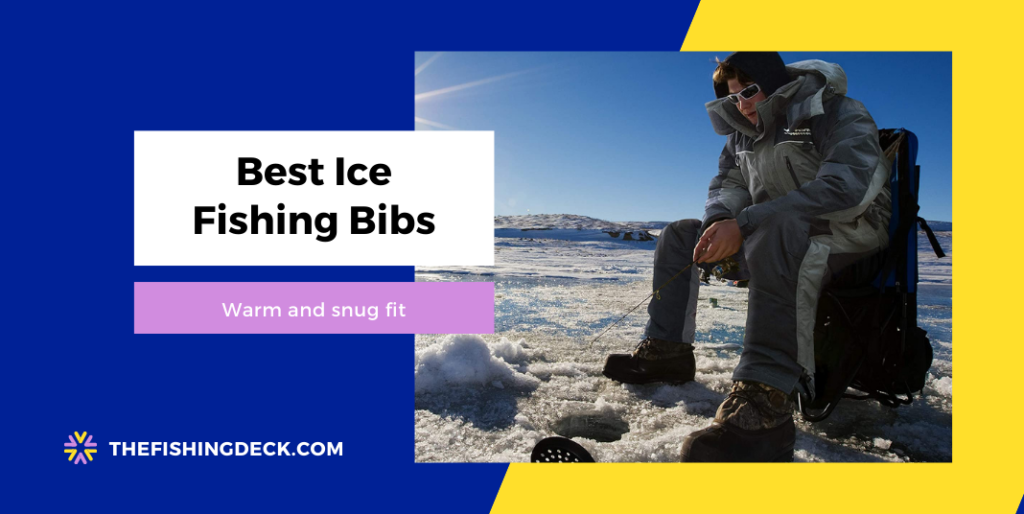 Waterproof
Waterproofing and fishing are inseparable. Be its rods, reels, or the bib — waterproof element is a must-have. Exposure to low temperatures does bring a number of issues. Ensure that the bib has a higher waterproof rating, and can safely take the water splashes and rain. Getting drenched in the freezing temperature is the last thing you'd want.
Insulation
While fishing in the icy cold conditions, you are at risk of falling prey to multiple illnesses. Ice fishing bibs that have high insulation levels offer you warmth, and also not let you succumb to overheating at the same time. 80 grams of insulation is highly common in most brands, and anything less than that might have serious repercussions.
Storage options
Pockets can either be used for storing small basic items or keeping your hand warm. You'll find different-sized pockets either on the chest or throughout the legs of the bibs. Pockets become quite easy to access fishing equipment as you drag your boat through the frozen lakes.
Also Read: Best Ice Fishing Suits for Winter
---
Best Ice Fishing Bibs
The market is inundated with bibs that are specifically designed for ice fishing. With numerous options come headaches and dilemmas. Here are some of the best fishing bibs that will help in targeting fish in those freezing temperatures.
1. Frabill I-3 Ice Fishing Bib
Frabill comes with unrivaled support and protection in frosty conditions, and the I-3 Ice Fishing Bib is the testimony of the brand's excellence. The bib is laden with padding on the knees and seat, which do not hinder your movements as you bend or jump while fishing. The bib is made from 300 denier nylon that adds warmth throughout your expedition.

I-3 also boasts zippered vents for seamless ventilation in case the weather starts soaring. This fishing bib ensures greater visibility and safety in a low visibility environment, courtesy of the 3M Scotchlite reflective material. The best part about the bib is that it is entirely sealed and waterproof to stand the test of time.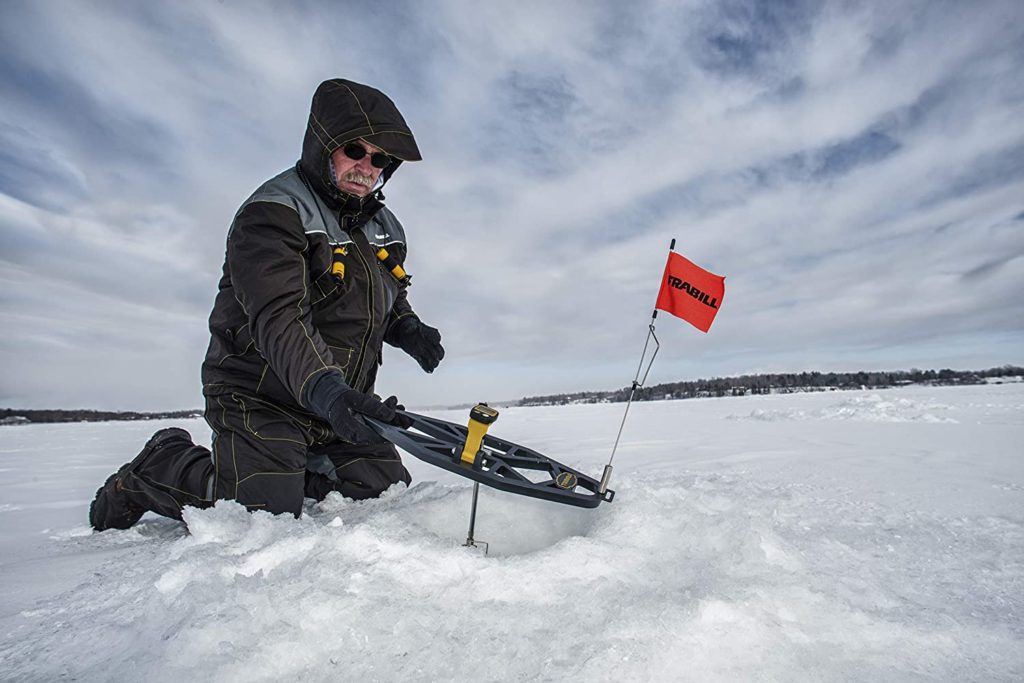 The ice fishing bib comes with a self-rescue kit that becomes paramount in times of assistance. Furthermore, I-3 has full elastic shoulder straps coupled with cam-lock buckles that are somewhat tedious to adjust.
Padding on knee and seat allows easy movements
There are plenty of storage options
Breathability is improved with zipper vents
Straps are difficult to adjust
Height adjustment not compatible with short anglers.
2. Arctix Tundra Bib
The second favorite on this list of best fishing bibs is the Arctix Tundra. This ice-fishing bib has amassed thousands of reviews, all thanks to the warmth and feature-rich options it comes with. This bib features advanced insulation material (ThermaTech) that traps body heat and maintains the temperature.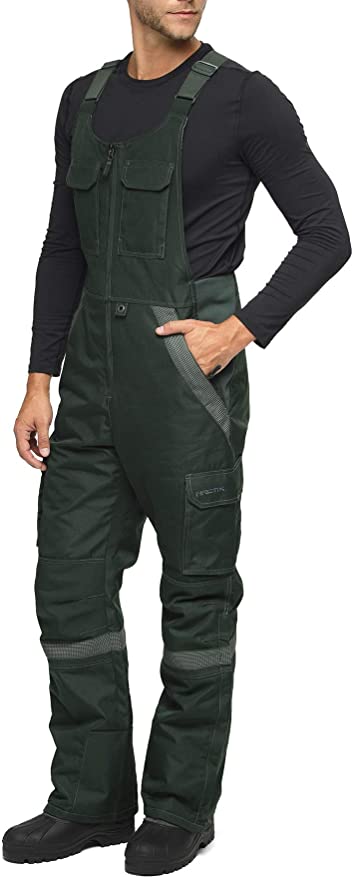 This fishing bib has a waterproof outer shell, which does well in resisting abrasions and outdoor conditions. It comes reinforced in the knees and seat to make maneuvering effortless. There is also a 20-inch zipper, which lets you get in and out of the bib quickly. Quite like the I-3, Tundra also comes with reflective safety webbing that keeps angles visible in low light conditions.

The bib houses a D-ring to include additional accessories like keys or gloves. Warmness is enhanced with the bib's zippered handwarmer pockets. The Tundra bib is available in five different colors and plenty of sizing options to fit all sizes of anglers.
Features zippered handwarmer pockets
Advanced insulation to maintain body temperature
Visibility enhanced with reflective webbing.
Limited storage space
The bib isn't adjustable in height.
3. StrikerICE Predator Bib
StrikerICE Predator Bib is a step ahead in terms of comfort yet being the lightest to don in the frosty conditions. The bib has the waterproof outer layer paired with 100 grams of Thermadex, which assists in offering unparalleled warmness for long fishing sessions through the icy lakes.

The bib is also supplied with the Sureflote flotation membrane that improves mobility and protection in the icy-cold environment. The membrane also adds buoyancy to the bib, further helping in a minimum of two hours of floatation assistance. There is extra padding in the knees and seat that brings more movements all along with your fishing exercise.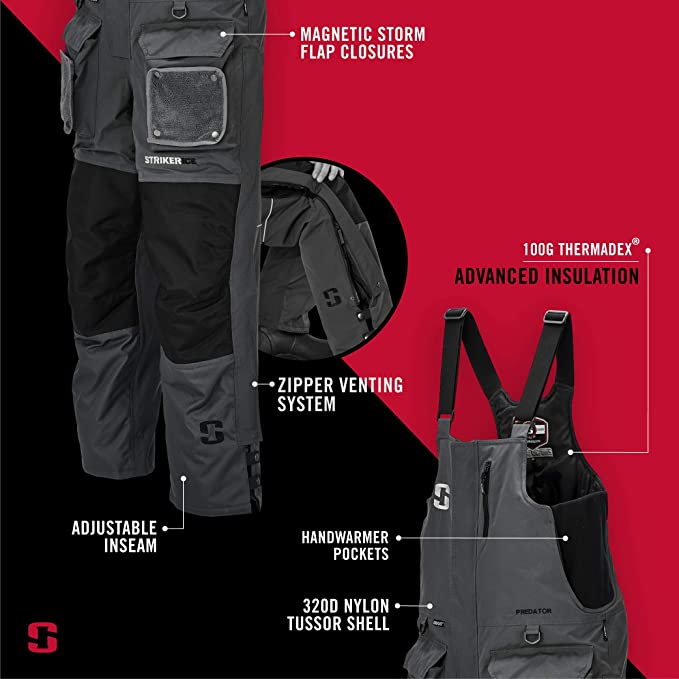 The addition of the Hydrapore system packs a punch in offering the highest level of protection against extreme weather elements. The add-ons like reflective material work incredibly well in keeping anglers safe in snow-clad conditions.
The padding in the knee and seat makes movement effortless
Thermadex adds warmth and breathability
Flotation assistance to protect in extreme conditions.
The zippers don't go low enough
The waterproof rating seems pretty low.
Also Read: Best Fishing Rod Storage Racks for Boats
4. Clam Ice Armor
Clam's Ice Armor is a highly understated apparel in the bibs category. Designed specifically for extreme conditions, this fishing bib is stocked with quality features and thick padding. Speaking of padding, the bib comes with 1000D ballistic nylon that lets you stay in the kneeling position for hours without feeling any discomfort.

The 300D layer is remarkable in keeping the attire water and windproof, while also assisting the anglers with breathability. The bib houses an array of storage options, including the fleece-lined hand warming pockets with spacious leg pockets. The 3M Scotchlite reflective straps can be observed from a distance in low-light conditions.
The magnetic storm flaps over the zippers keep them well-protected. Ice Armor comes in three sizes for men: large, medium, and extra-large. All in all, this fishing bib is the go-to option for anglers seeking plenty of storage options and good protection.
300D denier outer shell; makes this water and windproof
Comes with removable reflective material
The knee padding is quite nice to kneel for long periods.
Elastic suspenders prone to wearing out.
5. Frogg Toggs Classic Pro Action Bib
For those considering an inexpensive option, the Frogg Toggs is the perfect attire on this list of best ice fishing bibs. Although it doesn't exaggerate much in the features department, the bib manages to offset it with a good waterproof rating. The bib comes with multiple storage pockets clubbed with lengthy zippers in the front.

This ice-fishing bib has adjustable, elastic suspenders coupled with easy-to-use buckles for a more safe and snug fit. The leg openings come in hook-and-loop form, making it easier to hop on and off over boots or shoes. The breathable fabric of the bib adds extra stability, and resistance against strong and gusty winds.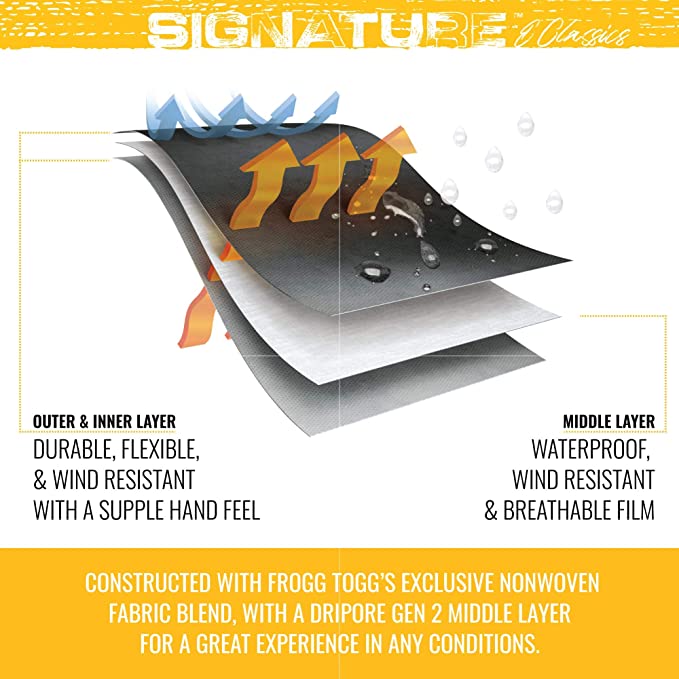 Frogg Toggs' Classic Pro Action Bib might not be the ideal option for most anglers, but it has the warmth and coziness just like every other model. The USP of this bib is it comes in different colors, and sizes — at a really affordable price tag.
Quick-release buckles for secure and snug fit
Zippered opening to pop in and out easily
Cheapest; the most inexpensive attire on the list.
Hardly any padding
Shoulder straps are substandard in quality.
---
Wrapping Up
We brought you the best apparels that we've had to don. Having the best bib for an ice fishing expedition is the decision that will help you big time in the near future. Our favorites from the above list would be — Frabill I-3 Ice Fishing Bib and Arctix Tundra Bib. If you want us to try something your favorites, write us in the comments section, and we'll put them on.
---
FAQs
How to make the most out of ice fishing bibs?
The ice fishing bibs are designed to be worn in extremely cold conditions. While they are also useful in maintaining angler's internal temperature as they fish. These bibs have innumerable use cases, but they are more likely to be used in ice fishing. They are built to take you through the ice-clad lakes without compromising on comfort and safety.
How do I wear ice fishing bibs?
Ice fishing bibs are more like your everyday trousers. Most bibs allow you to wear them without taking your boots or shoes off. Consider bibs that come with zippered legs and gaiters clubbed around the ankles. If these aforementioned sentences haven't simplified the process, you have YouTube at your fingertips.