Fishing on frozen lakes can get nerve-wracking. Unless you have the best pair of boots to wear. Ice fishing boots solve more problems than one — these save you from embarrassing yourself by falling and offer warmth in freezing conditions.
Like cleats and other ice fishing gears, buying boots for the icy-cold temperatures isn't all plain sailing. The boots we bring you have been tested in some of the frigid conditions — and they shall not disappoint you on your winter voyage. Prior to that, we share a quick overview of what to consider before buying a pair of ice fishing boots.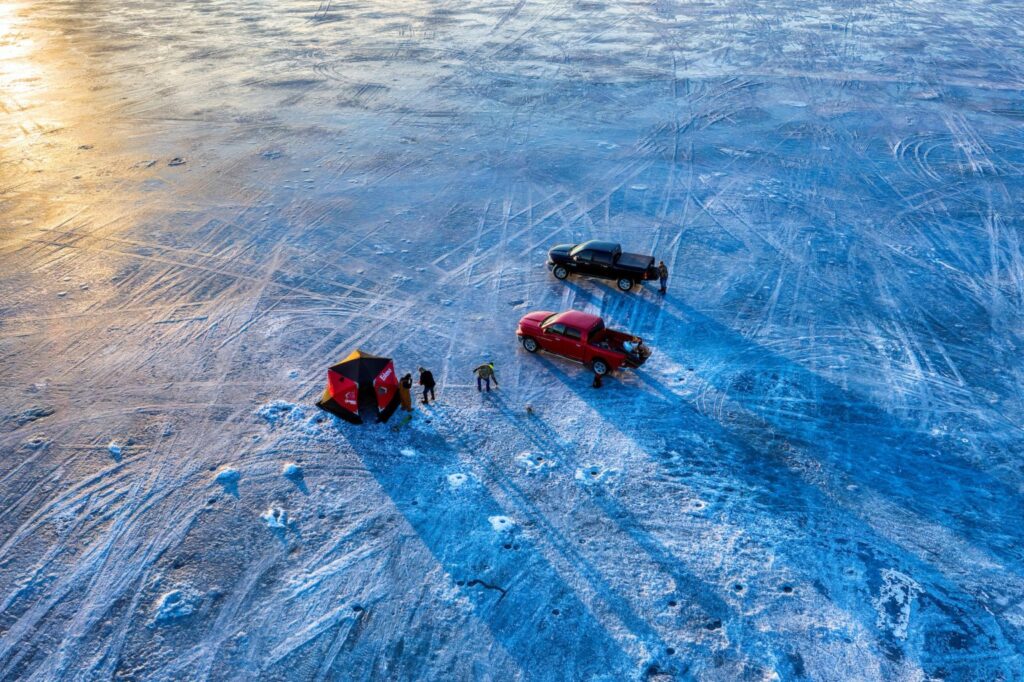 Ice fishing is a fun activity for friends and family during the winter months but no one enjoys any day out if they have cold wet feet. Finding the best ice fishing boots can be such a long task especially since you have to pick through many choices in the market.
During your ice fishing trips, you may suffer a lot of problems due to the lack of features your boots have. So it is important to gather enough information to know exactly which boots are good for ice fishing and which are not. To make your job easier we've put together this list of the best choices.
We've tested each and every one of them to really make sure you're getting the best of our list of recommendations, carry only the best products of the bunch and give you a clear idea of key features. To know more about each of these you can always check out the links we've put.
---
Things to Know Before Buying Boots for Ice Fishing
Ice boots have an indispensable role to play during your fishing expeditions in the cold freezing temperatures. The level of warmth and comfort these pairs have to offer is something that makes the activity less challenging. Following are a few things to know before buying ice fishing boots.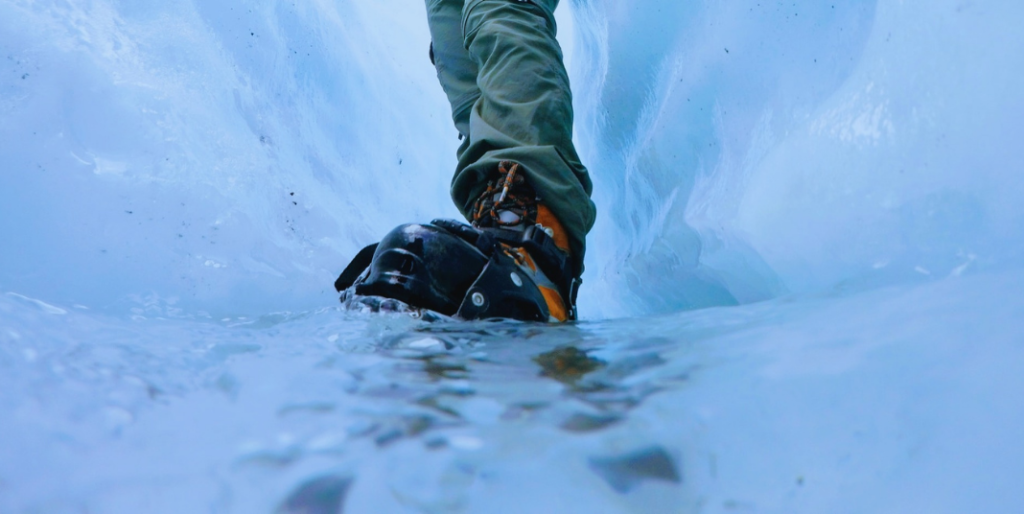 Waterproof
A factor that does have an impact on your buying decision is the waterproof ability of the boots. Snow and ice can significantly hamper your movements once they seep through in your boots. A pair with complete waterproof ability does ensure that your feet stay dry even as you stumble and fall over the ice-packed surfaces. Rubber and neoprene are those materials that offer a good amount of protection from snow and ice.
Insulation
Aspects like insulation require attention to detail. Ice fishing boots come with different levels of insulation, ensuring how well built these are to withstand the freezing conditions. Currently, the market is thriving with options offering different insulation elements — boots featuring Thinsulate have been the most preferred one for such conditions. The 400-gram insulation is rated safe for frigid temperatures.
Grip
A nice tough grip becomes the most talked-about part about an ice fishing boot. Grip does come in handy when preventing falls on slippery surfaces, which is normality on ice-filled areas. Maintaining a stable position is a must when reeling the fish on a surface — something which regular boots can't offer. Ensure the quality of grips before landing the boots on thin icy floors.
---
Best Ice Fishing Boots
Boots made for fishing on the ice-packed lakes have to be picked carefully. The factors discussed above may help you in picking a suitable pair of boots, but with innumerable options, you will have it challenging to choose one. Here are some of the best ice fishing boots that work remarkably well in icy conditions.
1. Sorel Men's Conquest Insulated Winter Boot
Sorel's Conquest Boots are some of the most highly effective pairs you will wear to walk on ice. Stacked with premium materials like the Thinsulate Ultra insulation, these winter boots keep your feet warm in frigid temperatures — they have been tested in temperatures as low as -40 degrees Fahrenheit.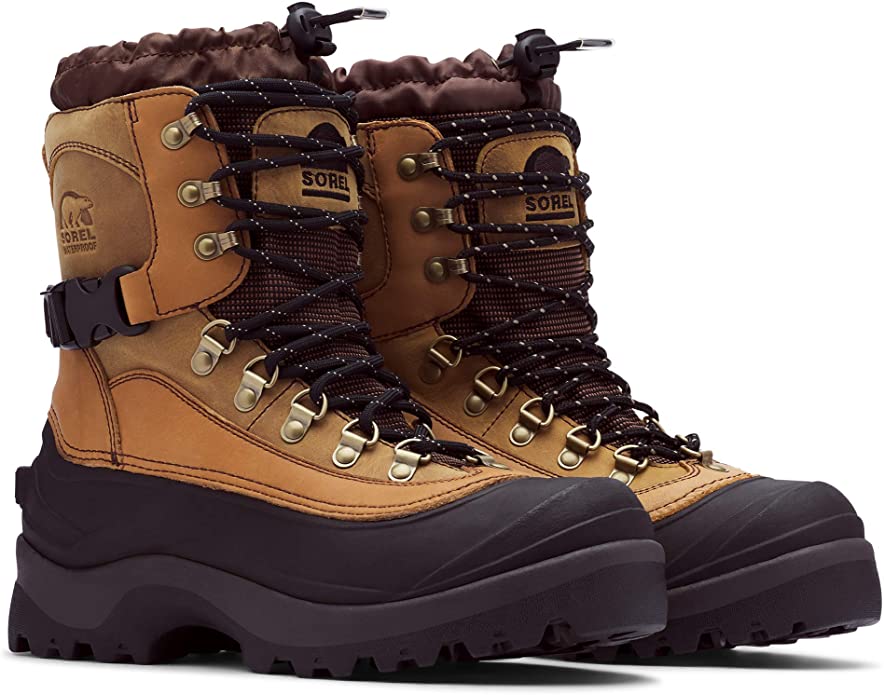 The EVA footbed can be removed, allowing it to dry after contacting water. The waterproof leather clubbed with fabric makes these boots comfortable for long periods of use. The built-in gaiter booties and the barrel lock system prevent the snow from entering in. while the Achilles adjustment strap offers ample support to the ankles on a variety of surfaces.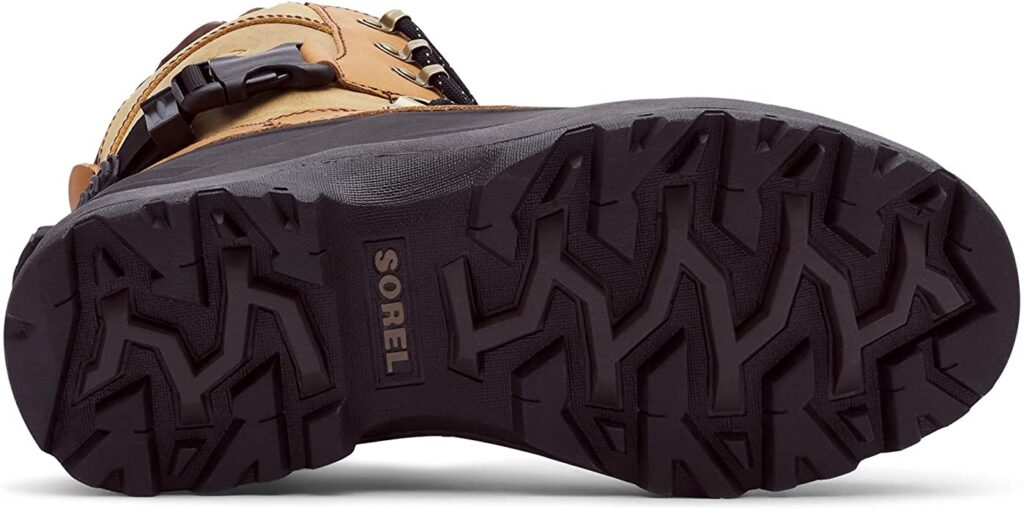 Overall, Sorel's Conquest is an adventure-ready winter boot that keeps your feet secure and warm in the icy-cold conditions. These winter boots come in multiple sizes and two different styles, namely — Bark and British Tan.
Multi-directional rubber outsole offers great traction
Built-in gaiter to keep snow out
400 grams of Thinsulate to keep feet warm
2. Kamik Greenbay Cold Weather Boot
Kamik's Canuck Cold Weather Boot is an angler's favorite choice when fishing in the ice-packed waters. Garnering thousands of positive reviews, these boots are budget-friendly options that offer unparalleled warmth and comfort. The pair features a strap coupled with a hook and loop for smooth put on and take off.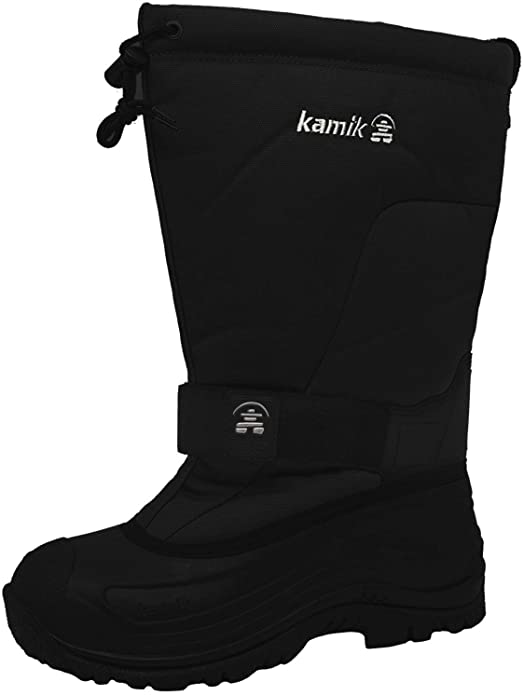 These boots are stocked with 600 denier nylon, which keeps your feet dry on all occasions. The addition of a removable thermal guard liner does help in providing warmth in sub-zero conditions. These boots come with a -40-degree Fahrenheit rating, ensuring your feet don't freeze in the coldest of conditions.
Greenbay is undoubtedly the most recommended pair of boots for your winter needs, or to be more specific — they are built for your ice fishing requirements. Available in multiple size options, anglers appreciate the fitting and comfort of these boots.
Comfortable and not bulky
Has a nice wide opening
Rated to withstand temperatures as low as -40-degree Fahrenheit
The boots run a bit small
The sole could've been a little thicker
3. Irish Setter 860 Elk Tracker Waterproof
The Irish Setter 860 sports a classic boot design that is packed with features for a good fishing session in wintry conditions. The ScentBan technology included within the boots offers pleasant odor all throughout your fishing expedition. It is equipped with 1000 grams of Thinsulate Ultra that keeps your feet toasty when walking on the ice-packed areas.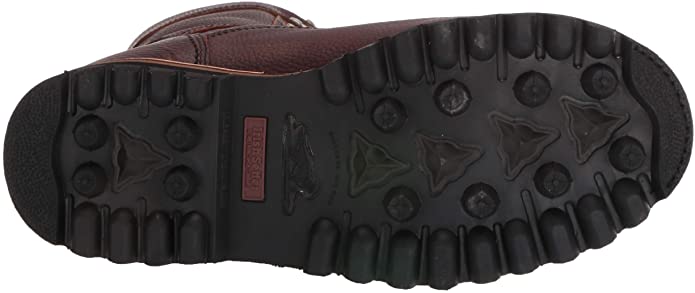 The Gore-Tex fabric lining is incredible in keeping the water from seeping in, while it also keeps feet dry and breathable. The soles are integrated with multi-directional lugs to prevent you from tumbling on the icy floors. The premium leather construction is also another great addition that eliminates wearing or tearing.
Irish Setter's 860 Elk Tracker is a completely safe and comfy package that doesn't harm your feet with annoying irritations. The boots come in a range of sizes, ranging from size 8 to 14. The only downside of wearing these boots is they don't arrive with a snow collar.
Eliminates bad smell with ScentBan technology
Thinsulate Ultra insulation keeps feet warm in sub-zero temperatures
Traction is excellent in prevents falls
Does not come with a snow collar
The laces' quality is okay-ish
Also Read: Best Ice Cleats for Walking on Icy-Cold Surfaces
4. Baffin Snow Master
Baffin is a world-class brand making high-quality boots that are designed for wearing on ice and snow-laden surfaces. Snow Master is a rugged winter boot that boasts a removable, multi-layer liner system, which increases comfort level while fishing on thin layers of ice.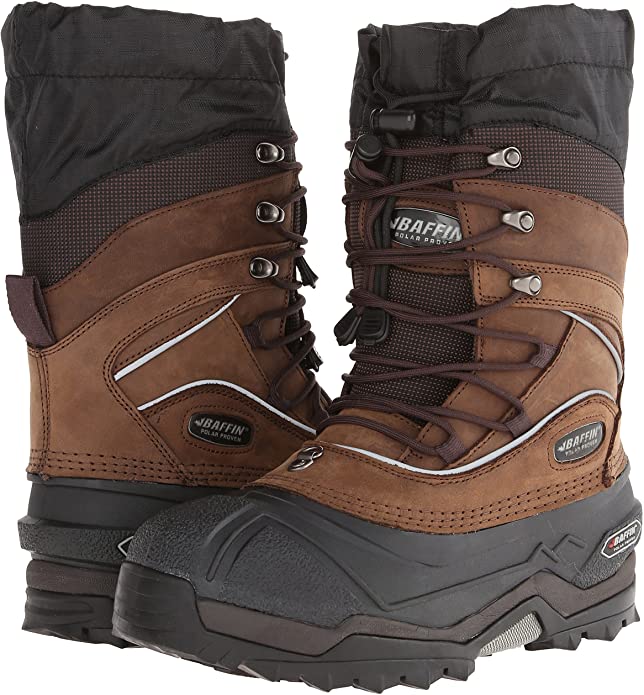 These boots also feature Baffin's trademark outsole that provides incredible traction. The boots are remarkable in conditions where the temperatures plummet to -94-degree Fahrenheit. The adjustable cuff and knee-high heel let you enter and exit your feet quite easily. The snow collar with the toggle offers great adjustment options.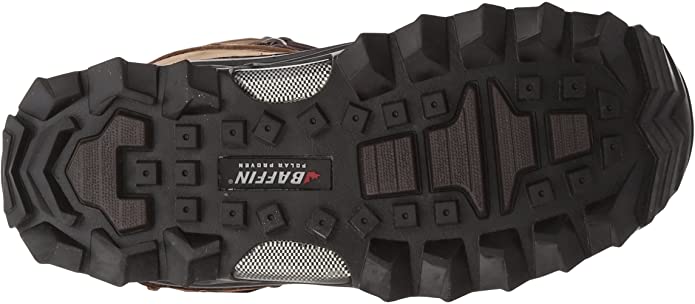 These are wrapped in insulated leather, ensuring water stays outside the boots. Baffin's Snow Master is available in plenty of different sizes and three distinct designs that are made to walk on fragile layers of ice.
Extremely light for walks on thin ice surfaces
Comes with an incredible rating of -94-degree Fahrenheit
Has a rugged look and sturdy built quality
The buckles are substandard
These run a size smaller
5. Muck Boot Arctic Sport
Muck Boots have been the safest options ideal for fishing in freezing temperatures. The Arctic Sport has double reinforcement, ensuring there is more protection to your feet to stand the testing times amidst the frozen lakes. The boots measure 17 inches in length, offering warmth and enough breathability to your feet and legs.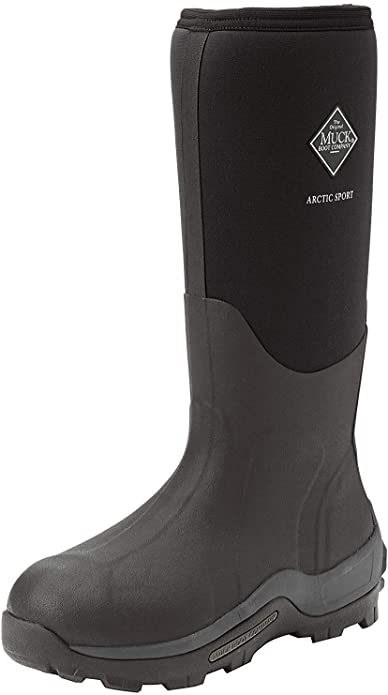 The high-quality concoction of rubber and fabric with the EVA padded midsole is lauded by anglers for shock-absorbing qualities. The inclusion of thermal foam in the interiors of the boot enhances warmth and offers relief from aches and irritations. These 100% waterproof boots are safe to use in chilling temperatures of -40-degree Fahrenheit.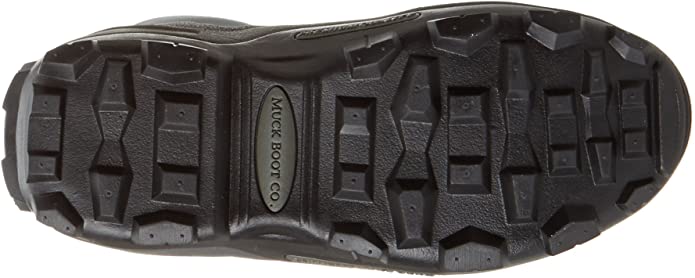 Arctic Sport is sturdy, durable and an ideal pick for cold conditions. These are slip-on boots that don't require extra effort in entering and exiting your feet. The rubber lugs on these boots offer some extraordinary grip when walking on snow-clad surfaces.
Tall; allows putting feet in deep snow
Does well in resisting blisters and chafing
The molded lugs enhance traction on wet terrains
Heavier than most models
Doesn't include a snow collar
Also Read: Best Fishing Rod Storage Racks for Boats
---
Wrapping Up
The quest for finding the right pair of fishing boots does require some scanning and research. Taking the onus of finding the best ice fishing boots, we shared the most appropriate models for the wintry conditions. Our favorites from this list are — Sorel Men's Conquest Insulated Winter Boot and the Kamik Greenbay Cold Weather Boot.
Fishing can be challenging in times like these. Pick the safest pair and bon voyage!
---
FAQs
Do I have to wear ice cleats with fishing boots?
Fishing boots already come with incredible traction to help you stand in one position and without tumbling on the ice. Ice cleats will certainly help in enhancing grip during your walks on ice. We'd recommend wearing ice cleats, so you can save yourself from the frequent falls.
What are the other accessories to consider for keeping the feet warm?
The first step is to buy a reliable pair of boots. Ensuring the fitting is tight and has no gaps will prevent ice and snow from seeping through the boots. Consider wearing layers of socks when fishing in sub-zero temperatures, while also layering with quality jackets and bibs.
What features should you look for in your next pair of ice fishing boots?
The boots have to be prepared to deal with really cold temperatures which means that you'll have to get boots with the proper insulation. Secondly, while ice fishing there's a strong chance that you'll get in contact with water, so your ice fishing boots should come with a proper waterproofing membrane that would be able to keep your feet dry at all times.
Third, taking into consideration that ice is one of the slipperiest and hardest things of all, getting your ice fishing boots should have reliable outsoles that provide reliable traction. Always look for tall ice fishing boots that provide you with a lot of coverage so your feet, heel, ankles, and legs remain dry.
Should you buy ice fishing boots a size bigger?
It is a common myth that you must have space between ice fishing boots for thick socks and other stuff, but the truth is that ice fishing boots are specifically designed to be wider and roomier to avail ample space for your thick fleece lining or woolen socks. So never fall for a size bigger theory as the unwanted movement of feet within the boots can cause sores.
How many grams of Thinsulate is right for ice fishing boots?
There is no standard rule, everything depends on the weather and your weight carrying capacity. Generally, a pair of 1000 to 1200 gram insulated ice fishing boots can prevent you from cold or even icy water.