Fishing in the cold weather is a challenge in itself — gears and clothing have to be up for this challenge. Reeling down a fish in the frosty temperature invites trouble. The trouble can also impact the live bait you are traveling with. Live baits help you reel in the fish you are ought for, but if the bait doesn't survive — there is a high chance you won't be returning to the ice-packed area.
Investing in a fishing bait bucket is a smart move. You can toss minnows and shrimps without fretting about them losing their life. This article features products that are currently dominating this market. Consider reading the following points before making a purchase.
There's nothing wrong with the typical five-dollar bucket. You go to any hardware paint store and you can pick up a bucket for pretty cheap, usually like three to five bucks. The 5-gallon is the typical go-to size for ice fishing and it will carry everything you need. But a dedicated ice fishing bait bucket is actually made for ice fishing and usually comes with certain accessories that make your life a heck of a lot easier on the ice.
---
Guide to Buying An Ice Fishing Bait Bucket
Shopping for the best bait bucket for ice fishing isn't all daunting, since there are innumerable products at our disposal. However, finding the suitable gear that has all things required for a good fishing outing, requires some amount of hard work. If you are a first-timer or a professional angler, the following points might help you pick a better option.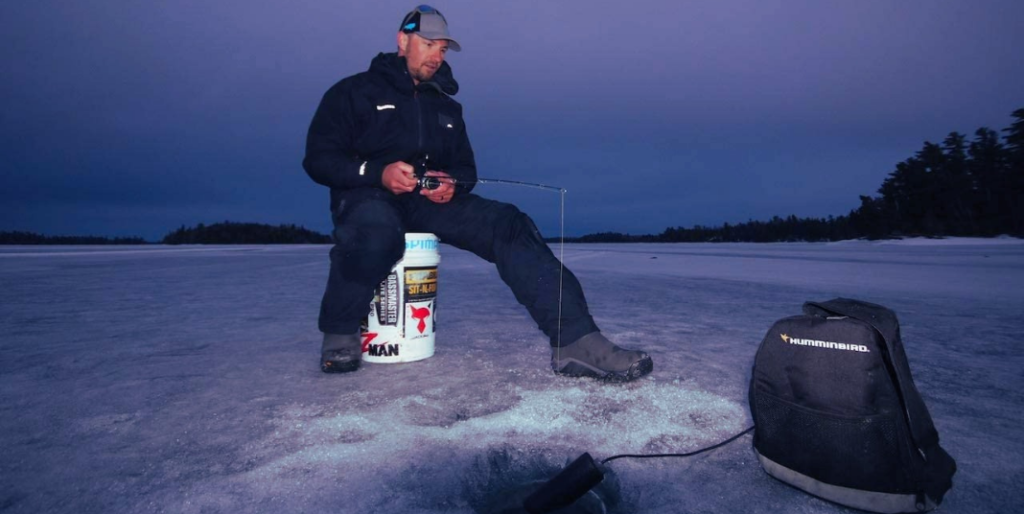 Aeration
You will have to carefully scan a horde of products to understand which one keeps your baits alive for the most time. Built-in aerators are found within the lid and work quietly to help you in your fishing chores. Most brands offer buckets that run on batteries, ensuring that you don't participate in the fishing activity to the fullest.
Insulation
Most species do not adapt to the weather they are caged in, and ice fishing is no exception. It requires attention to detail when switching from one weather to different. The insulation factor helps in maintaining the same water temperature when the bucket was first filled. Furthermore, there are buckets with insulation that quickly adjust to the condition and help keep the baits alive. The higher the insulation levels, the better they are in icy conditions.
---
Best Ice Fishing Buckets
Scrutinizing and nit-picking from a market that is inundated with products is quite taxing. Here is a list of the best ice fishing bait buckets that might help you reel in a big fish when fishing in the frosty outdoors.
1. Frabill 4825 Insulated Bait Bucket
Starting off the list with the most popular choice in the fishing market — Frabill 4825 has the build and space to deserve the top spot. The built-in aerator works on four AA batteries that easily last for about 12 to 16 hours. The aerator does well in oxygenating up to four gallons of water.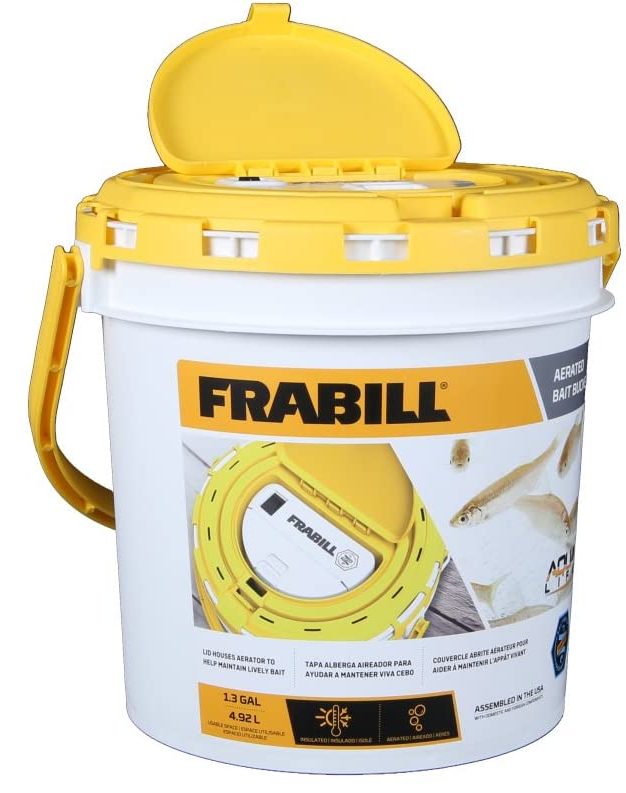 This bucket is made with a plastic exterior that provides a decent amount of insulation for the bait you are traveling with. The bucket boasts a lid with a carrying wire-like handle, which makes it easy for you to transport. The molded-in tool holders offer space to store some basic fishing tools.
Frabill's 4825 also features a small hatch, allowing easy loading and emptying of baits. Furthermore, the detachable lid means that you can clean and fill the bucket without performing any laborious duties.
The wire-like handle does help with transport
The bucket comes well-insulated
A tool holder to store basics
The hose connecting to the outlet is wobbly
The battery compartment doesn't stick in one place
2. Engel 19 Quart Portable Bait Fishing Dry Box
The Engel 19 Quart Bucket is a choice of professional anglers that travel with a horde of baits on board. The bucket has a solid and well-insulated built quality that is ideal in all weather conditions — be it a frosty cold season or torrid heat.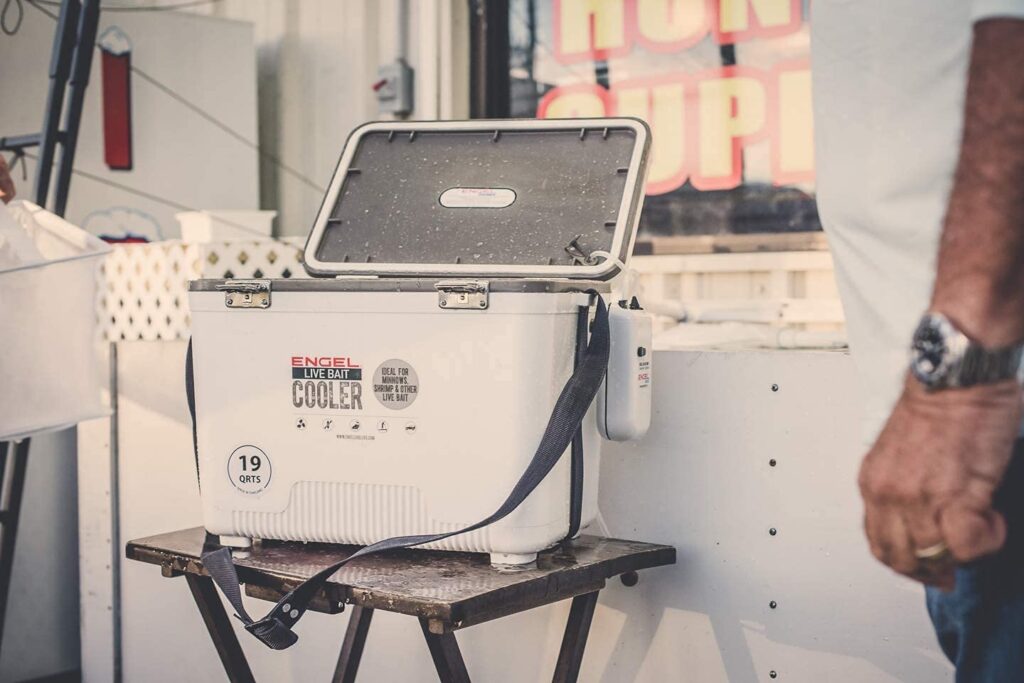 This heavy-duty dry box features a two-speed aerator that is powered using two D-cell batteries or a 12v accessory socket. The battery life is incredible in storing the bait live for longer durations. While the effective yet noiseless aerator does keep the supply of oxygen going to the bait. The components of the fishing box are all corrosion and impact-resistant.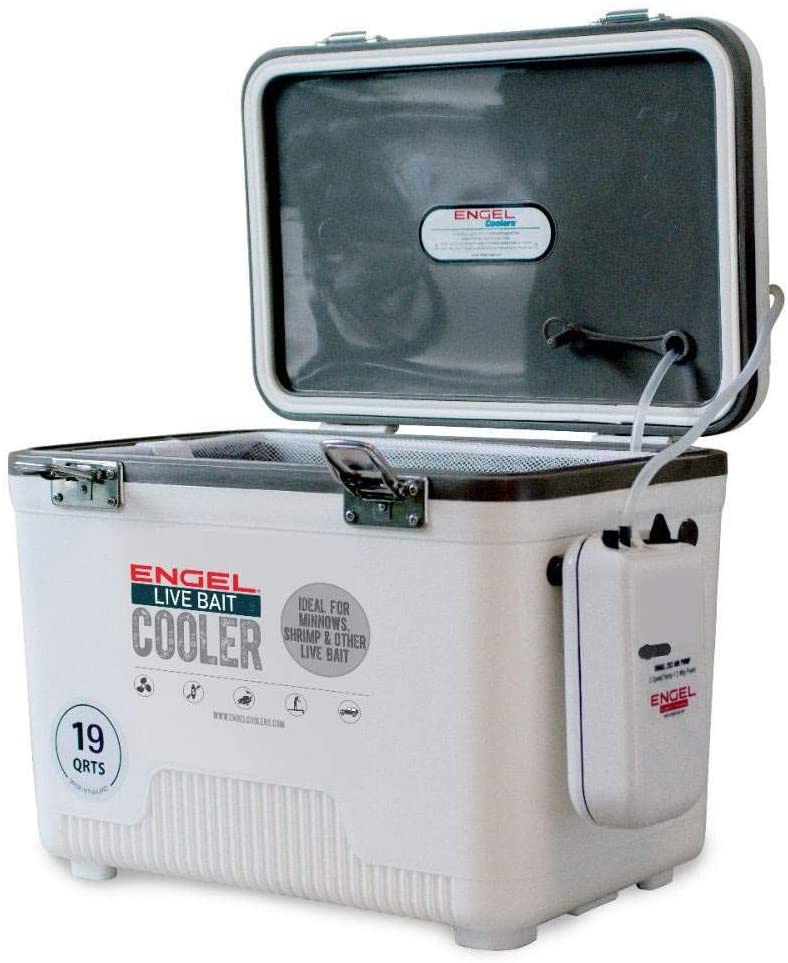 The inclusion of a bait net assists in the quick retrieving of minnows and shrimps. In addition, there is the marine-grade stainless steel latch clubbed with the EVA gasket, which tightly seals to prevent any spills during the see-saw fishing or car rides.
Includes a net for easy access to minnows, shrimp, or other bait
The aerator doesn't make much noise
The battery life is impressive
The air pump is a dud
The fragile handle may not support more weight
3. Marine Metal Cool Bubbles
Third on the list of the best ice fishing bait buckets is the — Cool Bubbles Insulated Bait Saver from Marine Metal. This bucket sports a sturdy build and is available in three different capacities — 8-quarts, 10-quarts, and 5-gallons. This ice fishing bucket has an appealing sticker to make it more like a fishing tool.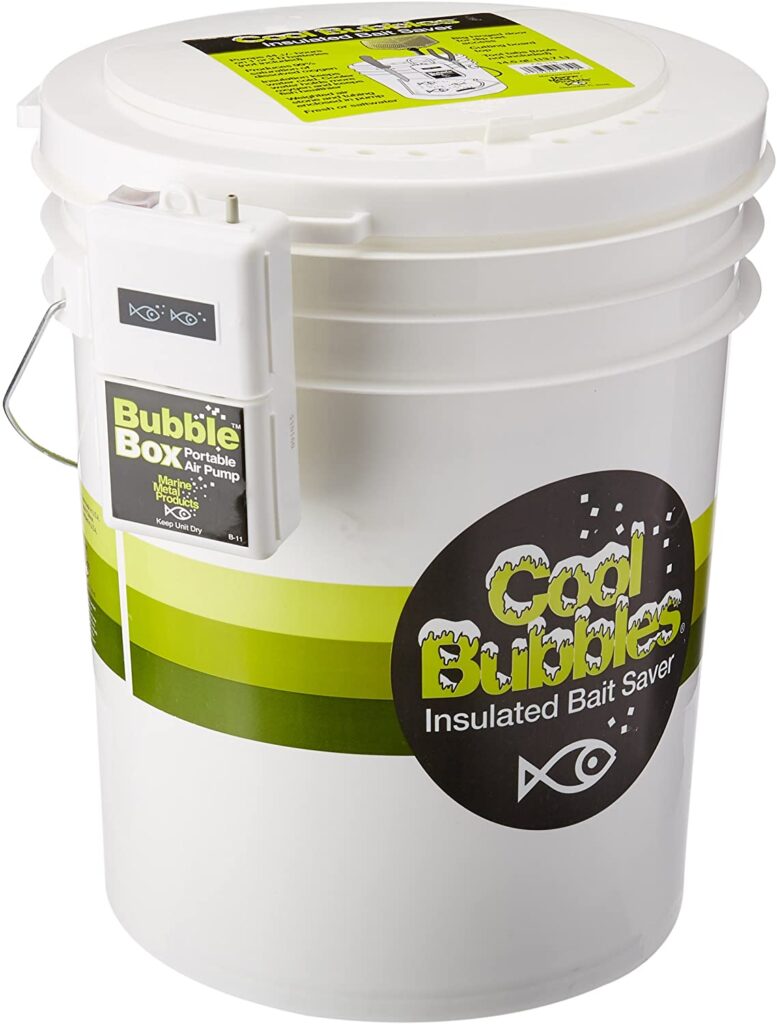 The addition of a bait cutting board and accessory tabs will serve in handy for pliers and other such tools. The bucket runs on two D-cell batteries, which last for about 40 hours. This versatile bucket is impressive in keeping the bait alive in different weather conditions — more specifically this is our choice for ice fishing needs.
The handle is conveniently placed and does well in holding up to five gallons of water. The built-in aerators are some of the quietest in the market, making little to no noise during your fishing expeditions.
Well-insulated liner and lid made specifically for fishing
The aerator is noiseless and the best in the market
Battery life; comes with a great run time
The dip net is only available with the 8-quart variant
Also Read: Best Ice Fish Finders On The Market
4. Frabill Sit-N-Fish Insulated Bait Bucket
Sit-N-Finish is Frabill's other top-notch product in the bait buckets category. The bucket houses a thick padded cushioned seat lid, which is considered an important addition by the ice, shore, and pier anglers. This has a six-gallon capacity — comes with a capacity of accommodating various types of fish.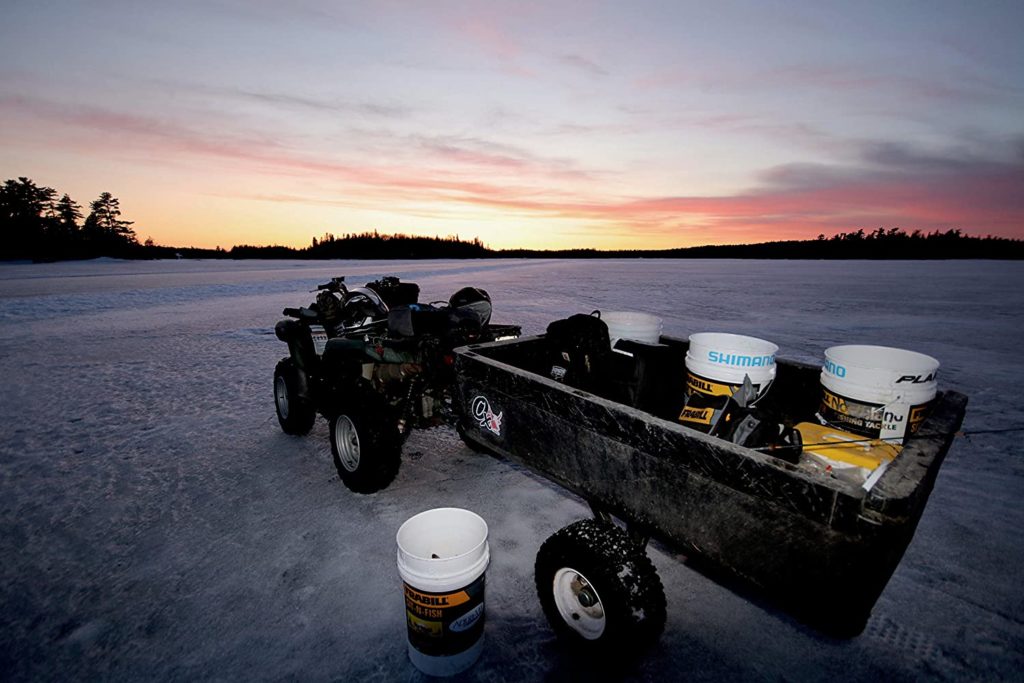 The inner lining of the bucket prevents the bait from experiencing extreme or horrid temperatures. The inner bucket lid also features holders for storing beverages. The bucket is large and roomier than the traditional buckets, and if you are on the lookout for something spacious — then this becomes the automatic choice.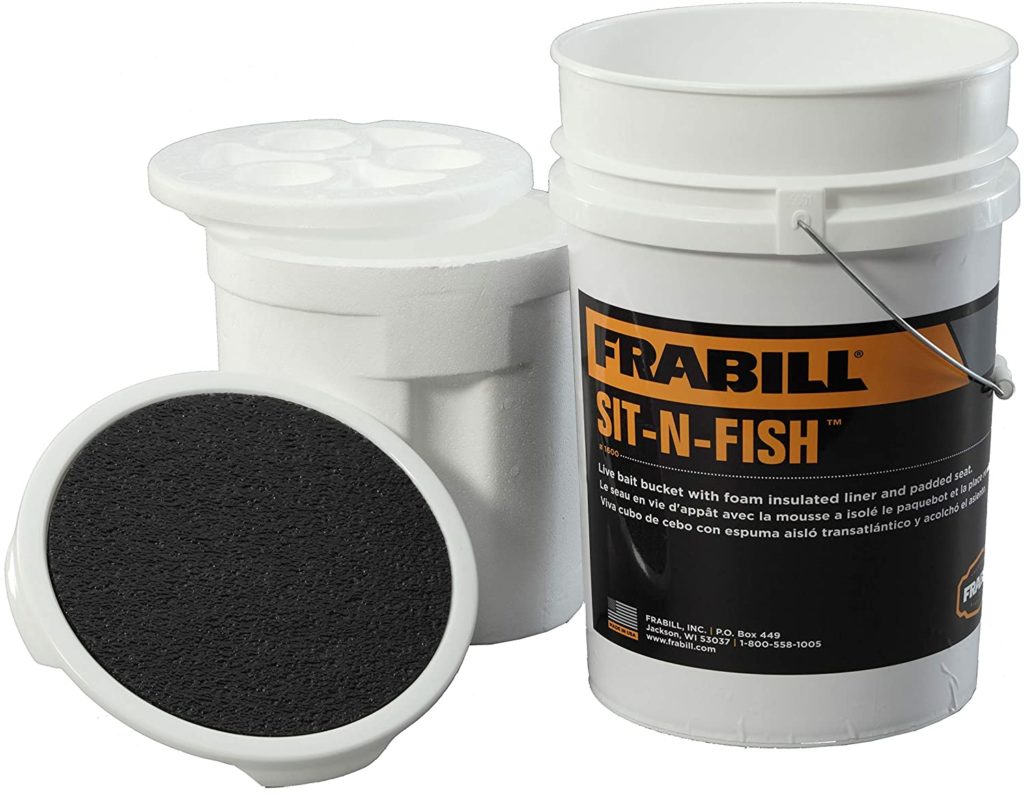 Sit-N-Finish has all the qualities of an ice bucket — it is huge and reliable in all weather conditions. Regardless of its price, the bait bucket has the traits of any high-end model that is available on the market.
Comes with plenty of insulation
Has a large capacity of six gallons
Cushioned seat lid that prevents spills
Concern over its durability
The lid becomes harder to open with time
5. CLAM Insulated Bait Bucket
This no-frills bait bucket has been the pick of many anglers for its insulated carrying case that keeps alive in the most extreme conditions. The bucket's rubber gasket creates an airtight seal once the lid is tightly closed. While the padding ensures the case stays impact-resistant on all occasions.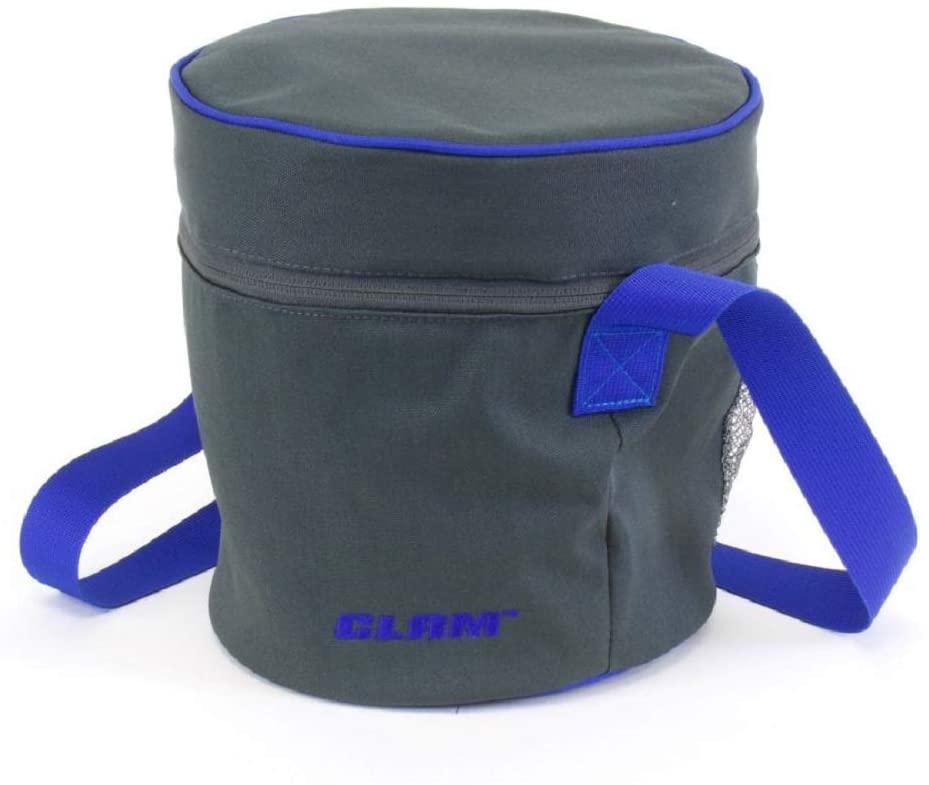 The inexpensive price doesn't let you down when talking about the capacity. There's also an adjustable shoulder strap that is a great addition to comfortable transport. This simple bait bucket has a mesh pocket on one side that can pretty much accommodate the tiny fishing tools.
Overall, Clam's bait bucket is a decent product that doesn't come with all the fancy features, yet it works for many anglers — owing to its comfortability when carrying around.
Supplied with insulated carrying case
Inexpensive for the material
Zippers are decent
Doesn't include an aerator
The straps might not hold much weight
Also Read: Best Surf Fishing Carts – Best In The Market
---
Wrapping Up
The bait buckets we discussed pack plenty of features that help in keeping your bait alive. We also discussed some factors that might help you pick the best equipment for the job. However, the two best bait buckets that are convenient in icy conditions are — the popular player in the market Frabill 4825 Insulated Bait Bucket and the Engel 19 Quart Portable Bait Fishing Dry Box.
All good buckets come at a price; they offer something more than your conventional fishing buckets. Missed out on your favorite? Write to us in the comment section and we'll check those out.
---
FAQs
How long can minnows/shrimps live inside an ice fishing bucket?
This life span of your minnows and shrimps largely depends on the capacity of your bait bucket. The insulation rating and aerator are a few factors that can keep them alive in certain weather conditions. Minnows have a life expectancy of somewhere around 24 – 48 hours. Shrimps, on the other hand — may last for about 24 hours in five gallons of water.
What is the ideal bait bucket size for ice fishing?
Bait buckets come in a plethora of sizes — ranging from 1.75 gallons to up to 5 gallons. Your choice entirely depends on the bait you will be using, the conditions, and also for how long. Species like shrimps might find it hard to live in a jam-packed bucket. Whereas minnows are comfortable in a bucket with a good insulation rating.
Why is aeration necessary for an ice fishing bucket?
To ensure your baits remain alive for longer periods you need to maintain the right temperature and oxygen level within the bucket. Most ice fishing buckets actually have a built-in aerator inside the lid and keep you worry-free while fishing. Even if your bucket doesn't have an inbuilt aerator you can actually DIY it for a few bucks easily.
What should you carry in your ice fishing bucket as bait for fish?
Ice fishing requires a lot of patience and expertise. To catch the fish in the ice you need to focus on the baits that can remain alive for longer durations in your ice fishing buckets. Wax worms, fly larvae, wigglers, and live minnows can withstand a great temperature variation and you can easily carry them in an ice fishing bucket.
Why is it important for an ice fishing bucket to have insulation?
It is important to have an insulated bait bucket so that your bait doesn't die or freeze over the course of a day. You can get an insulated foam liner now but don't use this as your bait bucket you know a lot of people try that and they break or leak or have holes. That's basically just a liner, an insulated liner that fits in any five-gallon bucket of a standard size. If you have an aerated insulated bait bucket you can enjoy ice fishing for a couple of days without worrying about your baits.