Surf fishing is challenging, and with plenty of items required for the job — anglers are left mostly exasperated. If you are on the lookout for the most effective surf fishing carts, we bring you this list of the best items available in the market.
There are certain factors to pay close attention to when buying gear like a fishing cart, especially for surfing purposes. The puddles or in the heap of sand you will be taking your cart to — requires the equipment to be sturdy and powerful enough, so that you can steer through the aforementioned terrains.
---
Guide to Buying Surf Fishing Carts
Here is an overview of the factors that will you help close the deal on the best surf fishing cart:
Material
Generally, the most favored material by professional anglers is aluminum. Aluminum carts are lighter and much more durable than carts made using steel. Also, the former has the benefit of being super protective against elements like corrosion. Nevertheless, there is some amount of protection in the stainless steel carts too. The kind of cart you settle for must have this long-lasting ability. In this case, aluminum carts are the recommended ones.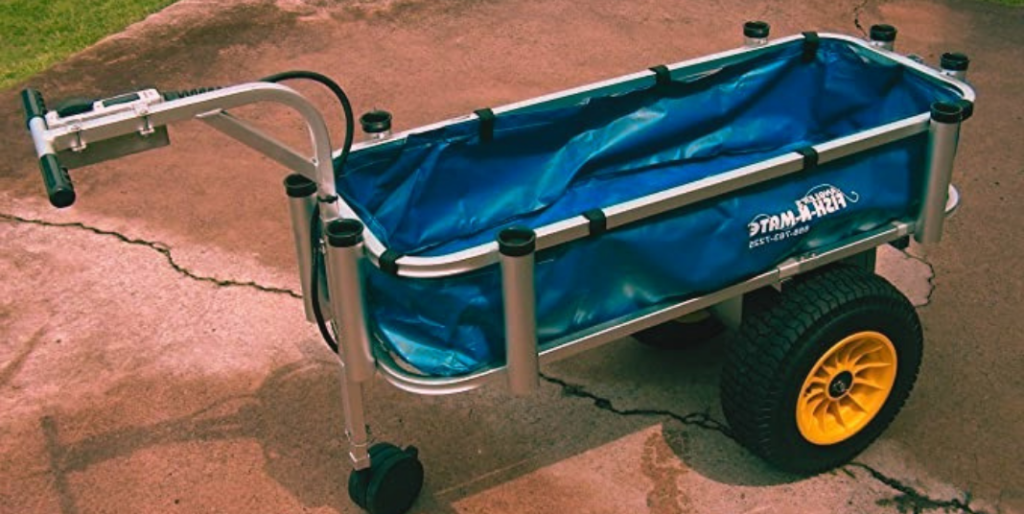 Maneuverability
Next up is the ease at which your cart navigates across different surfaces. The tumultuous journey of hauling the cart does leave the angler debilitated. Hence, having a gear that moves effortlessly on a surface like sand, or pier — becomes the need of the hour. Consider carts that include all-terrain wheels, saving you from replacing wheels after every ride. Furthermore, look for a handle that can be removed and adjusted to your height.
---
Best Surf Fishing Carts
With a simple-to-understand guide shared above, here are some of the well-crafted carts that will smoothly help in your surf fishing activity.
1. Mac Sports Collapsible Outdoor Utility Wagon
Starting off the list with the most versatile model of all — Collapsible Outdoor Utility Wagon from the house of MacSports. This ice-fishing cart boasts a spacious room to place your drinks, bait, and a few fishing pliers. This has a straightforward installation process, and with the 600-denier fabric — this is effortless to wash as well.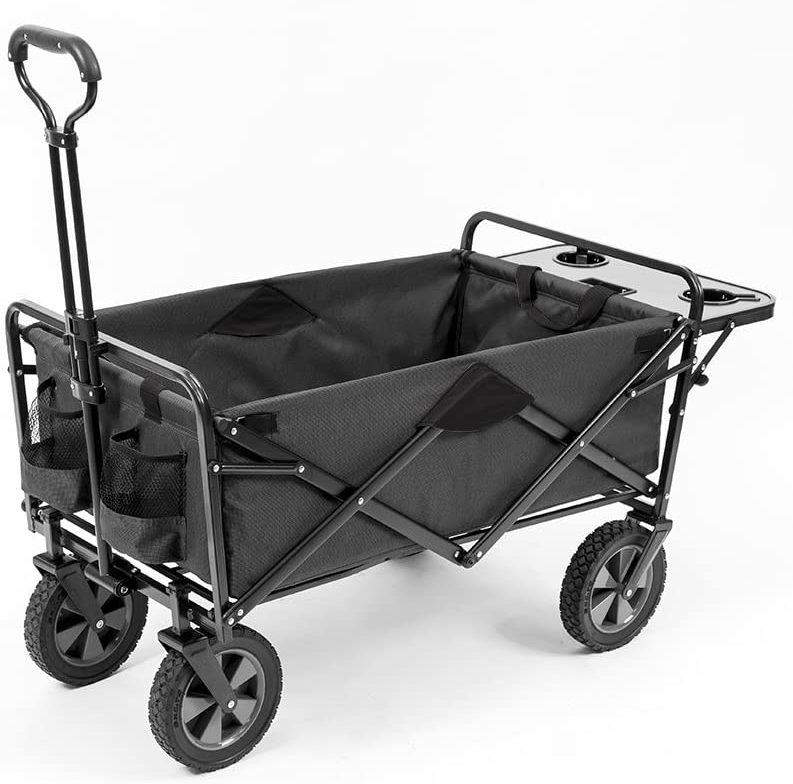 The sturdy frame is made from tough steel, which does have the capability of lasting long and taking on those saltwater splashes. The foldable tray and adjustable handles clubbed with quality wheels make maneuvering across surfaces easier and super smooth. The cart has the capacity of holding up to 150 pounds of luggage.

The MacSports Collapsible Outdoor Wagon is a cargo without many bells and whistles — the oversized wheels and sturdy construction at an inexpensive price tag give this the edge over other models.
Has a simple assembling process
Adjustable handles help navigate smoothly
Sturdy construction with some add-ons.
Does seem a bit bulky
The fabric felt a bit cheap-ish in quality.
2. Angler's Fish-N-Mate Fishing Cart
Widely known for build quality and longevity, Fish-N-Mate from Angler's is second on our list of best surf fishing carts. The fishing cart features an aluminum frame, making this incredibly lightweight and durable. The cart is equipped with 15-inch of polyurethane wheels that can be easily dragged over sand, grass, and gravel.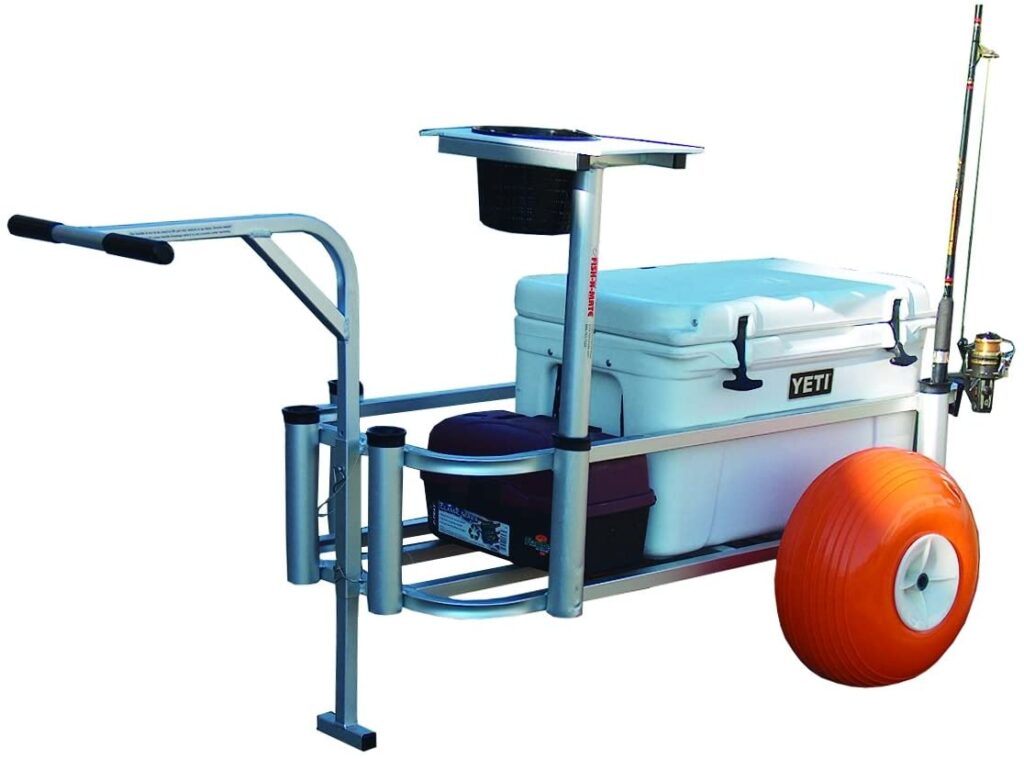 This surf fishing cart supports a whopping capacity of up to 250 pounds. Furthermore, it is es eight-rod holders, and enough room for tackle boxes and a couple of coolers. The cart features a detachable handle that is super effective in times of transport or quick fishing getaway. Also, the cart comes with a table coupled with an in-built food bucket.
Fish-N-Mate has a considerable amount of storage space, making it the go-to option for fishing adventures on the beach or pier. The mammoth weight capacity and large tires are some of the traits that we became fond of while using this.
Has a maximum carrying capacity of up to 250 pounds
Can accommodate two coolers, an umbrella, and a few more add-ons
The materials used are durable and reliable.
Dragging can be a bit challenging
Not ideal to fit into small-sized vehicles.
3. Juggernaut Blue Fish and Marine Cart
Juggernaut's Blue Fish and Marine Cart is a feature-rich product with an incredible amount of storage space onboard. The surf fishing cart is stacked with two balloon tires, which glide smoothly over beaches or seashores. The frame is sturdy and corrosion-resistant, courtesy of the aluminum and stainless steel finish.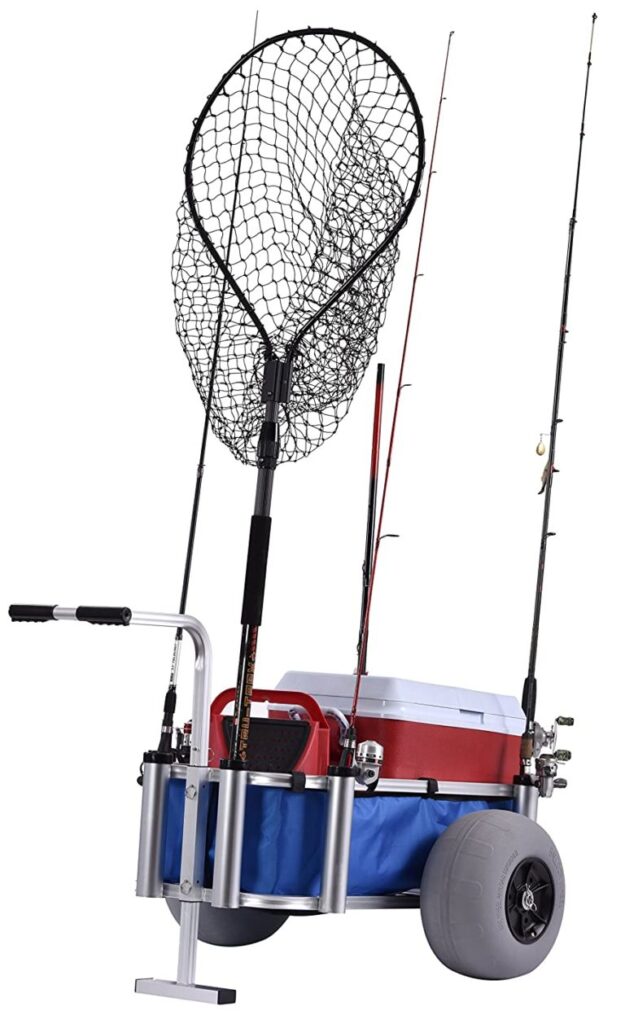 This cart sports eight-rod holders, and can accommodate tackle and accessories up to 220 pounds. Besides this, the cart also has the capacity to hold chairs, buckets, coolers, and more. The assembling and disassembling isn't laborious, further helping with transportation and storage. The soft-grip handle in the front adjusts as per your preference — assisting in safely navigating the cart.
The Blue Fish and Marine Cart come with ample storage space that makes the fishing smoother and simpler. For anglers on the lookout for an inexpensive option, then this is the perfect choice to settle for.
Strong aluminum finish; does resist corrosion
Can withstand weight up to 220 pounds
Assembling and dismantling can be done in a jiffy.
Plastic tires; difficult to haul in deep sand regions
Also Read: Best Ice Fishing Bibs – Warm and snug fit
4. Gorilla Carts GCO-5FSH Fish and Marine Cart
The Gorilla Carts' Fish and Marine Cart sports a rugged look that is designed specifically for the uneven surfaces of beaches and piers. This fishing cart includes eight-rod holders — and comes with a great amount of storage space to hold tackle, fishing attire, reels, and so on. The maneuverability is enhanced with the easy-to-adjust handle, which can be easily dismantled for storage.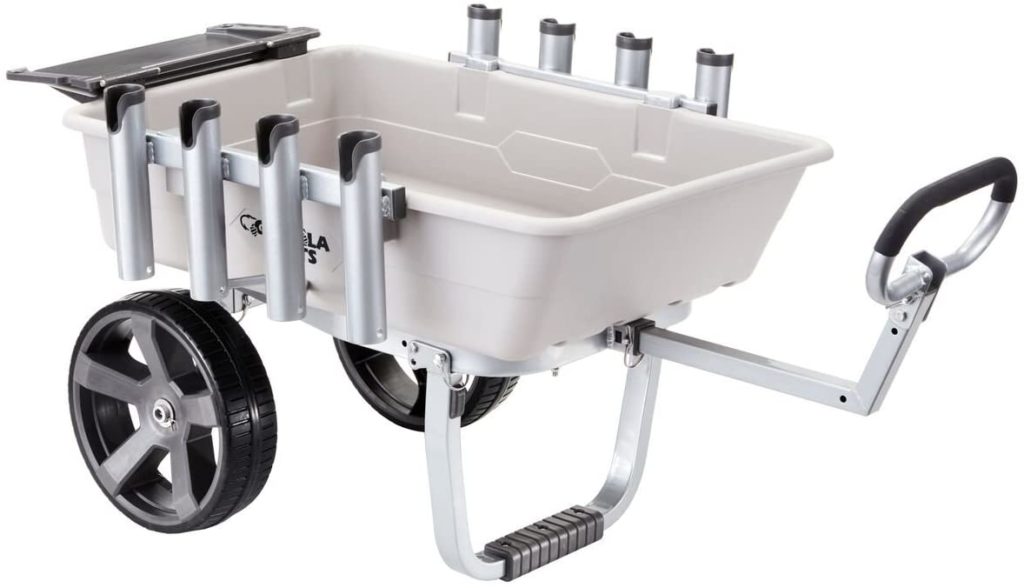 The 13-inch tires bring little to no trouble while moving over most surfaces. In terms of resistance against corrosion and other harmful elements, the cart boasts an aluminum frame with heavy-duty steel components. The bed, which is in polyethylene — is durable and sturdy enough to hold up to the elements.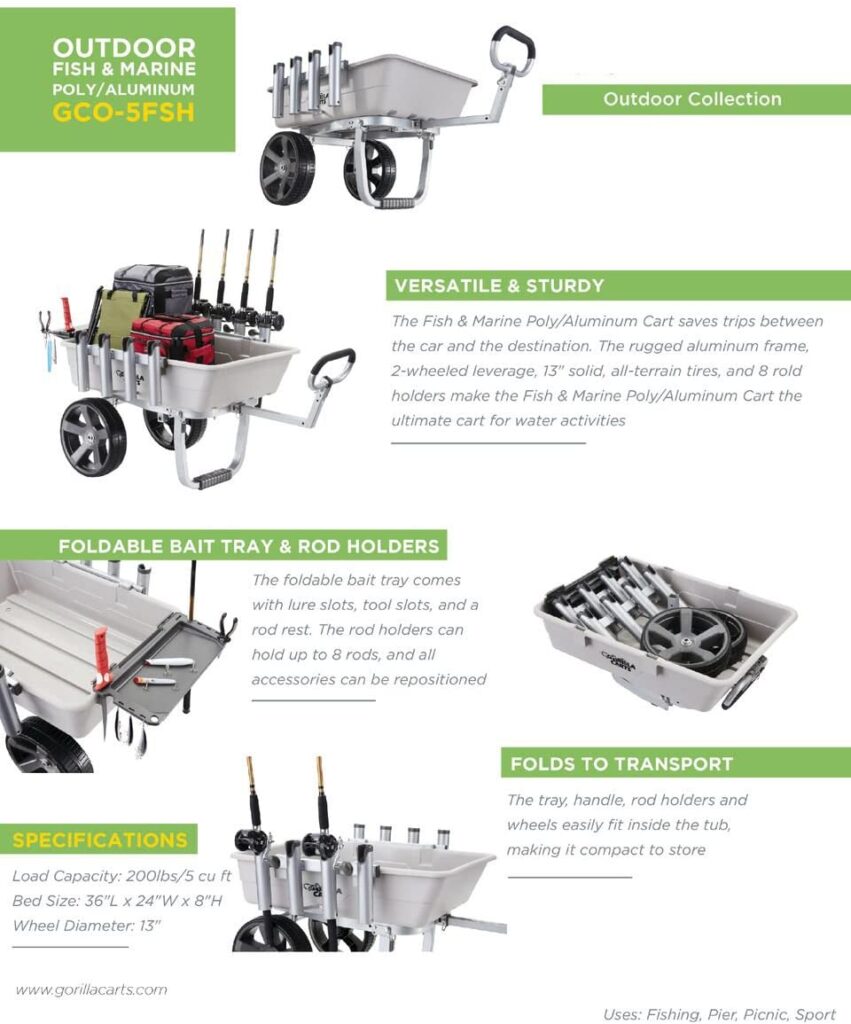 Overall, the Gorilla Carts' Fishing Cart has the characteristics of long-lasting gear that will assist you in your fishing expeditions. This has the right qualities to accompany you during your fishing, picnic, or sporting events.
The rugged aesthetics may impress anglers
Stainless steel components for extra longevity
The easiest to store and transport.
Hauling isn't the easiest of tasks.
5. Berkley Fishing Cart
A household name in the surf fishing category — Berkeley's most popular offering is fifth on our list of the best surf fishing carts. This cart comes in a collapsible design, thus making this easy to store and carry for on-the-go anglers. This has the sturdiness and builds quality for storing up to 200 pounds of fishing gear. Moreover, this fishing cart can even hold a 48-quarts cooler too.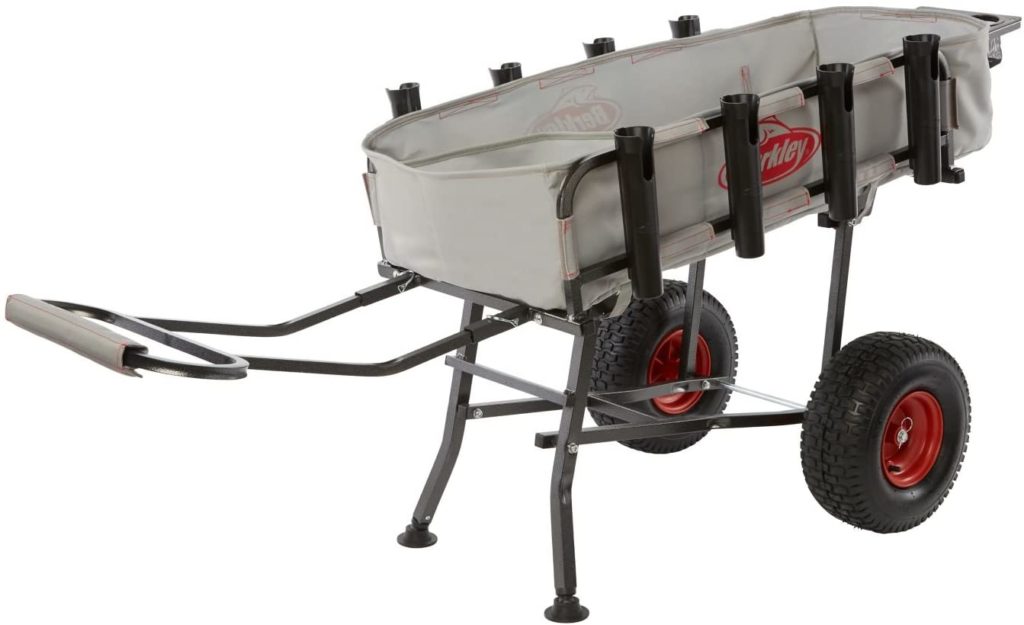 The cart comes with six removable rod holders and a compact cutting board with bait and knife storage. The cutting board collapses neatly to provide some room for bait cutting and fish gutting. There's the adjustable handle that assists in steering the cart over different terrains without much effort.
Berkeley's Fishing Cart can be hauled across terrains with two quality air-filled tires. This wholesome fishing gear is an all-around model that helps in transporting fishing essentials like rods, lures, apparel, chairs, etc. Moreover, the fabric liners adorning the cargo container can keep all the aforementioned items safely in one place.
Storage slots for knife and a lure cup holder
The construction is corrosion-resistant
Collapsible design; easy to store and transport.
Heavy to maneuver for some users
The fetid smell from the tires.
6. Sea Striker BRSC Deluxe
If you want a versatile cart with more capacity to justify surf fishing expeditions then Sea Striker BRSC Deluxe should surely be on your list. This fishing cart easily moves over rough terrains including sandy beaches. The 7-rod holders in the frame complement convenient transportation. The durability is first-rate and it provides you the complete worth of each penny spent.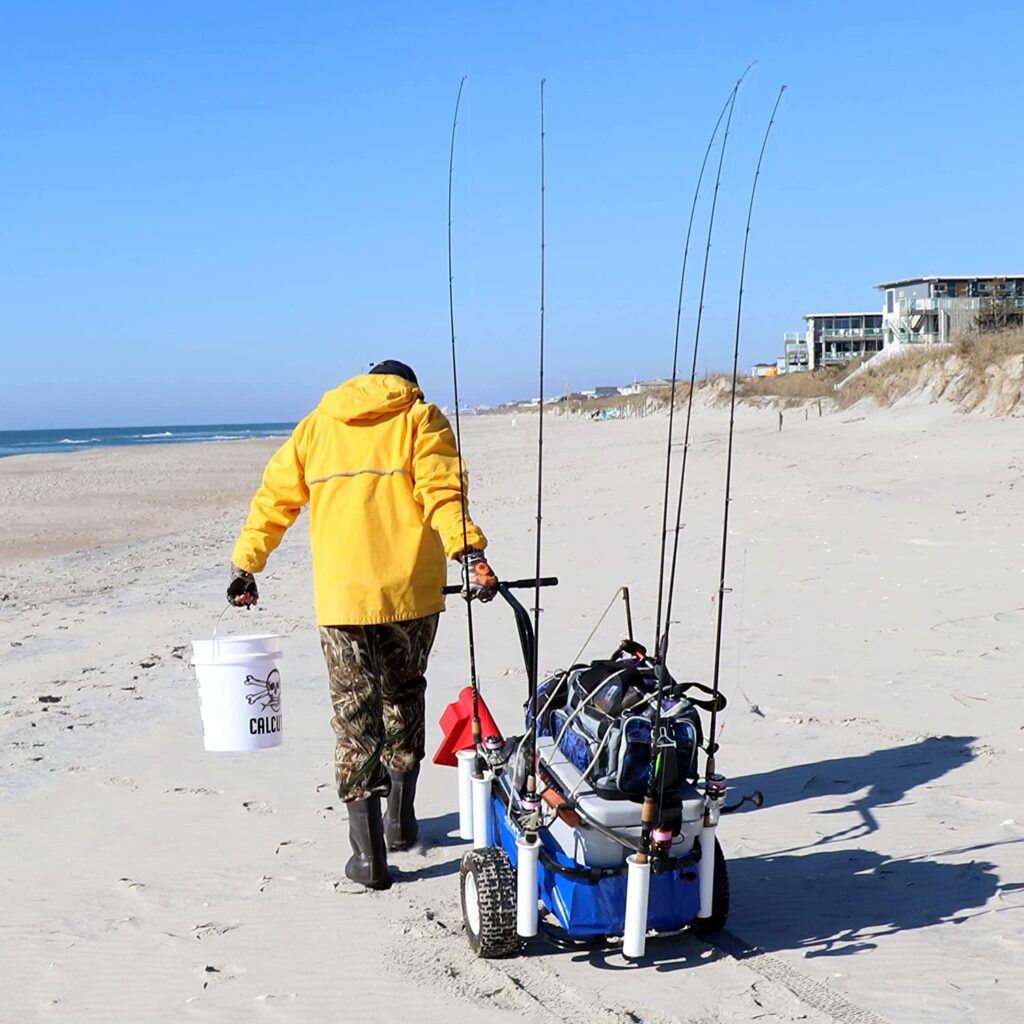 With robust construction and power-coated metal, it is rust-resistant and prevents damage. This versatile cart is quite easy to assemble and use. In case you want to break apart the cart during the off-season or in between trips for better storage, then you can conveniently do so.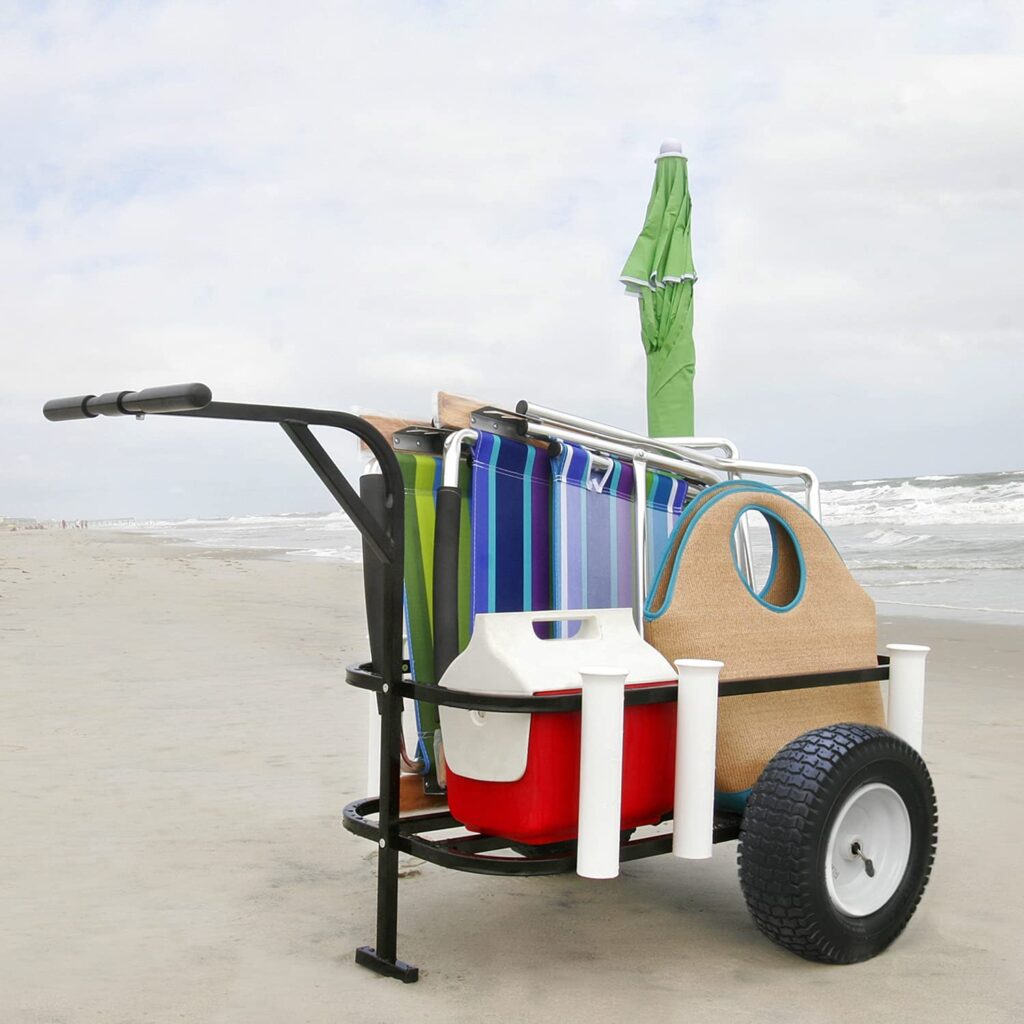 With better durability and capacity, it can hold coolers, fishing poles, rods, chairs, buckets, and so on. It's inevitably one of the premium surf fishing carts serving all your needs within a reasonable price range.
Easy to assemble all tools
Plastic Pneumatic wheels
Large capacity
---
Wrapping Up
Throwing all your fishing accessories on one cart — does call for problems. That said, here we brought you the best surf fishing carts that move and glide like butter. If asked to pick the favorites, we don't mince words to declare that Mac Sports Collapsible Outdoor Utility Wagon and Angler's Fish-N-Mate Fishing Cart are our picks.
Go ahead and drop your favorites in the comment below, and we'll share our views too.
---
FAQs
What is the weight capacity of a fishing cart?
This depends largely on the material of your fishing cart. The aluminum carts have the capacity of carrying a load of anywhere between 250 – 350 pounds. Stainless steel carts, on the other hand, are built to carry above 200 pounds. We recommend leaving about 10 to 20 percent of the cart empty; this might prevent difficulties that come while transporting.
How important is it to have a surf fishing cart?
There is no hard and fast rule as to how much having a surf fishing cart can bring value to your fishing adventure. Nevertheless, having one on the expedition does solve a lot of problems: you save time in taking incessant trips to the shore or beach to get your fishing tools, carrying tools in arms can lead to insurmountable pain, etc. A handy and top-quality fishing cart solves all of these problems single-handedly.
Does capacity matter in surf fishing carts?
Capacity is often overlooked but it leaves a considerable impact. Capacity matters but you need to discern the quality of the wheels attached. For example, the frame of the cart that you choose is strong enough to even carry a minimum of hundreds of pounds. But if the wheels attached are of poor quality then this capacity factor will simply go in vain. If the wheels are a weak point in your cart then the capacity & strength of the body will doesn't make any sense. The good wheels will give you a light feel while pulling the cart even across the soft sand. The poor-quality wheels will make it heavier than ever to push or pull.
Do surf fishing carts come in multiple wheel options?
Yes. There are multiple wheel options also. You can choose the option as per your choice and get high-quality carts catering to all your demands.
What should I consider to check the durability of surf fishing carts?
The durability factor is essential to check. The aluminum carts are considered durable and strong enough to handle more weight. Also, it doesn't rust or corrode. Moreover, keep wheel durability also into consideration as if these are not of good quality & durable then a strong frame will not serve the purpose for long.