Fishing is a fun activity, but without a proper piece of equipment in your tackle box, consider it an experience fused with misery and pain.
With a plethora of reels available in the market, attacking species of catfish requires reels that stand the test of time. These reels appear in different models and designs that help you reel in bulkier species of catfish.
In case you are a beginner, or on the lookout for a catfish reel, this article will serve you with the best information. In this article, we share a small guide, which is followed by a list of the best catfish reels with bait clickers available currently in the market.
---
Handy Guide to Catfish Reel with Bait Clicker
Before hitting the water with the right gear, it is essential to learn a few things. With plenty of things to consider, we've jotted down some of the crucial factors. And without further ado, here is a small handy guide.
Braking System of Reels
Brakes take the help of magnets to halt or mitigate the speed of the turning spool. Generally, in a situation like backlashes, wherein you cast and the spool rotates more swiftly than your line, it is now that you require a conventional braking system. For reels that are labeled "spool-free," make sure that your spool rotates without interruption for long-distance casting.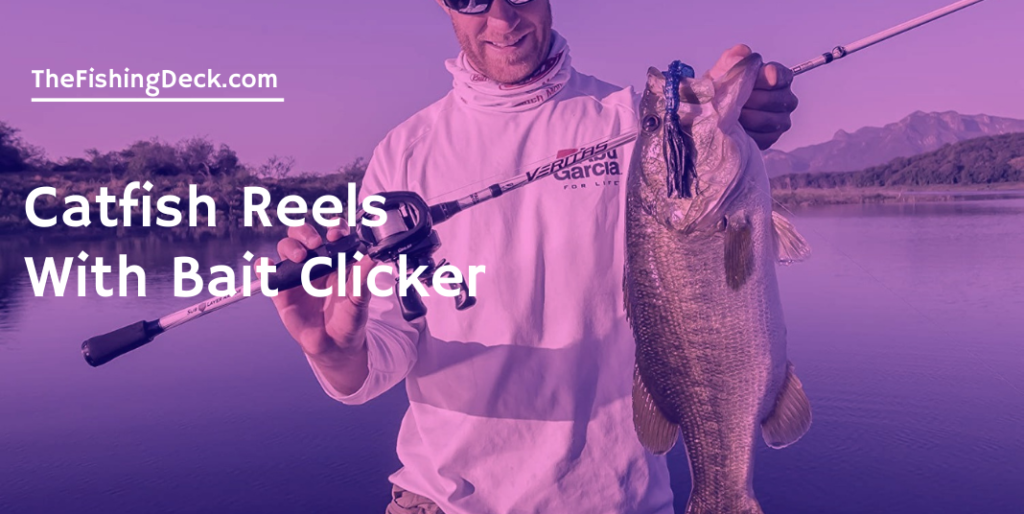 Line Capacity
Another crucial feature to consider when buying a catfish reel with a bait clicker should be line capacity. Typically, you'll be taking the help of bulkier fishing lines than the normally used ones in freshwater fishing.
Casting in deep water or shallow flats, always ask for lengthy fishing lines for long casts, and also are important to hit the ideal spot. This is primarily why you need to cast using catfish reels with bait clickers, as these make the fishing experience even more enthralling and successful.
Counterbalance
Currently, some reels include top-notch gear with counterbalance, which is also known as spool tensioners. These gears help you make adjustments to the rotation of the spool, which is to either increase or decrease based on the weight required.
For instance, if there is more imposed weight on the line, the faster the spool rotates. This also increases the chance of backlashes. While you are in the quest to buy a fishing reel with a bait clicker, consider this feature for a wondrous and smooth fishing experience.
Drag System
A baitcasting reel without a proper drag system is just an insignificant machine in your boat. There is a force called drag, which immediately strikes as a shock once you start reeling in a big fish such as catfish.
Once you are equipped with a catfish reel with a sound drag system, you increase the chances of reeling in huge and bulky fish. At present, there are numerous drag systems, out of which carbon fiber drag washers are popular and noteworthy.
Gear Ratio
Gear ratio denotes the speed and line at which the line is reeled in per turn of the handle. The more the retrieve ratio, the higher the line comes with each turn of the handle.
It is recommended to go for reels with a faster retrieve ratio that can effortlessly pull in large catfish. Ideally, reels with a ratio of 6:1 reels in line are way quicker than those with a ratio of 5:1. The gears listed here are equipped with the recommended gear ratio. We suggest you buy these while looking for catfish reels with a bait clicker.
Bait Clickers
Bait clickers or often referred to as line-out alarms are the single most feature that plays a pivotal role when purchasing a catfish reel. This is a unique feature that allows smooth functioning of the spool and also oozes a clicking noise each time a fish starts swimming away from your bait.
Also Read: Best Fishing Deck Boots: Complete Reviews & Buying Guide
---
Best Catfish Reels With Bait Clicker
1. Abu Garcia Ambassadeur 7000 C Round
Topping this list of best catfish reels with bait clickers is the Abu Garcia Ambassadeur 7000 C Round. Featuring round single reels, Ambassadeur 7000 C Round is suitable for casting in troubled waters where there is a requirement for massive power.
Infused with a synchronized level wind system, this catfishing reel enhances line lay and offers even retrieval. With improved extended bent handles and power knob, this reel provides you with perks of added torque and aligning cranking closer to your hands for supreme power.
Also, with this reel, you are provided with a multi-disc drag system that gives dynamic and smooth drag throughout the complete drag range.
Good line capacity
Smooth drag system
Anti-corrosion and durable
Not beginner-friendly
Bit fragile and brittle
2. Pflueger Patriarch Spinning Reel
Pflueger's Patriarch Spinning Reel is a great fit for chasing a variety of catfish families found in both saltwater and freshwater. This fishing reel is sturdy and ideal for putting brakes on any medium to large-sized type of catfish.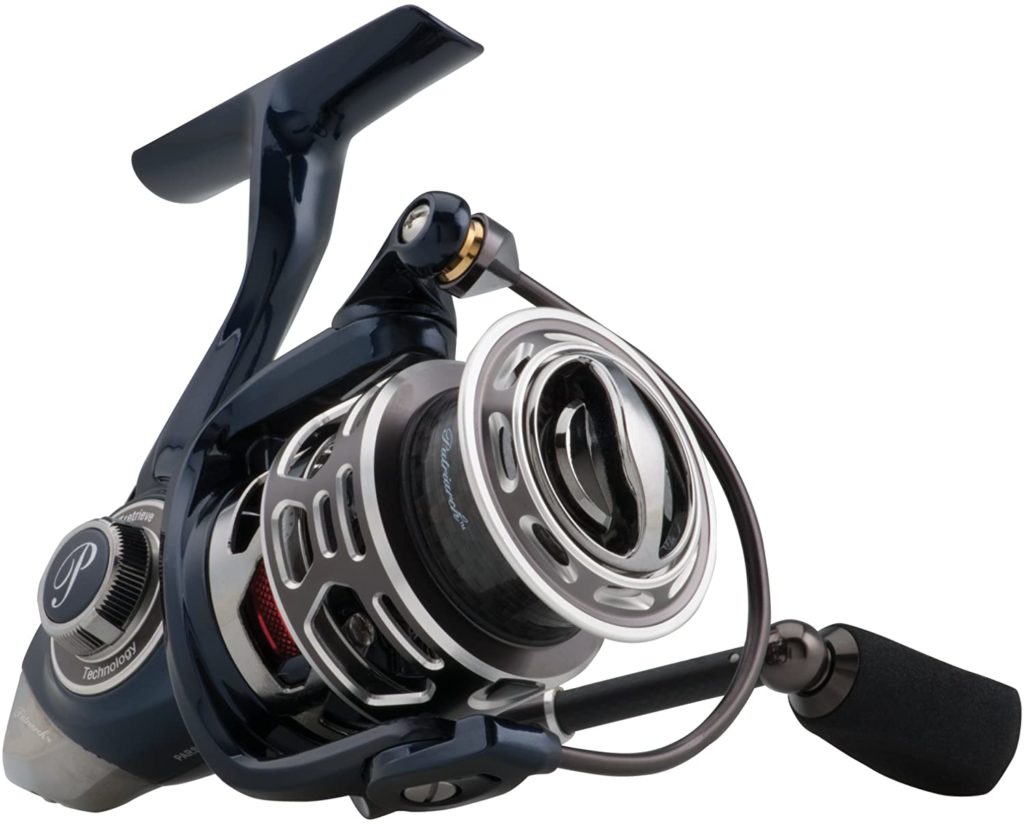 Equipped with a sealed carbon drag and a titanium-fused line roller, this fishing reel ensures that catfish do not snap in your line. This is an extremely lightweight reel with a spool that is braid-ready with rubber bushing.
Available in three different sizes, Patriarch sports a light magnesium body, frame, and a side plate for durability against saltwater.
Corrosion-resistant
Extremely lightweight
High-quality carbon and titanium components
A bit too expensive
Smaller than other catfish reels
3. Abu Garcia Ambassadeur Catfish Special Round Reel C3-6500
At number three is the Ambassadeur Catfish Special Round Reel from a relatively known brand Abu Garcia. The reel features a round baitcast reel, which is specially crafted for catfishing.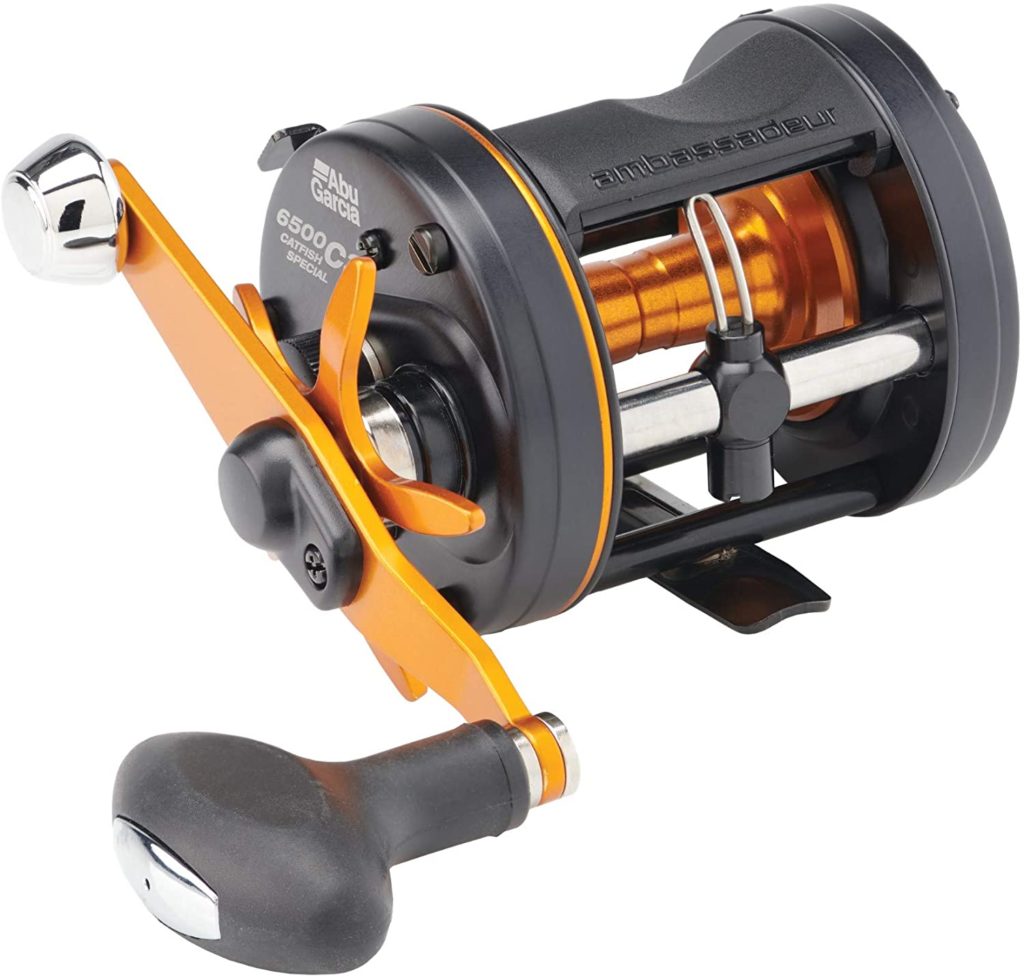 Featuring a 6-pin centrifugal brake, this catfishing reel incessantly applies pressure for more accurate and precise casting. The reel is equipped with a carbon matrix system that gives consistent drag pressure to reel in large fish.
With extended bent handles, the reel offers a better grip in pulling big fish. Also, the power cranking knob includes delivers added torque imperative for catching channel cats and big blues.
Stainless steel bearings for smooth operation
Impressive hook settings
Novice find this reel hard to operate
Slightly overpriced
The clicker switch is wobbly
4. Daiwa Sealine SG-3B 4.2:1 Line Counter Right Hand Reel
In a list dominated by Abu Gracia's world-class catfishing reels, Daiwa's Sealine has garnered considerable respect from anglers worldwide. Powered by an automatic, self-engaging clutch, this catfishing reel is easy to operate for rookies and beginners too.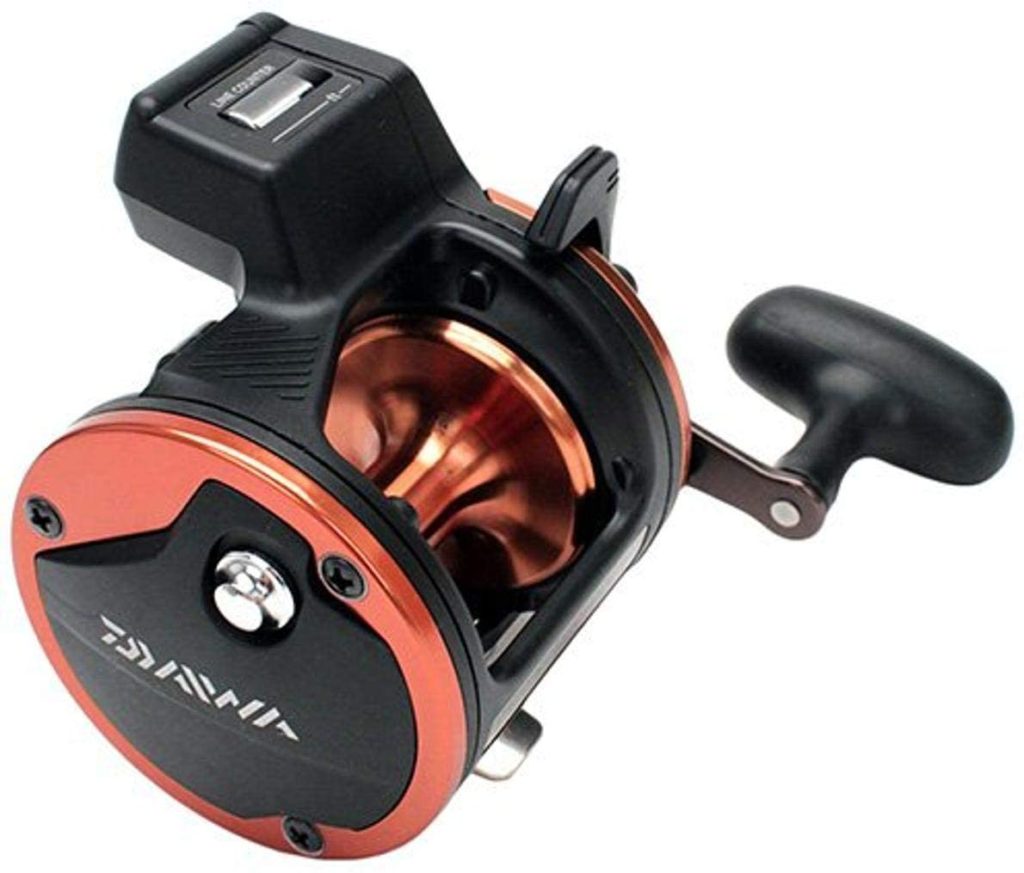 For superior comfort and grip, Sealine is contoured with left-hand retrieve and an ultimatum tournament carbon drag (UTD). This catfishing reel is stocked with helical cut gears, which offer smoother and quieter operation than spur gears.
Ideal for utilizing in both freshwater and saltwater, Daiwa Sealine includes counterbalanced handle designs and three ball bearings with a spool click.
Suitable for both freshwater and saltwater
Reasonably priced catfish reel
Durability and quality is astounding
Bearings squeal loudly.
This casting reel is pricey despite its superb quality.
Support after the sale is a weak point.
5. Penn Jigmaster 500L Conventional Fishing Reel
Currently, the only Jigmaster available in the market, Penn's Jigmaster 500L Conventional Fishing Reel, enables supreme performance, durability, and versatility. Sporting a classic open-top design, this catfishing reel has been lauded for its design by professional anglers.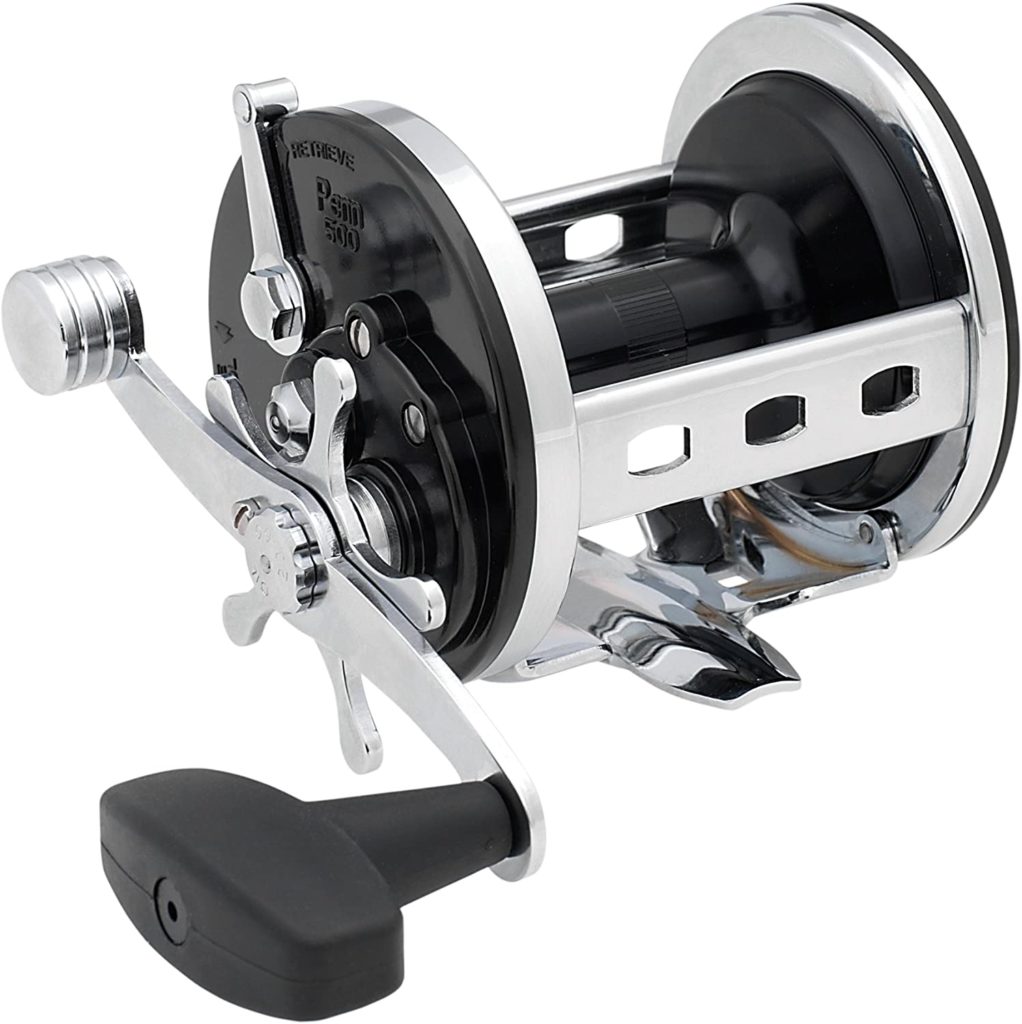 Backed by the machined aluminum spool and bakelite side plates, the catfishing reel ensures long-lasting durability. With the HT-100 Versa Drag System, the reel enables multiple drag settings and provides maximum drag without interruption. Featuring a quick take-apart feature, the Jigmaster 500L allows you to dismantle spools and lines while fighting hard in the water.
Quick take-apart feature for cleaning and spool change
Robust and smooth catfishing reel
Great reel at a bargain price
The handle is a bit noisy
6. Penn Squall LevelWind
Last on the list of catfish reels with bait clickers is the Penn Squall LevelWind. This fishing reel sports a graphite frame and side plates with marine-grade bronze main and stainless pinion gears.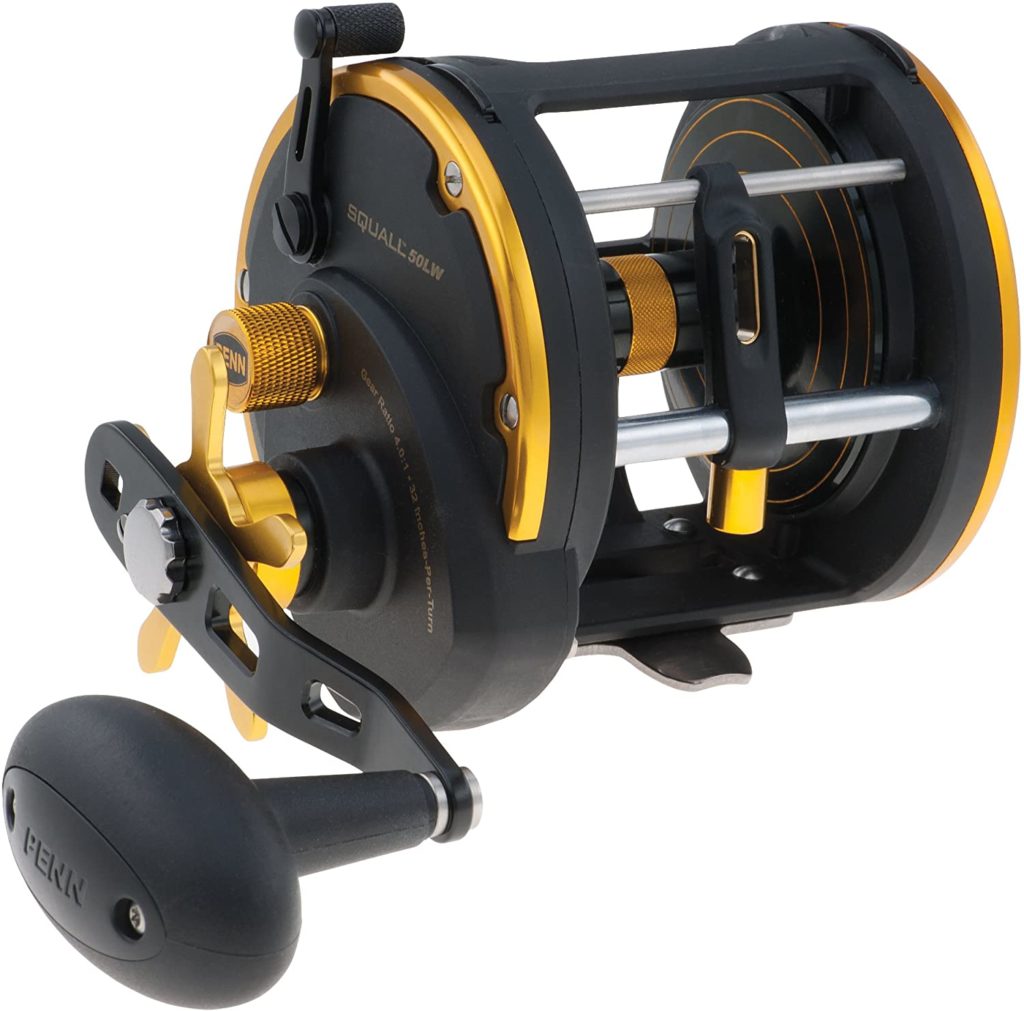 Coupled with two stainless steel ball bearings and an anti-reverse bearing, this catfishing reel alleviates rotor back play and ensures smoother operation. Combined with quality and durable materials, Squall LevelWind is built precisely for freshwater fishing.
Durable with lightweight graphite structure
Instant anti-reverse switch
Available in left and right-hand models
Not well-suited for saltwater fishing
---
Conclusion for Catfish Reels With Bait Clicker
Beginners and seasoned anglers, both are in desperate need of gears that increase their chances of pulling sizeable species of catfish. We've tried and tested the best Catfish Reels With Bait Clicker available on the market, some expensive and some reasonably priced.
If you have a list of catfish reels that can outperform a few of the reels listed here, write to us in the comments section below, we'd love to try those!
---
FAQs For Catfish Reels With Bait Clicker
1. What is the main benefit of using a reel with a bait clicker?
A bait clicker allows you to disengage the reel, so the reel moves in a free spool, and whenever the line on the reel moves it alerts you that you have a bite or that the line is moving. When you're targeting smaller blue catfish it allows the fish to pick up the bait and run with it and not meet any resistance so the way you use a bait clicker is really simple.
2. How to engage a catfish reel with a bait clicker?
You're gonna cast your fishing rod out, put it in your rod holder, tighten your line up, turn the bait clicker on and then push the button on the reel so the reel is disengaged and it can move in free spool and that's gonna allow the fish to run with the bait. When you're fishing with bait clickers it's when the line is running and the fish is moving with the bait to engage the reel immediately. You can then grab it and start reeling more quickly than ever.
3. What makes traditional reels terrible?
When you engage the reel traditionally the hook is going to set and then when you reel in quickly and take all that slack out of the line. It's gonna make sure that hook stays in place and then bury that hook even better so you can get that fish in the boat.
4. How is the alarm function controlled in a bait clicker?
If you are using the Abu Garcia 6000 series 6500 c3 reel and bait clicker the line alarm function on the reel is controlled by a little switch on the left-hand side. The placement of these switches may be in a variety of different locations. They're generally all on the left-hand side of a right-handed fishing reel and what happens when you turn that bait clicker on or engage that bait clicker and you'd push the button down on the reel like you were going to cast?
5. Why is catching a fish with a bait clicker so easy?
It allows that reel to move in free spool when you pull on the line or when a fish runs with it you have a loud clicking noise. The weight can move up and down the fishing line; the fish feels very little resistance as it doesn't get any resistance from the fishing reel.