Activities like fishing ask attention to every detail – safety, equipment, and more. If you plan on stepping into the water or a slippery surface (which you wouldn't), it is high time that you buy a pair of boots.
While you may not want to step in, your feet might get soaked or wet while snatching onto fish and dropping them on your deck. No one on this oblate-spheroid planet would want to get their feet wet, thus buying one can come in handy.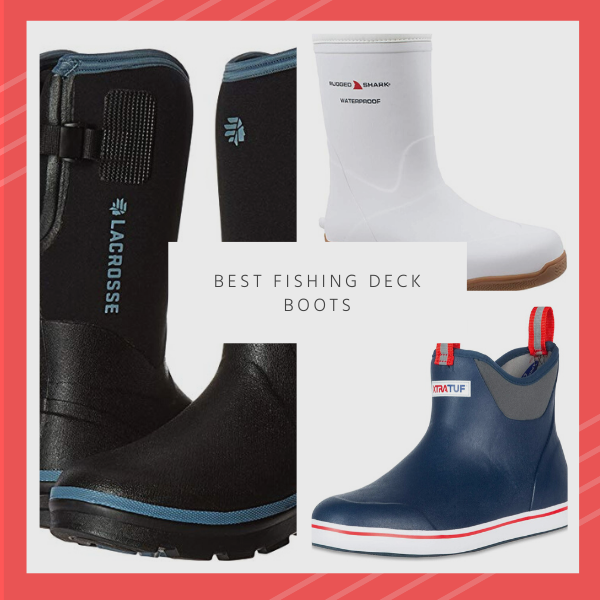 For utmost security is another reason why purchasing one may help. Buying shoes that are better in terms of quality and material will keep you from skidding.
Falling isn't good; it isn't what you want. It may lead to a haunting injury or unintended damage to your equipment.
Fishing boots also known as wading boots are inevitable while wading into the water. So choose one wisely. This post would be your one-stop buying guide to fishing boots.
---
Buyer's Guide To Fishing Deck Boots
Below are a few factors to consider before buying fishing boots. If a shoe lacks any of the following factors, evaluate the next shortlist.
Sole
Sole plays a pivotal role while out buying a pair of fishing deck boots. Fishing involves a higher chance of falling and losing grip; ergo the soles matter the most. Cleated soles add an additional layer of traction on a slippery surface.
The traction of a fishing boot will aid you in standing firmly in water and other slippery surfaces.
Comfort
Comfort is another essential aspect of choosing shoes. So before investing, check whether those boots can be worn all day. Ensure that the inner soles are fused with a cushion using materials like foam, as it allows you to stand with these for long hours.
In case you're unable to try them on, this post or at least the online product description can help you find the best. Also, it is crucial to verify whether these shoes are integrated with cushioned insoles and comfortable toplines to abstain from calves' irritation.
Budget
Generally, the budget for fishing boots is higher than regular boots. These boots are used all together for a different purpose.
Usually, these fishing deck boots fare somewhere between 40 to 150 dollars. Fishing is a job where boots are considered to be an integral part of it, so buying a cheaper one with substandard specifications might not be recommended.
Sizing
Another important factor when buying a pair of fishing deck boots is the sizing. And by size, we refer to the fishing boots fit.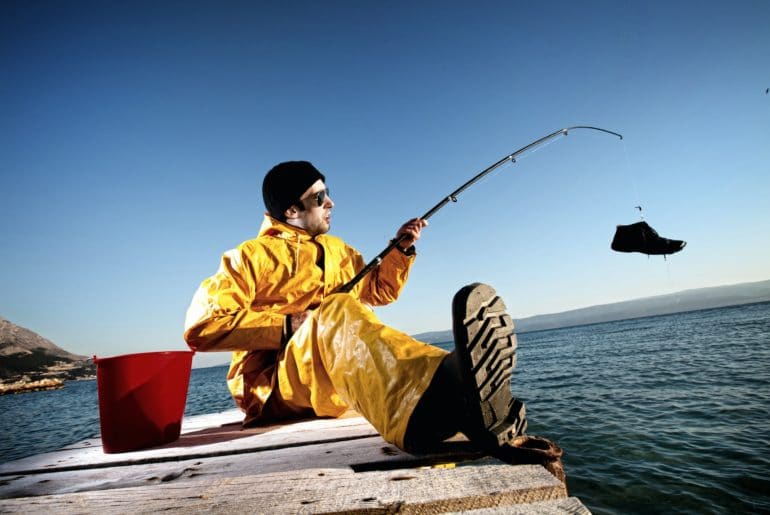 There are a plethora of shoes that run distinctively from standard sizing. Refer to the sizing guide from the manufacturer or skim through the reviews. Also, contemplate the add-ons you want with the shoes – socks or customized cushions.
Durability
Owning a sturdy pair for a long time is a must. Fishing boots are made with high-quality materials that are built to last long. Sneakers, on the contrary, are often made with cheap materials. Fishing boot's durability determines how long they withstand precarious conditions.
Materials
Lastly, it is time you consider choosing boots that boast high-quality materials. The materials infused within the boots dictate their quality.
Perhaps the most common materials utilized in the making of such boots are either rubber or leather. Materials like rubber, chevron, and PVC help walking on wet surfaces and become a mandatory feature while shortlisting one. Any fishing boot that incorporates the elements mentioned above is a must-buy.
Synthetic leather is reliable; however, it is more expensive than the other materials listed here. Some of the materials are praised for being lightweight, flexible, and durable.
Waterproof
Yet another prominent part considered while buying boots is to seek water-resistant shoes. Few of the materials like rubber, neoprene, or PVC, are purely waterproof.
Waterproof boots safeguard your feet from water, therefore let your feet stay dry and warm. With the advent of futuristic designs, there are fishing boots that offer water flow-in and flow-out features, helping in the instant drying of boots.
Also Read: Best Life Vest for Fishing: Complete Reviews & Buying Guide
---
Top Fishing Deck Boots
1. Xtratuf Performance Series 6" (Best Outsole Fishing Boots)
In case you're struggling to move with the tall rubber boots, the Xtratuf Fishing Boots are smaller and don't cost much.
Xtratuf boots are crafted with a slip-resistant Chevron outsole that prevents from slipping and tripping. The positive of this sole is, that it leaves no marking on the ground.
These fishing deck boots are infused with XpressCool, a breathable material that ensures your skin stays protected from bacteria and fungi.

Xtratuf Performance Series 6" deck boots are lauded for their design, and colors. As these boots are lightweight and comfy, you can wear this pair all day.
2. Rugged Shark Fishing Boots
Built with waterproof rubber, the Rugged Shark boots keep your feet dry all day long. Rugged Shark's fishing boots come with a cushioned interior footbed that is water-friendly and provides maximum comfort.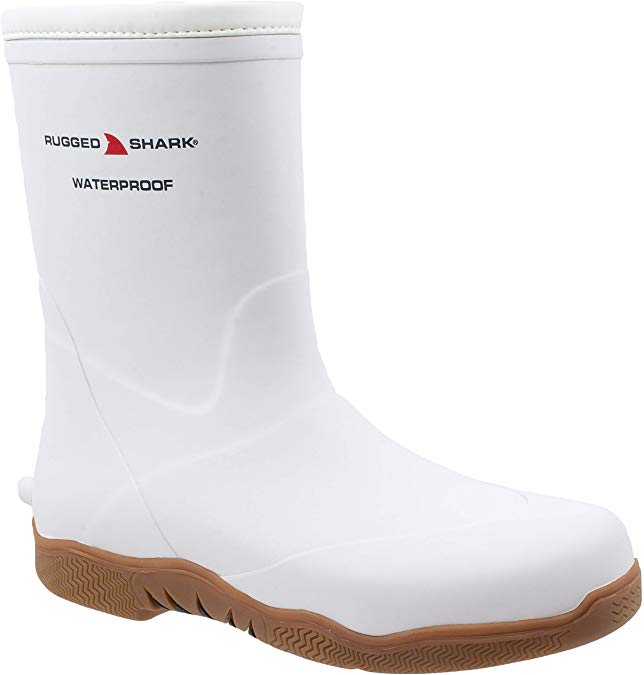 These cushions are removable, but wearing them all day will work as an additional layer of protection.

With the Shark Grip rubber sole, these fishing boots offer high stability in slippery conditions and let you walk without struggling. With a rubber-built, these boots have your feet protected from water and let you safely ascend ladders.
3. Honeywell's CLC Rain Wear PVC Rain Boots
Made to withstand heavy rain and snowfall, Honeywell's CLC boots are worthy of wearing for fishing purposes too.
Since these boots are constructed with PVC, they work excellently in safeguarding your feet from extreme rain. They sport a scalloped top-line design to house flexing in the calf region to alleviate irritation.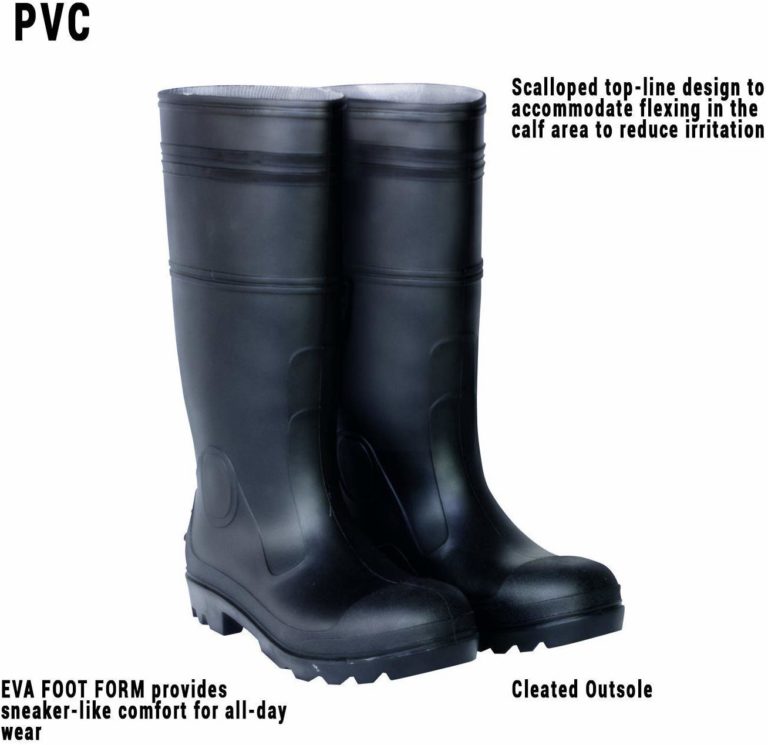 CLC Boots come in a sneaker-like comfort with the EVA Foot form that allows you to wear these all day long. Also, these boots have a cleated sole for enhanced traction.
4. Hodgman Neoprene Wade Shoe
One of the trusted brands in this sector, Hodgman's Neoprene Wade Shoe, is suitable for all fishing purposes. The Neoprene Wade Shoe arrives with a durable zipper, allowing your feet to get in and out of the boots comfortably.
These boots include adjustable cuffs along with a hook and loop strap, preventing any debris from infiltrating your fishing boot.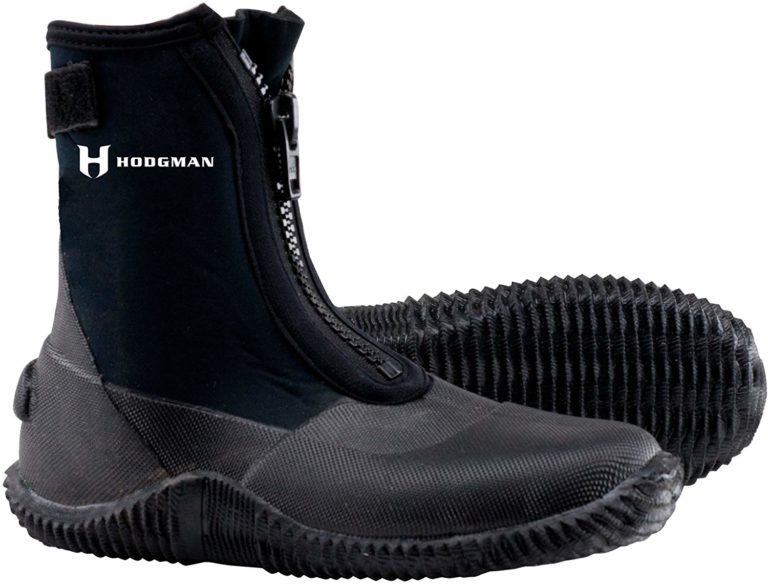 Neoprene Wade Shoe's non-slip rubber soles ensure stability and protect the sides and bottoms of your feet from accidents.
5. LaCrosse Alpha Range Rain Boot
LaCrosse's Alpha Range Rain Boots for women are a better alternative when buying a durable and cozy pair of fishing deck boots.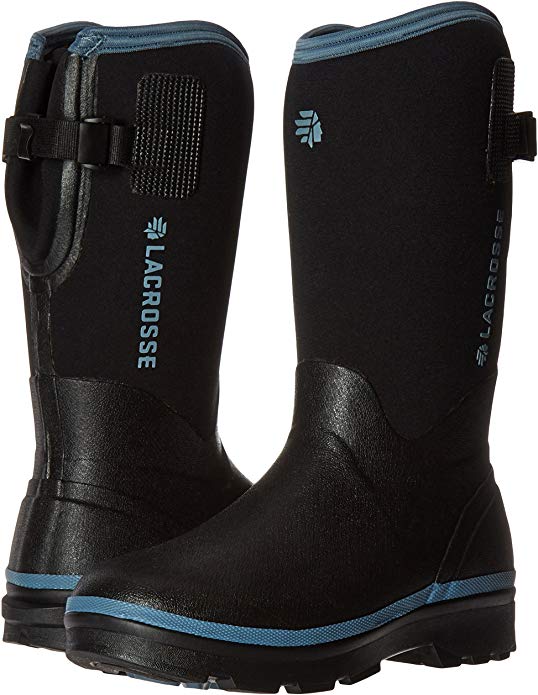 These fishing deck boots are instilled with the Active Fit design, which allows these boots to fit into your feet seamlessly. Built using ZXT rubber, these boots are incredibly comfortable and flexible.

The LaCrosse Alpha Range sports an adjustable gusset that ensures every user with a handful of customizing options for a better fit.
---
The Bottom Line
There is an abundance of options available in the market, and it eventually depends on your needs for a fishing boot. Now that we've compiled a list of the best fishing deck boots, it is convenient for you to spend some bucks and buy a high-quality one.
If you have a better list or a buying guide, add those in the comments section below.
---
FAQs
Are there any different kinds of fishing Deck boots?
Fishing Deck boots are available as per your needs and requirements. Following are the types of fishing boots:
Comfort fishing boots: Lightweight, comfortable, and serve for longer hours
Traction-boosting boots: These shoes are precisely built to work in conditions that are too slippery or have an uneven surface. These boots boast a sturdy grip that works fine on all surfaces.
Rubber boots: These boots are well-built and waterproof, allowing one to stroll around wet surfaces with ease. However, these boots are bulky and might be challenging to move with.
What precisely do these fishing boots come in use for?
Although these are the best gear a fisher could ask for, a newbie is also obliged to use a fishing boot. Fishing boots assist while walking in the water or through muddy surfaces effortlessly. And in no way, you'd want your feet getting wet or injured by wearing typical shoes.