Fishing is tranquility, but there are times you grapple with prey once they start biting. The activity often has us pushing through some tense situations, especially when we are surfing in high waters.
Among the most crucial things required whilst fishing — the knot-tying tool has to be right there in the list. A fishing knot is needed if your eyesight is not strong or finger agility is not the same.
A fishing knot will help in regain control and grasp the hook firmly without hurting yourself, which makes it quite valuable. With an overabundance of fishing knot-tying tools, it is hard to segregate the best from the lot.
---
Benefits of Using a Fishing Knot Tying Tool
There are myriad benefits when using a knot-tying tool for a perfect fishing trip. Based on our hands-on experience, we've jotted down a few of the benefits below.
Secure knots: No fisher prefers to lose their prey owing to casual knots. A tool like this will help in tying a knot securely so that there will be no loose knots.
Quick knots: This feature can be extremely pivotal to both beginners and professionals, who don't get time to tie knots while fishing. Having a quick knot can help stabilize the moment while also tying knots, which puts things at ease. It tends to ensure the anglers that they can return to fishing once the line is broken off.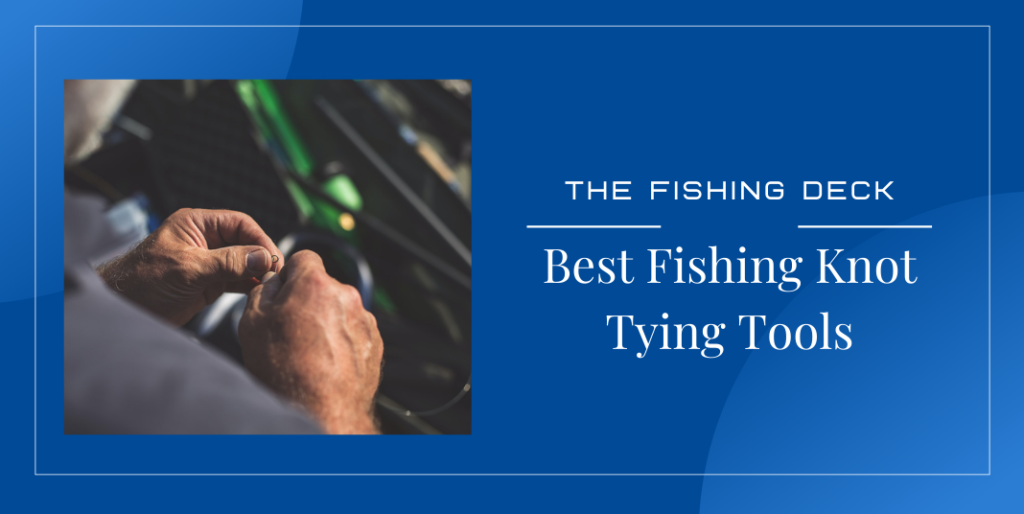 Lightweight and Compact construction: Most of the fishing tools are known to weigh light as they are manufactured using stainless steel, plastic, or on a few occasions — an amalgamation of both. The compact size helps in keeping the tool inside the tackle box or a pocket.
Compatibility: Since there are many modes of fishing, there are specific knots available for each type. This tool is perfect for all kinds, hence a cure for your agony.
Also Read: Guide to Best Catfish Reels With Bait Clicker
---
Best Fishing Knot Tying Tools
Since we've learned the benefits of using fish knot-tying tools, below is a list of the 7 best fish knot-tying tools.
1. Tyepro Fishing Knot Tying Tool
Highly praised by beginners and seasoned fishers, Tyepro's fishing knot-tying tool is one piece of fishing equipment that should find a place in your tackle box. Featuring a spring-loaded handle that offers a firm grip, makes it easier for one to work in tough situations as well.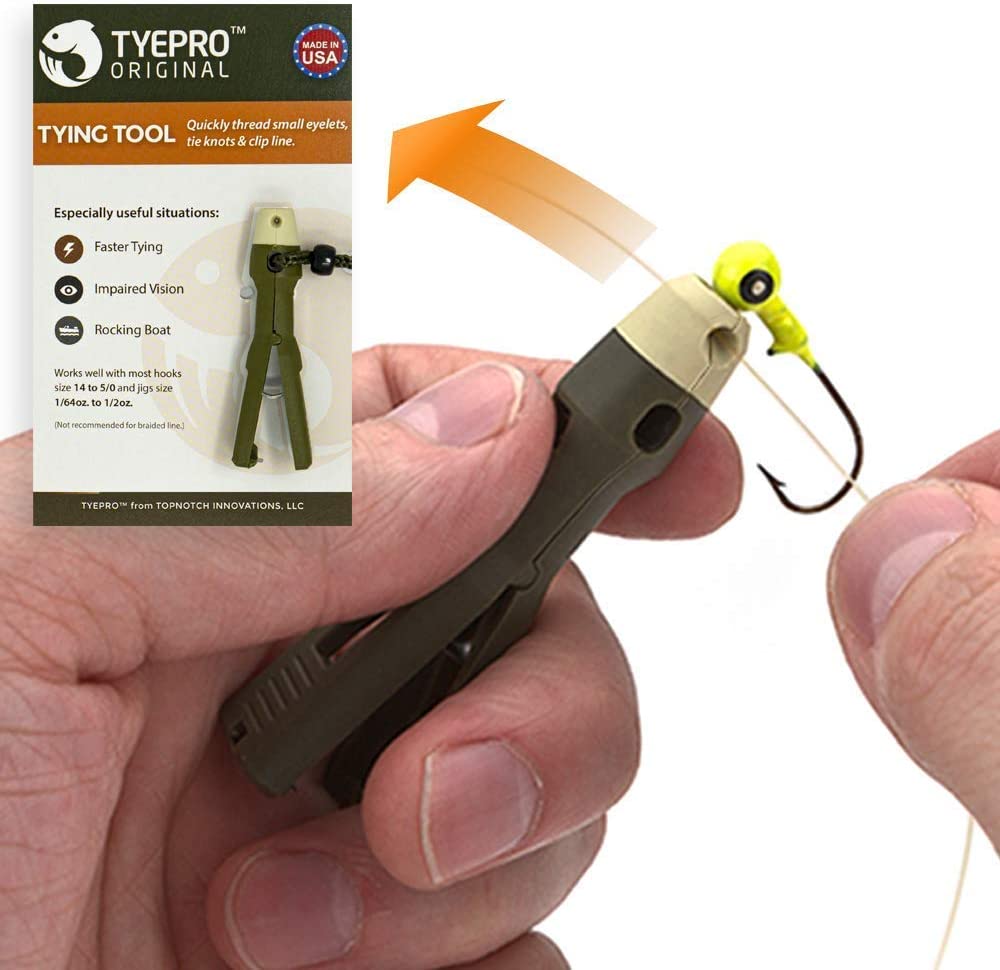 Tyepro has an accessory attached to it, which is in the form of a line cutter that is said to be manufactured by stainless steel. It is corrosion-resistant and can be used in saltwater. It is perfect for people with shaky vision or trembling hands.
It can also work with perch, crappie, walleye, catfish and smallmouth bass, and much more. The product is manufactured in the US, so one need not worry about authenticity.
2. HOOK-EZE Fishing Gear Knot Tying Tool
HOOK-EZE's tool is a high-quality product that helps in creating an excellent knot by making anglers worry-free from the painful injuries of the hook. It tends to provide extra choice by coming in colors like green, pink, blue, and yellow.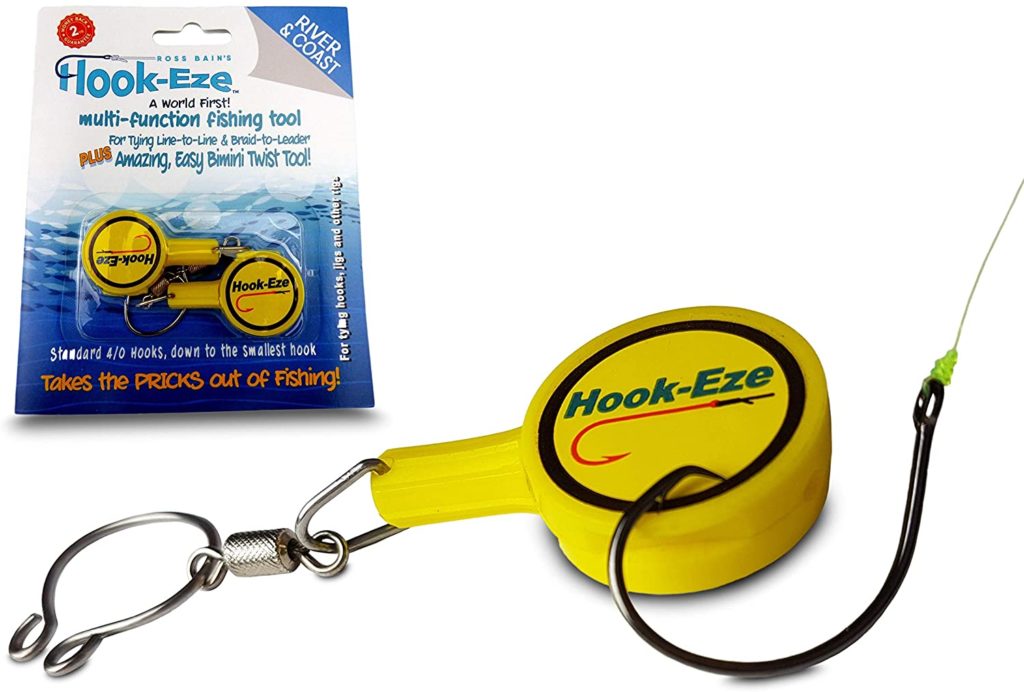 The Hook EZE knot-tying tool has a built-in stainless steel line cutter, which is known to work outstanding in freshwater as well as saltwater and ice fishing. It is straightforward to use as it comes with a manual which comes out quite handy. It can also handle every tackle easily.
3. SAMSFX 4-in-1 Fishing Mono Line Clipper
SAMSFX builds some of the finest, affordable knot-tying tools crafted from stainless steel. It is an all-in-one tool that is equipped with a retractable clip for buyers' convenience. SAMSFX arrives with a top-quality clipper that ensures that excess lines can be cut according to needs.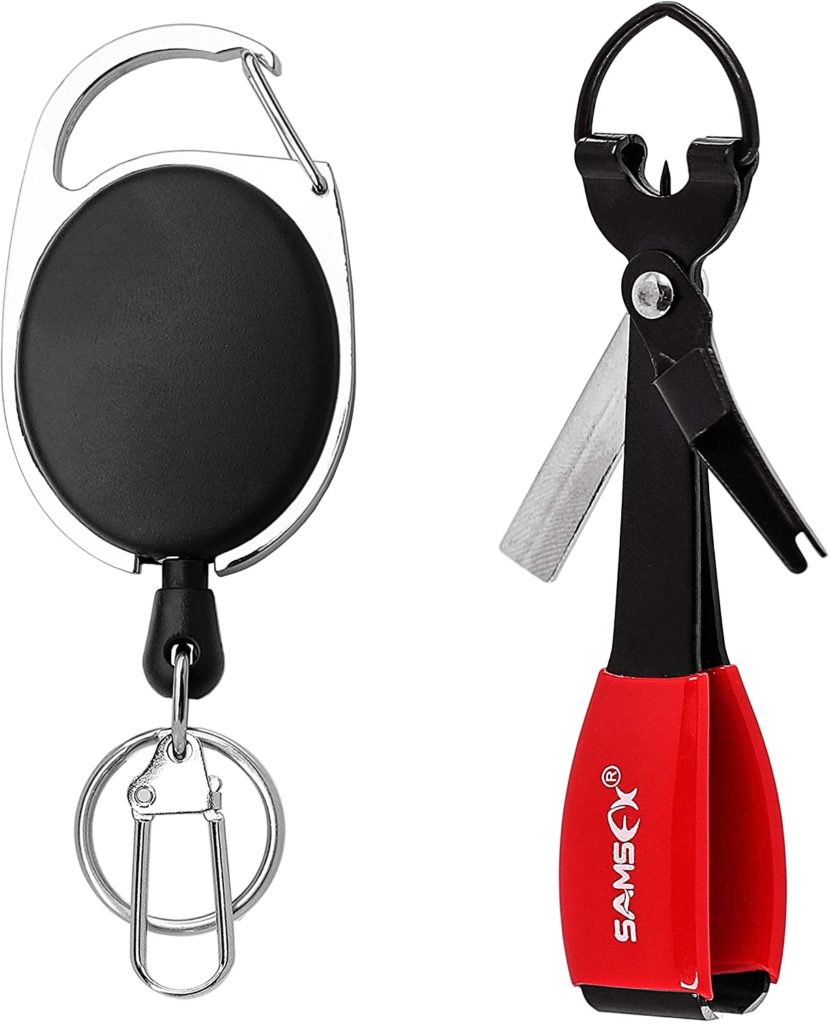 The product comes with two different types of tying tools for the buyer's betterment. The first one is to make use of loops and the second one is for nail knots. The tool tends to help the angler in various tasks. The loop tool is made from high-quality plastic weighing fewer than 4 grams, which helps in developing uniform loops.
Also, the nail knot delivered is said to be made of stainless steel, which is quite good. It also comes with great information.
Also Read: Best Fishing Deck Boots: Complete Reviews & Buying Guide
4. SF Fly Fishing Zinger Knot Tying Tool
SF Fly Fishing Zinger Knot tying tool is an outstanding knot-tying tool that tends to combine the power of different tools and is available in five different colors — gold orange, silver, grey, and yellow. Regarded as a practical product from SF, this tying tool weighs less than 1.5 ounces as it is made of stainless steel.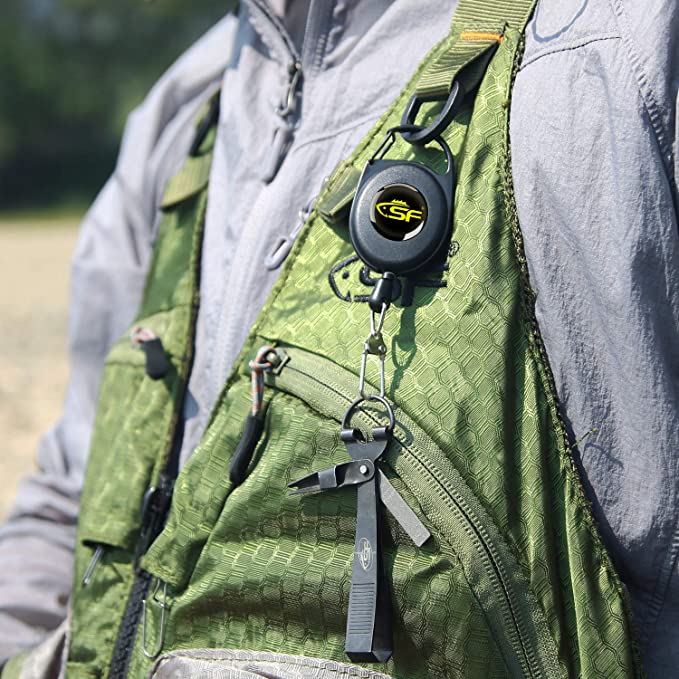 This tool tends to fulfill the needs of four different tools, namely oval retractor, circular retractor, nipper, and measuring tape zinger. This tool is straightforward to use and lasts for a long time.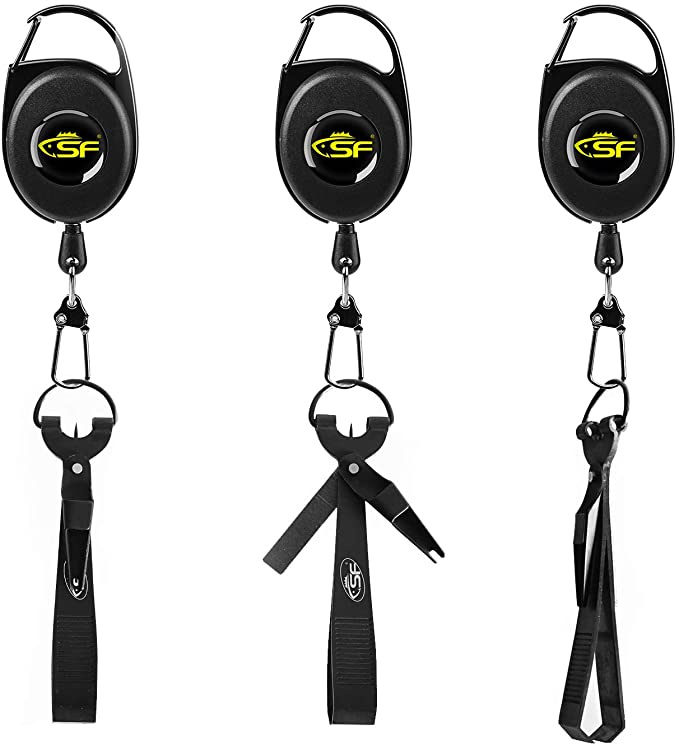 SF fly zinger tool has an oval retractor, which enables the unit to get attached to the fishing lanyards. The tool is quite affordable and performs four functions, so it works as four in one.
5. Lake Products Three in One Tool Fly Fishing
These three in one-knot tying tools manufactured by Lake Products are equipped with magnetic hook threaders and a fly threader for dealing with various situations. With the help of this tying tool, you can tie 14 different kinds of knots. One of the most likable traits of using this is that it is easy to use. While the detailed manual makes it easier for first-time users.
For anglers seeking perfection, this might be the one. The tool can surmount any problems in freshwater and saltwater. Moreover, it weighs less than an ounce, which is why one can easily swivel it in water with ease.
Made of Acetal Delrin, Lake Products' 3-in-1 knot-tying tool comes with an eternal, durable nature. This tool also has accurate machine contact, which helps in giving a perfect grip to users.
6. XJunion Quick Knot Tying Tool
The 4-in-1 quick knot-tying tool from XJunion is regarded as the best when it comes to user-friendliness and comes with a zinger retractor and can fit easily in a pocket.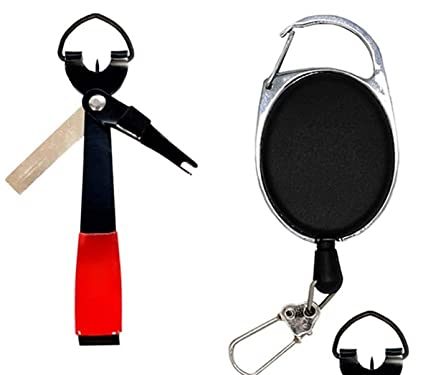 Featuring a sturdy and durable steel-constructed body, XJunion has a nubuck leather concealed to its handles to avoid slipping. Sporting a classic design, this tying tool is suitable for outdoor as well as home use.
It boasts qualities like corrosion resistance, versatility, and convenience. The tool is lightweight; it performs four tasks simultaneously a wire cutter, D-ring, quick knot knotter, and eye cleaner. X Junion is available in two colors — silver and black.
7. TQUNION Quick Knot Tying Tool
TQUNION's Quick Knot Tying Tool is available in a range of exciting colors. This delivers an exceptional performance as it effortlessly does multi-tasking of a zinger retractor, D-ring, hook sharpener, and eye cleaner.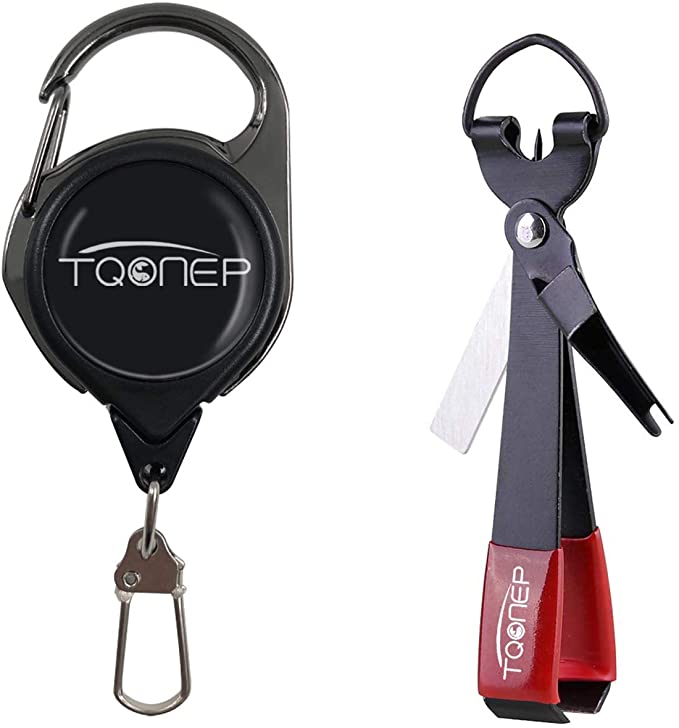 Known to be every angler's fishing partner, the tool is equipped with a retractable zinger that easily fits into a pocket. The Nubuck leather-covered handles are reliable and function as a no-slip grip.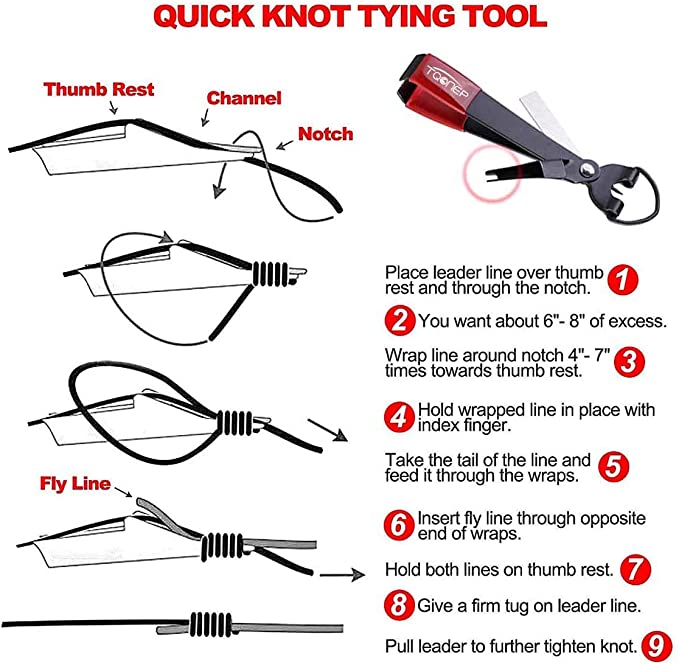 Built with excellent craftsmanship, the tool works well as clear hook eyes, trim lines, etc. Available in several fancy colors, TQUNION is elegant and offers quality service to fishing enthusiasts.
---
Conclusion
Now that you are aware of different types of fishing knot-tying tools along with their pros and cons, it is safe to say that using the right tool will land you the kind of fish you are looking for.
Choose one as per your need and pick one from this list we brought you. It's time you make a sound choice to bring home the best available tool in the market.
---
FAQs
1. How to use a fish knot-tying tool?
Using a fish knot-tying tool depends entirely on the kind of knot you want to tie. Besides, each tool is accompanied by a manual that is loaded with instructions. The main features of these tools are that they hold the hook in place so it doesn't move and can have a stable starting point.
2. How to tie a knot in Nail?
You have to hold the end of both lines with a guiding tube, and now with the leading line, make 5 to 6 lines around the guide and second line. Once this is done, insert the leader into the tube and pull it from the other end.
Now remove the tube and pull it out from both ends to tighten. Cut off the excess line if there is any. Voila! you are done tying the knot.