Fishing can be expensive, which, as an activity, is enjoyed both as a passion and a profession. Saltwater fishing is fused with excitement, and as an angler, you cannot miss out on a quality saltwater spinning reel.
Besides the vest, lights, and boots, the spinning reel is another essential requirement during the time of fishing. With fishing involving the use of many gears, this detailed post lists some of the best saltwater spinning reels available in the market.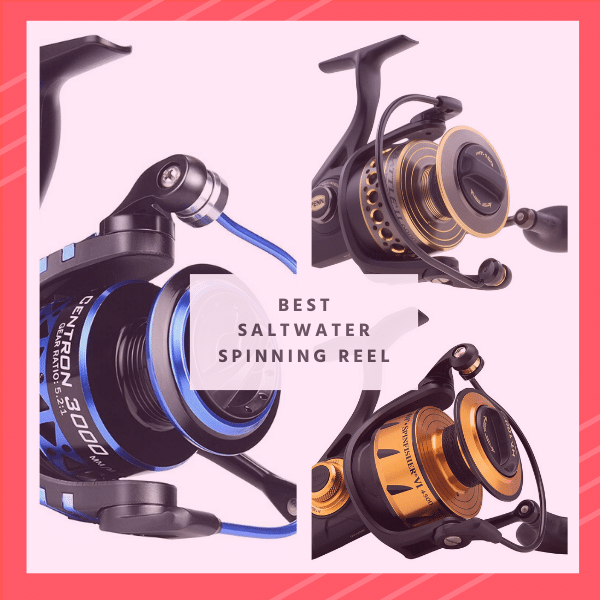 To make sure that you opt for the right spinning reel, the following are a few considerations to keep in mind.
Questions to ask yourself before buying a saltwater spinning reel:
What is the type of fish you are after? For massive fish, lightweight reels may not be the best choice.
In what environment will you be using the reel? A few of the reels are not saltwater-friendly.
Many thoughts are rising in your head before investing in equipment like a spinning reel. To declutter your mind from unnecessary details, here are the most predominant factors to consider.
Material
First of all, the materials used in the construction of the spinning reels. Generally, saltwater spinning reels are built using non-corrosive materials that can withstand the pressures of seas and oceans.
Materials like magnesium are lightweight, but might not resist saltwater conditions, whereas aluminum or graphite are durable and considered to be the best fit while fishing in the saltwater.
Reel Size
Secondly, size plays a pivotal role when purchasing a saltwater reel. For instance, if you are buying reels online, check out the product description for the weight it can handle when it is at a certain distance. With this information, you get an idea of what type of fish you can cast.
Ideally, large-size reels come in handy for deep-water fishing, while the medium ones (3000-4000) work for inshore fishing.
Drag
Drag systems are the mechanical and adjustable pair of friction plates, which ensure the smooth functioning of a spinning reel. Reels with maximum drags are capable enough to catch large species of fish like Tuna and Marlin.
For seamless and smooth fishing, a drag system needs to have proper heat-dissipating and ventilation features.
Spool
Since saltwater reels can combat the harshest of conditions, it is essential to choose a gear that is non-corrosion. The size and quality of a spool determine the capacity of fish you'll be reeling in.
Spools that are crafted using aluminum and graphite are the best choice to stick with, as these are super-lightweight and do not quickly erode.
Line Capacity
Line capacity is vital, whether you are out fishing in the freshwaters or salt waters. The larger the size of a fish, the larger the line capacity. The line capacity ratings are marked 255/14, which signifies the line length and weight capacity of your reel. It is recommended to settle with a line capacity of a minimum of 300 yards.
Anti-Reverse Handle
The anti-reverse handle is an important consideration to be made before purchasing a quality spinning reel. These handles on a spinning reel prevent it from turning backward.
Anti-reverse handles with an ergonomic non-slip design, allow you to have a comfortable grip on the reel. Furthermore, consider the handles that come with the option of using them with both right and left hands.
Braid Compatibility
Built by weaving fibers of materials such as spectra or micro-Dyneema, Braid offers a plethora of benefits to an angler. These are highly considered for their strength, casting range, and abrasion-resistant lines, preventing fish from breaking the line with their teeth.
However, the major letdown is that these are prone to slipping on the spool, forcing you to add a monofilament backing for effortless reeling.
Modern reels are crafted to house braided lines directly. These have a rubber gasket that intertwines with the spool. Further reducing the spillage and alleviating the need for support.
Bearing Count
The vital internal parts of a spinning reel require attention to every detail — the ball bearing safeguards these parts from future dents caused by the metal on mental rotation.
Ball bearings ensure that your reel has smooth rotation during the fishing process. It is recommended to select a reel with a high number of bearings for a higher chance of catching fish.
Also Read: Best Fly Rods for the Money: Complete Reviews and Buying Guide
---
Best Saltwater Spinning Reels
After hours of scrutinizing products from the market, we bring you the following list of the best saltwater spinning reels that are the choices of many experienced anglers.
1. Penn Battle II
First on this list of best saltwater spinning reels is the Penn Battle II. Available for purchase for just over 100 dollars, the Penn Battle II is crafted entirely of metal.
This spinning reel is infused with features like anti-reverse bearing, allowing you to avert pullback while reeling in the fish, and an HT-100 carbon fiber drag system for smooth dragging. These are capable of casting bulkier and larger fish, even in the murkiest waters.
Penn Battle II has enhanced the quality of its paint, which safeguards the reel from saltwater spray and chemicals that pave the way to corrosion. Battle II sports a nicely designed handle with easy to hold grips.
2.Kastking Summer and Centron
Summer and Castin from Kastking are supremely built and can withstand the harshest of water conditions. This elegantly looking spinning reel is made out of anodized aluminum alloy that effortlessly gets hold of large fish.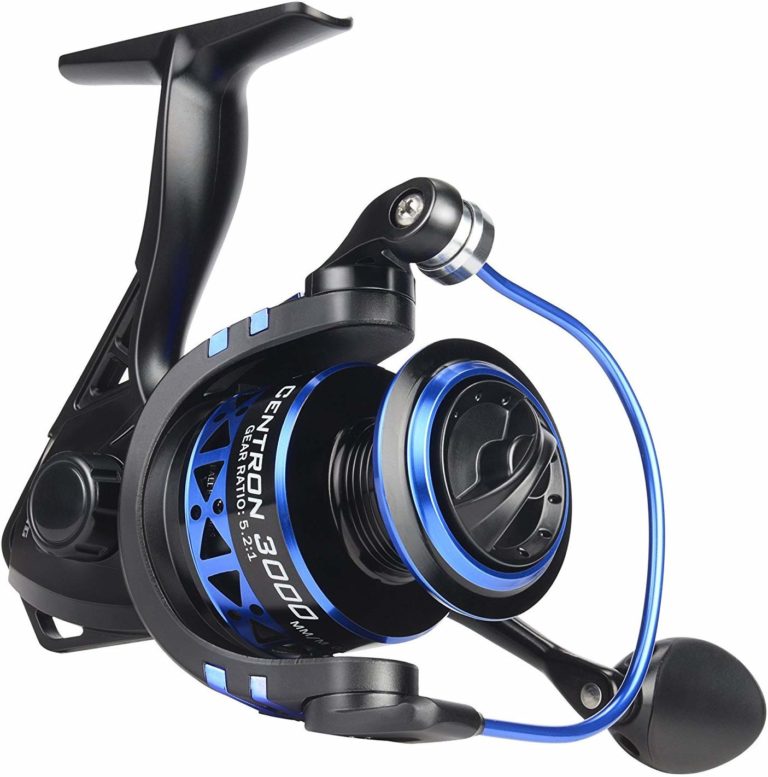 Equipped with a 9+1 ball bearing and hardened metal, this spinning reel is every fisher's faithful saltwater companion. Available in a variety of models, this reel's Superior Drag system has a stopping power of up to 17.5 lbs.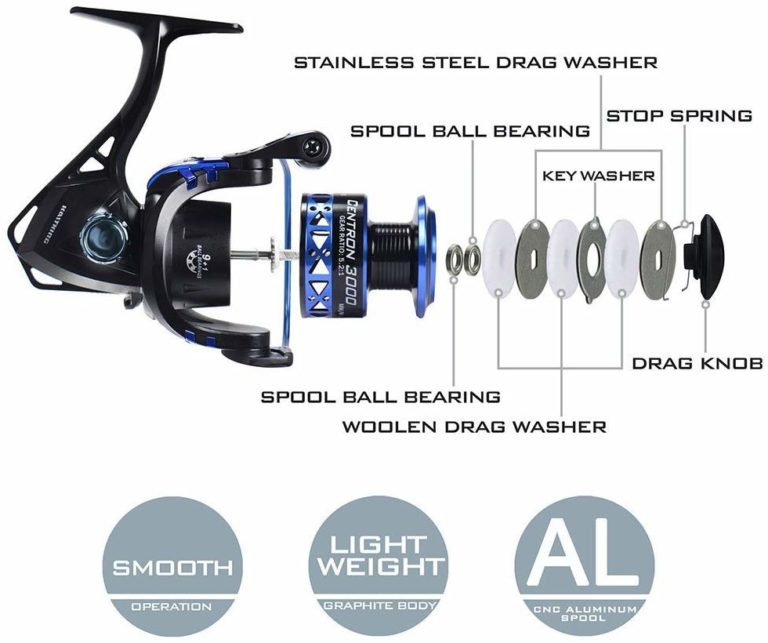 With a narrow graphite frame design and computer balancing system, this saltwater spinning reel is extremely lightweight and durable.
3. Penn Spinfisher VI
Spinfisher VI is another accomplished saltwater spinning reel from Penn. The Spinfisher VI offers an extreme level of durability that combats against brutal conditions.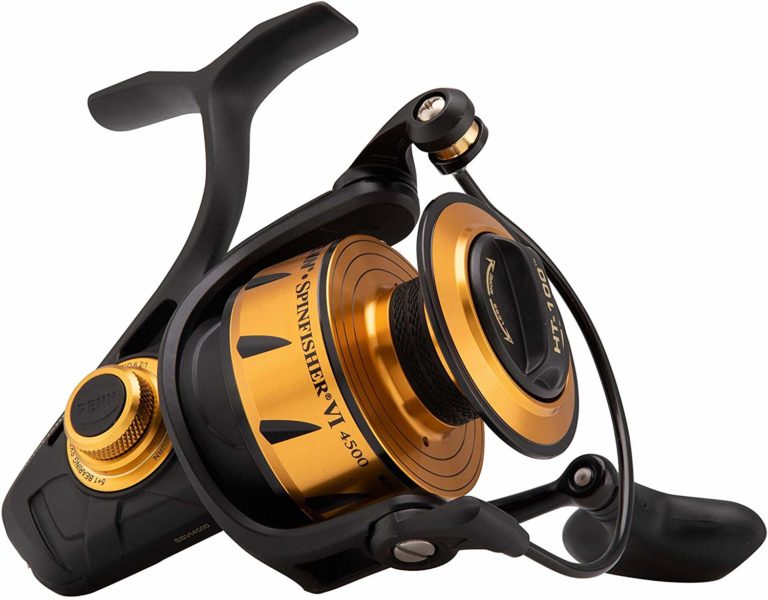 Imbued with an IPX5 sealed body and spool design, this spinning reel looks more appealing to a newbie fisher. Spinfisher VI is powered by CNC gear technology, which ensures excellent speed.
Built with carbon fiber, the patented HT-100 drag washers assist with the stopping power that is required to put brakes on large fish. The Penn Spinfisher VI includes five stainless-steel ball bearings, also, one roller bearing.
4. Pflueger Patriarch Spinning Reel
Pflueger's other exciting offering for the saltwater friends — is the Patriarch Spinning Reel. This spinning reel's rotor and body are of magnesium, making this reel lighter than other reels. The spinning reel houses a carbon-based handle, which is a super-light material than aluminum.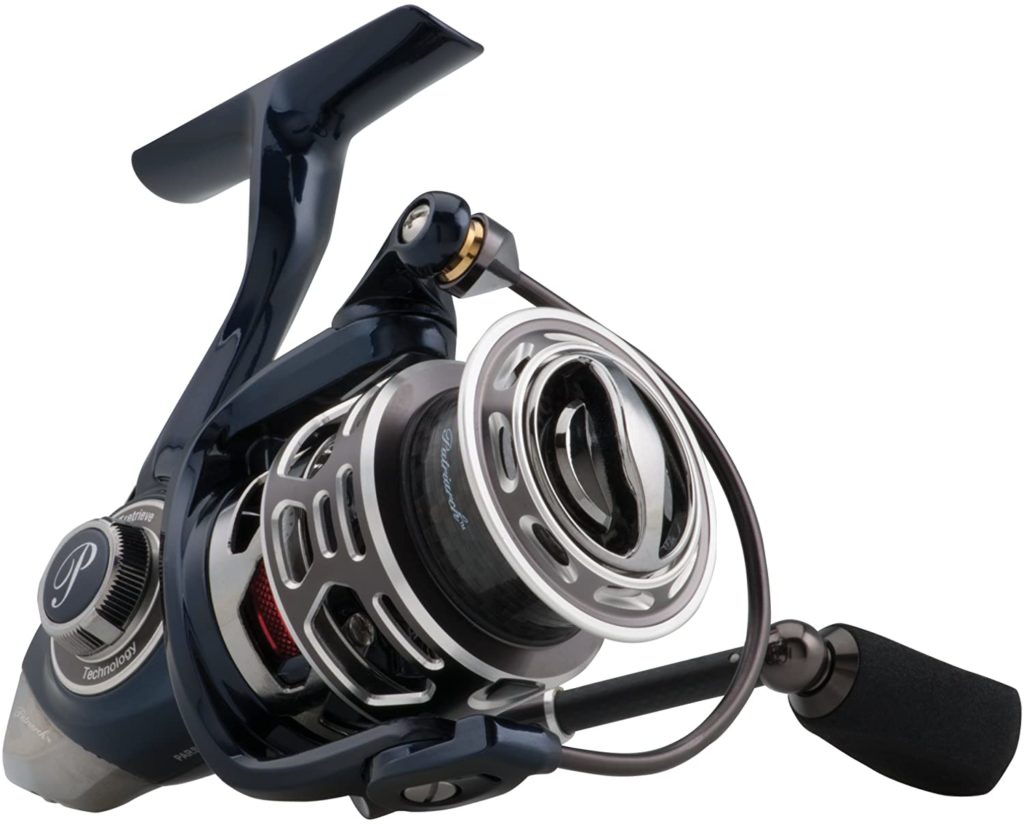 The reel's sealed drag system assures that it functions without any difficulty. The titanium main shaft is lighter and solid. This reel boasts a 10-bearing system, which offers friction press and buttery retrieval. The addition of an instant anti-reverse bearing system prevents snaps when setting up the hook.
Pflueger's Patriarch Spinning Reel comes with a 5.2:1 gear ratio, which is ideal for all your saltwater expeditions. Overall, this spinning reel is a completely safe and feature-rich package meant to target all kinds of fish species.
5. Shimano Vanford Spinning Reel
Perhaps the sturdiest of all Shimano saltwater fishing reels — is the Vanford Spinning Reel. These reels utilize Shimano's flagship technology X-Protect and X-Ship, which facilitates anglers with improved performance and friction-free casting and retrieval motion.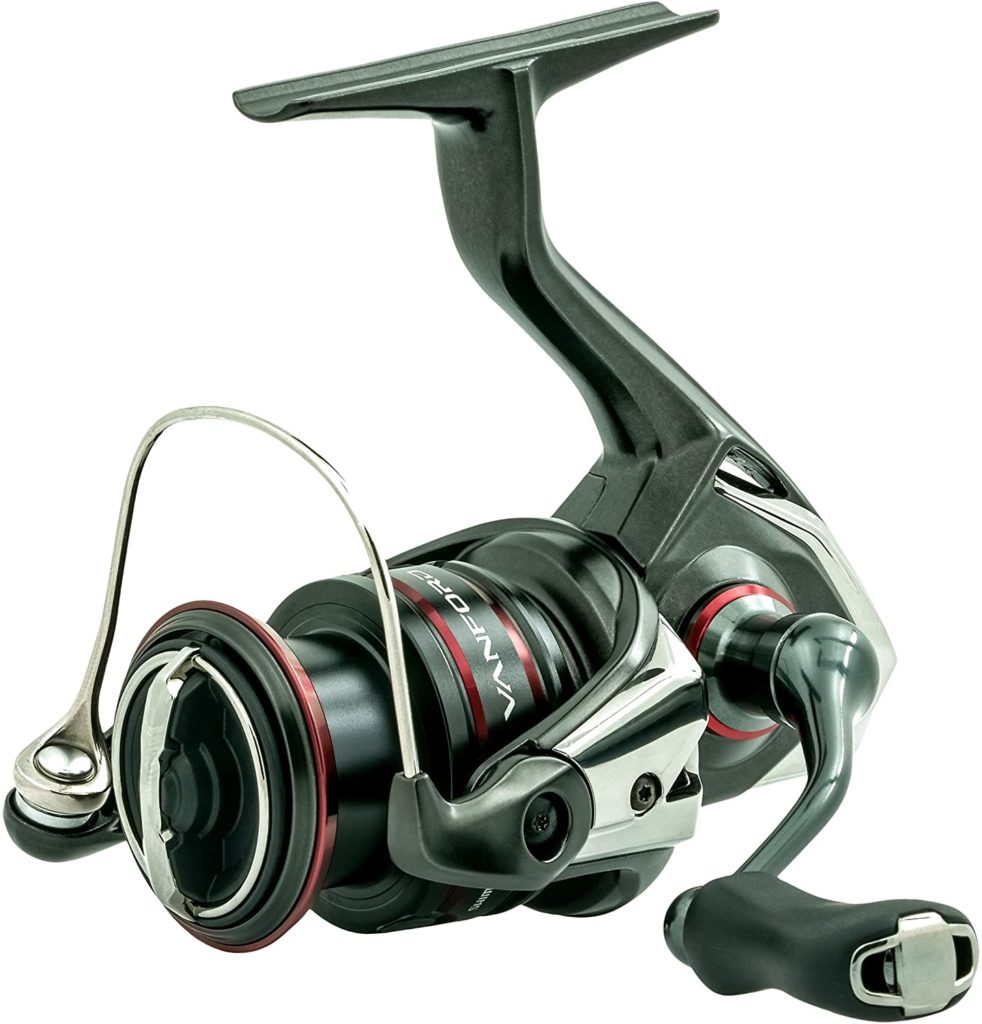 Shimano's Vanford sports a G-Free body that moves the center of gravity to ensure a smooth and comfortable casting experience. This reel has a total of six bearings plus one roller bearing to enhance the casting performance and fishing distance further. The inclusion of SilentDrive technology helps in reducing the jiggles for smooth and silent performance at all times.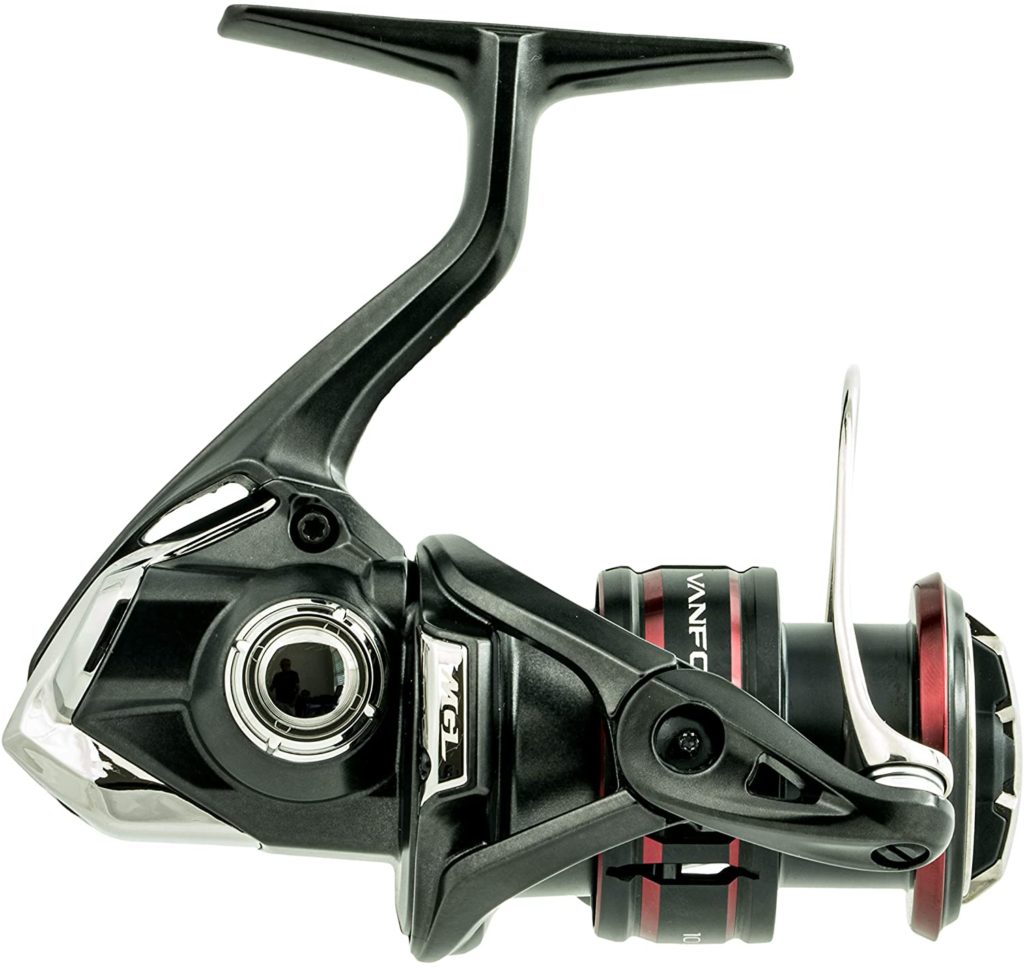 The MicroModule II comes with improved gear teeth for silky-smooth and fewer vibrations when casting. Vanford is appealing with its design and improved version of its predecessors, making this the go-to option for many professional anglers.
6. Okuma Azores Saltwater Spinning Reel
Built to withstand murky saltwater conditions, Okuma's Azores is durable even though it comprises a few plastic parts. The entire spinning reel is embossed in solid aluminum, making this a solid yet powerful gear to have in your tackle box. The dual force drag system does make drag smoother under intense casting situations.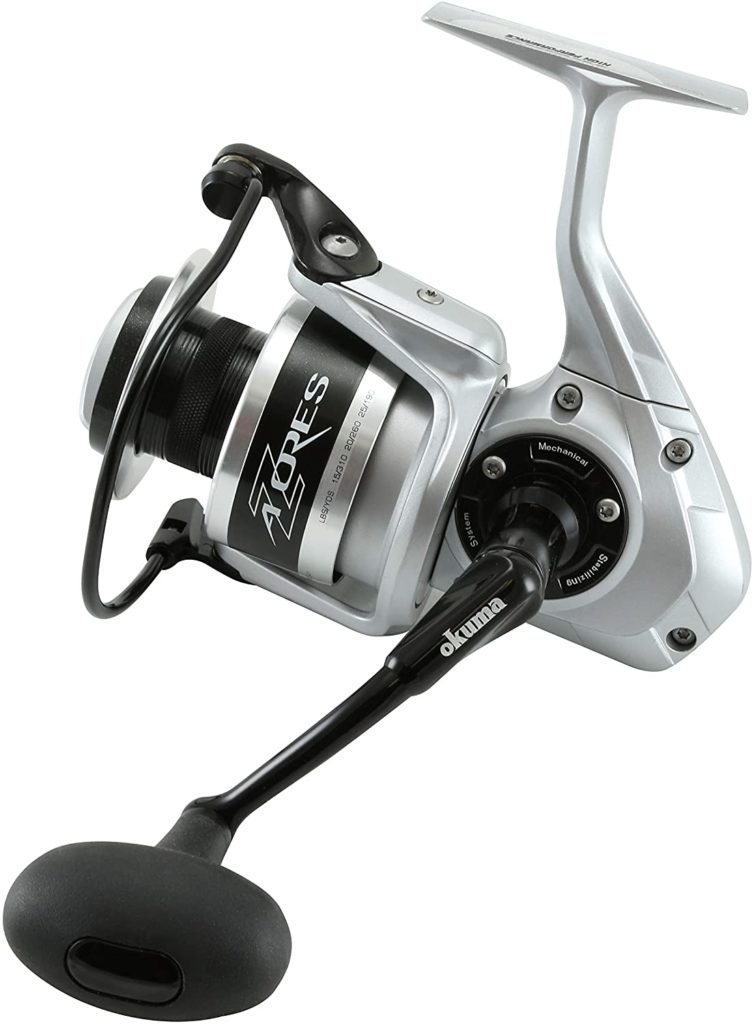 Okuma's Avenger consists of 6+1 bearings, including an anti-reverse roller bearing that ensures smooth functioning while using the reel. This spinning reel has a corrosion-resistant coating for superior protection when submerged in water. The machined aluminum handle is light and more efficient than carbon fiber models.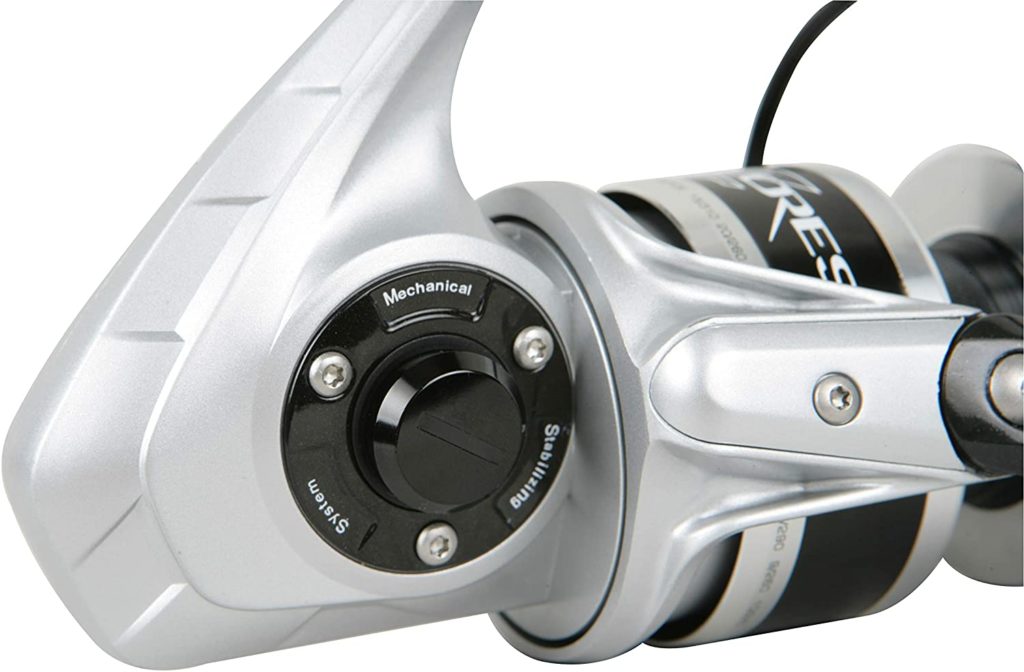 Okuma Azores' spinning reel series is worth the money. They are available in multiple variants — each of which comes with a limited one-year warranty.
---
The Bottom Line
The spinning reels listed here ensure quality support and performance. With our in-depth research and analysis, we've curated this list of the best saltwater spinning reels for the money. Some of which are better in both freshwater and saltwater. As far as our favorites go — we pick the Penn Battle II and Kastking Summer and Centron for their versatility and performance under harsh conditions.
In case you don't refer to a guide before buying one, you'll end up spending on equipment that disappoints later. If you have a favorite spinning reel that you've been using for a long time, write to us in the comments section below.
---
FAQs
What are the key differences between saltwater and freshwater spinning reels?
The primary difference between saltwater and freshwater spinning reels is the corrosive element and sealed components. Saltwater reels are made with strong and rigid materials to stand the test of time in the harshest of conditions and are sturdier than freshwater reels. The biggest benefit of using a saltwater reel over a freshwater one is that the former can be used in freshwater.
What is the ideal gear ratio to consider in a spinning reel?
The gear ratio is a pivotal parameter to consider as it determines the number of rotations the spool might take for one turn of the handle. The ideal gear ratio number stands at 6.2:1 for the larger gear ratio, while 4.2:1 is for the smaller gear ratio. The higher the number of gear ratio, the better it gets when fishing in deep water.