Kayak fishing is arguably the best fishing activity for both as leisure and profession. The initial stages when fishing on a kayak are always going to be daunting.
The learning curve of kayaking is paved with challenges, which is why we bring this comprehensive guide containing some of the best kayaks for fishing. Also, a detailed overview of things to consider when purchasing a kayak designed specifically keeping a beginner in mind.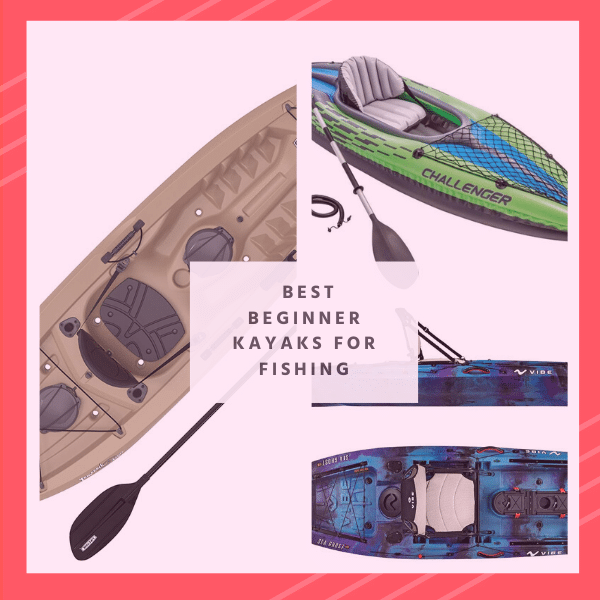 ---
Guide to Choosing The Best Fishing Kayak
Finding a suitable fishing kayak is a tiring job. There are innumerable things to consider before purchasing a kayak available in the market. As you intend to catch fish in large numbers, there are certain features you need to first give thought to.
Material
Generally, polyethylene and fiberglass materials are used in the making of fishing kayaks. These materials play a pivotal role in determining the durability of a kayak.
Polyethylene: Perhaps the hardest and sturdiest of the two materials. Polyethylene is durable but highly sensitive to UV rays. Although this material is bulkier than fiberglass, kayaks made from it stay dent and scratch-proof.
Fiberglass: An expensive option but a fruitful one. Fiberglass is light and is a fisher's companion for long expeditions. A kayak made out of this material includes traits like repairability, more protection, etc. Fiberglass is expensive but far more useful than polyethylene.
Storage
Another deciding factor while hunting for the best kayak for fishing. For effortless fishing, you need to carry accessories like rods, bait, hooks, etc. In order to store these gears onboard, you need ample space.
Kayaks feature two kinds of storage options – bungee system and dry hatch. Normally, all kayaks come with at least one each, excluding the sit-on-top options. These kayaks sport a flat deck design, which already provides them with more space.
An option such as the bungee system will allow you to store almost anything on your fishing kayak. While the dry hatch keeps your fishing gear and other equipment dry and secure, ensure that the aforementioned storage options are within your arm's reach.
Stability
To avoid capsizing in the middle of murky waters, it is important to have a kayak with better stability. If your intentions are to hook a large fish, a stable boat will effortlessly reel in the fish. With maximum stability, you would be at extreme comfort while fishing for long hours.
Small kayaks are less stable for tall and heavy individuals. Therefore, it is advised to use a wide or narrow kayak.
Cost
Prior to purchasing one, contemplate whether you are purchasing one for your hobby or profession. Expensive kayaks come with a horde of features that might not be included with a low-cost one.
If kayaks in your budget do not include the features you are after, there are certain companies that let you add them later. Friendly reminder – Do not compromise on stability whilst searching for a kayak under your budget.
Types of Kayak
There are a variety of kayak types to pick from; each type infused with its own pros and cons. Below are some of the common kayaks readily available in the market:
Sit-in Kayaks: Popular and commonly utilized versions of kayaks during fishing. These kayaks sport high walls with a hole to slide your legs in and keep them dry. These are the go-to choices for paddling in flat waters or all-day fishing.
Sit-on-top kayaks: These kayaks pack an open design and have your legs exposed for easy stepping in and out. The sit-on-top kayaks are wide and best compatible with fishing. For rookies wanting to gain experience in kayak fishing, these are more open and let you free your arms and legs. Once you've obtained a certain level of experience, look for kayaks that accommodate your requirements.
Also Read: Best Fly Rods for the Money: Complete Reviews and Buying Guide
---
Beginner Kayak for Fishing
With our extensive research, we've collated the best available kayaks and listed them below. So without further ado, here is a list of the best fishing kayaks for beginners.
1. Sun Dolphin Aruba
Designed keeping in mind the comfort of a kayaker, the Sun Dolphin Aruba is the right fit for short trips as well as fishing. With a large cockpit and an adjustable padded seat, this kayak can accommodate kayakers of any size to enter and exit easily.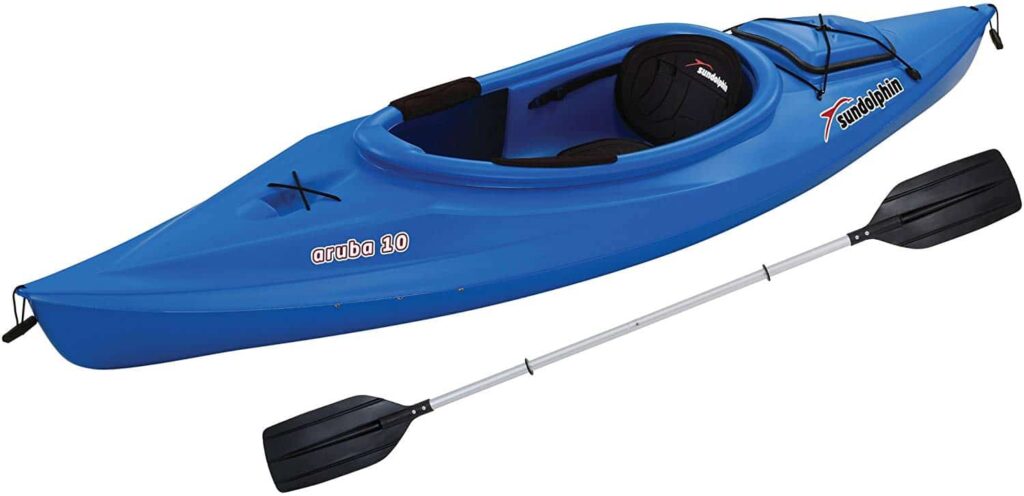 Aruba 10 consists of a paddle holder that allows you to store your paddles in a safe place. Infused with UV-stabilized Fortiflex High-Density Polyethylene, the Sun Dolphin Aruba 10 withstands the harshest of waters and offers extreme durability.
Available in seven different colors, this kayak weighs 40 pounds with a rated weight capacity of 250 pounds. With a feature such as a spray deflector collar, this kayak remains to stand firm against color peeling.
Large cockpit for easy entry and exit
Lightweight and durable
Includes a dry bag, bottle holder, and a storage compartment
Several users complained about hooks wearing out
Not suitable for regular use
2. Intex Challenger K1
Considered the cheapest kayak, the Intex Challenger K1 is an inexpensive soft inflatable kayak convenient for beginners. With an aesthetically pleasing design, the Challenger K1 sports a rugged vinyl construction together with an 84-inch aluminum oar, repair patch, and high-output manual hand pump.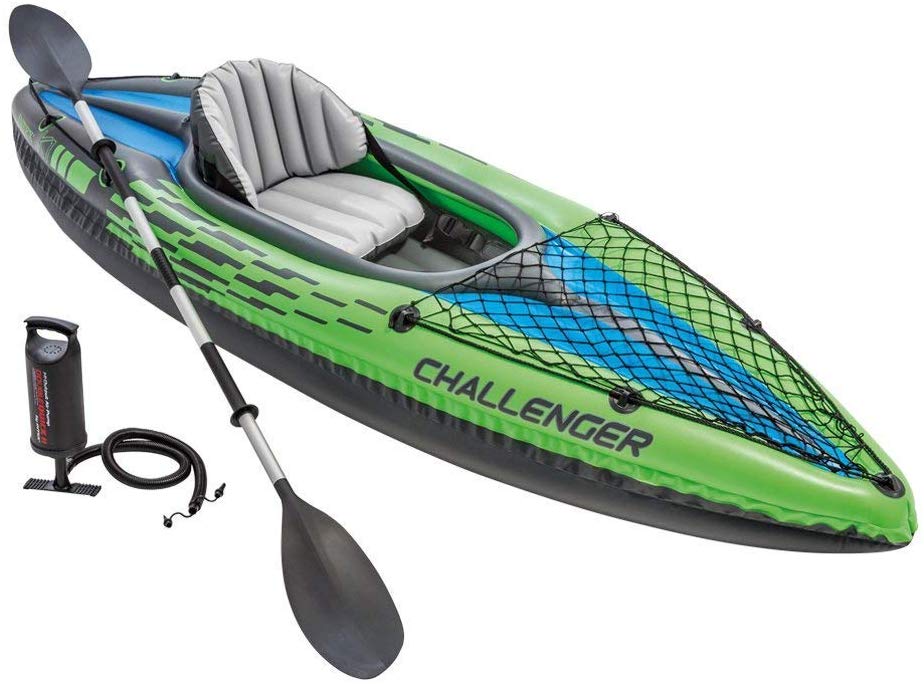 Crafted out from a heavy-duty puncture-resistant, this kayak ensures maximum stability while fishing in rough waters. The hand-operated air pump is weary at times; we recommend you purchase an electric pump that operates on batteries.
The cockpit offers a space that allows kayakers of all sizes to go in and out. This kayak is lightweight and weighs 23.9lbs; however, the loading capacity is only 220 lbs, which may hinder the comfort of heavy kayakers.
Incredibly affordable
Adjustable seat for more space
Cargo net to store accessories
Low loading capacity
Hand-operated the air pump
Inoperable for longer expeditions
3. Elkton Outdoors Steelhead Fishing Kaya
From a well-known brand that creates reliable and sturdy kayaks, Elkton Outdoors' Steelhead Fishing Kayak is about an 11-foot tall spacious kayak. The fishing kayak comes with 1000D reinforced layered PVC construction coupled with the secure drop stitch floor that enables anglers to stand and position for smooth casting.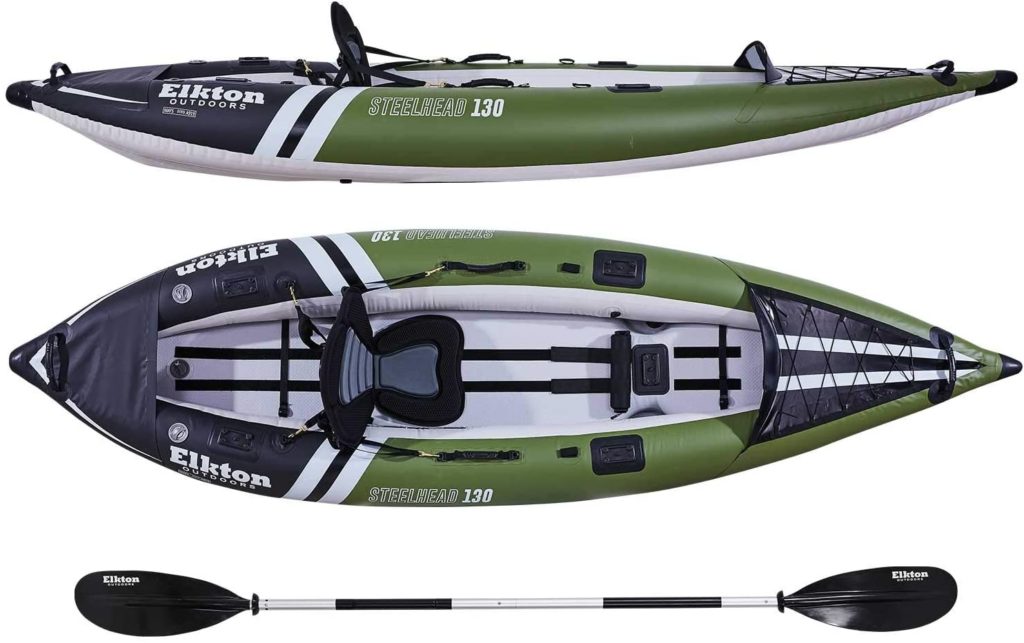 Included with a toe lightweight breakdown paddle system, this fishing kayak conserves energy during long paddles in harsh weather conditions. The system ensures you have full authority over paddling and the movement of the kayak. Furthermore, the kayak houses a removable skeg and a backpack-style travel bag for more comfort.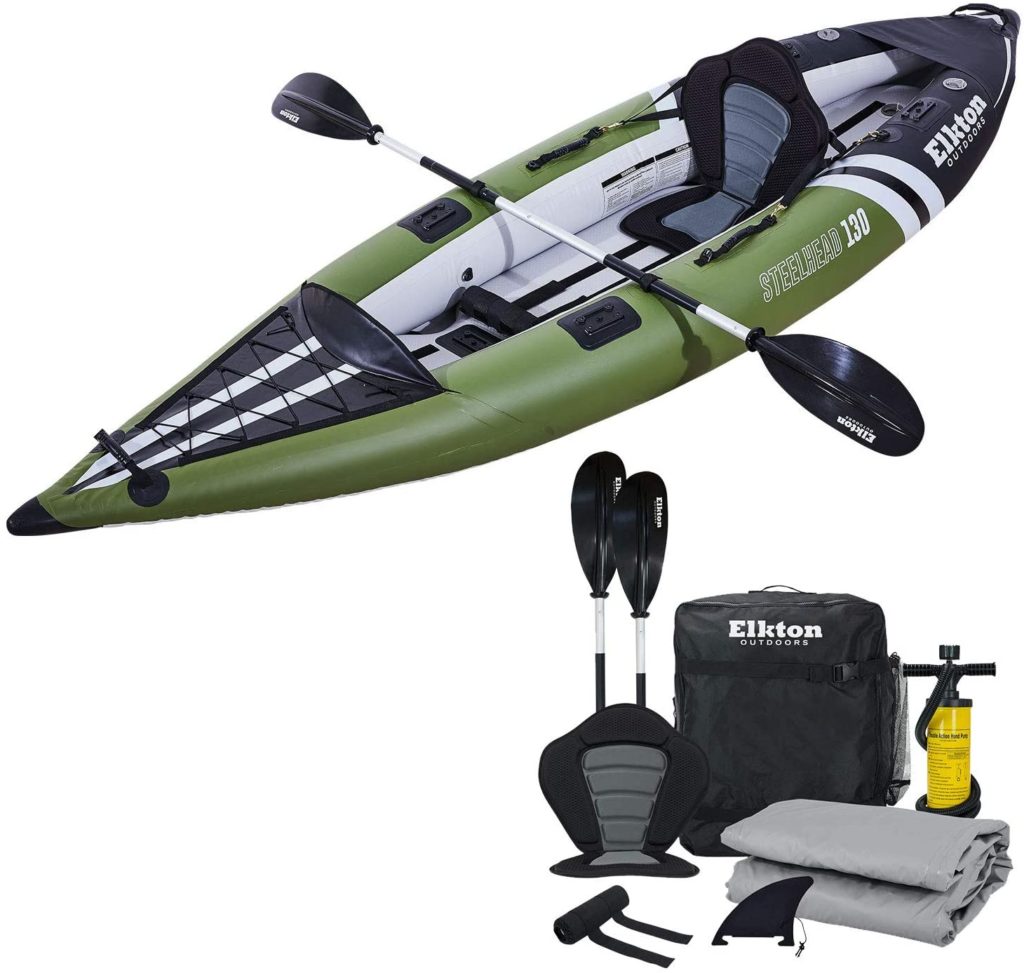 Infused with an adjustable seat, this kayak can be moved backward and forward for convenience. The kayak has a multitude of storage options, and the resilience of this boat under tumultuous conditions is worth every dollar you spend.
4. Lifetime Tamarack Angler 100
Perhaps the most comfortable of all fishing kayaks is the Lifetime Tamarack Angler 100. Highly acknowledged for its exquisite design, the Tamarack Angler 100 is every angler and paddler's favorite kayak.
With an adjustable seat, you get to sit in a position that makes you comfortable. The kayak features built-in grip thigh pads that ensure there is no uneasiness while paddling all day long on the water.
Available with and without a paddle, the Lifetime Tamarack Angler 100 weighs 56.5 pounds with an impressive load capacity of 275 pounds.
Includes fishing rod and paddle holders
Built with UV-protected high-density polyethylene
Convenient to travel around with
The seats and footrests are adjustable
Substandard plastic quality
Not entirely leakproof
5. Sevylor Coleman Colorado
Built from 18-gauge PVC, the Sevylor Coleman Colorado guarantees stability in the murky waters. The 2-person kayak comprises of 1000D tarpaulin bottom and 840D nylon cover that safeguards from punctures.

The Sevylor Coleman Colorado features multiple air chambers, which allow the kayak to stay inflated if one of the chambers breaks out. Also, the airtight system reduces the chance of a leak.
Both sides of the kayak have adjustable Berkley Quick Set rod holders, which facilitate a free-hand fishing experience. Consisting of two adjustable seats, you, along with your fishing buddy, can comfortably stroll with ease on the waters. The kayak weighs about 40.5 pounds with a majestic loading capacity of 470 pounds.
The Airtight System
Adjustable seats for both kayakers
Majestic loading capacity
Includes trolling motor fittings for effortless fishing
Not a one-person kayak
Lacks pump and paddle; claim users.
6. Brooklyn Kayak Company TK181
The BKC UH-TK181 is a kayak that is efficient in resolving the age-old problem of water penetrating your personal items. The kayak houses waterproof storage hatches, that safeguard valuables such as keys, wallets, etc.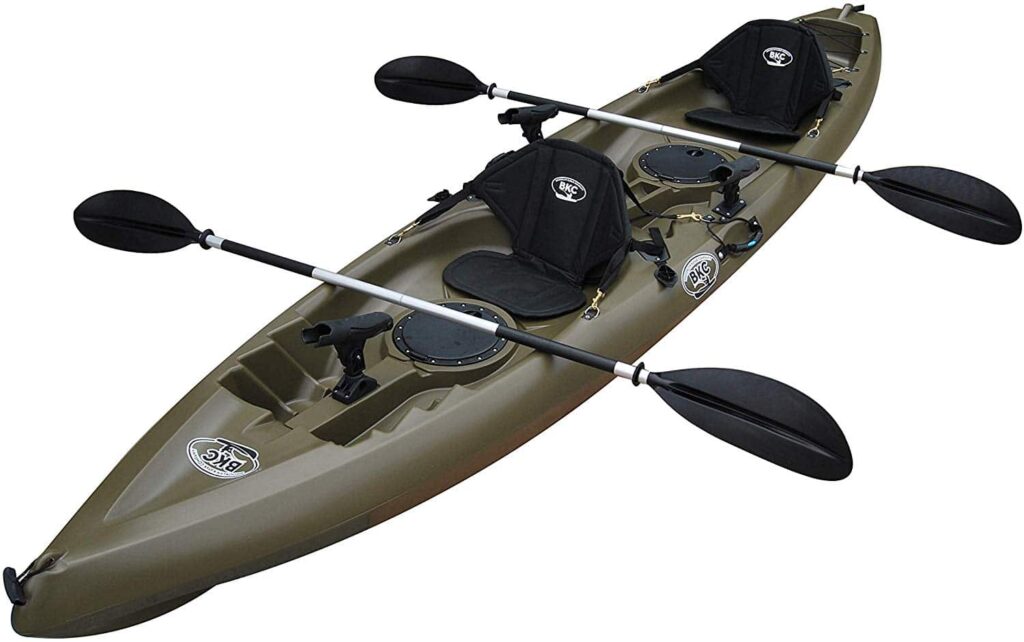 The kayak features twin paddle rests that allow you to free your hands without the risk of losing the paddles. With a feature like multiple carrying handles, this kayak provides a convenient option for transporting it around.
The BKC UH-TK181 has an inset rear cargo area, which can be utilized to store heavy equipment and clothing.
Available in seven different eye-pleasing colors
Value for money kayak
Astounding load capacity
Abominable build quality
After consistent use, the handle did wear off.
Also Read: Best Life Vest for Fishing: Complete Reviews & Buying Guide
---
The Bottom Line
Fishing kayaks are truly the best considering their weight and ease of moving around the water. We hope the list we've presented will help you in finding the right kind of kayak. If you are perplexed about which one to choose — we recommend going with either for Intex Challenger K1 or the Lifetime Tamarack Angler 100.
If there's something we've missed out in this detailed post on beginners kayak for fishing, do let us know in the comments sections below.