There are a ton of things that visit an angler's mind whilst choosing the best fly rod available in the market. Here is our detailed post to feed you with the most prominent things to consider when looking to buy one.
Before buying, the following are a few questions that you need to ask yourself:
What kind of flies do you wish to use? Are you about to use a sinking/ floating line or both?
How do you rate your fly-casting skills? What is your range of casting?
What are the geographical considerations to be contemplated? The rivers/streams, seasonal, and wind changes.
What is the budget you are planning to buy the rod in?
Do you intend to fish in saltwater or freshwater?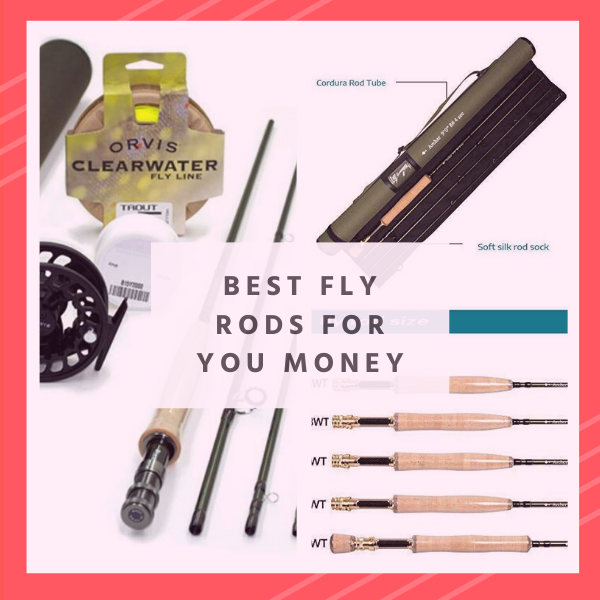 Since we've collated a few of the commonly asked questions by flying anglers, we now feed you with the essential information, the characteristics of a rod.
Here are a few considerations that will influence your purchase decision:
Line Weight
Weight plays a significant role in selecting a fly rod. Generally, the line weight is put on a measurement scale from 1 to 12. As heavier the score of the rod, the bulkier the fish you will catch.
In case you ought to be fishing for a heavier one, any rod above 9wt would be sufficient.
If you intend to fish in small streams or rivers and mainly panfish or stream trout, a 3wt rod is an excellent choice, while a 5 to 6wt is best suited for both little trout and bulkier ones.
If you are fishing in saltwater, we recommend you go with a 6wt, medium-action to fast-action rod of 8 to 9 feet in length. In case you are into freshwater fishing, a rod that can cast long distances is recommended.
Line Length
Another crucial factor in choosing a fly rod is the length of the rod. Typically, the fly rods are built between 6 feet to about 10 feet in length. Short-length rods are convenient for shorter casts. Whereas, the long rods are best used for longer casts.
Venues or geographical locations are to be considered to what extent you will be fishing. If you prefer versatility over anything, our recommendation would be to settle with a rod of 7 to 9 feet in length.
Action
Action is one such factor that impacts your purchasing decision. Three kinds of actions determine the flexibility of a rod. The following are those actions:
Slow Action: This is possibly the best bet while fishing in smaller streams or rivers. These are the most flexible ones out there. Beginners need not go for something else other than these slow-action rods. For instance, if you like holding onto those smaller species of fish, again, these are the best.
Medium-Action Rod: It's known for versatility, Medium-action rods are a beautiful blend of flexibility and stiffness. Anglers preferring to fish on water surfaces and ready to travel around with the gear, medium-action rods are a problem solver.
Fast-Action Rod: Best suitable to make long casts. Fast action rods are stiffer and instilled with more power and precision in the cast. Perhaps the best use of it is during the windy season, as these have their stability in holding their positions.
Materials
Fly fishing rods are made out of elements that determine their durability and quality. Three of the most common materials are bamboo, fiberglass, and graphite.
Bamboo: Widely utilized as shaft material for fly rods, Bamboo is known to last long. Often considered aesthetically pleasing, large brands have taken Bamboo's cue in producing fly rods. Bamboo is bulkier than other materials, so it is recommended only for slow action. Also, these rods are priced incredibly higher than the three materials.
Fiberglass: Familiar with beginners, Fiberglass has close competition with Bamboo in terms of popularity. Touted as the fisher's favorite material, Fiberglass is inexpensive and durable.
Graphite: Currently, the freshest material in the market, Graphite rods range from light to moderately heavy. Lighter than fiberglass, these fly rods help in casting more accurately.
Also Read: Best Life Vest for Fishing: Complete Reviews & Buying Guide
---
Best Fly Rods for the Money
1. Redington Classic Trout
Redington's Classic fly rod is precisely crafted for a trout angler. The Classic Trout sports a unique design and lightweight build.

This fly rod is built to cast all kinds of trout species. With rod this light, you can effortlessly reel in a fish from a boat or shore. Available in multiple lengths, this rod can be dismantled and can be carried along.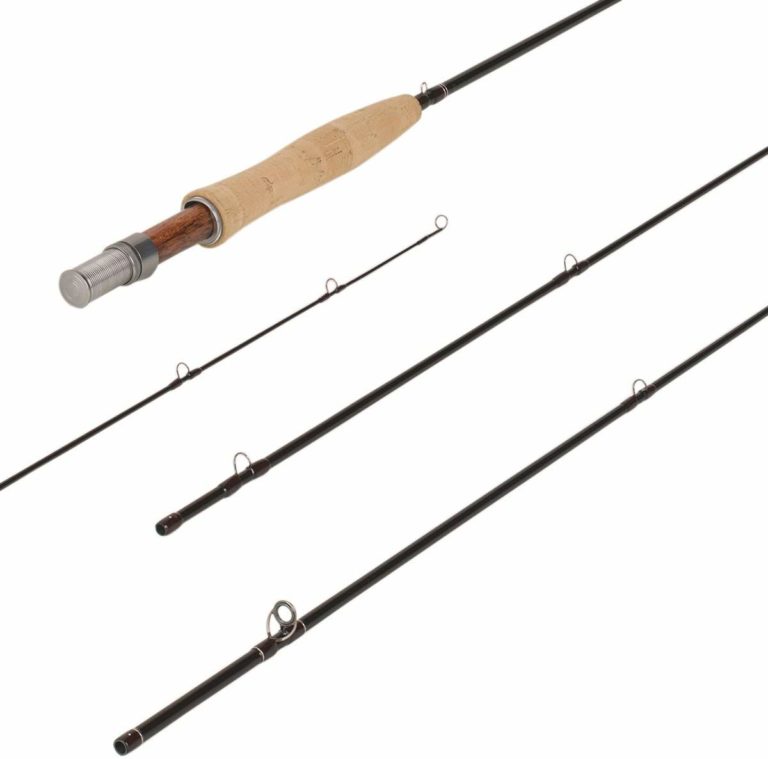 The Classic Trout comes in a dark clay brown color alongside a rosewood reel seat. The rod bears a similar resemblance to the vintage rods of the 70s and 80s.
Effortless in casting.
Induced with a ballistic nylon rod tube.
The colors make it look visually appealing.
Substandard quality of reel seat.
Exposed to shocking when casting at long range.
2. Echo Ion XL
Second, on the list is Echo's Ion XL Flying Rod. Designed for saltwater fishing, the Ion XL features an incredible low swing weight with a fierce medium-fast to fast action.

It also features corrosion-resistant salt material, which makes this rod sturdy and ensures a longer life. The Ion XL works well as a travel companion as it is equipped with a four-piece travel design.

Compared to its predecessor, the Ion XL holds an exquisite design that instantly strikes a difference, allowing you to stand out from other fishers.
Handy traveling fly rod.
Best buy for this price range.
Smooth action.
Several users complained about the build quality.
3. Orvis Clearwater Fly Rod Outfit
A well-known brand for making long-lasting fly rods, Orvis' Clearwater is another benchmark for the brand. The Clearwater Outfit is induced with mid-flex action, which allows anglers to cast fish in environments like rivers, streams, and lakes.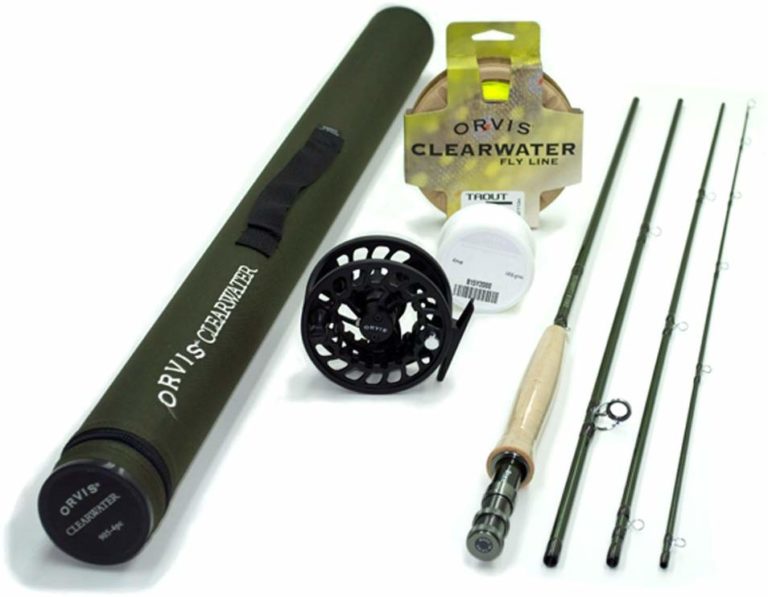 Built with Helios tapers, the Clearwater Outfit is engineered to last forever. This rod is a handy travel-friendly gear, which makes it easy to carry around the fishing spots.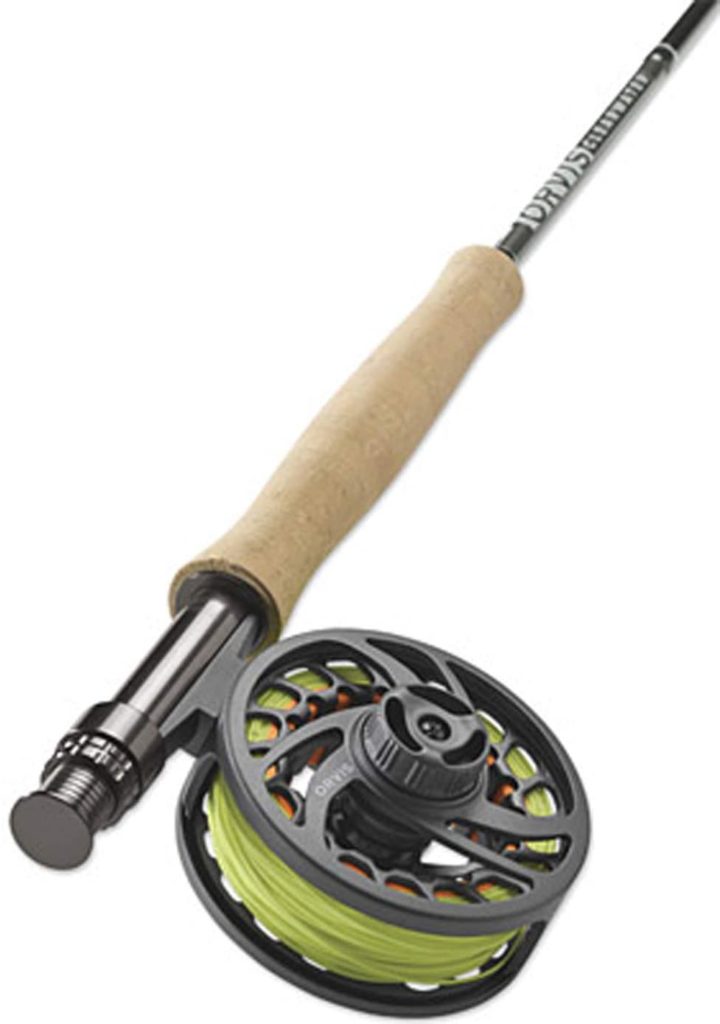 This rod features a large arbor and an inline drag system that will assist in angling the fish smoothly. Also, it arrives with a Cordura rod-and-reel case, which safeguards the rod and reel from falling apart.
The Cordura storage case.
Comes with a travel bag.
Lightweight and aesthetically design.
An enduring warranting of 25 years.
Issues casting at long ranges.
Doesn't work well with beginners.
The price is a major letdown.
4. Sage Foundation
Foundation from Sage is an incredible mid-range rod. The cork handle is built like a snub nose with a fighting butt on saltwater weights.

The Graphite IIIe technology-backed blank is stealthy black while the thread wraps are also black. Built-in the States, the Sage foundations have the best fly rods at a price range such as this.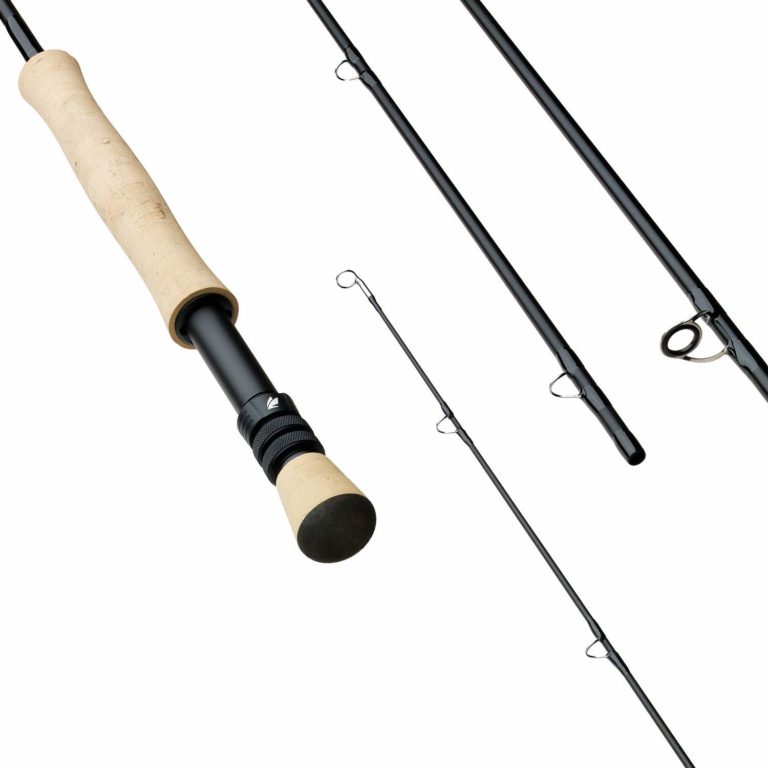 Assembled and built in the USA.
Value for money.
Not efficient for long-distance.
Also Read: Best Fishing Deck Boots: Complete Reviews & Buying Guide
5. Fenwick Aetos
The Aetos fly rod from Fenwick offers the ultimate fishing experience. The Aetos 5 is available in different styles that are built to suit the needs of every fly-fishing angler.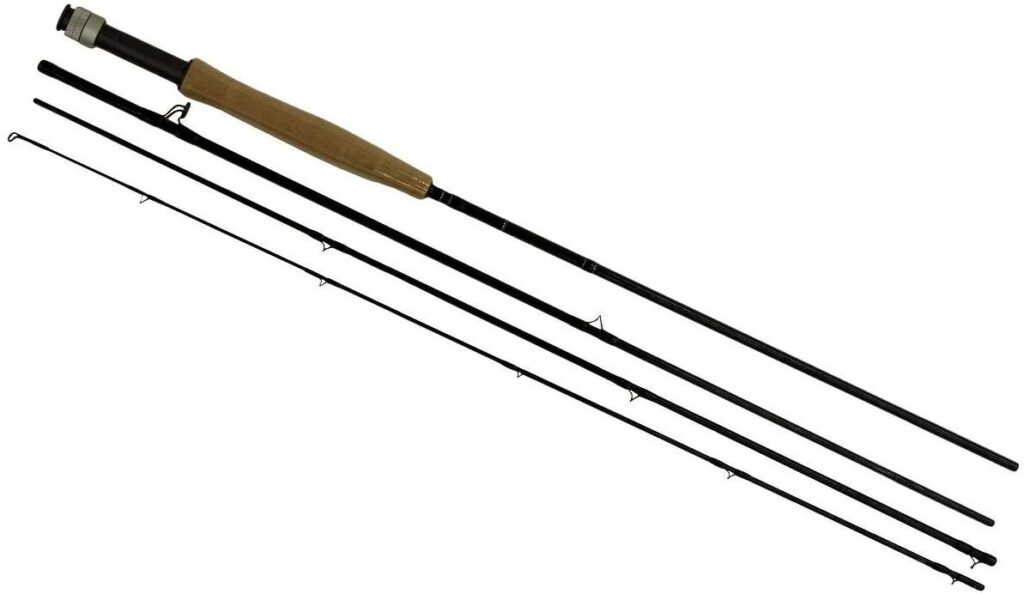 Aetos has its handle carved with aluminum anodized AAA-grade cork. The AAA-accredited corks are quality handles, specially designed for high-end rods.
Coming in a four-piece rod allows you to take it to different fishing spots and a cloth bag for better transportation. Furthermore, this rod includes gunsmoke stripper guides and gunsmoke snake guides to give out the most exquisite and elegant look. Also, these guides alleviate friction and enhance the casting speed.
High-quality rod.
Travel-friendly.
Ergonomically designed.
Fails in terms of durability.
---
The Bottom Line
With each rod having its own set of positives and negatives, purchasing can become a daunting chore. We hope that after carefully reading through this article, you've made a judgment of choosing one that accommodates your needs. If you, too, have a list of the best fly rods, mention it in the comments section below. We'd love to those.