To make sure that you're reeling in the big fish and they don't break off from that drag start spring, you need to ensure that all the moving parts of a fishing reel operate smoothly. Properly maintaining your spinning rail only takes a few minutes out of your time but will prolong the life of your spinning reel. At the same time, it reduces the chance of failure when you have a big fish on the line.
To prolong the life of your fishing reels you need to take care of them making sure they're clean and smooth and drag screens are working well. You're gonna need a Phillips head screwdriver, a half-inch wrench, and a good fishing reel grease and oil like Yamalube Marine Multi-Purpose Grease, Ardent Reel Butter Grease, or Shimano Permalube Bearing Grease to make your fishing reel feel and work like a refurbished one.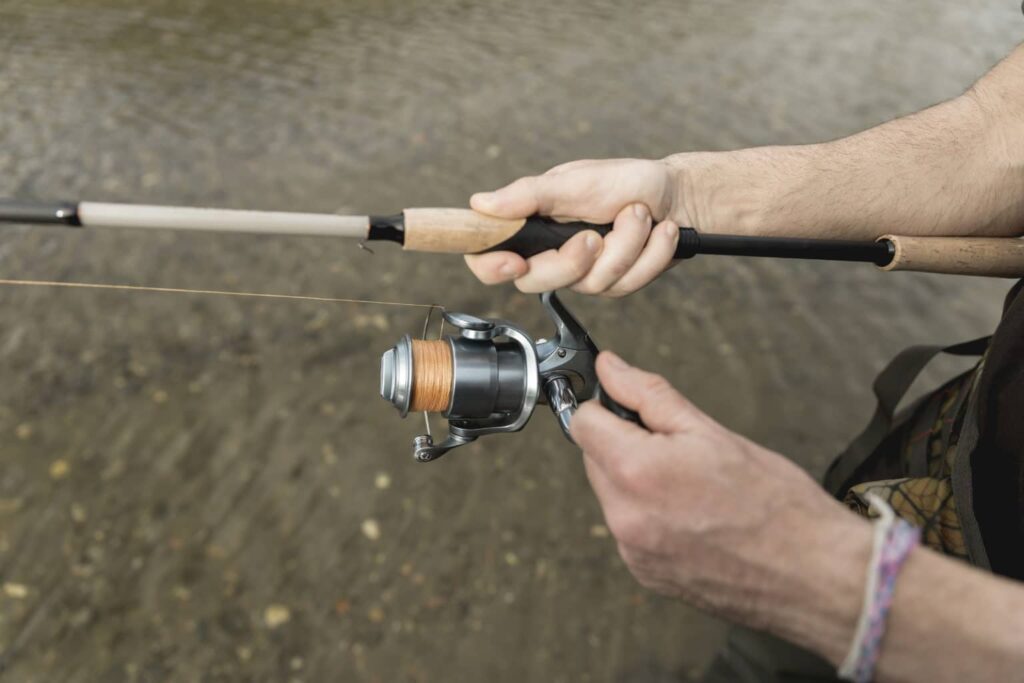 These greases are specifically formulated to work in moist environments to reduce friction and minimize the wear and tear caused by saline residues. These greases dry very quickly and are suitable for almost all kinds of metals, rubber, and plastic. Lubrication is a genius way to keep your reel tuned well and running smoothly, especially on the smaller reels. Lubing the bearings and handles really makes a big difference as compared to a larger spinning reel or a lever drag reel you're really going to notice the little nuances of feeling in a small reel.
---
Why maintenance and lubrication of the fishing reels are necessary?
Maybe you're in a tournament or you're trying to catch the biggest fish of your life, whatever the case maybe you need properly working equipment, and maintenance is imperative. It takes a maximum of five minutes to properly oil your spinning reel. It is so easy and yet it's so important because it will prolong the life of your spinning rail and reduce the chance of failure when you're out fishing.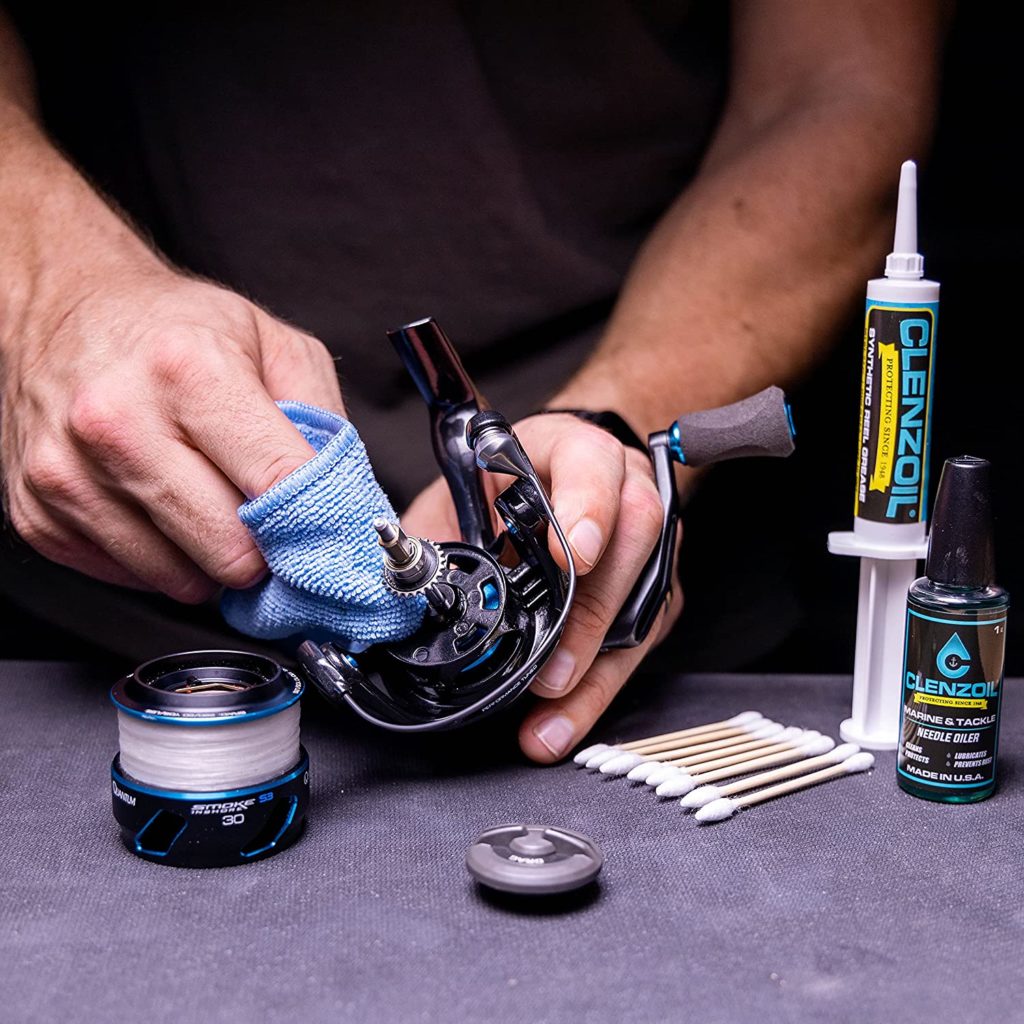 Reels that haven't been maintained and cleaned and worked on a regular basis stop working smoothly and fail to catch big fish. Inside of the drag cap, you can just see all the old grease, the grime, and the dirt locked up in there and that's not unusual for a rear drag system.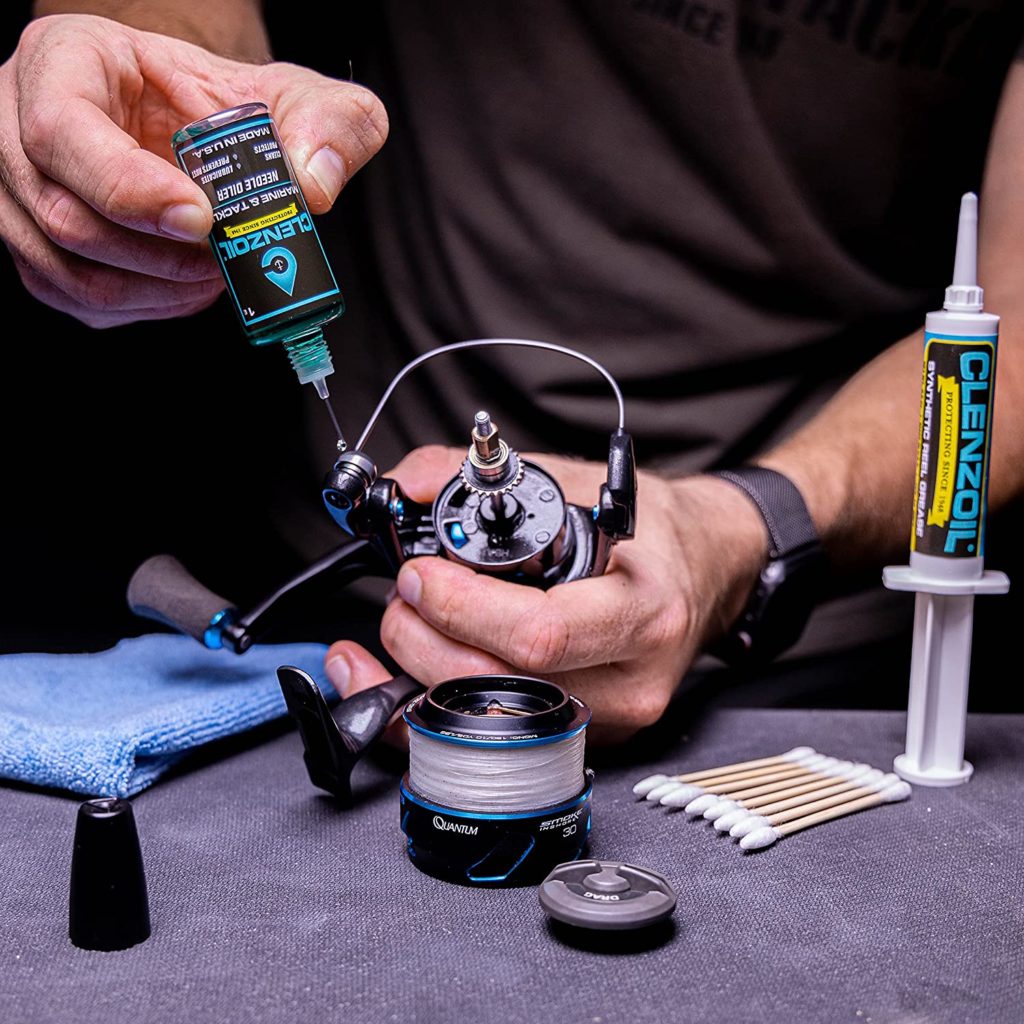 Greasing all the gears pretty thick is very effective, keeps water out, and prevents your gear from rusting. This is not going to replace the big maintenance that you should be doing once or twice a year depending on how much you fish. For this maintenance, you need to take it to an authorized dealer to fix and replace the parts if needed. But regular lubrication and cleaning at home can really make your gear live longer and function effectively.
Also Read: Guide to Best Catfish Reels With Bait Clicker
---
How to lubricate your fishing reel in the right way?
To keep your fishing reel maintained, smooth, operational, functional, and corrosion-resistant you need to follow a maintenance routine. A little maintenance routine can keep your reel running smoothly, keep it clean, keep it from corroding, and make it last a whole lot longer. You need to rinse out your fishing reel thoroughly after every surf fishing trip especially when you are fishing in saline waters. Since saltwater is very corrosive, you should always rinse out your reel with fresh water.
When you're rinsing out your reel just use a light spray where it can push the fan of the breeze through the body. Spraying water or a solvent directly on your reel is not always a bad thing but you have to be careful and do it in moderation. Make sure you are not letting water get over the shaft grease. If that happens then water will sink into the compartment, thereby grease will start breaking down and dilute at a moment's notice.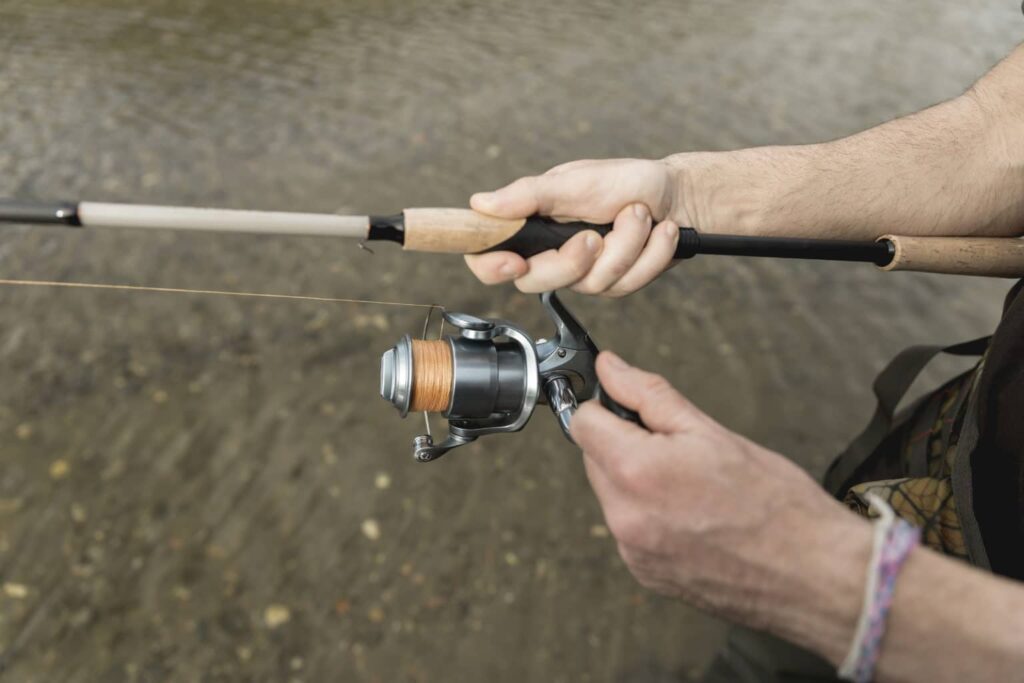 There are many degreasing solvents available in the market that can be used to clean old gummed-up lubricants and residues of salt and dirt. This solvent cleans and gets rid of the salt deposits and grease on the outside, and whatever you got on there that doesn't need to be there; it leaves somewhat of a coating on the reel.
While you lubricate your fishing reel, you need to be careful about the quality and right amount of grease or oil that you are using. You should always use a grease that is specifically formulated to work in waters or designed to work with fishing gears else you will notice a gummed-up or hardened deposition of grease on your fishing reel if you lubricate with an ordinary oil that is not intended to be used on fishing gear.
Spraying oils and greases are really good for corrosion resistance which is a must in saltwater but you should be careful while using it. You can't really spray it onto anything that's rubber or neoprene or anything like that because it's not really safe for rubber over time. It'll deteriorate rubber.
Also, you need to ensure you never overdo the lubrication. Some really bad things can happen when you over-grease your reels. When you apply too much grease, it begins to harden inside the internals of a fishing reel.
That impedes the performance of the reel considerably and then you start having problems. Your pieces and components start to lock up and freeze up on you slowly over time. When your fishing reel is over-greased or over-lubed, it collects more dirt, dust, grime, and things of that sort and little components of the reel will slowly start to firm up making the reel harder to turn.
Also Read: 7 Best Fishing Reels: All Types Reviewed
Before applying any oil or grease to your fishing reel, you should let it dry for about 24 hours. Keep a paper towel with you to put all your materials. Carefully remove your handle and unscrew it backward counterclockwise. Make sure there's no sand in the handle collar. Remove the spool and make sure there's no sand in there as well. Now grab your handle and open up your oil and insert one drop right into the knob because there's a bearing right there. Just one drop is all you need and then go ahead and spin it around so the oil seeps into the knob bearing.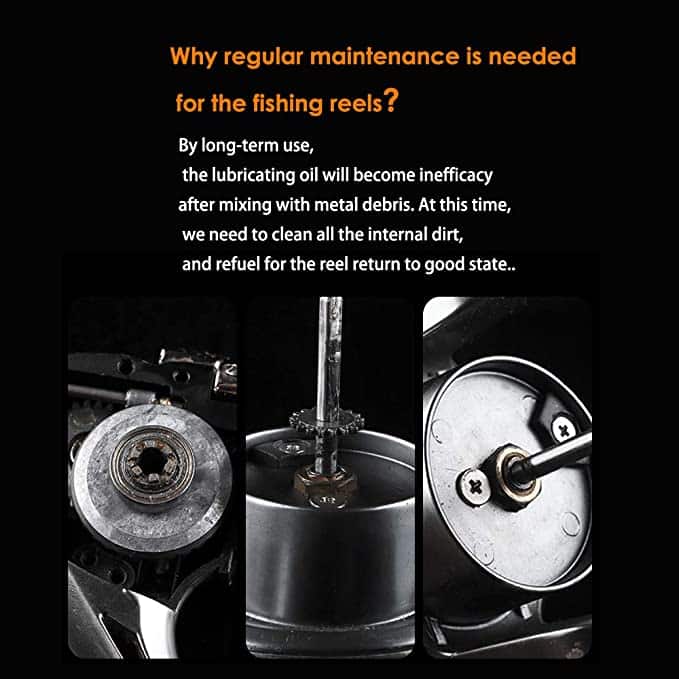 The next step is to grease the shaft. Open the shaft and add a little amount of grease to the shaft assembly. Putting too much grease or oil can actually damage the anti-reverse. Now Spin it around and let that oil seep up and down.
Most spinning wheels are modeled in a way that the main gear on the underside contacts the pinion gear at the top which is basically a cylinder with stripes across it. At the bottom, you have a reciprocating block that has up and down on top of the reciprocating gear or the transmission gear. To keep these in good shape you need to clean them properly and then lubricate with them the right amount of oil or grease.
Then check out the bail and make sure there are no residues inside the little grooves. If there is any residue or sand present in these joints you're gonna feel it as when you click it back it's gonna grind a little bit.
The third step is to drop some oil into the bail arms on the sides, then engage and disengage your bail arm. Let that oil seep into the cracks right there on both sides. Make sure your bail arm is functional by just going through and doing these things to be sure that everything is working. It's going to extend the life of your reel because you are going to catch problems faster.
Then unscrew the cap and add one drop of oil, then spin your rotor to let that oil seep in on both sides of the bearings. Inspect the rotor and clean it carefully. Now you can let the gravity take its place and let the grease seep down naturally or you can grab a small Q-tip to distribute that grease all around the roller.
Now it's time to reassemble your wheel. Get your cap, put it back, get your spool, and put it on carefully. Now go ahead and put your handle on and give it those rotational revolutionary spins. Let all the oil seep in everywhere.
Make sure everything is nice and tight, everything feels good, and make sure you don't overoil your wheel. Once you are done with greasing and oiling, take a paper towel and wipe down the body to get all the grease off the body.
---
FAQs
How often should I lube my fishing reel?
That entirely depends on how much you fish and in what environments you fish. If you fish a lot in saline waters, there is a high chance that salt gets deposited inside the tiny components of your reel and you might need to wipe them out and lube the parts more occasionally.
To avoid wear and tear, you can follow a certain routine or you can lube the reel when you feel the old grease has started to freeze up or the gear is not working smoothly as usual.
How much grease should I use in lubricating the fishing reel?
There is a common myth that stuffing the internal parts of a fishing reel with an abundance of grease helps keep the water out and prolongs the life of the reel. The truth is you only need a little amount of grease to reduce the friction and to coat the parts against corrosion.
An unwanted amount of grease can spoil the anti-reverse function, lock up the tiny components, and collect more dirt and salt inside which affects the smoothness and overall performance of the fishing reel.
Can I use Vaseline to lubricate my fishing reels?
If you do not have access to the right lubricating agent or are in a hurry you can use Vaseline but it is generally advised to use the grease and oils which are specifically made for fishing reels. These greases are formulated to work in tiny parts and within the water. On the other hand, the vaseline doesn't reach the small components of the reel and does not withstand moisture.
Why is my fishing reel sticking?
Depending on how much you fish and in which type of water you are using the fishing reel, a lot of sand and salt deposits into the small components over time. This affects the performance of the fishing reel and results in sticky drag.
Should I clean the reel all the time I use it?
That's not necessary! Yes, it's important to keep the gear clean, but that doesn't mean cleaning it every time you use it. You can deep clean it occasionally. Also, don't use pressured water for the same. For rinsing, use gentle pressure of water it, will enhance the life of reels.