Anglers have a hard time finding the right equipment for their fishing expedition. A successful experience has to have a perfect blend of all the right accessories/components; one such component is your fishing line spooler.
Spoolers alleviate the chance of twists and tangles for a smooth and seamless casting session. The market is inundated with famous names in this business, and to ease your selection process we bring you the list of the best fishing line spoolers. Read on to learn more about the selection process and find your suitable fishing gear.
---
Buyer's Guide to a Fishing Line Spooler
A handy gear like a fishing line spooler is nifty times your venture out for fishing. There are several things to pay heed to while you buy your first fishing line spooler, we've jotted down a few:
Capacity
The first of thing to consider is the capacity of a fishing line spooler. The capacity determines the maximum width the spooler can accommodate. Generally, line spoolers come with a width range of 1.5 to 6 inches. For instance, if you prefer fishing with larger spools, then spools with large-width capacity are the go-to option.
Built Quality
Spoolers are built from top-quality materials like stainless steel, composite fiber, or aluminum. These materials outlast other flimsy-built spoolers in fresh and saltwater conditions. Pick a spool based on your fishing style and the conditions you plan to use.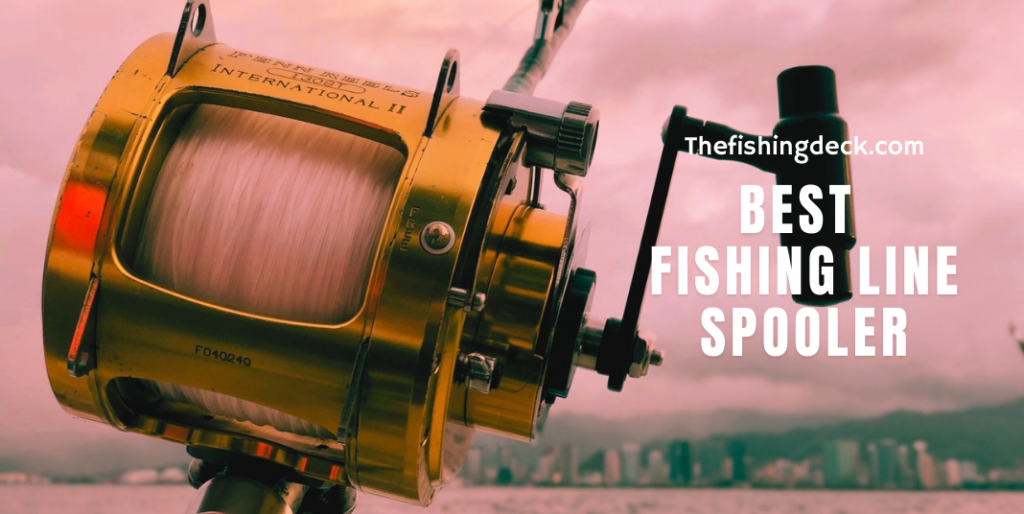 Warranty
Different brands have different warranty periods. Most spoolers on this list are backed by a one-year warranty. Ensure you are pleased with the warranty and then make a purchase. Also, adhere to the instructions to make sure that your product lasts longer than the said warranty period.
---
Best Fishing Line Spoolers
Fishing line spoolers have an essential role to play when fishing; they cut down on twisting and tangling. Following are the best fishing line spoolers in the market that can get your job done.
1. thkfish Fishing Line Spooler
Amongst the most highly-reviewed fishing line spooler, the thkfish Fishing Line Spooler boasts a list of exciting features that may entice any angler. This model is ideal for targeting larger kinds of fish, thanks to the spooler's strong and mighty contour. It has the ability to adjust to seamlessly work alongside many station systems.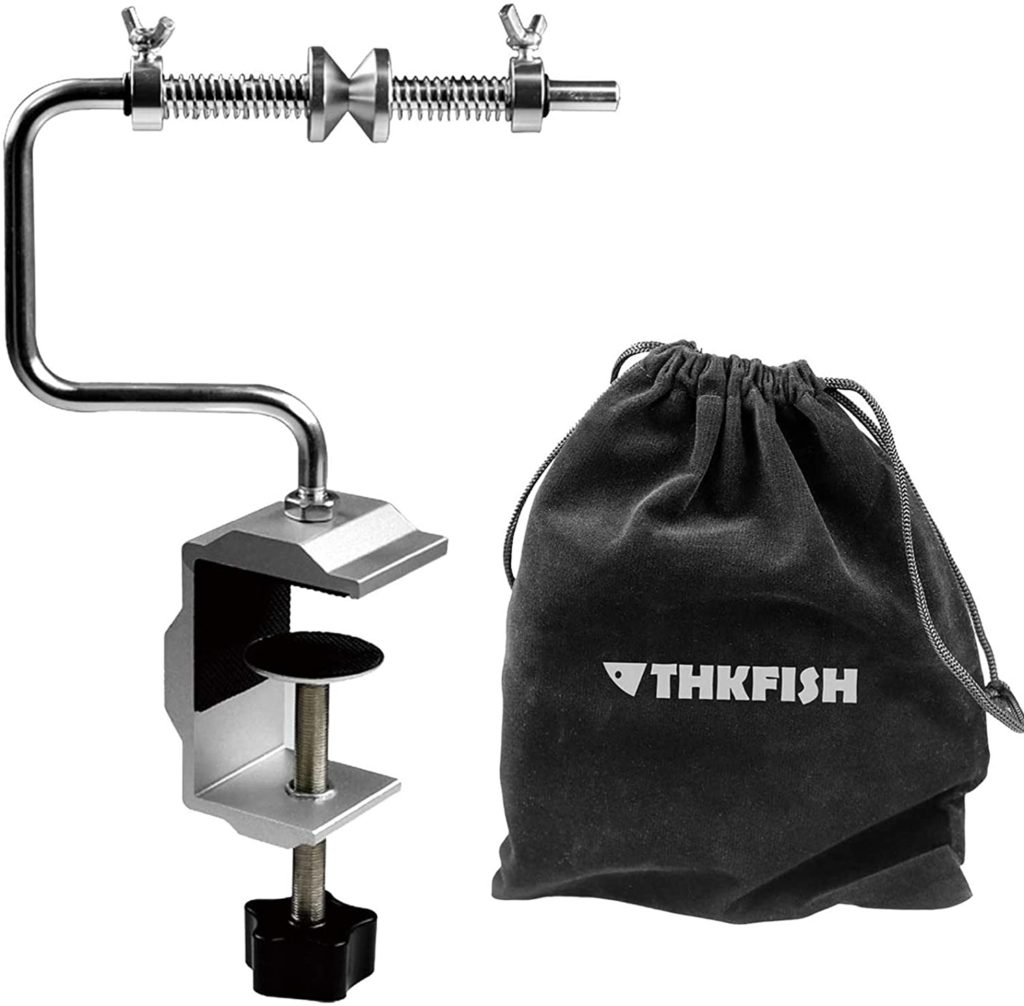 This fishing line spooler is available in different variations — long style and short style. Each of these variations helps different styles of anglers. The most notable feature of this gear is the in-built anti-slip mat, which ensures the clip is stable and doesn't let it glide off. This versatile gear can be lodged anywhere — be it a workbench, chair, desk, or even tailgate.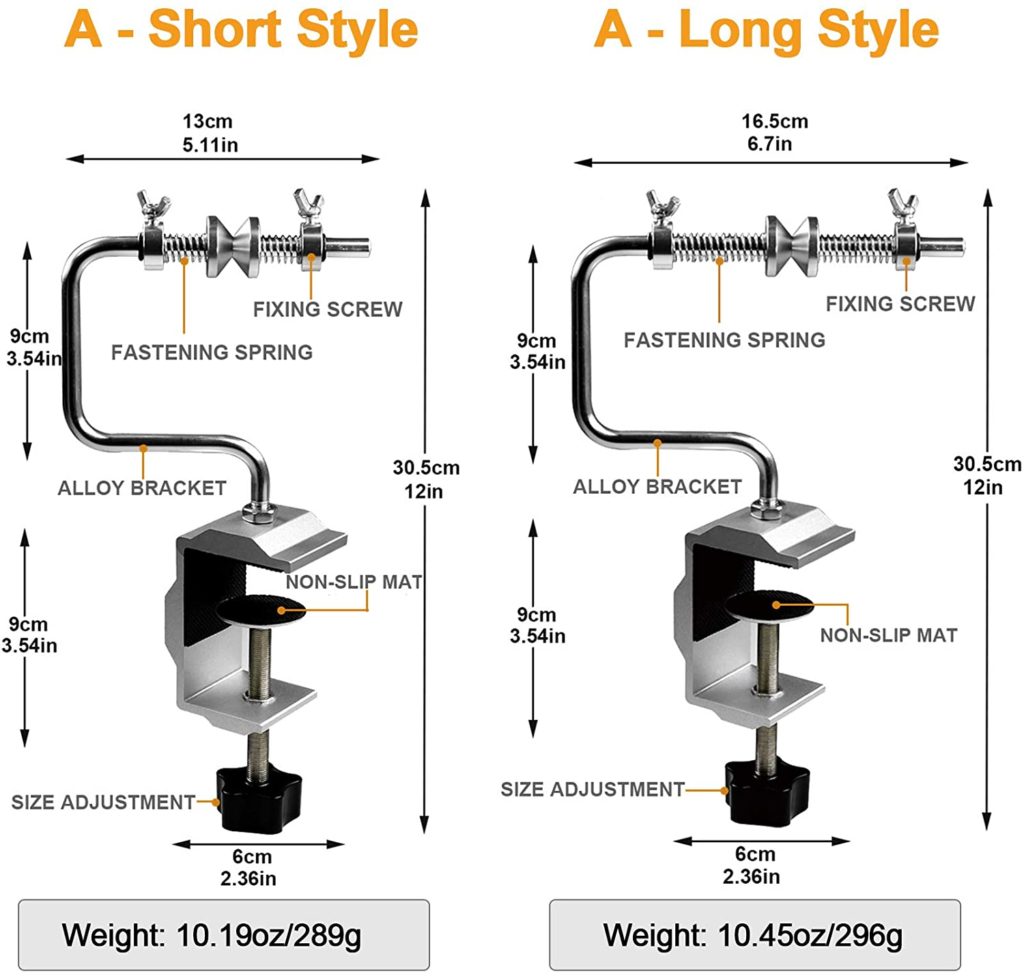 thkfish's fishing line spooler is easily the best portable fishing gear we've come across. This also has a double-headed fastening spring, preventing any line twists for smooth fishing activity.
Decent finish for the price
Super smooth action
Metal is soft and prone to dent
Drag mechanism is a major disappointment
2. Piscifun Fishing Line Winder Spooler
Piscifun's Fishing Line Winder is a widely acclaimed device that has toppled many other products on the popularity charts. The spooler is built from composite fiber, thus making it extremely lightweight and sturdier than other models. Moreover, the ABS plastic structure enhances the aesthetics of the spooler.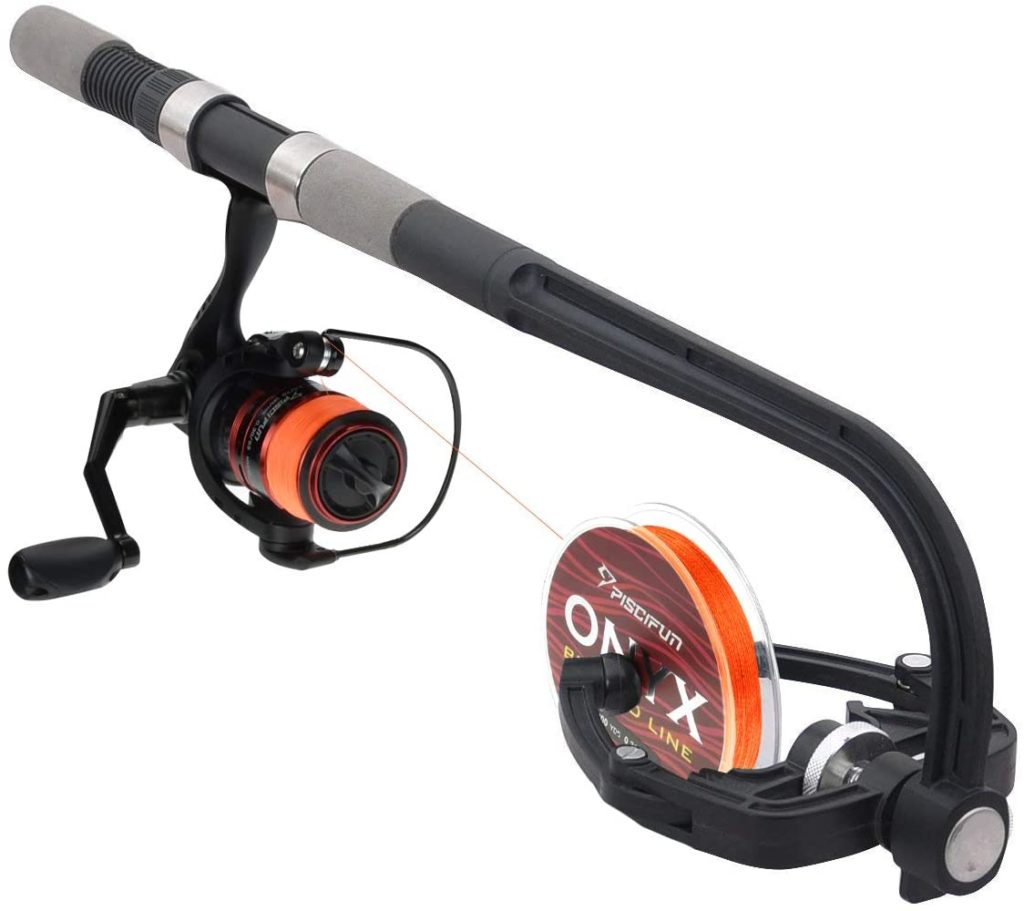 This spooling station system has a simple setup and removal process, courtesy of its multi-rotatable design. The spring-loaded tensioner provides the line with a well-aligned and secure fit. This 8.8-ounce spooler is compact and can be easily sneaked into your backpack or tackle box.
The Piscifun Fishing Line Winder Spooler is easy to use for beginners, offering them a straightforward installation and disassembly process. In addition, this fishing gear is supplied with a one-year warranty, giving anglers some peace of mind.
Spools all kinds of reels without any line twists
Easy to install and disassemble
Quick and effortless winding
Fragile; needs to be handled with care
Lacks a line counter
3. Shaddock Fishing Line Spooler
The Shaddock fishing line spooler is the ideal tool to fish with on different kinds of reels. This is perhaps the lightest one around in the market that is travel-friendly and easy to swivel on different water conditions. The spooler comes with tension knobs, meaning your line stays secure to the reel, while the spinner discards the line twists.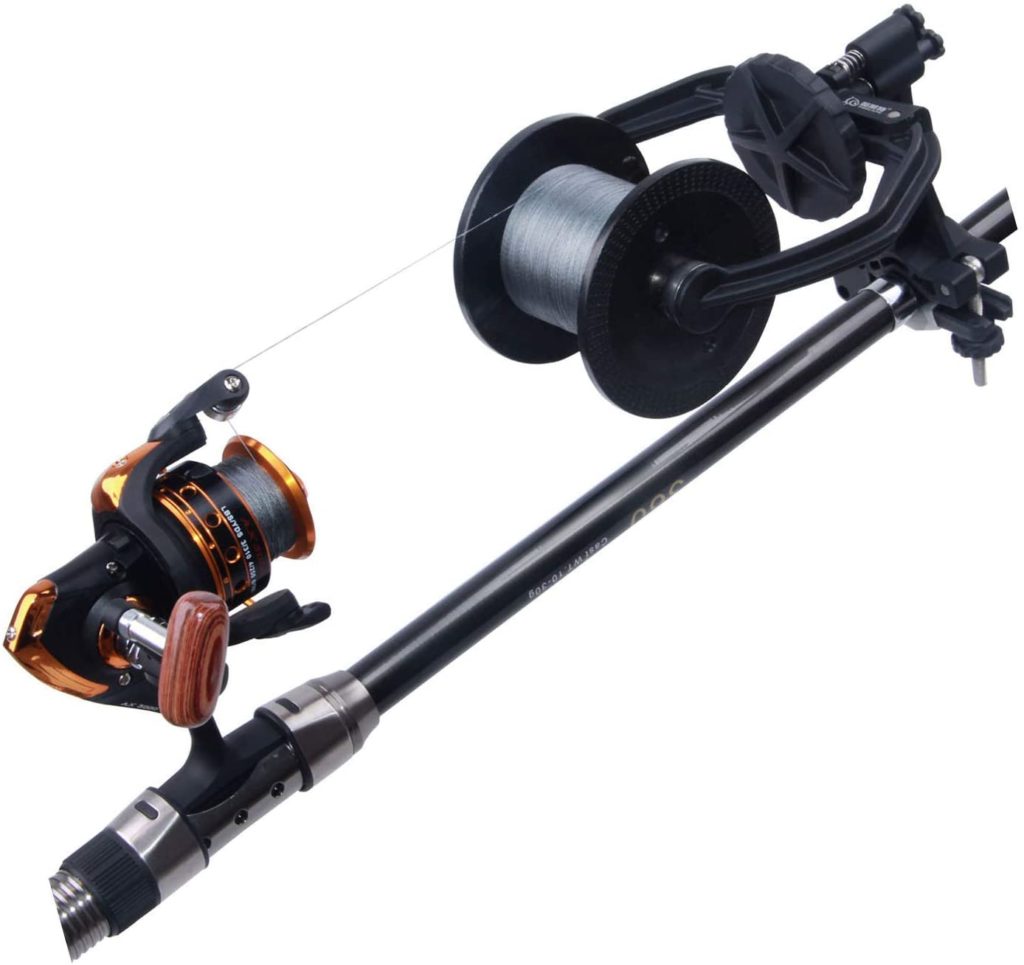 Measuring just about 8.8 ounces, this spooler is built from a composite fiber that extends its durability. Moreover, the material used in the making doesn't lead to any rusting even after long periods of fishing. The spooler sits perfectly on a variety of rods that have diameters ranging from 0.19 to 1.1 inches.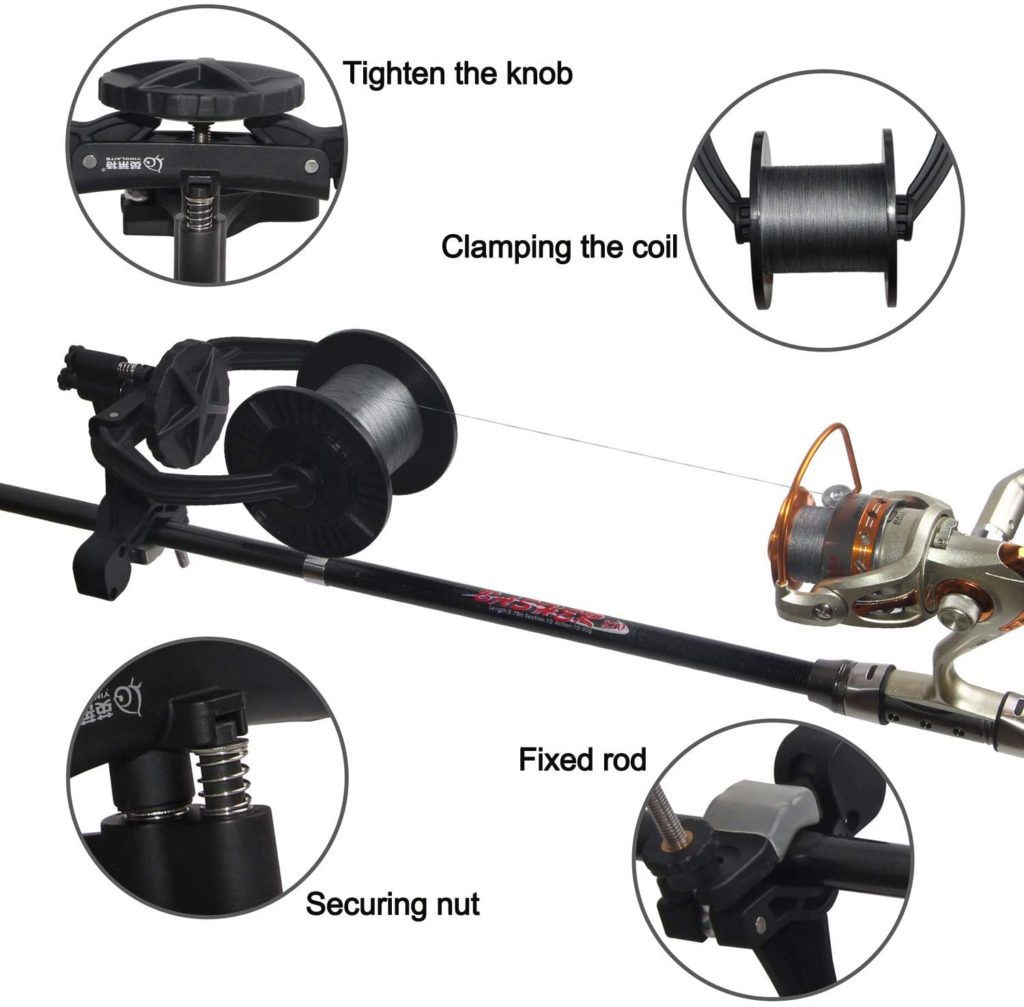 It also has an easy-to-adjust system that fits across a variety of different pool sizes with a clamping range of 0 – 5.71 inches. The one-year warranty from Shaddock lets you make full use of the product without worrying about damages.
Compatible on thick and thin rods
Simple to use and setup
Recommended for all weather conditions.
This leads to overheating at times
Rotates inconsistently on a few occasions.
Also Read: 5 Best Tackle Box or Backpacks
4. Piscifun EZ Fishing Line Spooler
Featuring fourth on the list of best fishing line spoolers is Piscifun's EZ spooler. This lightweight spooler is made using premium-quality composite fiber, which enhances the durability of the product. Moreover, the compact nature of the spooler makes it a great travel companion in all fishing expeditions.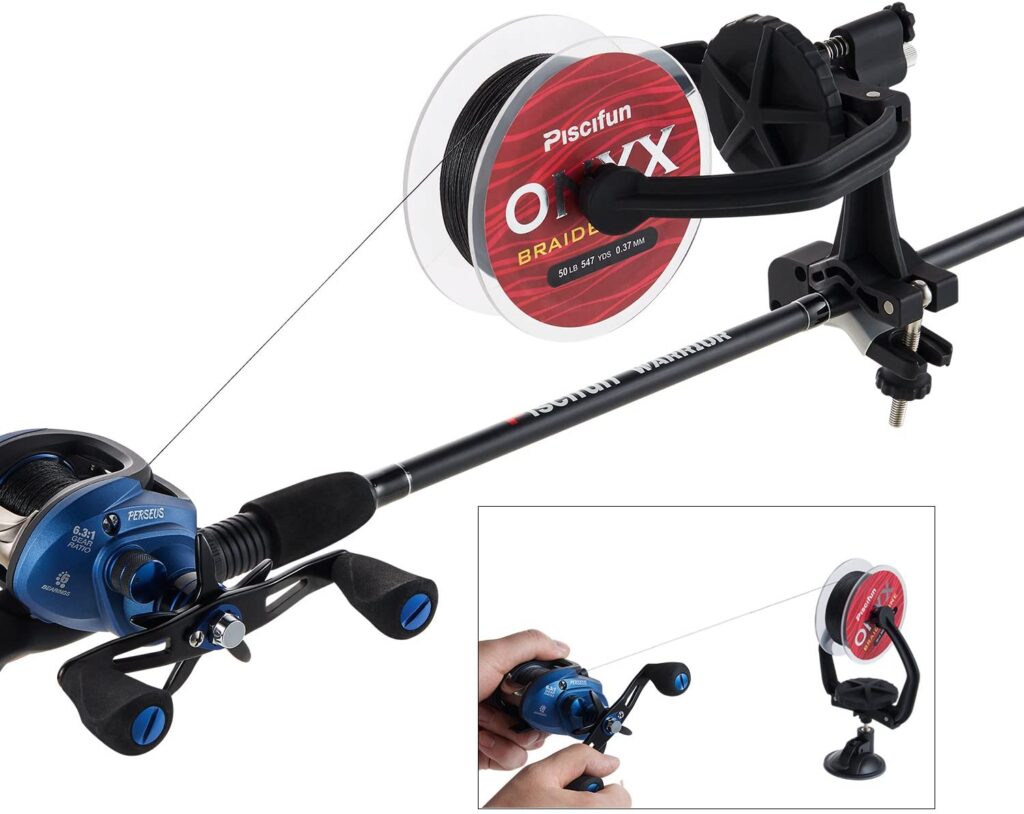 The versatile design of this line spooler is convenient on both small and large spools. The clamp is compatible with rod blanks ranging from 0.2 – 1.1 inches in diameter. Interestingly, the spooler also is best when used on surfaces like glass, floor, and tiles, to name a few. Piscifun offers a one-year warranty on the fishing line spooler, so you can claim for refund if not pleased with the quality of the product.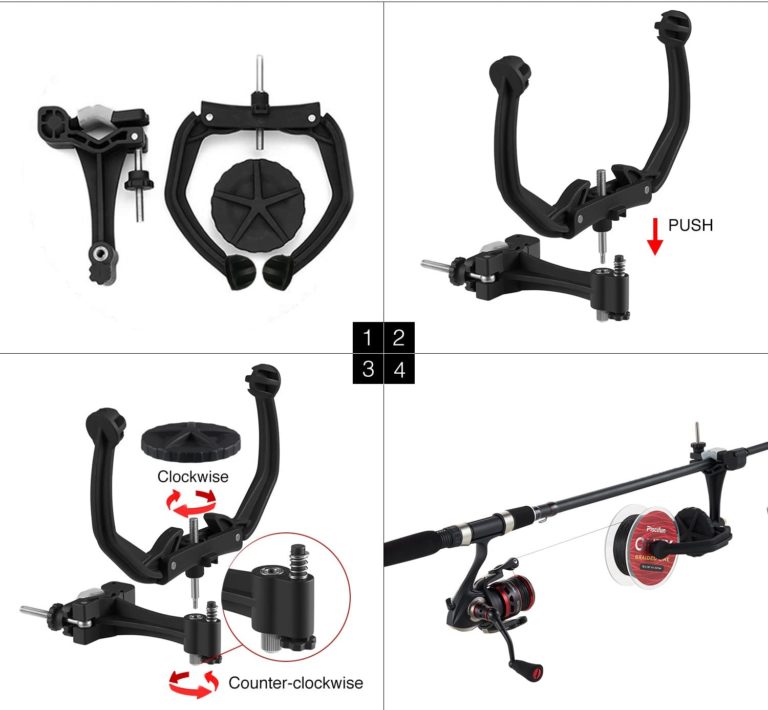 Piscifun's EZ fishing line spooler is a complete toolkit to help with your fishing chores. The spooler can be easily installed on a variety of surfaces and there will be no room for errors like wrangler or line slips.
Multiple ways to wind the line
Suitable to work with both large and small spools
Portability and durability are top-notch.
Is a bit clunky and heavy
5. Berkley Portable Fishing Line Spooler
Berkley's fishing line spooler has a distinct design from the other models on this list. This portable device is compatible with different sizes of spools of up to 3000 yards and is built to wind reels effortlessly and in a short time. This is a tabletop unit and is fairly easy to use for first-timers.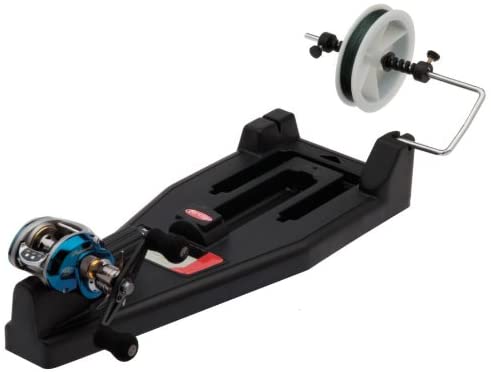 This line spooler boasts a spinning reel attachment that mounts at a 90-degree angle for out-and-out inline spooling. Furthermore, the compactness of the device is a notch above other models because of the hang tab that supports wall or cabinet storage.
At 1.4 pounds, the Berkeley portable fishing line spooler stands as the lightest spooler on the market. The best use of this spooler can be on a flat surface such as tables or workbenches.
The hang tab makes storing easier
Incredibly light and portable
Customized to work on various spool sizes.
Made using flimsy material
The thumbscrews are an issue
6. PLUSINNO Fishing Line Spooler
Ending the list with a product from PLUSINNO, a reliable and well-established name in the fishing accessory industry. Made with a blend of aluminum alloy, stainless steel, and ABS plastic, this line spooler is sturdy and lightweight and can be tagged along as a travel companion.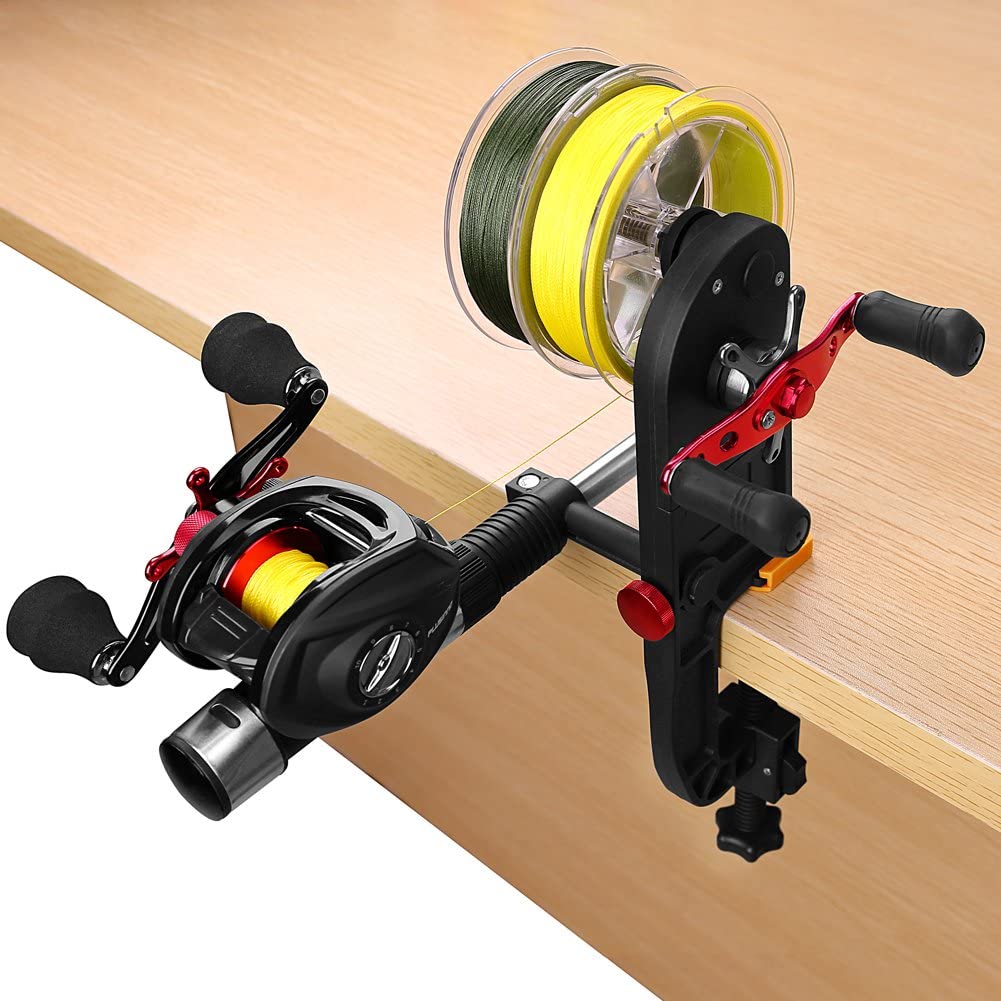 This powerful package is compatible with all kinds of reels, namely baitcasting, spinning, and trolling reels too. This spooler works on a two-way function system; you can transfer the line from the spool to the reel or line the fishing reel into an empty spool. The standout thing about this spooler is the features it comes with — a standard reel seat to place your reel, and a drag adjuster to ensure the line is winded to the reel under tension.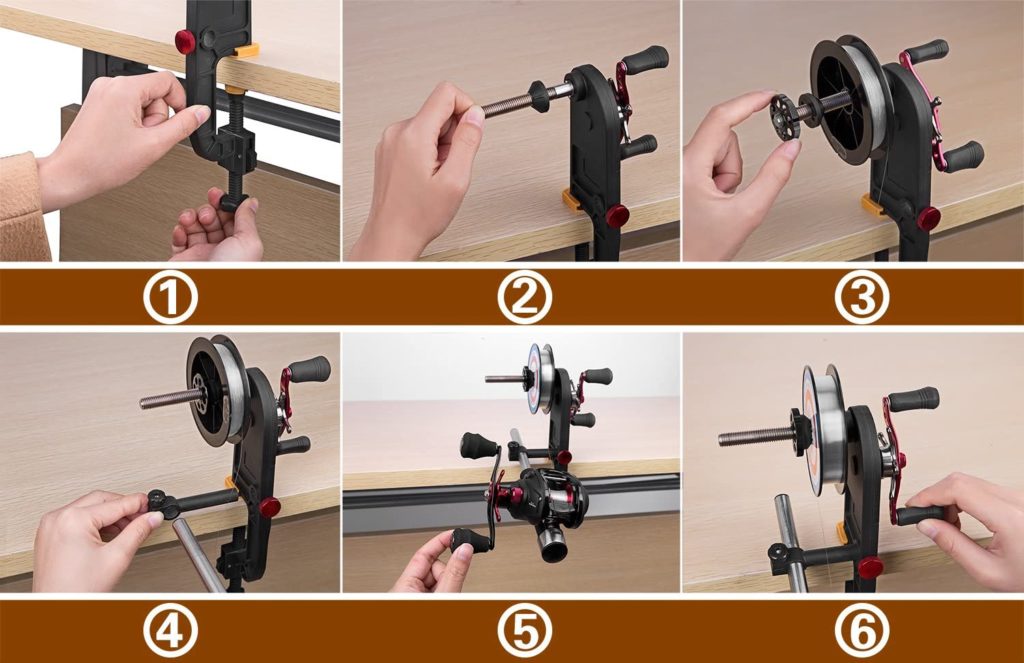 Overall, this line spooler is an exciting fishing gear to have in your tackle box. The installation is pretty simple, and also can harbor spools up to 6 inches in diameter.
Installing is an easier job
The built quality is premium
Works on multiple reels.
The reel's stability is a concern
The spool shaft is flimsy.
Also Read: Best Fishing Knot Tying Tools – A Knot needed
---
Wrapping Up
Fishermen! We have reviewed another piece of your arsenal. The fishing line spoolers reviewed are the best available in the market; a couple of products that we recommend for hassle-free fishing are — thkfish Fishing Line Spooler and Piscifun Fishing Line Winder Spooler.
We have looked at and collated this list with thorough research. If you have products that we must try fishing with, write to us in the comments section and we shall test those.
---
FAQs
How to use a fishing line spooler?
The process of spooling the fishing line to the reel can be a bit of a complicated task. Here are a few steps on how you can simplify the process:
Place your reel on the reel seat and fix it to the position.
Next, mount the 90-degree rod
Clamp all sides of the spool to the ball joint. Ensure that the clamp tension is accurately adjusted.
Draw the line and tie a knot to the spool
Tightly secure your fishing reel's drag for superior tension and spool up the reel to your fishing line.
Tie a few lines on the reel and then loosen the top screw cap once the rotor starts spinning.
Lastly, draw the line to your fishing reel.
Incorporate these methods and use your line spooler for a complete fishing experience.
What is the importance of a fishing line spooler?
Spoolers have this special ready capacity to improve the precision of the fishing process. They simplify the process by discarding line twists and tangles to enhance the casting activity. The bigger advantage of using a spooler is that it can be mounted and clamped for longer periods. Furthermore, they come at affordable prices so you don't have to break the bank.
Which option is good from the durability perspective?
It gets on the nerves when such an expensive tool breaks. A spooler that handles enough pressure and stress at the same time is the best option to pick. Durability is indeed an important factor you must consider while buying a spooler that can hold up for years and you don't have to shake your budget to get new every time. THKFISH and Piscifun, these both units that are best in this regard. Even Berkley is also a good option to consider if you use it wisely. These will not betray you on the durability part.
Is it easy to handle and use?
The purpose of a fishing line spooler is to make the entire process easy and quickly manageable. Loading the line by hand might be difficult, that's where the spoolers come into the picture. All these options given above are easy to handle and use to accomplish your goal. We have not added any product that makes it complicated for you while use.
Does volume or amount of line make an impact on the decision to choose a spooling model?
Considerably! It impacts your decision to select the right model. For example, a large ocean rod fitting a thousand yards will need a large spool. Having a large spool will save you from adding a knot in the middle, which might unravel time and break your expectations. Depending on such factors, you can choose the small or large spool and pick the right model accordingly.
How to evaluate the best fishing line spooler?
Though we have eased your work of finding the best one from our top picks, consider these points to evaluate and choose the right one!
Check how well the pressure is applied to tightly pack the reel with the line. Pressure needs to be kept into consideration for the proper working of the spool.
The spoolers are known for their untangled and smooth performance. It fills the reel without getting twisted at all. It navigates the line in the right direction so that no interruptions arise.
The robust construction and strong device handle the stress effectively. Choose the option that has a solid connection with the base and win the durability test.