Fishing is a worthwhile experience when family and friends are around. There's an abundance of joy when giving your adorable tots the most precious piece of equipment — a kid's fishing pole. Having them learn the art of fishing is pure joy and a sight worth relishing.
Learning the skill set using such an accessory does come with its share of ups and downs. Nonetheless, no task is too small when using the right piece of equipment. Several factors that kids favor when using a rod; however, nothing is more satisfying to them once they catch hold of fish.
---
Consideration for Kids' Fishing Pole
Fishing poles are now easily available for anglers of different age groups. However, buying that one piece out of the numerous available is a laborious process. Here are some considerations that will help you when buying a fishing pole for your kids:
Pole's Length
The length is a crucial aspect to consider when giving your kids their first fishing pole. Kids' size does have an influence over the buying decision, as the longer, the pole is, the harder kids have control over it. Anything between three to five feet in length is the recommended pole size for kids. While anglers in their youth can pluck fish from rods that are around five to eight feet long.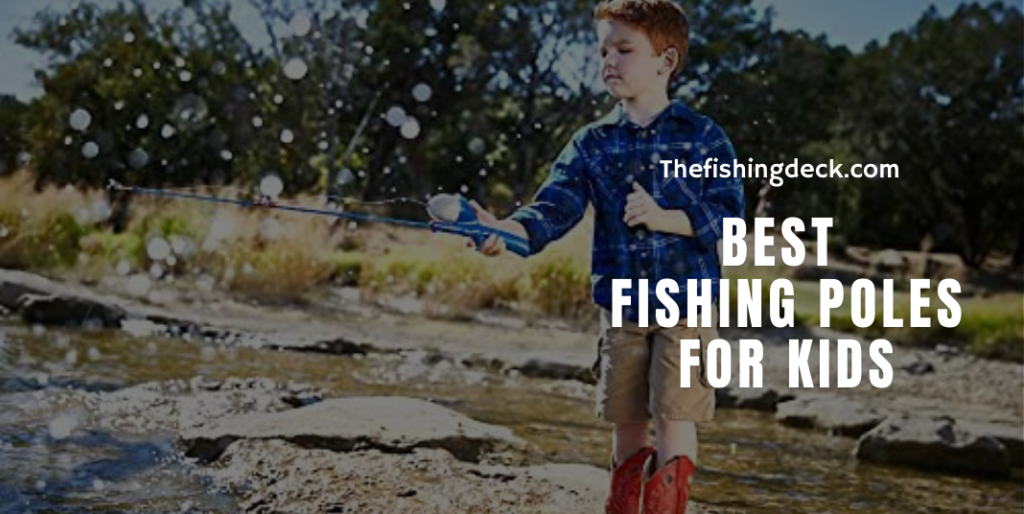 Weight
Another equally important consideration after the length is the rod's weight. The heavier the rod, the harder it is to maneuver for the adults — let alone kids. Ensure that the pole's weight is comfortable with your kids' weight. Buying a pole from an online store can be hard to follow, hence follow the recommendations suggested by the manufacturer.
Usability
Getting used to a pole is a lot more difficult for kids than it is for adults. Consider a rod with a reel that is unlikely to fall prey to line twisting while catching a fish.
---
Best Fishing Pole for Kids
Analyzing and evaluating a plethora of products has made us finalize the list with the following products. Choose one from this list of best kids' fishing poles and help them get started.
1. PLUSINNO Kids Fishing Pole
Parents' recommended choice for a comfortable and hassle-free fishing experience for young anglers is PLUSINNO's Kids Fishing Pole. This telescopic rod comes in numerous variants and two lengths: 3.9-feet and 4.9-feet. This wholesome kids' bundle boasts of a spin cast reel, fishing line, fishing tackle, and travel bag.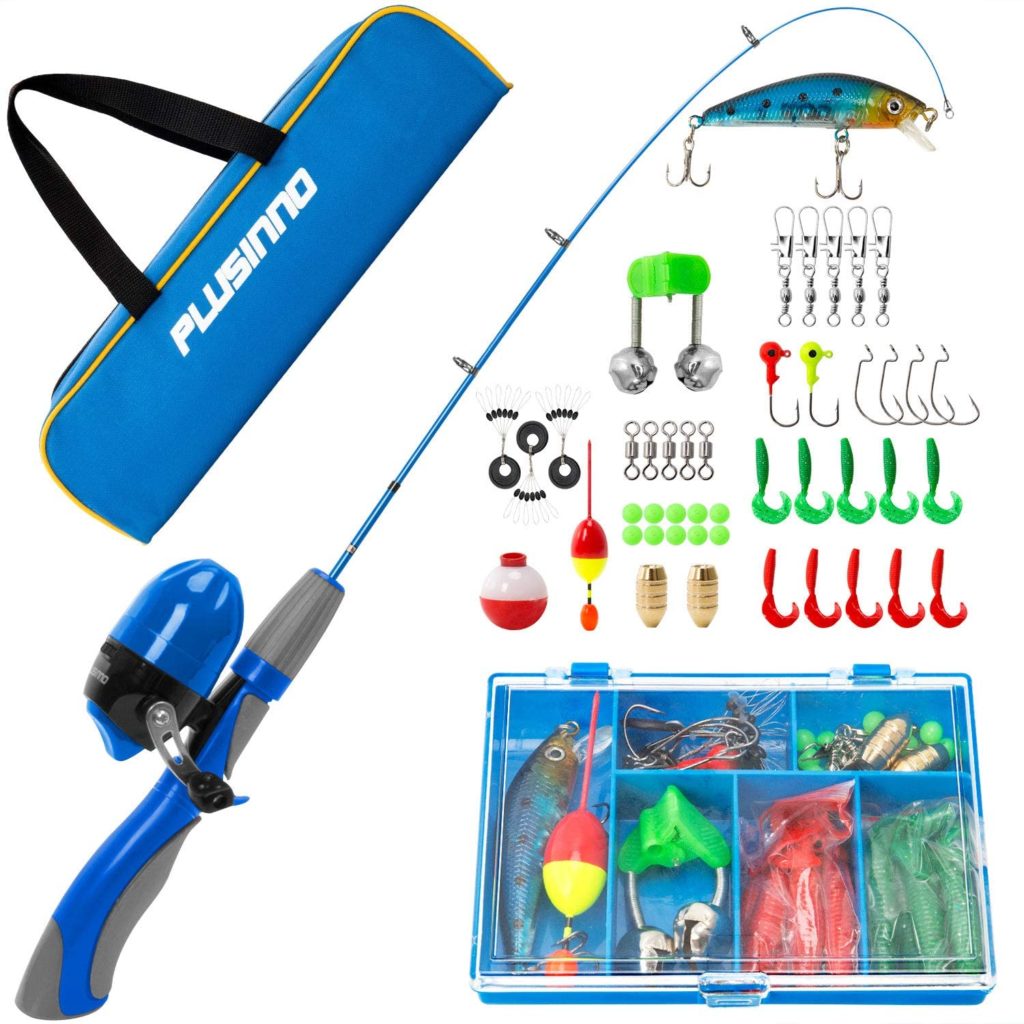 The fishing pole features a construction that is a solid concoction of plastic and carbon fiber. The pole is solid yet lightweight — with weights like 4.23 or 4.86 ounces, it becomes compatible to use for children between 5 to 12 years of age. The accessories within the package are capable enough to lure in any kind of fish.
PLUSINNO's Kids Fishing Pole comes with exciting and fancy accessories that entice kids into this activity. This handy fishing kit is well-equipped for a seamless fishing experience.
A sturdy tackle box to store all items.
Plenty of tackles to choose from.
Light and easily the best in comfort.
Durability is questioned by many.
The supplied line is uncomfortable for covering long yards.
2. Play22 Fishing Pole
Play22 is a complete kit bag consisting of basic equipment imperative for the fishing voyage with your young ones. Besides the fishing pole, the kit features a spin cast reel, a tackle box, a bait net, and a carry-on bag. The 65-inch telescopic rod fascinates kids with sturdy construction, courtesy of a full aluminum body.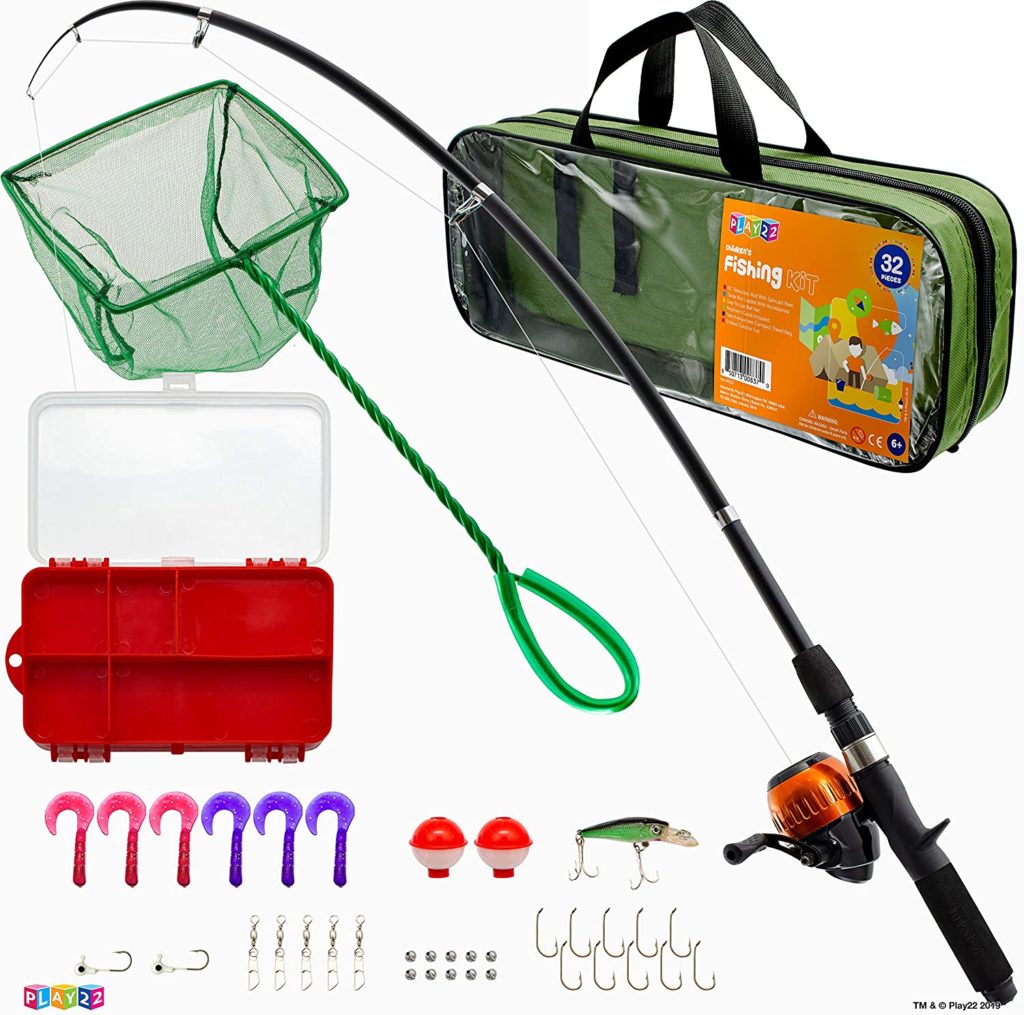 The fishing pole features foam handles ideal for kids falling in the four to ten years age group. The tackle box has two storage compartments but lacks removable drivers. This rod conveniently folds down to 14 inches inside the included carry bag. The easy and comfortable grip gives kids the much-needed comfort to fish for long durations.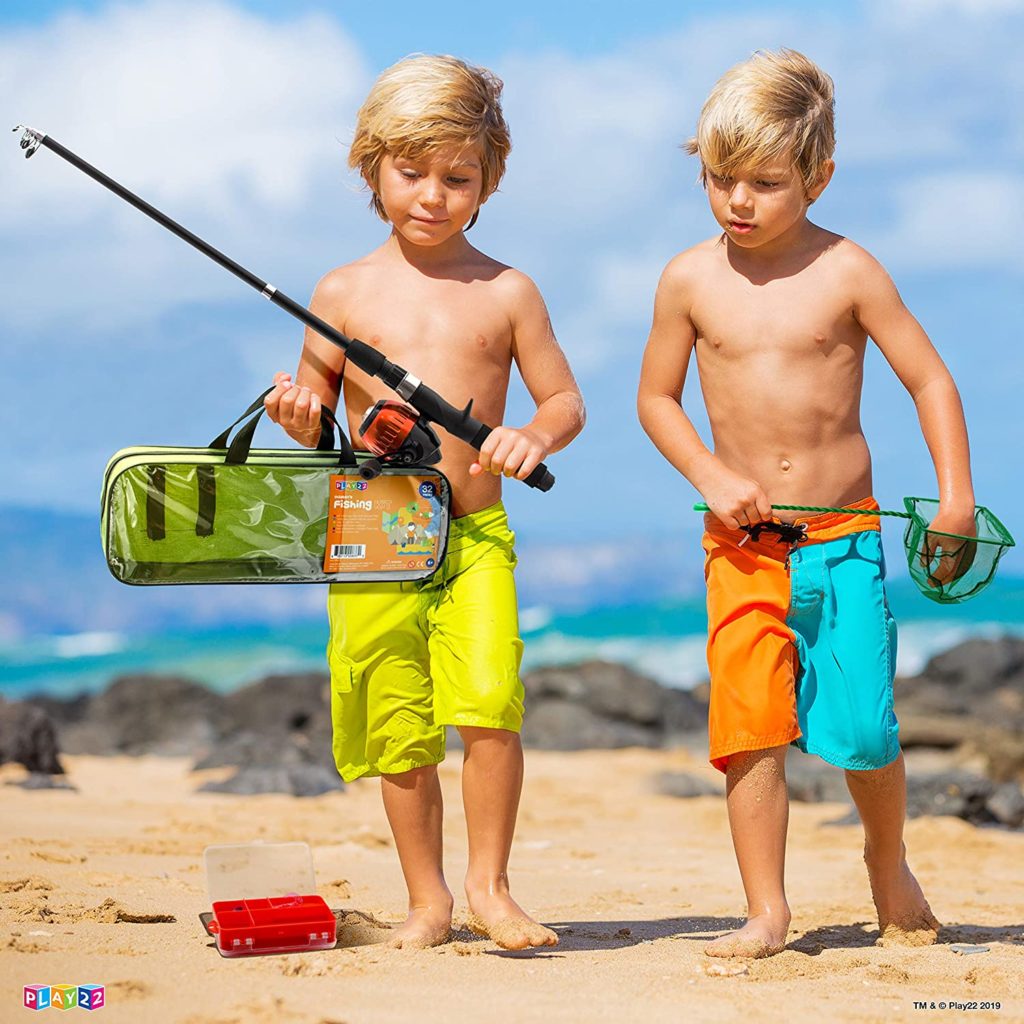 The Play22 Fishing Pole is a complete fishing package made specifically for kids to learn and enjoy their fishing sessions. The green and red lures, multiple hooks, bobbers, jig heads, and alert bells are some of the accessories that keep the kids engaged.
A highly attractive kit bag.
The rod conveniently fits into the carry bag.
The handle is comfy and easy on kids' hands.
Does not come with assembling instructions.
3. Shakespeare Youth Kids Fishing Pole
Shakespeare Youth has the aesthetics to lure kids' with a plethora of options available, including cartoon skins of figures like — Cars, Frozen, Toy Story, Mickey, and Iron Man, to name a few. This fishing pole measures 2.6 inches in length and is easy on kids' hands for prolonged fishing sessions.

This is an all-in-one rod with a reel that sports a round knob, thumb button extension, and a finger guard — all of which ensure safety and user-friendliness when using this wholesome kit for fishing. Furthermore, the addition of an on/off instant anti-reverse bearing prevents backlashes and helps in winding up the line pretty smoothly.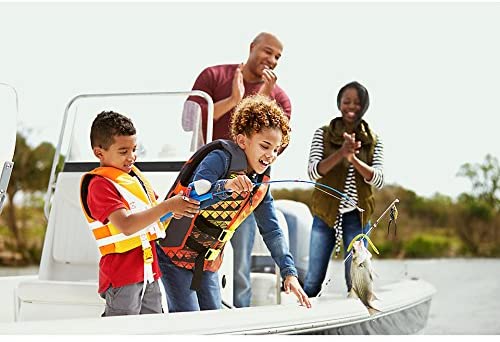 The durability is enhanced with the anodized aluminum spool, while the EVA handle knob maintains resilience even after long-term use. With an array of options available, your kids can have their favorite cartoons pluck fish from the water.
Attractive fun cartoon stickers to attract kids.
Price tag; for starters this is a bargain.
User-friendliness is the USP.
Isn't supplied with hooks, tackle, or other accessories.
The quality of the reel is an issue.
Also Read: 5 Best Fishing Rod Cases: Hassle-Free Access To Gears
4. Lanaak Kids Fishing Pole
The most comprehensive package on this list of best kids' fishing poles — Lanaak Kids Fishing Pole Kit has all the accessories required to keep kids engrossed in fishing all day.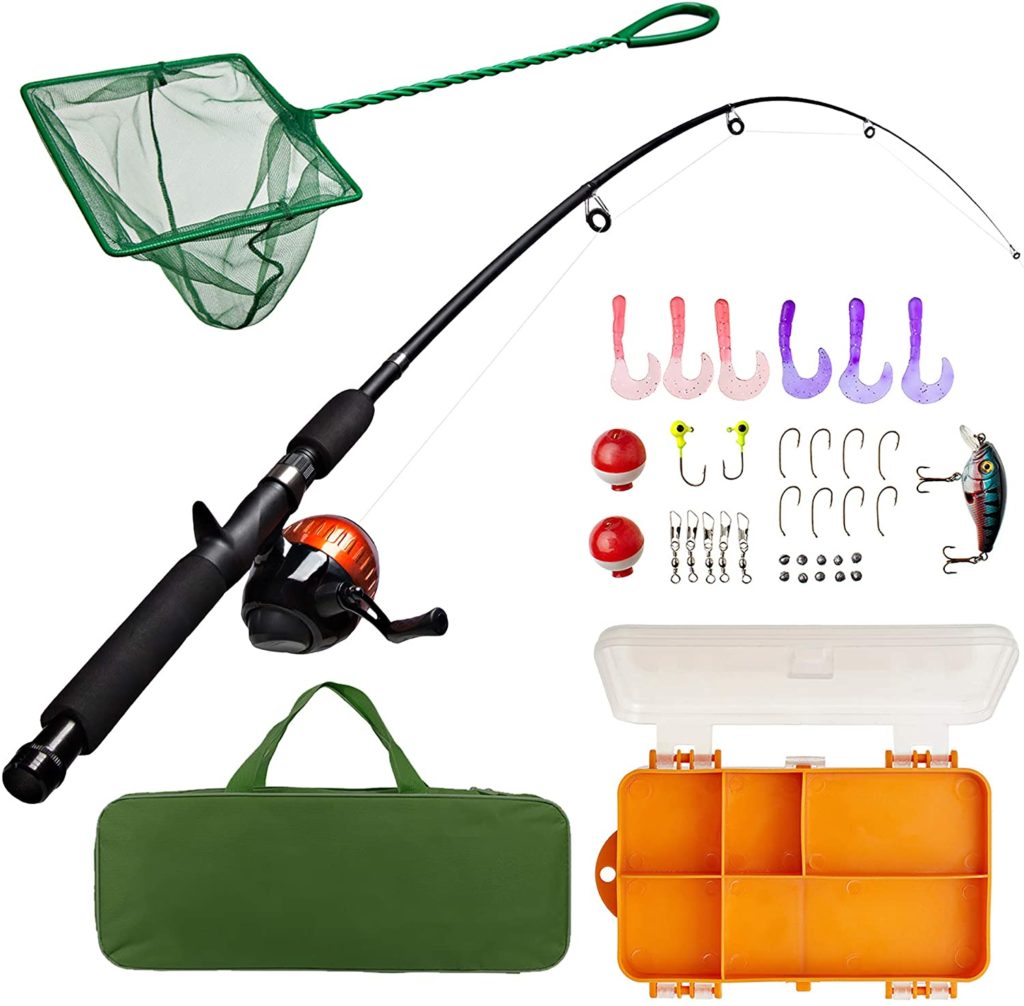 The telescopic blank, and handle boasting of EVA foam are comfortable to hold on to for long, arduous fishing sessions.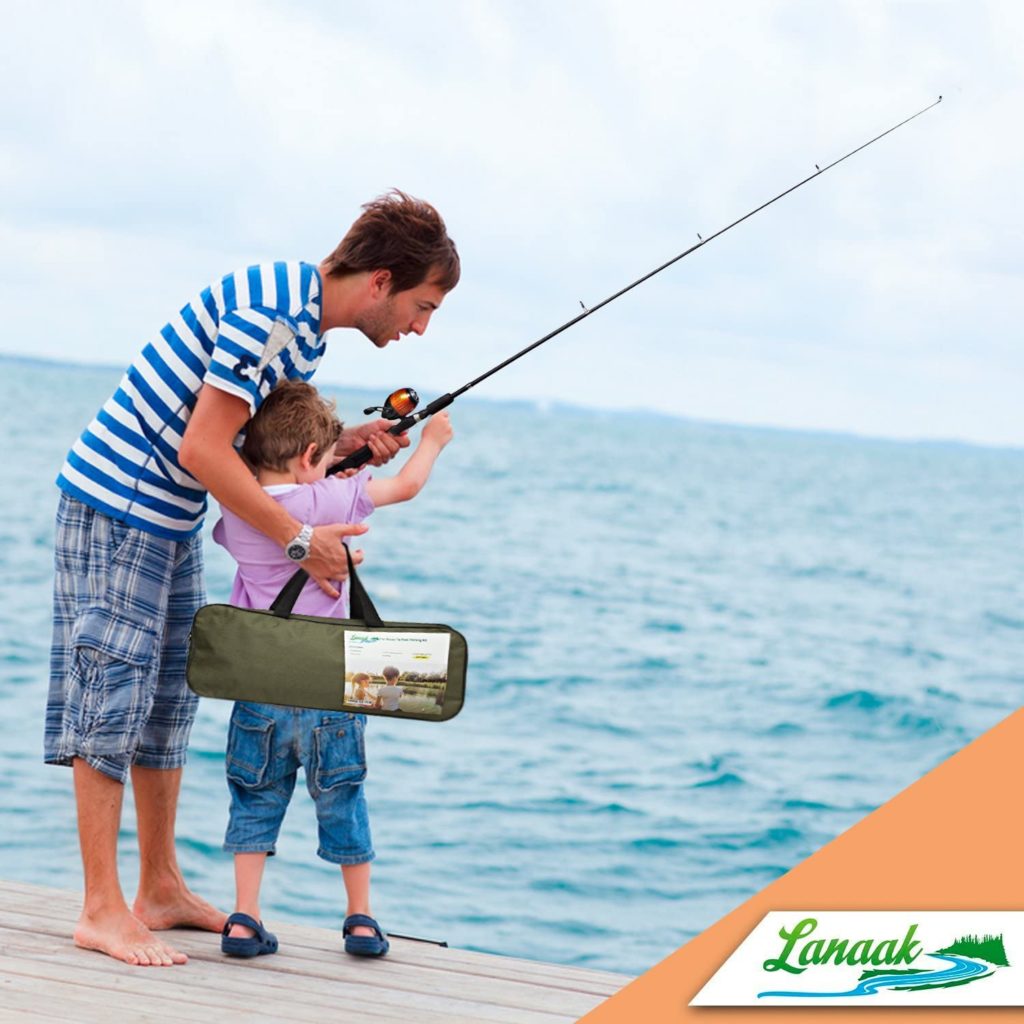 The telescopic rod is supplied alongside a spin cast reel, fishing net, bag, 37 pieces of gear, a beginner's guide to fishing, and a tackle box. This 65-inch long fishing pole is compatible with kids around the age of 10-12 years. The tackle box features bobbers, hooks, split sinkers, swivels, jig heads, and a lot more to keep the kids raring and ready for the activity.
Lanaak Kids Fishing Kit has everything kids require to kick-start this exhilarating fishing voyage. All in all, this is a travel-friendly fishing kit bag stocked with accessories that slide comfortably under a car set or inside of a backpack.
This is a complete package with fishing essentials.
A beginner guide to help kids get started.
The reel is pre-spooled.
The reel isn't the smoothest.
Not ideal for small children.
5. Shakespeare Ugly Stik GX2 Fishing Rod
Shakespeare's Ugly Stik GX2 is an exceptionally well-crafted combo package featuring kids' rods and reels. The fishing rod has been made using graphite and fiberglass construction that gives the best of both worlds — durability, and lightness. The lightness of the rod and reel is suitable for all groups — be it kids or grown-up adults.

The EVA split grips are a sigh of relief for anglers with small hands. When it comes to portability and storage, the fishing rod splits easily into two pieces. The addition of the HT100 carbon fiber drag system provides a smoother and more powerful casting.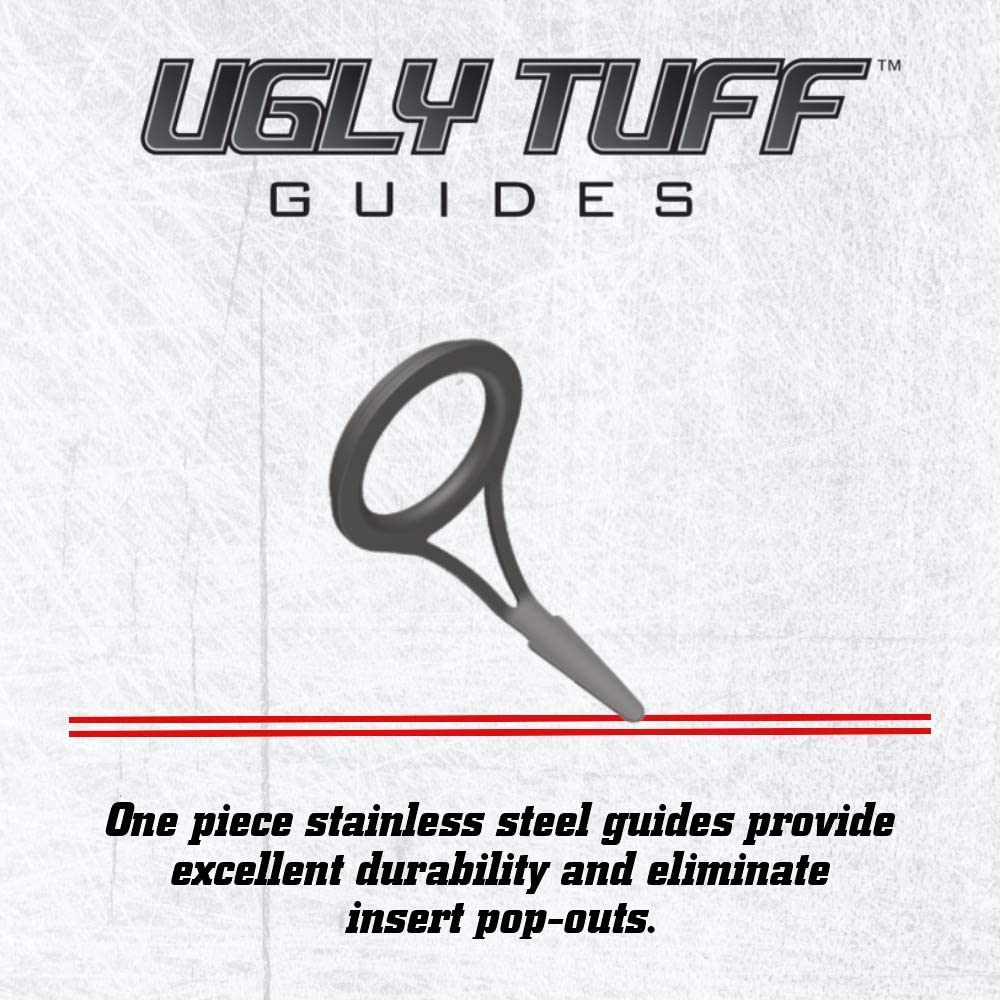 The Ugly Stik GX2 is available in several different sizes, some made specifically for youth and ladies. This combo package is easy to use and comes without any bells and whistles that could complicate your kid's fishing session.
Durable and lightweight.
Made for all age groups.
The drag system helps in effortless fishing.
The quality of the reel is substandard.
6. Zebco Dock Demon Fishing Rod
Ending the list of Fishing Poles For Kids is with Zebco's Dock Demon Fishing Rod, a powerful and rugged constructed fishing rod. The solid fiberglass-built rod has the capability of working effortlessly on all kinds of water bodies — both fresh and saltwater. The EVA handle is pretty easy on the hands and comfortable all throughout the activity.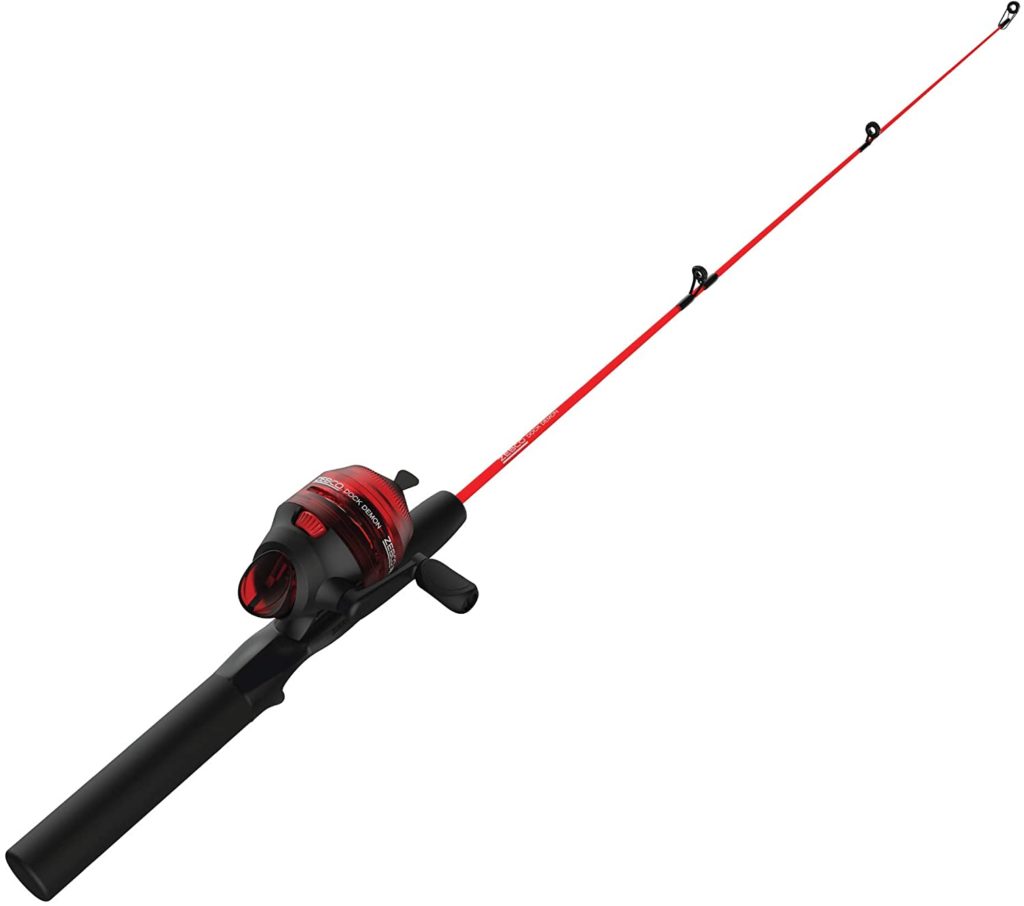 Equipped with a QuickSet anti-reverse casting system, the reel makes winding smooth and plain sailing. Also, the dial-adjustable drag feature allows you to control the pressure applied to the fish. The fishing rod features a pre-spooled 6-lb line that clings on to different kinds of fish, namely trout, bass, panfish, walleye, and a few more.
Dock Demon mimics the same performance as its name — demon and destructive. The model is available in two colors: purple and red, and has the built quality to accommodate anglers like kids and adults.
The reel comes pre-spooled.
Premium materials make this damage-resistant.
EVA handles are easy on the hands.
Not the ideal gear for left-handed anglers.
Doesn't include any other accessory.
Also Read: Best Fishing Pole Holders: Guide & Review of the Best
---
Wrapping Up
Fishing becomes much more seamless and comfortable for kids when paired with the right gear. The fishing poles lister here are some of the reliable pieces available on the market. Of all the products, PLUSINNO Kids Fishing Pole and the Shakespeare Youth Kids Fishing Pole have qualified as the best in the category.
Hope you bring home the perfect gift for your kids from the list just shared. If there's a product that has made your kids' fishing experience rewarding, mention it in the comments section.
---
FAQs of Fishing Poles For Kids
How safe are kids fishing poles?
The market is thriving with options and there are those available that ensure complete safety when using them. However, you as a parent get to pick the rod based on the skillsets of your kid. All of the products reviewed here are best known for their safety and prevent your kids from any harm. Nevertheless, you also have to be watchful before leaving your kids alone on the pole or anywhere near the shore.
What kind of bait is recommended for children?
The widely accepted forms of baits are worms and crickets. Worms are the most commonly used bait and are available at all fishing stores. Whereas, crickets are also recommended by seasoned anglers. Parents have also grown fond of using bread as an option, as most kids hesitate to attach a worm to their hook.