Whitewater rafting is a worthwhile experience that should be done at least once. Perhaps the most exhilarating of water activities is whitewater rafting.
In comparison to traditional boats, the boats used for whitewater are bulky and provide more stability during fishing and other water activities. With our first-hand experience, we bring some of the best available whitewater rafts. Also, we share a definitive guide to buying a whitewater raft.
Whitewater rafting is an increasingly popular sport across the world. It is super fun and an amazing way to explore the wonders of water with your friends and family. It might look daunting at first, but for technically skilled and even for novices this sport can be really fun.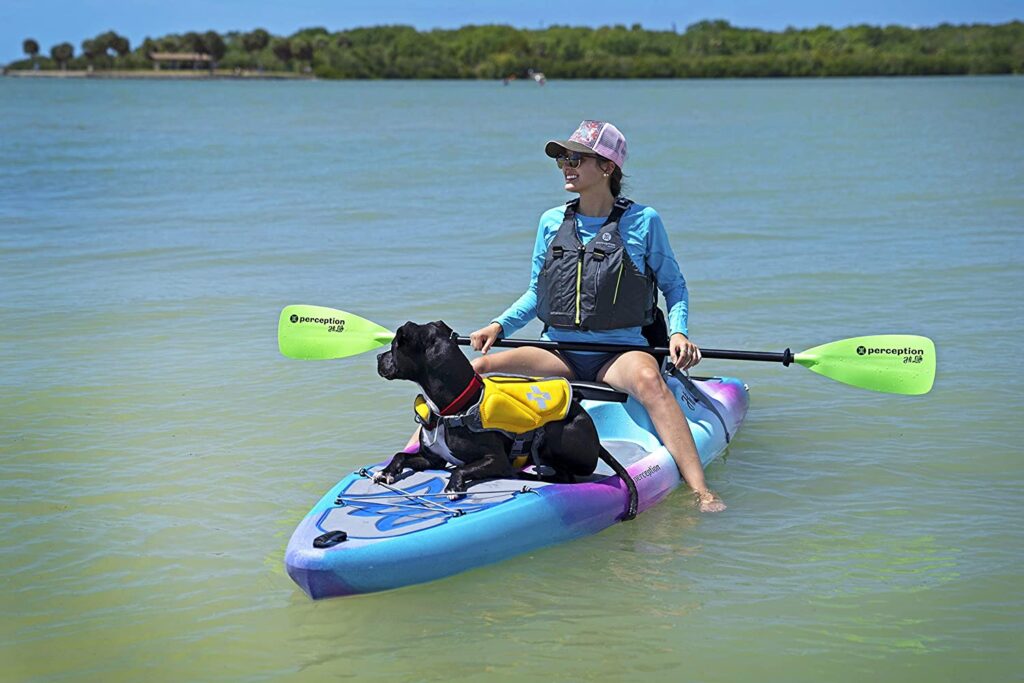 All you need to add some bravery and technical expertise to master this adventure. The adrenaline rush associated with whitewater rafting also comes with a great perk to enjoy the most beautiful landscapes that you cannot see any other way.
From gentle tropical lakes to exotic river canyons, you can explore a wide range of nature's offerings if you have bought the right whitewater raft for you. We have compiled a list of the most popular whitewater rafts from leading manufacturers that come with a wide range of safety features.
---
Guide to Buying the Best Whitewater Raft
A lot of things are taken into consideration when finding the best whitewater raft. With our extensive research and analysis, we've accumulated some of the best rafts currently available in the market.
Without the following checklist, you'll end up purchasing an irrelevant product. So without further ado, here are some of the significant aspects to consider.
Construction
Construction is an important aspect to consider when buying a whitewater raft. The materials used in the structure determine the durability of the raft.
A raft is considered worth buying only if it is crafted from materials like Hypalon, PVC, and urethane. Whitewater rafts built of PVC are lightweight and flexible, which can conveniently be folded and carried along.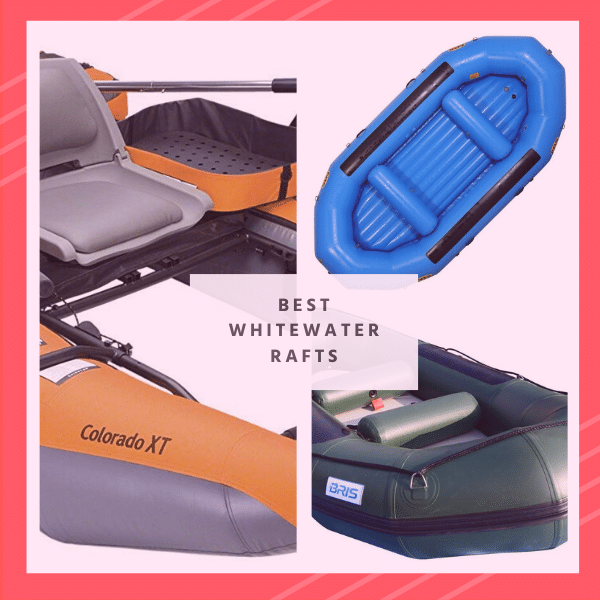 On the contrary, Hypalon is a material that fights against ultraviolet rays and corrosive chemicals. Hypalon safeguards against harmful rays and chemicals; also, it is more expensive than other materials, whereas urethane is durable and shields against tear and puncture. We suggest buying a raft made of PVC, as it is affordable and widely used.
Size
Another vital factor to consider is the size. Selecting a raft based on size majorly depends on the number of people you are onboard with. A raft should have ample space that accommodates gear, which is highly essential. A raft with a larger weight capacity offers space to passengers as well as the gears.
While the small-sized rafts are ideal during short trips with few passengers or when fishing solo, we recommend you buy more giant rafts, which might be of great help when attaching gears and traveling through massive waves.
Also Read: Best Beginner Kayaks for Fishing: Reviews & Buying Guide
Water Types
Rafts that come with an ability to confront whitewater rapids and rigorous splashes are a huge plus. It is essential to purchase rafts that consist of thwarts, which adds comfort while fishing.
Purchase a raft that has a lining on tubes as it might come in handy in cases like a puncture or tearing. Invest in rafts that have drop-stitch flooring, which is super thick and highly tough materials.
Accessories
Generally, rafts these days come with distinct accessories. A few rafts also have the option of customization based on your needs. The necessary gears that are to be carried onboard are thwarts, air pump, carry bag, and repair kits.
D-rings are essential; hence, their quantity has to be given thought. Since you will be holding oars the entire time, the option of holding paddles can be shunned.
Price
Considering the investment, you are about to make, budget before buying a raft. If there are budget limits, then you are required to stroll down markets or skim through this list. We have listed whitewater rafts that fall below the thousand dollar mark to $2000.
The price factor is influenced by the materials used in the construction of a raft. In this article, we have listed some of the most durable and affordable options that guarantee you a safe journey on the waters.
---
Best Whitewater Rafts
The main considerations discussed — it is time we focus on the crux of the article — The Best Whitewater Rafts. The impetus of having a worthwhile rafting experience may depend a lot on your choice. So go ahead and pick one wisely!
1. Intex Mariner 4
Coming from a brand known for creating highly reliable rafts, the Intex Mariner 4 is another durable whitewater raft. The Intex Mariner 4 is worth mentioning in this list for being a versatile Class III fishing boat, which claims to carry up to four fishers at once.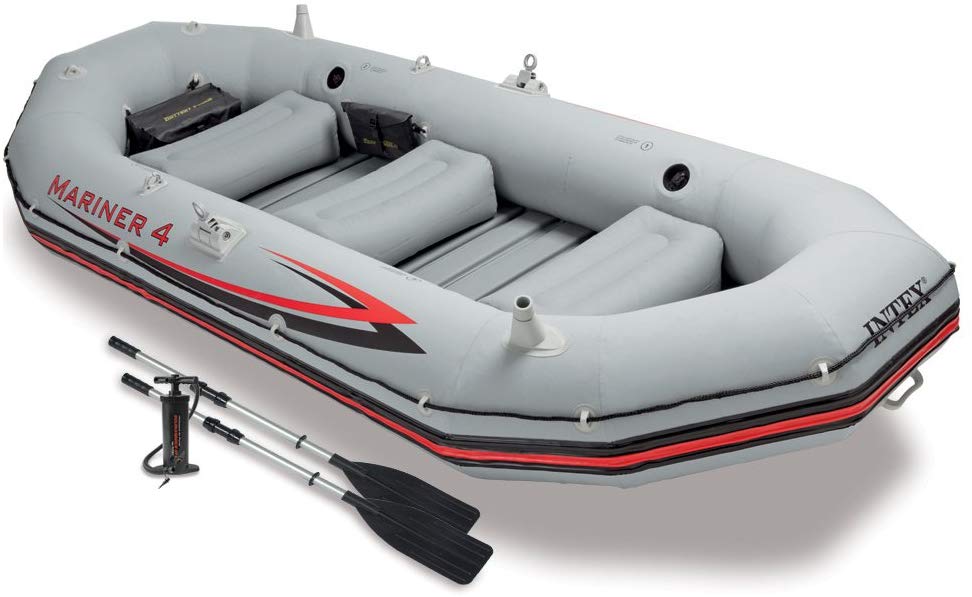 They are built of three separate layers – a polster layer that is covered by two layers of PVC. It is guarded with a vinyl layer that has the raft abrasion, impact, and UV resistance. Moreover, this is the only raft from the Intex brand that has sturdy plastic flooring.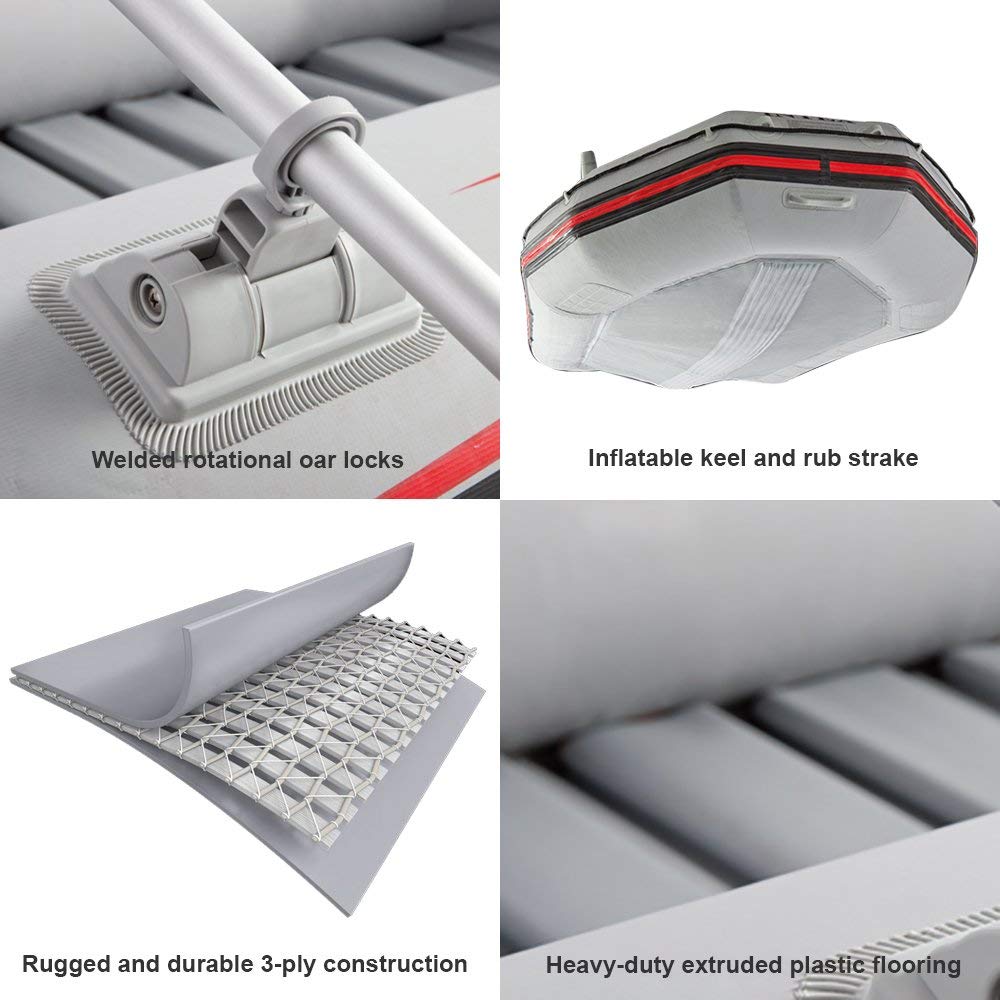 The Intex Mariner 4 weighs 77.6 pounds with a capacity of holding 880 pounds. The raft is ideal for carrying two-three adults, considering that you need accessories while fishing. This raft includes an inflatable heel for smoother controls and handling in murky waters.
Hard plastic flooring
Built-in fishing rod holders
Affordable whitewater raft
Easily inflates and deflates
Sub-standard oars included
Valves started to leak after sometime
2. Intex Seahawk 4
Now, we aren't fanboying over the range of quality rafts Intex creates, but here's another — Seahawk Inflatable Raft. This whitewater raft can accommodate three members with four oarlocks, rod holders, and fittings for a motor mount. Furthermore, there's room for three inflation chambers and a safety chamber.
The addition of grab lines and handles enables easy maneuvering on all kinds of water. Constructed from 30 gauge PVC, this raft serves as excellent resistance against light abrasions. For additional safety, the raft houses three air chambers coupled with an inner auxiliary chamber.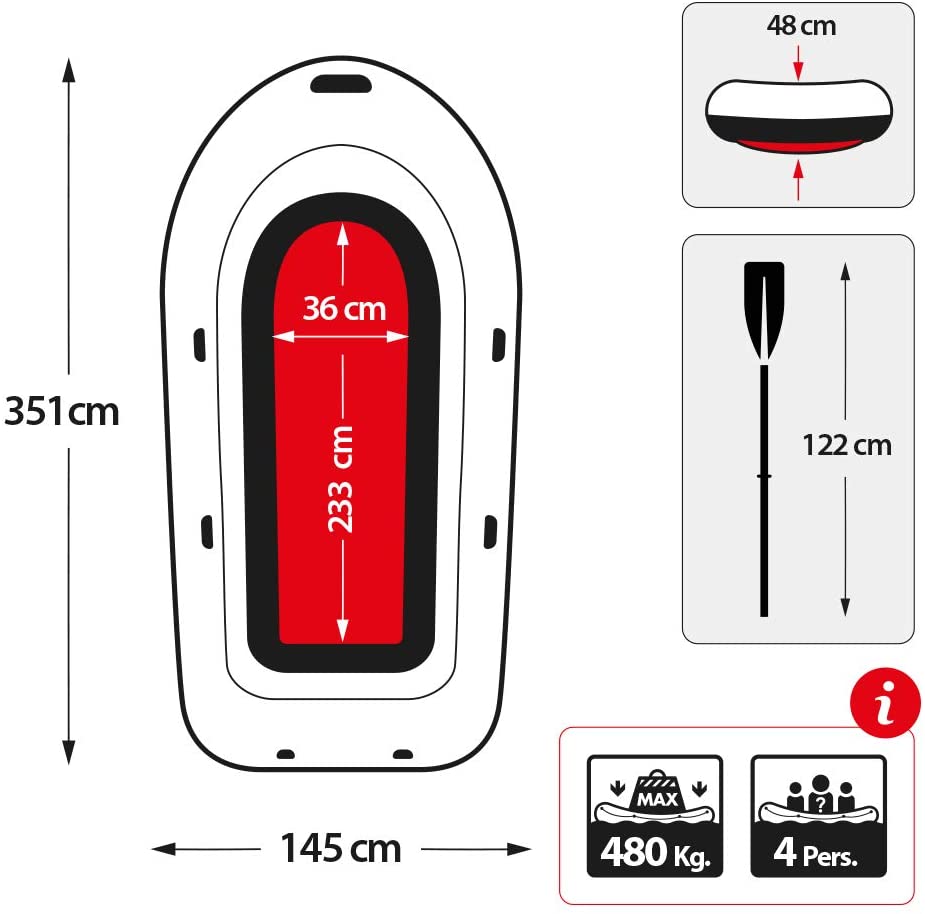 The Seahawk Inflatable Raft weighs about 50 lbs, and can easily accommodate up to 1050 lbs or three-four passengers on board.
Lightweight and portable; folds easily for transportation
Three inflations chambers for extra safety
Spacious enough to accommodate up to 4 passengers
Oars and oars locks are subpar in quality
3. Sea Eagle SE9
America's top inflatable raft manufacturer — Sea Eagle — has a catalog of best-in-class products, and with the SE9 it eases rafting in the harshest of conditions. The SE9 is an unsinkable rafting gear, courtesy of the advanced four-chambered hull design.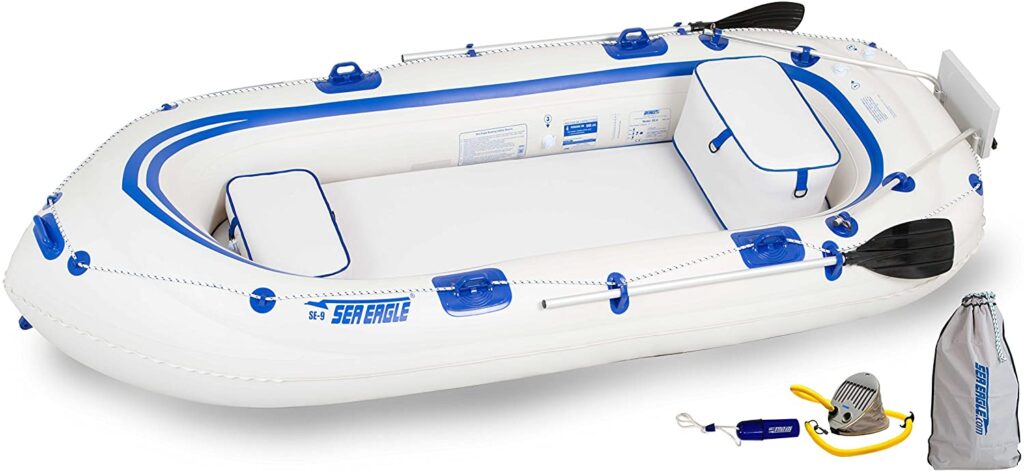 In case of puncture in the primary chamber, the boat manages to stay afloat, as it houses a backup safety chamber and the air floor chamber. The boat boasts two inflatable seats; the first one for fishing purposes, while the second seat for rowing. This comes with four oarlocks, two in the front and the rest in the rear.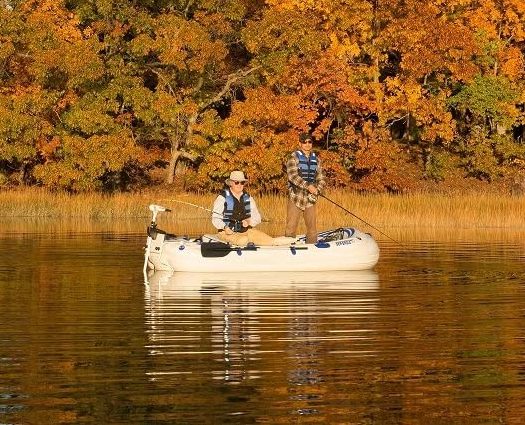 The SE9 hardly takes about 15 minutes to inflate and is also convenient for adventures with a carrying bag supplied with the purchase. All in all, this boat is highly ranked as a lightweight yet sturdy piece for a comfortable fishing experience.
Made from highly tear-resistant material
Has a whopping 1200 lbs weight capacity
Supplied with all the essential accessories.
Bearings squeal loudly.
This casting reel is pricey despite its superb quality.
Support after the sale is a weak point.
4.Classic Accessories Colorado XT
Available for customization in different ways, the Colorado XT can withstand the harshest whitewater with sheer effortlessness. With a total weight capacity of 400 pounds, this whitewater raft has been awarded a rating of Class I.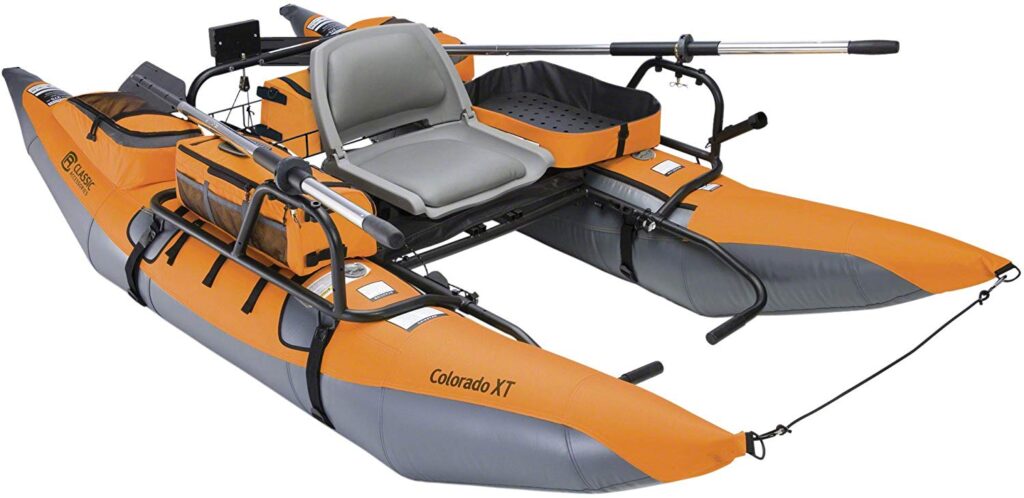 Featuring brass oarlocks, nylon tops, and cold and heat-resistant HD vinyl bladders, Colorado XT is built-ready for fishing in murky waters. This raft has its surface coated with heavy-duty PVC, which guards the raft against air leaks, abrasion, and puncture.
Available in two colors – Pumpkin and Sage Grey, the raft has modifiable storage, including 20 pockets and two insulated drink holders. The gear bags and detachable foam fly patches included can be easily detached.
Adjustable footrest and seat mount
Easily movable with a transport wheel
Easy to assemble
Anchor bag doesn't perform that great
Does not include motor
5. Intex Excursion 5
Another classic from a world-class brand — is the Excursion 5 from the house of Intex. This whitewater raft has the capacity of holding up to 1,320 pounds with enough space to accommodate four to five people on board. The boat features two inflatable seats with backrests for comfort while rafting.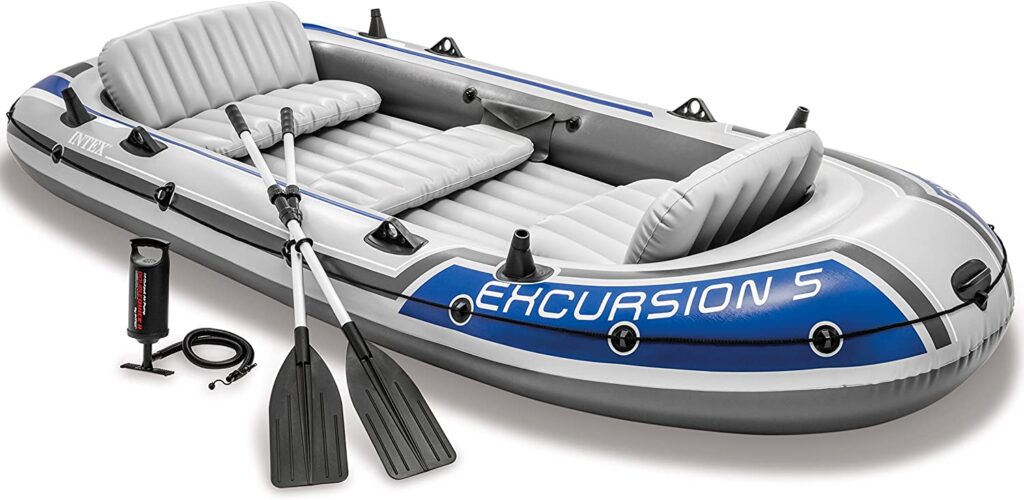 This raft includes four built-in fishing rod holders, a pair of 54" aluminum oars, and a manual pump to inflate the boat in just 15 minutes. The Excursion 5 also comes with a carry bag, which is best for the on-the-go adventurous person.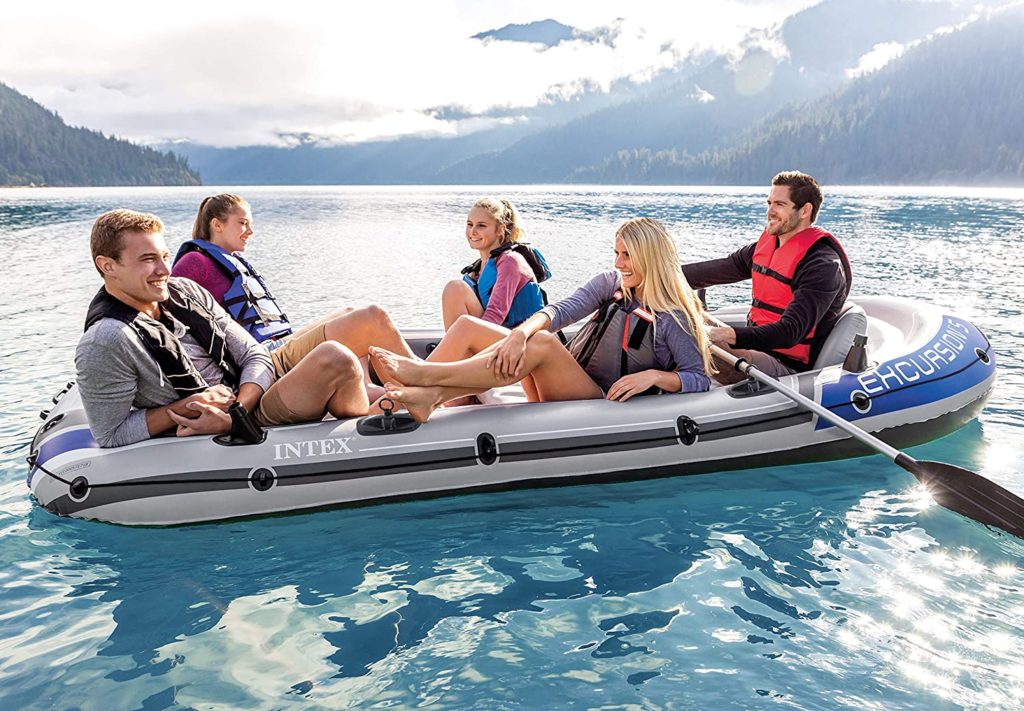 Overall, this product is easily the best beginner-friendly boat we could recommend. It has all the abilities that suit the needs of a first-timer, especially since it is lightweight and comfortable for long hours of the expedition.
Easy to inflate and deflate
Three-chamber design; always keep the boat afloat
Can be easily stored with the carry bag.
Oars feel a bit weak
Maneuvering is challenging
---
The Bottom Line
With a plethora of things to consider when buying a whitewater raft, it all comes down to the purpose you need it for and the class of water you will be using it in. Intex Excursion 5 and Seahawk 4 still remain our favorites as they come with all the basic amenities required to have on board.
We have listed some of the best available that surely can make this one-time investment memorable. If there are a product or selection criteria we've missed out on or you have a query about a product, write to us in the comments section below.
Also Read: Best Saltwater Spinning Reel for the Money: Reviews & Buying Guide
---
FAQs
Is it possible to repair an inflatable fishing raft?
An inflatable raft can be repaired. All you need to do is validate your raft after using it for scratches or leaks. There are different ways to go ahead with this – either patch over holes by yourself or check for the warranty and send it for repair.
What are self-bailing rafts?
Self-bailing rafts sport a very simplistic design. The flooring is absorbent, which helps in sucking out water through holes placed at the bottom of the floor. When these rafts are inflated, the floor is about five inches thick, allowing the top surface of the floor to stay above the surface of the water.
How to clean a fishing raft?
Firstly, you should purchase water-based protectants to secure the raft from the risk of discoloration. Wipe off the entire raft with a protectant once every three weeks.
We advise you to have your raft cleaned with soap and a sponge, and post a session with it. After an intense cleaning session, have your raft stored in a clean and unsoiled place.
What should be the size of your whitewater raft?
The size of your whitewater raft depends on your requirements and the adventure you want to maneuver. Every raft size has its own pros and cons. For example, a smaller raft cannot carry more people or gear but it is easier to maneuver through the water streams.
A 12-13-foot raft is comfortable for five to six people but needs great technical expertise to rush through the tight spaces. Similarly, a narrow raft can pass through tight rocky stretches but cannot carry many accessories. On the other hand, a wider boat is stable, and can carry most of your gears and accessories but cannot be used for tight spaces.
What should you consider while buying a whitewater raft?
There are many such factors you must consider before making a decision to buy a whitewater raft online. Firstly, you should be aware of your intended usage whether you are gonna use this raft for whitewater rafting, professional fishing, or casual family outings and how many people are going to ride it, how many times a month, and in which kind of season you want to use it.
Different rafts are designed specifically to suit different needs, so you need to know the raft you are buying is suitable for river canyons, flatwater, or paced streams. Also, you might consider a boat that can be paddled or rowed or one with both facilities.