A comfortable and secure troll through waters with all essentials on board — makes a memorable kayaking trip. Kayak fishing is a fun activity that is best enjoyed with a safe and stable kayak. Kayaks are your less bulky versions of a normal boat — and much less priced too.
If you are starting for the first time, a budget-friendly pick is the best option to kick-start kayaking. However, with countless options under $1000, the task of selecting one becomes much trickier. In this article, we bring the best affordable kayaks to start sailing with.
---
Factor to Consider When Buying a Fishing Kayak Under $1000
The overwhelming market of kayaks will leave you spoilt for choices. Beginners or anglers restricted by the budget will always have a hard time picking one for their forthcoming expedition. There are certain factors that have to be considered before shelling your money on a kayak that might fall prey to challenging tides or unprecedented risks coming your way in the kayaking trip.
Capacity
Two influencing factors that determine the quality of a kayak are the size and capacity. Space onboard and the capacity a kayak can accommodate will help you choose the best one per your style. Kayaks under $1000 come in different shapes and sizes — anything above 400 pounds is considered a decent pick for two-seated kayaks. While the 300-pound capacity kayaks become an automatic choice of single anglers.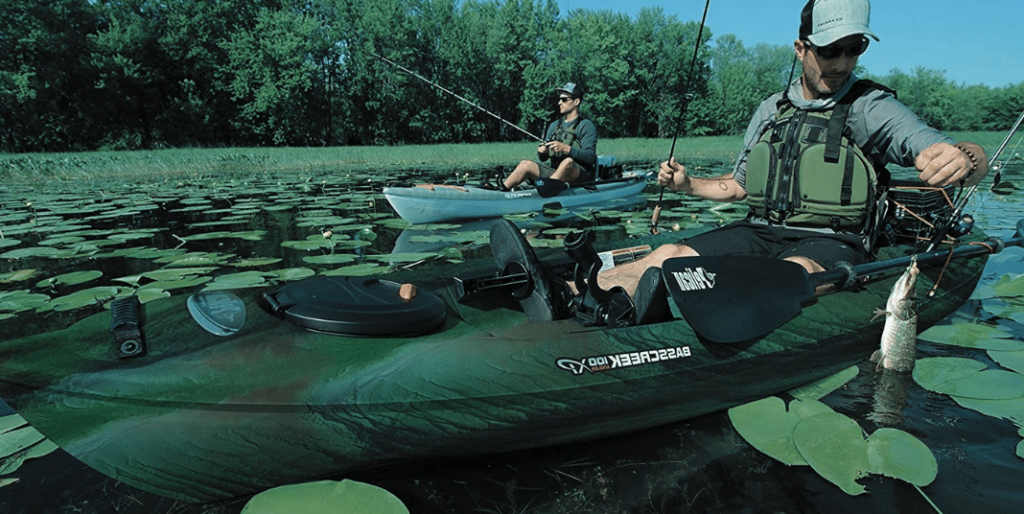 Storage space
Although you are picking a reasonably priced kayak, storage space becomes another essential consideration for a smooth kayaking experience. A kayak must come with considerable storage space that allows enough room on board to store items like rods, paddles, and ice buckets, to name a few. Having space on the kayak will help pack all the essentials and prevent you from making back and forth rounds to the shore.
---
Best Fishing Kayaks Under $1000
Countless products on the market leave you puzzled on which one to choose and which one to not. Here are some of our picks for the best fishing kayaks under $1000.
1. Lifetime Tamarack Angler 100 Fishing Kayak
The Cadillac of fishing kayaks — Lifetime's Tamarack Angler 100 is arguably the finest inexpensive option under $1000 you'll find in the market today. With a high-density polyethylene body, this kayak can withstand UV radiation and damages to the hull. The stable flat bottom and deep hull tracking channels ensure stability in your tumultuous kayaking journey.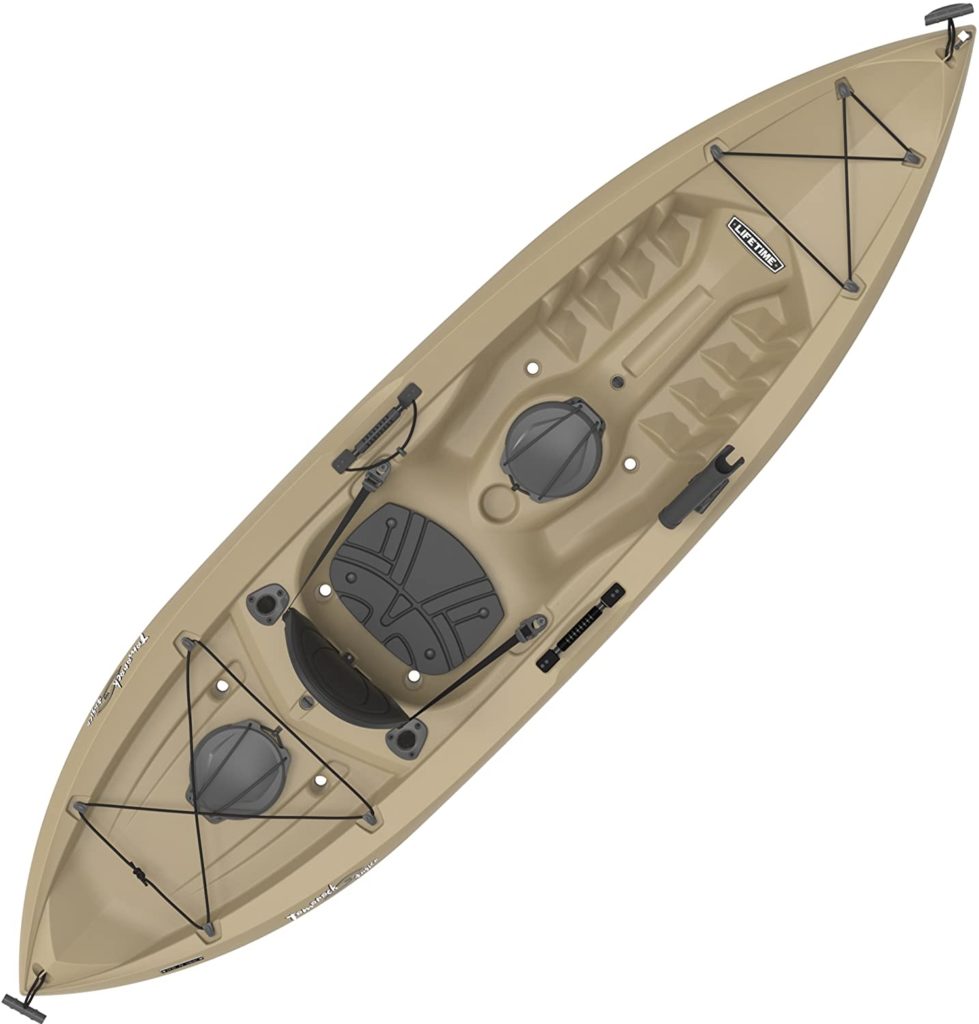 This kayak has plenty to offer in the storage department — two 6-inch storage compartments on either side, three-rod holders with two as flush-mounted and the remaining one as top-mounted. This versatile kayak features a padded seat that can be customized for your comfort.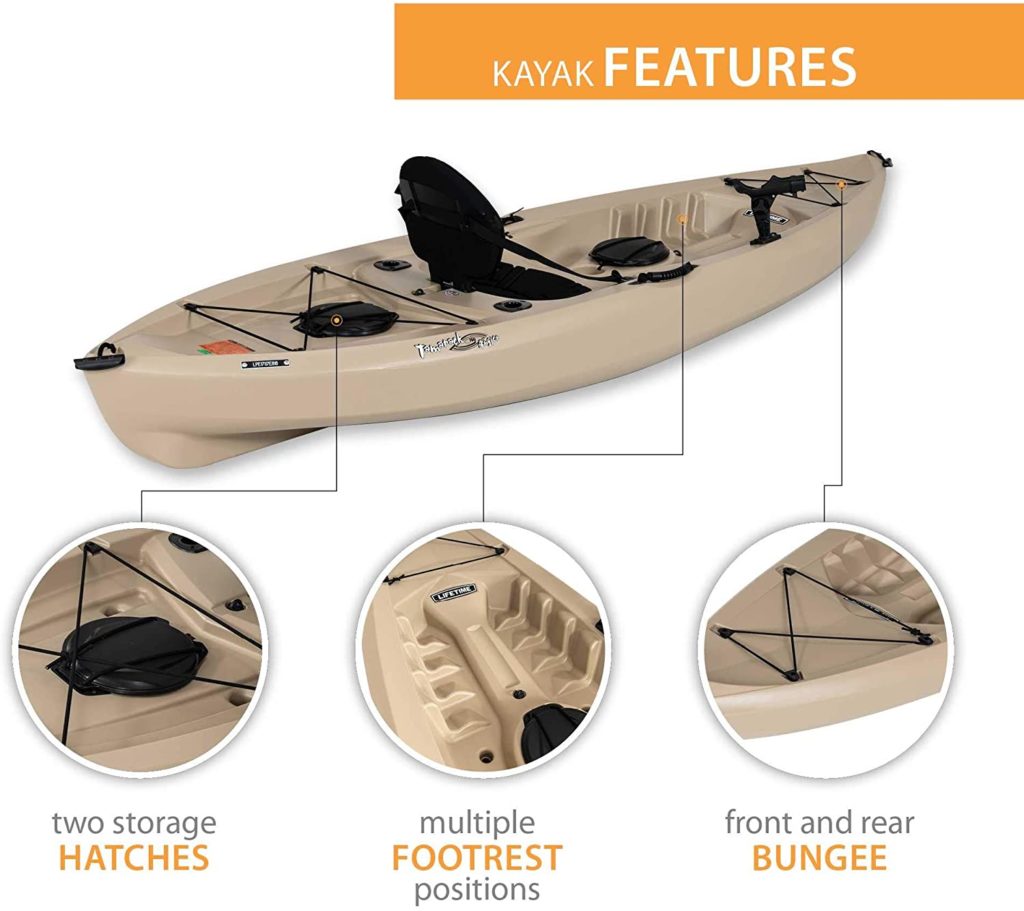 The kayak has a maximum capacity of 275 pounds, offering cozy and secure space for a single kayaker. Tamarack Angler 100 also comes with a paddle, which also doesn't lead you to break the bank.
Flat-bottom; more stability even on the rocky lakes
T-handles; can be easily transported
Ample storage space to store fishing essentials
The substandard quality of seat
Maneuvering is a bit stiff
2. Intex Excursion Pro Kayak
The Intex Excursion Pro Kayak is a favorite to troll through challenging waves with ease. This durable as hell kayak is embossed in three-layered construction, with top and bottom in super-tough laminate PVC, while the polyester core strengthens the mid part. The construction materials safeguard the kayak from sun, abrasion, and impact.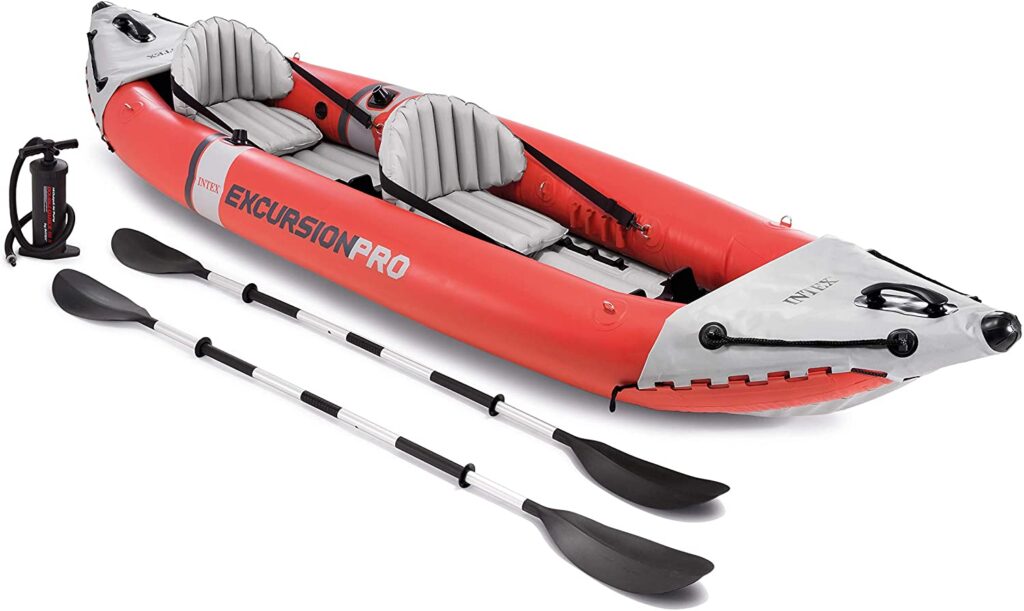 The addition of three air chambers is invaluable, which saves in the times of puncture or leaks. Furthermore, there's a drain plug that flushes water out of the kayak to promote stability and help stay afloat. The kayak is quite light, but it still has the capacity of accommodating kayakers up to 400 pounds.
The seats of the kayak are comfortable to all sizes of users, courtesy of the adjustable floor-mounted footrests and bucket seats to support the back. Intex Excursion Pro Kayak also features a removable bracket to mount devices like fish finders, etc.
Ideal even in deep or shallow waters
Mounting bracket to install fish finder or GPS
Comfy seats with back support
Difficult to fold back up
The oar is wobbly
3. Pelican Basscreek 100xp Fishing Kayak
Featuring on the third spot is a tough-nut from the house of Pelican — the Basscreek 100xp Fishing Kayak. This kayak comes with two carrying handles for easier transport and also helps with some support to paddle through lakes. The padded seat and adjustable backrest make kayaking a worthwhile experience.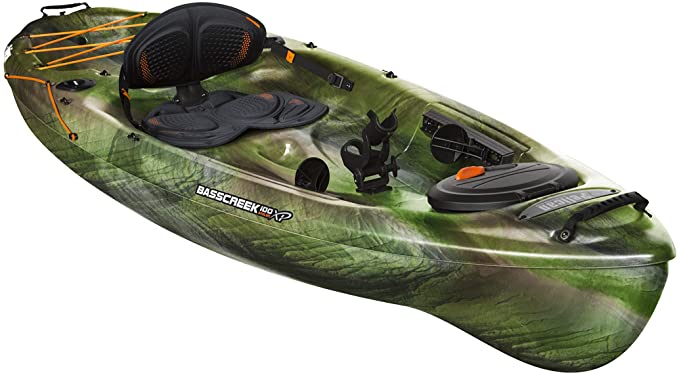 It also offers a generous amount of space — with an open gear area in the rear that features an internal locker, paddle parks, while there is also a large internal locker at the front as well. Moreover, there's space to store up to three-rod holders — two mounted holders and a swivel rod holder on the front. The six accessory eyelets make room for add-ons like a fish bag or fishfinder.

Basscreek 100xp sports a camouflage pattern with a sit-on-top design that can accommodate a single person weighing up to 325 pounds. All in all, this smooth kayak is highly appreciated for its performance in turbulent waters.
Three-layered; is secure in cold and warm water
Ultra stable; the multi-chine flat bottom hull is stable at all times
Plenty of storage space to accommodate all basic item
The inaccessible rod holders
Setting up may take efforts
Also Read: 6 Best Beginner Kayaks for Fishing: Reviews & Buying Guide
4. Intex Explorer K2 Kayak
Garnering accolades from all corners of the world, the Intex Explorer K2 Kayak does not deserve to be left out from this list of best fishing kayaks under $1000. The kayak comes with two inflatable seats coupled with a backrest that is customizable to suit your style. The inclusion of a removable skeg brings more stability to maneuvering.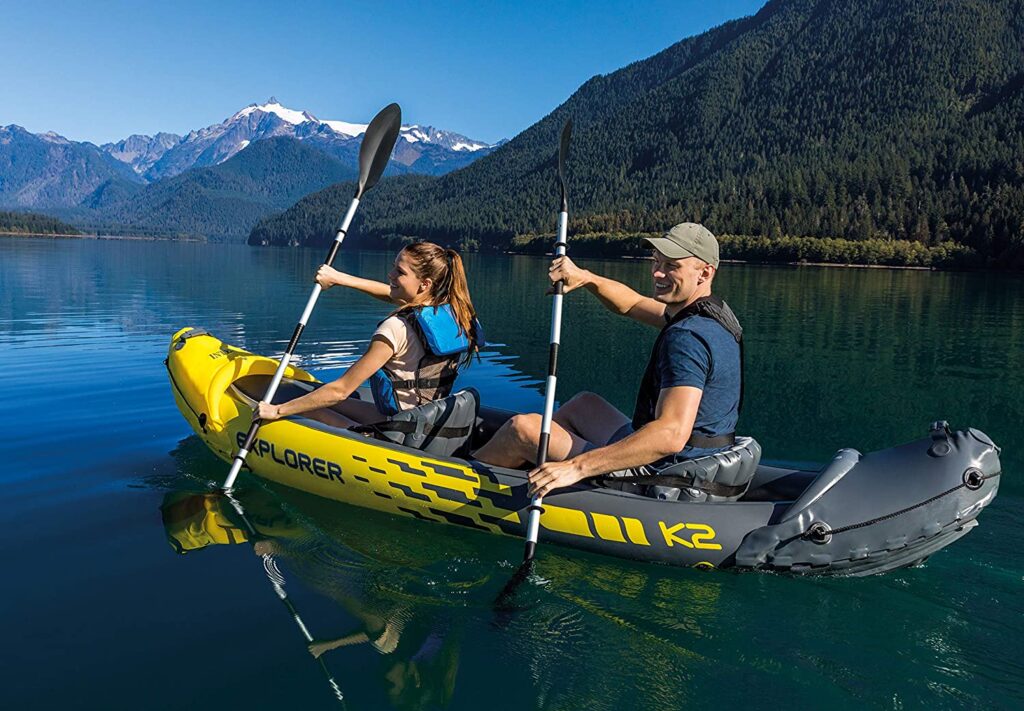 When it comes to the storage department, the kayak falls short. It has no room to store rod holders, while there is little to no space at the bow and the stern. However, with the supply of two aluminum oars and an air pump, it becomes easy to inflate the kayak. Weighing just about 24 pounds, this kayak can haul users up to 400 pounds.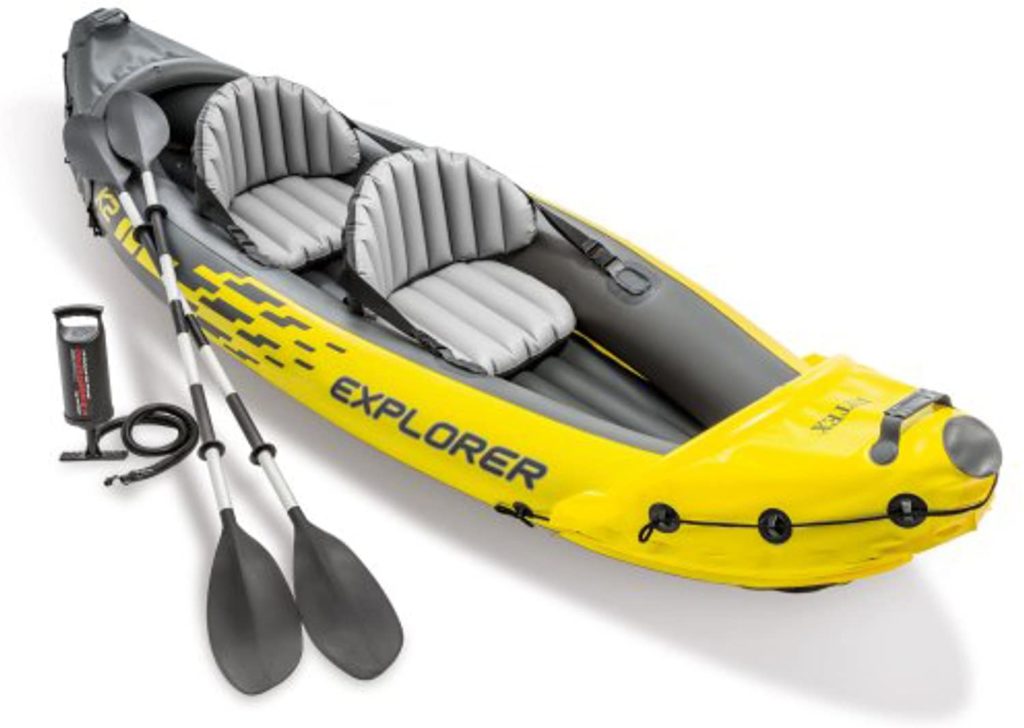 The Explorer K2 is a great fit for smaller bodies of water — with exceptional performance in the lakes and mild rivers. The vivid yellow color of the kayak makes it easily noticeable in the dimmest of environments.
The removable skeg offers great directional stability
Extremely light to move travel with
Inflatable seat with back support
Suitable for use only in small water bodies
Limited storage space
5. Sevylor Coleman Colorado
Sevylor Coleman Colorado is an undisputed leader of inflatable kayaks. This fishing kayak for under 1000 dollars is made of 18-gauge PVC clubbed with 840D nylon cover and 1000D tarpaulin bottom for unparalleled stability in rocky routes and also helps in resisting barbarous impacts.

The kayak boasts multiple air chambers and an airtight system to prevent air leaks. The adjustable seats come with paddle holders on either side. It also features D-rings and mesh pockets that provide secure storage space for your fishing essentials. There's room to safely place your rods, thanks to the Berkley Quick Set Rod Holders.
Furthermore, this wholesome package also helps in enhancing fishing abilities with the option of installing a Sevylor trolling motor. Sevylor's Coleman Colorado is unlike others in offering capacity, it can easily accommodate users up to 469 pounds.
A whopping user capacity of up to 469 pounds
Add-ons like mesh pockets are secure to store tiny items
The built quality is top-notch
Requires two to get the kayak moving in the desired direction
The inflatable seats are a bit uncomfortable after a short period
---
Wrapping Up
The challenge of drafting a list comprising the best fishing kayaks under $1000 was a bit arduous. But from the list, there were two that really bang for the buck — Lifetime Tamarack Angler 100 Fishing Kayak and Intex Excursion Pro Kayak. Ultimately, you get to decide which according to you suits you the best — depending on your style of fishing and the size of your fellow kayaker.
---
FAQs
How do I have a secure kayaking trip?
There are quite a few things to consider in order to have a safe and comfortable kayaking experience. Following are some straightforward tips to help you have a joyful outing:
Never enter the kayak without a floatation gear
Keep yourself hydrated with plenty of drinking water
Consider using some sunscreen
Seek suggestions from local bodies on whether or not to start with the kayaking activity
Train yourself before stepping with your kayak into hard-core waters
2. Is it safe to kayak for long durations?
Yes, of course. Nevertheless, consider examining the seats before heading out into the waters. Only comfortable seats and back support can keep you up and running for long periods of kayaking. Also, consider carrying water and some snacks to munch whilst on board the kayak. Another point to adhere to is that the kayak must have sufficient air chambers to help you stay afloat in case of punctures.