I have used products from many different brands to fulfilling my fishing goals. One of them is Okuma, which manufactures many fishing rods that work in saltwater and freshwater. My team has received plenty of queries regarding the Okuma rod review, so I thought about creating one to clear all the doubts.
This article is fully dedicated to the fly rods manufactured by this brand. Go through the entire post to understand every aspect of Okuma now!
---
Brand Reputation
Okuma Fishing is a Taiwanese fishing company that has been manufacturing and selling fishing items since 1987. Although they manufacture a great range of products, their fishing reels and rods are highly demanding among anglers.
Based in Taichung, they have served the community for over three decades. The majority of their fishing rods receive positive reviews from critics. My experience with their reels and rods is also quite satisfactory, thanks to their structure and material.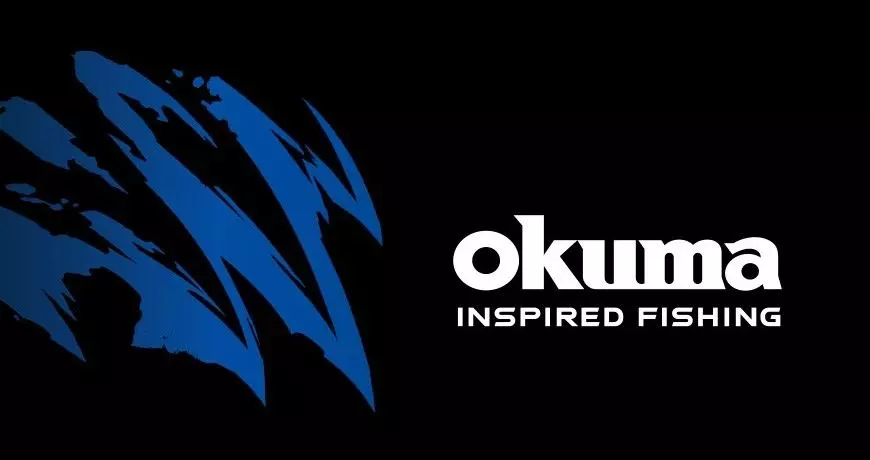 Also Read: Best Inflatable Boats for Fishing
---
What are the top Okuma fishing rods to buy for?
Okuma is a great brand that continuously delivers quality rods to the fishing community. Their products aren't only affordable and quality enough to give long-lasting experience.
They rely on high-level innovation and technology based on the latest trends. Let me explain which Okuma fishing rods seem the most exciting to use.
1. Okuma Celilo Graphite Lightweight Trout Rods
Despite using almost every model from the Okuma brand, it feels different from using the Celilo Graphite trout rod. It is a wonderful model that can easily cover a huge range of steelhead and salmon techniques. This unit's thru-blank handle construction is a great highlight for convenient casting.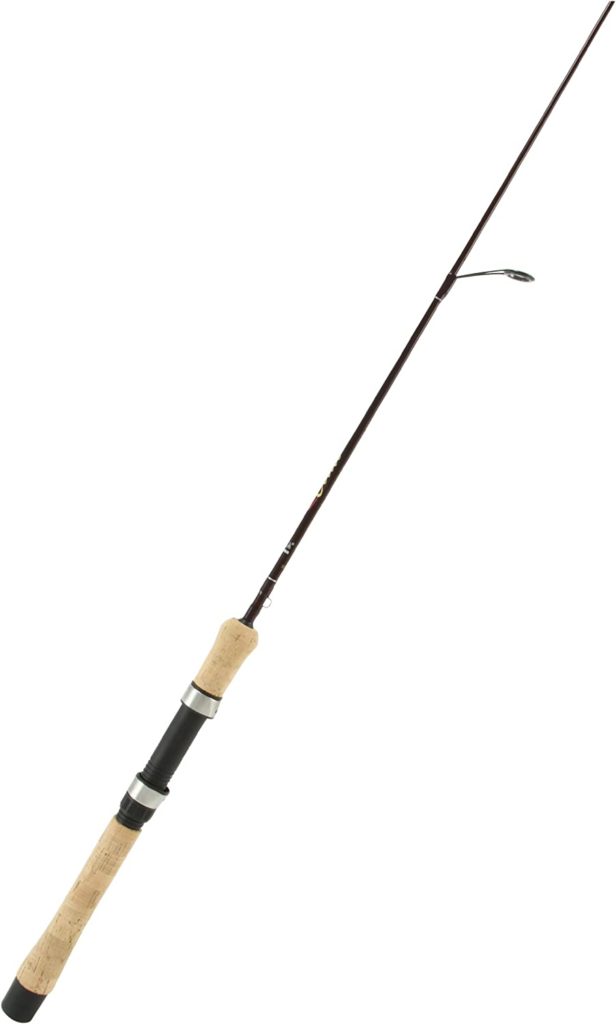 If you live in the Northwest or Northeast area, I strongly recommend buying this model to catch salmon and steelhead in high quantities. Whenever I feel cast in such situations, the thing that comes to mind is this great action rod.
While talking about the last summer, I catch tons of large salmon using this one. It still looks fine, and I think it will work for one more season if used occasionally. It is pretty great when I look at the price.
It is good in lightness and sensitivity that must-have features for handling large fish. Someone looking to enjoy the perfect value for money should consider investing in this rod. It can also be a great recommendation for a gift to a fishing lover.
The long-lasting stainless steel reel seat
Highly oxidized guide inserts
Backed by an exclusive 1-year warranty
Available at a very affordable price
Capable of catching large fishes
Not recommended for super heavy fishes
2. Okuma Celilo Graphite Salmon Steelhead Casting Rod
If you prefer casting light duty in salt water or even freshwater, this model from the Okuma company is all needed to look for. It is an excellent product that can attract anyone with its fit and finish. I have tested this casting rod for rigid quality and reliability. It proved to be truly exciting and I enjoyed fishing with this rod.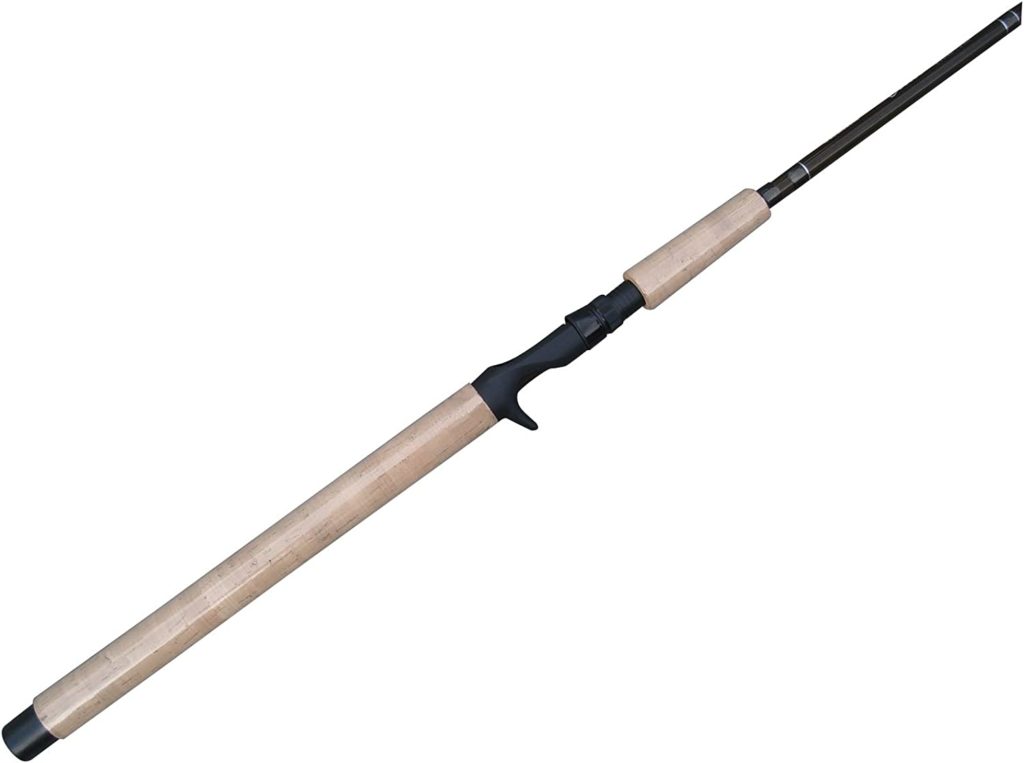 The availability of sensitive graphite blank construction with advanced materials is pretty amazing. It is a very well-made unit presenting great action on the go. Whether you want to cast in the river or lake, the experience is guaranteed to amaze you.
It is a nice set of rods that work great for most situations. A terrific casting and fluid range are guaranteed thanks to cool graphite composite blanks. The manufacturer has also added fore and rare cork grips that I feel are pretty handy in terms of convenience.
It is a two-piece construction rod that can be conveniently kept in the case when not in use. Nailing your fishing action is possible when you use this rod with little practice. The customer's feedback is also very great making it a perfect purchase.
This finely constructed model is an exciting choice for both beginners and experienced anglers. I believe it won't disappoint you in any manner with the performance. The price may be slightly higher than the previous one, but the performance makes it worth it. This Okuma rod review is highly positive by most purchasers.
Convenient to use handle design
Give a great level of sensitivity
Made from high-quality material
Liberty for trying various steelhead & salmon techniques
The very secure reel seat
Ask for a huge investment
3. Okuma Cold Water Ice Carbon Ice Fishing Rod
Do you love fishing in the cold season like me? If yes, I think you know the importance of durability demanded by these conditions. To tackle such issues, the Okuma brand has created this ice-carbon fishing rod that can offer the ultimate level of performance. The company has designed it using a 24-ton carbon rod blank to enhance the users' longevity and comfort.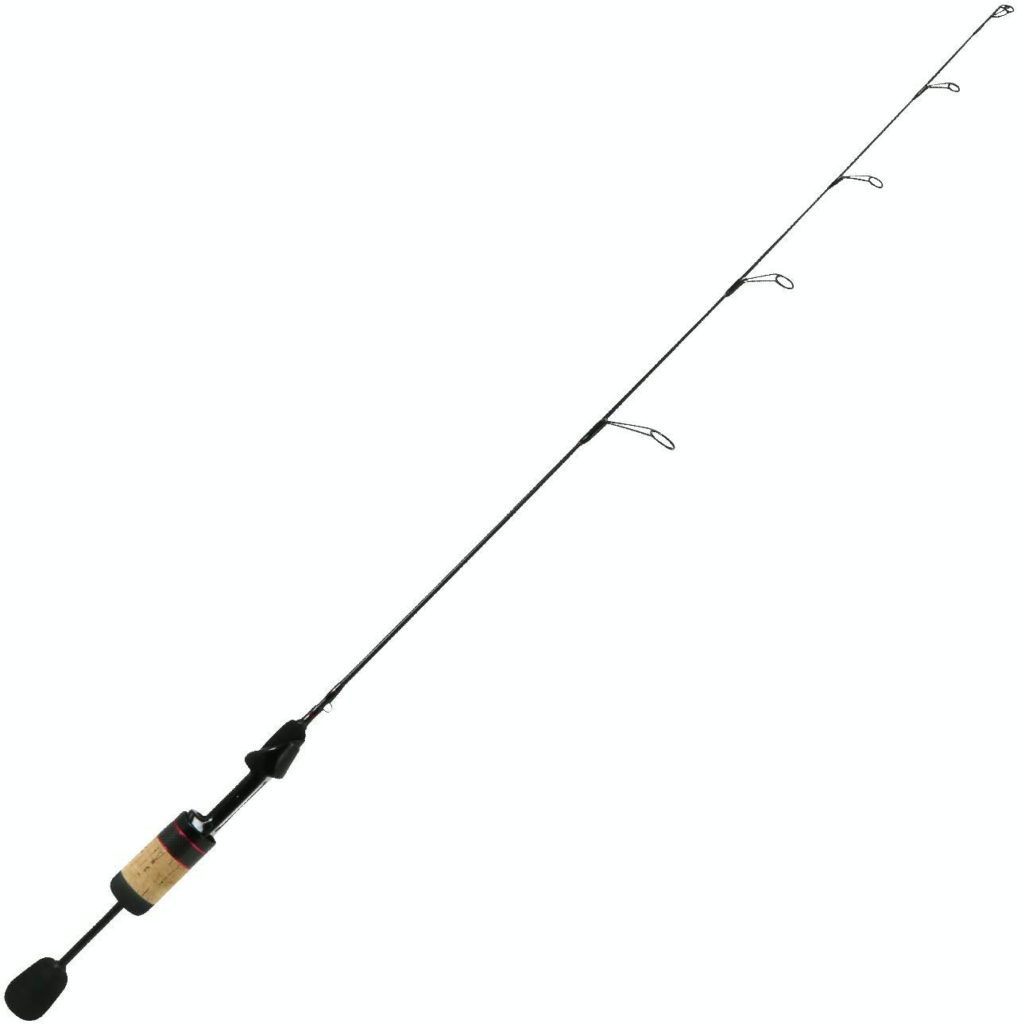 What I liked the most while creating this Okuma rod review is how they have divided EVA and cork handles for excellent convenience. It also has a custom reel seat to boost the sensitivity to a greater level. The presence of colored tips boosts visibility in cold water. It is a medium-weight rod whose splinter needs improvement, but the rest are extremely great.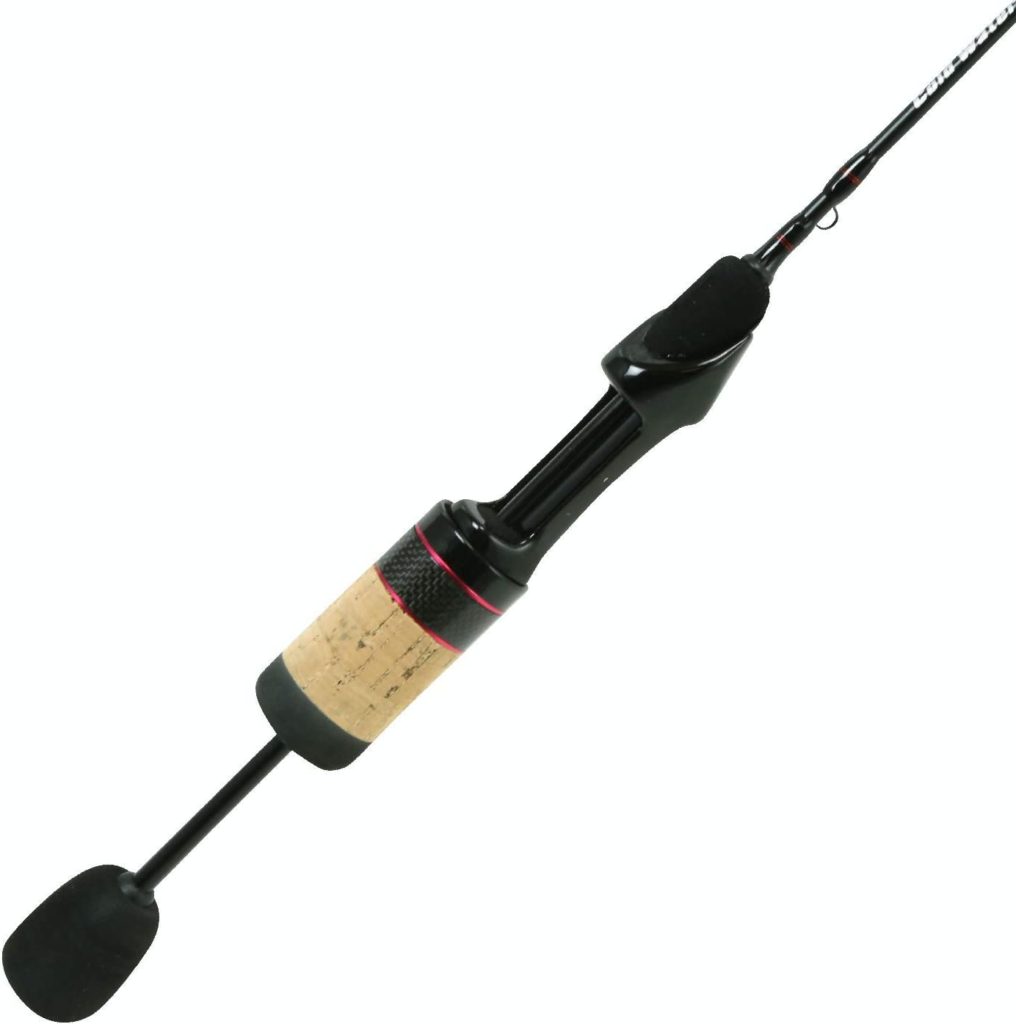 A highly luxurious experience will await you on the other side after shopping for this unit. It is one of the newest additions to Okuma's rod collection and received very positive consumer reviews. On top of that, even the anglers are pretty happy with the performance of this rod. You can hit the water with great motivation after shopping for this wonderful unit. Experiencing a tremendous luxury is pretty much guaranteed for anglers.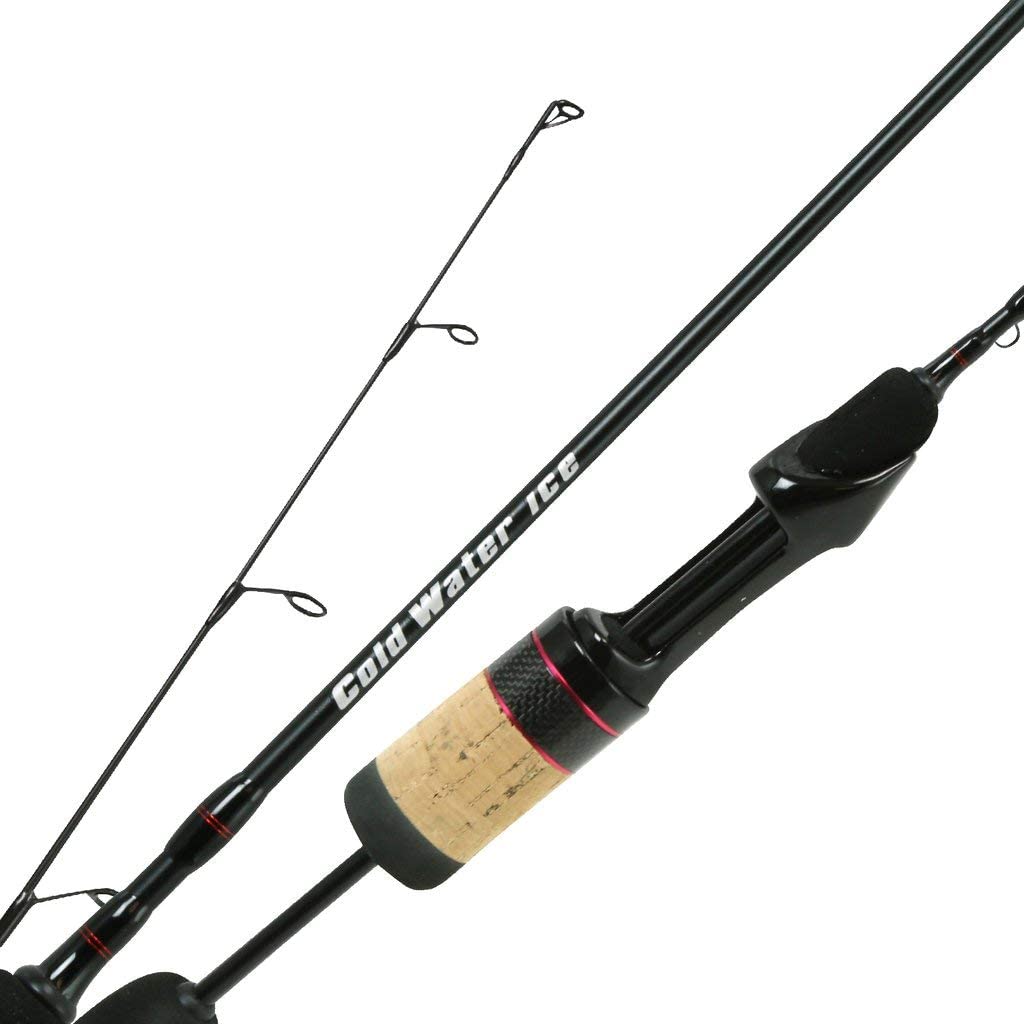 Another thing I feel incredible regarding this rod is the level of sensitivity that lets me always know even a tiny bite. Although I have only used this rod a couple of times, it was enough to know about its performance and durability.
Highly improved sensitivity
Excellent bite visibility in conditions with low lights
Wonderful blank construction
Perfect to use in cold conditions
Very nice appearance
Not suitable for saltwater use
4. Okuma PCH Custom Lightweight Responsive Graphite Rod
Available in many variants, this customized graphite rod is made to give a luxurious feel during the casting. If you are a professional angler who loves tough saltwater casting, I recommend not looking at anything else. It is a lightweight and responsive rod whose lifting power has amazed me from the core.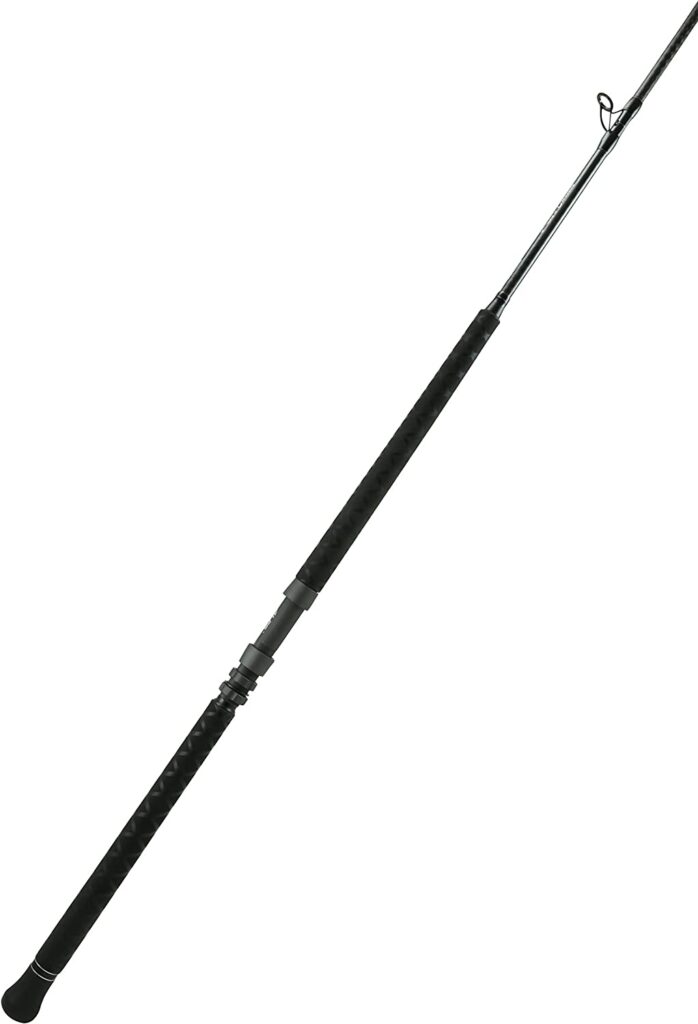 The machining work of this graphite rod is truly sensational, and I loved it. Every variant of this model offers something different to enjoy. It justifies the high price tag with a great dose of sensitivity and advanced technology used for crafting. This excellent build ensures the rod can easily tackle the challenges of hardcore saltwater fishing. The guides with zirconium inserts let the rod get the job done easily.
It is a superb product that brings lots of value to the experience. This lightweight rod can catch any large fish with minimum effort on the sea. A solid sort of flexibility is added to the product for a top-class fishing experience. While reviewing this rod, I have chased plenty of large fish and successfully caught a few of them. You won't feel any difficulty in enjoying long-range fishing with this rod in any manner. The enjoyment level with this rod is also pretty great and serves all needs wonderfully.
Lightweight construction
Capable of catching large fish conveniently
Super easy to store
Work fine in hardcore conditions
Classy flexibility
Few complaints about tip breakage, but mine has worked fine until now
5. Okuma Classic Pro GLT & Rods
The Okuma Classic Pro GLT Series rods are highly rich in construction and sold at a very affordable price. It offers technique-specific performance that professional anglers demand. Using this rod is perfect for catching salmon fish with ease. It comes with E-glass blank design for improving durability to a pretty high level.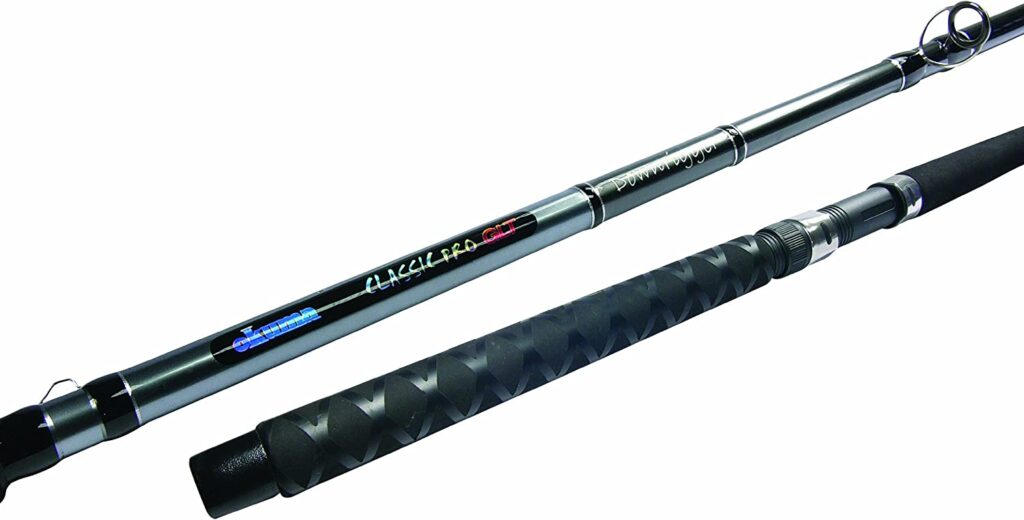 EVA grips are added to the unit to provide extended comfort while casting for longer hours. While using this unit, I felt like the manufacturer has fine-tuned everything to give a heavy-duty experience that everyone demands. This lightweight rod is less than half a pound giving extra convenience to the experience.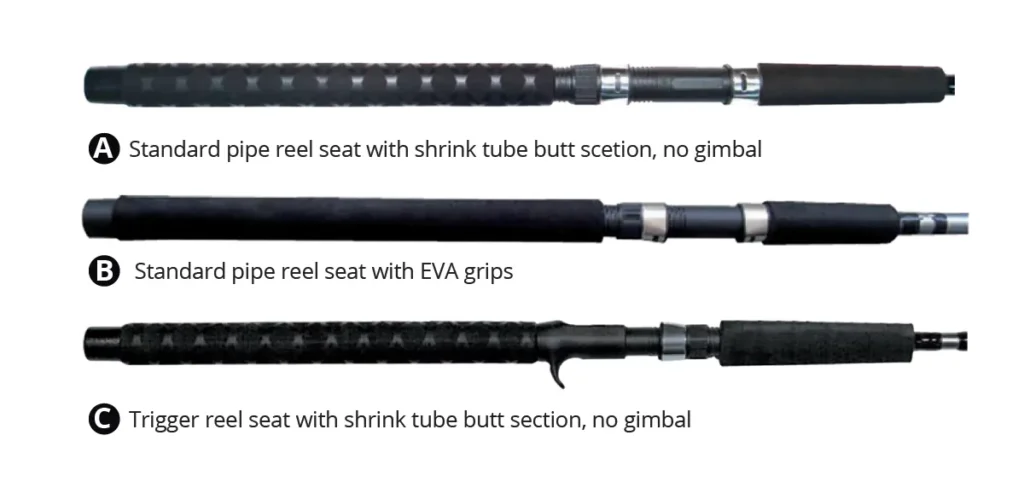 The presence of top over butt ferrule ensure strength gets a solid boost. You will easily catch heavy fishes that are the inspiration for a true angler. It is an incredible bang for the buck model that can teach you how to give wonderful performances on the water.
Last year, I went on holiday on a remote island off the coast of Canada, where this rod made me fall in love with it. I never expected such a level of performance with this rod at all. Following that, it has become one of my favorite rods for fishing. It truly gives me thrills whenever I think about that time.
The extremely wonderful foregrip
Available at quite a good price
Perfect for casting in rough waters
Superb construction
Highly brilliant packaging for traveling
Not a good choice for beginners
Also Read: Fishing Tips on How to Put a Hook on a Fishing Rod?
---
What are the benefits of buying Okuma rods?
Okuma brand has built its legacy in the fishing industry over the past few decades. I have pretty great experiences with the performance of their rods which were better than most brands. Let me explain what kind of benefits Okuma rods presented to me.
I liked this unit's highly exceptional build and quality that very few brands offer. Despite most models being lightweight, the brand hasn't compromised in terms of quality. It seems they have thought about their consumers rather than making money.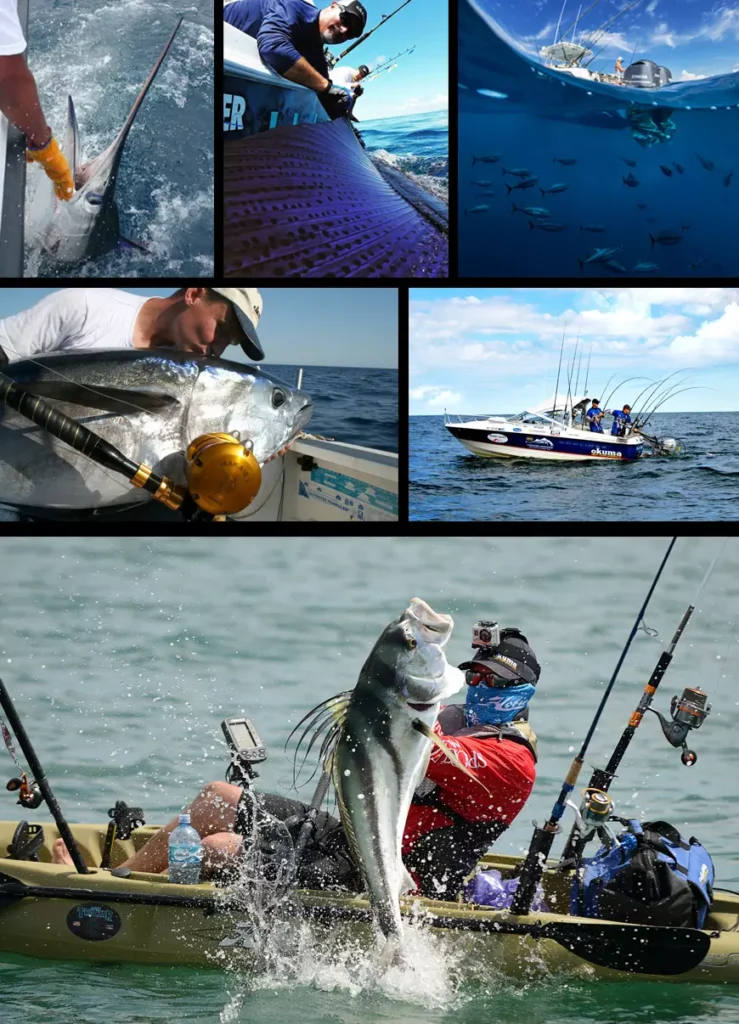 If someone asks me about the performance, I will say the brand has surpassed my expectations to a greater level. They have different types of fly rods, and I found most of them pretty exciting.
The majority of models that I have used from this brand have ensured super-quality casting. Its fast action can give a sizzling fishing experience most of the time. It offers excellent accuracy even while catching large fish.
If I talk about the Okuma brand, the sensitivity is pretty exciting and stays exciting thanks to crispy material and vibrations. Most of the time I feel connected with the baits while catching the fish. It instantly gives a signal when the fish has touched the bait.
These rods have delivered the power exactly that I expected from the Okuma brand. It perfectly touches the long ranges without any trouble. It gives potential forgiveness that most beginners feel while casting.
---
Okuma Rod Review- Frequently Asked Questions
Q. Where manufacturing unit of Okuma is located?
The company's manufacturing operations take in their facility that located in Taiwan and China
Q. Who is the manufacturer of Okuma rods?
Their rods are manufactured by Okuma Fishing Tackle Co., LTD which started in 1986.
Q. Is Okuma a Chinese company?
Many mistakes it as a Chinese brand, but they are a Taiwan-based company that Charles Chang started in 1986. However, they have manufacturing operations in China.
Q. Is Okuma a good company?
Yes, it is a reputed brand for buying fishing reels, rods, and equipment for the fishing community.
---
Conclusion
I strongly believe this Okuma rod review has helped answer all your questions that have revolved in your mind for a long time. Their fishing rods have a satisfactory appearance and ensure acceptable comfort during fishing.
Considering the price, the company offers full value for the money. I mightn't be 100% satisfied with their products, but it is harder to find such features at this rate. So, buying Okuma products perfectly makes sense if you have a limited budget.
What do you believe regarding Okuma fishing rods? Share with me either through email or the comment section! I always wait and appreciate them.